12/27/2022 - Jean Covington LaCoss gave a tour of the cemetery to Michael Keys who was visiting from Florida.  He is a  descendant of William Trogdon and Elizabeth Gilliam Trogdon.  They had a great visit, swapping lots of family info but, sadly, noted some large branches and one tree had fallen in the cemetery.  To see photos, click here.
5/18/2021 - Jean Covington LaCoss recently gave a tour of the cemetery to a descendant and noted it needs clean-up.  Lots of new branches are down in addition to those that were down last Fall and have not been removed.  The owner of the surrounding property warned her that "large coyotes" have been seen.  Some have been trapped/killed but more are there so visitors need to be aware of the danger.  On the upside, a large male turkey has taken up residence in the cemetery and stood guard during the tour, gobbling his thoughts loudly.  Also the periwinkle is finally returning, adding to the natural beauty of the cemetery.   
Leave Your Comments
At The Bottom Of The Page
Billy Trogdon Cemetery
(AKA:  Trogdon Burying Ground and/or Allred-Trogdon Cemetery)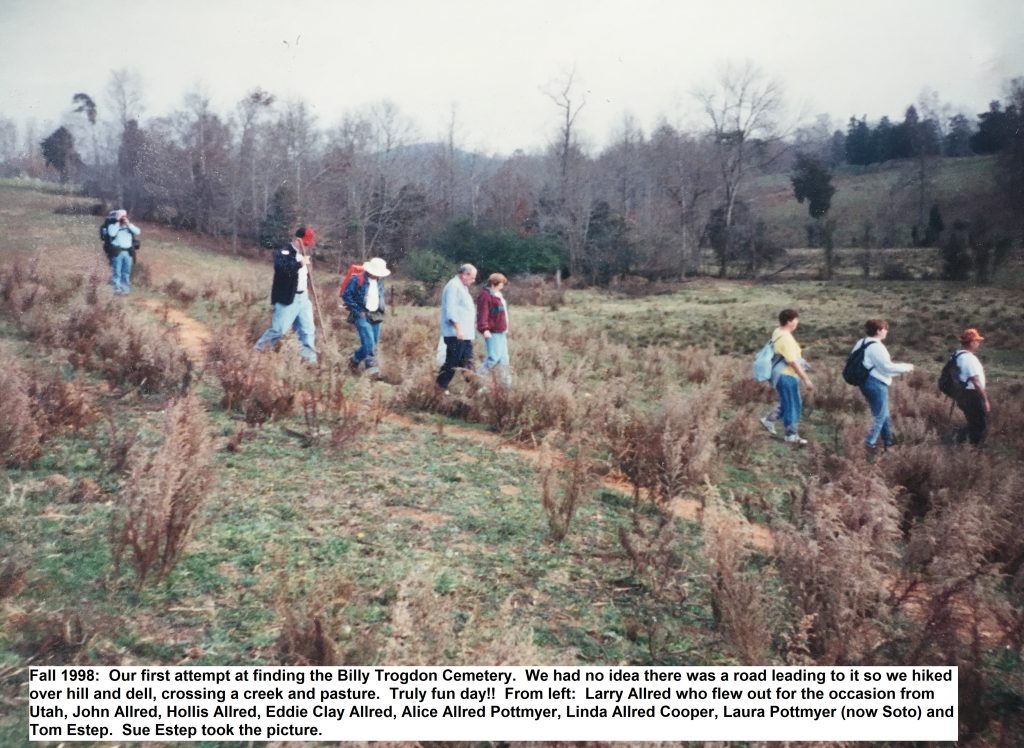 Research Comments / Thoughts from Trogdon Researcher
Jean Covington LaCoss in RED below

The Cemetery is Land-Locked, surrounded by Private Property behind a Locked Gate.  Several Real Time Cameras immediately alert the Property Owner whenever anyone enters the land and/or cemetery.
Trespassers Will Be Prosecuted.
However Escorted Visitors are Welcome so Contact Jean or Linda to Schedule a Visit or to Learn About
Friends Of The Cemetery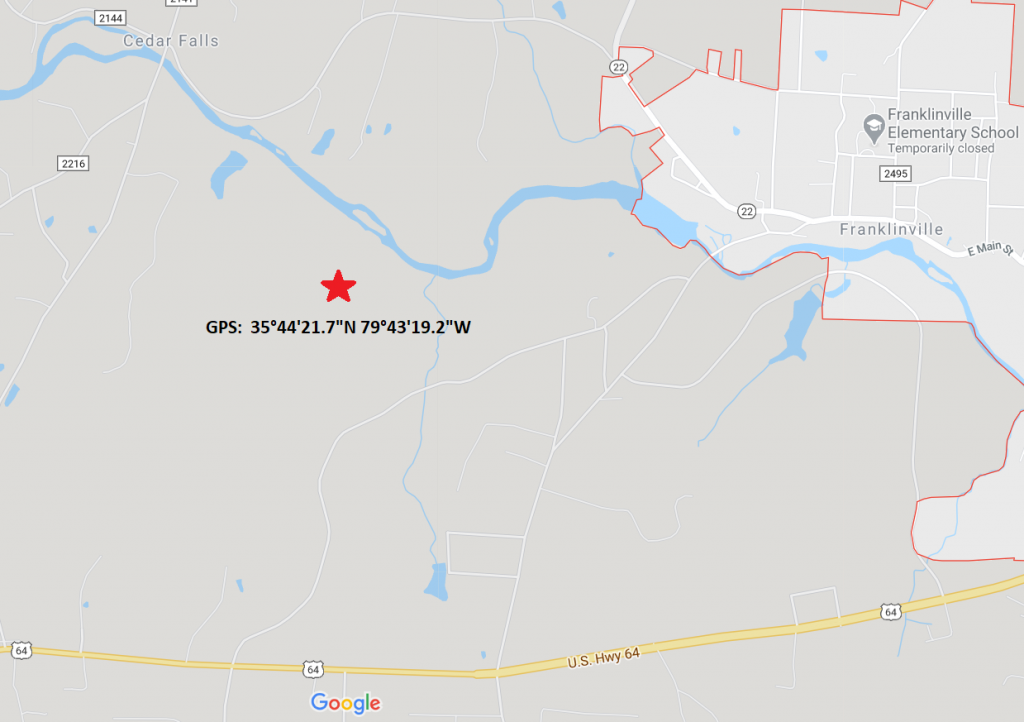 The Billy Trogdon Cemetery is owned by the East Coast Allred Family Association (ECAFA).  However, this is no longer an active organization.  (Click Here for our explanation of why this organization is no longer active.)  For information about the cemetery or to schedule a visit, contact Jean Covington LaCoss or Linda Allred Cooper.
 "This cemetery was established upon land owned by William Trogdon and willed to his children upon his death in 1805.  William was born in Maryland circa 1722 and died in Randolph County, NC in 1805.  He was buried in this cemetery, the Billy Trogdon Cemetery.  William was the son of William Trogdon, born 20 August 1695, Anne Arundel County, Maryland, son of Thomas and Mary (Jones) Trogdon.  The Williams first arrived in then Orange County, NC in the early 1750's.  Researchers have found no documentation to prove that a William Trogdon was killed on Sandy Creek during the Revolutionary War."  Glenda Trogdon Allen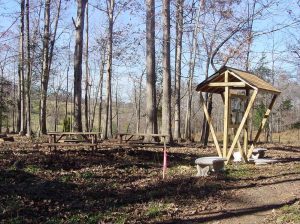 We have been told this cemetery was abandoned around 1930, but we have not found any tombstones dated after 1851 (so far).  Located on private property near Cedar Falls, Randolph County, NC. Jean Covington LaCoss
As more graves are identified, we will attempt to post copies of original documents (wills, estate papers, etc.) to show why or how we identified each.  If you have any questions about this process or would like to help, please contact Jean Covington LaCoss.  Unless otherwise noted, all document originals are on file in the Research Room, NC Archives, Raleigh, NC.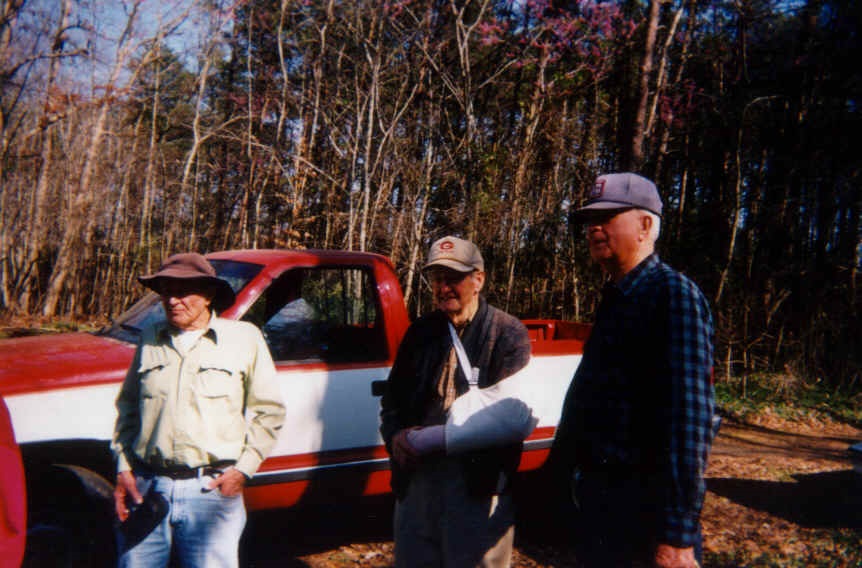 This is a photo of Alton Garner, taken November 22, 2003, as he watched our work being done in the cemetery.  Alton Garner is a Trogdon descendant and former owner of the property the cemetery is located on.  To his left is Hollis Allred and on the right is James Eugene Allred, two of the founding East Coast Allred Family Association (ECAFA) members.  Mr. Garner inherited the land from the Burrows "because I took care of them".  The Burrows were also Trogdon descendants, so the land has remained in the Trogdon family continuously over the generations.  However, in early Spring 2002, Mr. Garner was in ill health and of advanced years and "in talks" with a developer who wanted to purchase the property when the ECAFA stepped in.  Mr. Garner agreed to deed the cemetery itself (no additional property) to the ECAFA.  Within a couple of weeks, the rest of the property was sold to the developer, who also owned a timber company, and immediately harvested all of the timber.  We watched as the acres of  "Old Growth Woods" surrounding the cemetery were destroyed, trees cut down and removed, and were thankful the cemetery was in our hands and protected.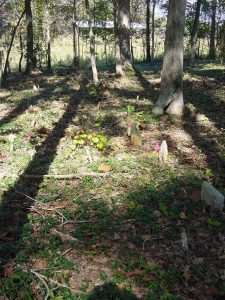 The graves were laid out in careful, neat rows with narrow "walkways" between each row, as you can see from this photo.  We are estimating there are 200 - 230 graves here.  Unfortunately, most are not marked.  The majority of the graves that are marked only have rocks or the writing is no longer legible.  Such a shame.  But, we're trying to piece together as many clues as possible to try to figure out who is buried here.  There is a carpet of periwinkle covering some of the cemetery, protecting the graves as much as Mother Nature can.  As we work in the cemetery, we are careful not to disturb or kill this periwinkle because it helps keep the forest undergrowth and weeds from growing.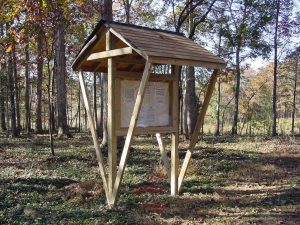 The information display case was built by the ECAFA on October 24, 2003.  It was erected on the edge of the cemetery property away from any graves and easily seen by all who come down the road. 
Unfortunately, although the ECAFA still owns the cemetery, they are no longer active.  To schedule a visit or for additional information about the cemetery, please contact Jean Covington LaCoss or Linda Allred Cooper.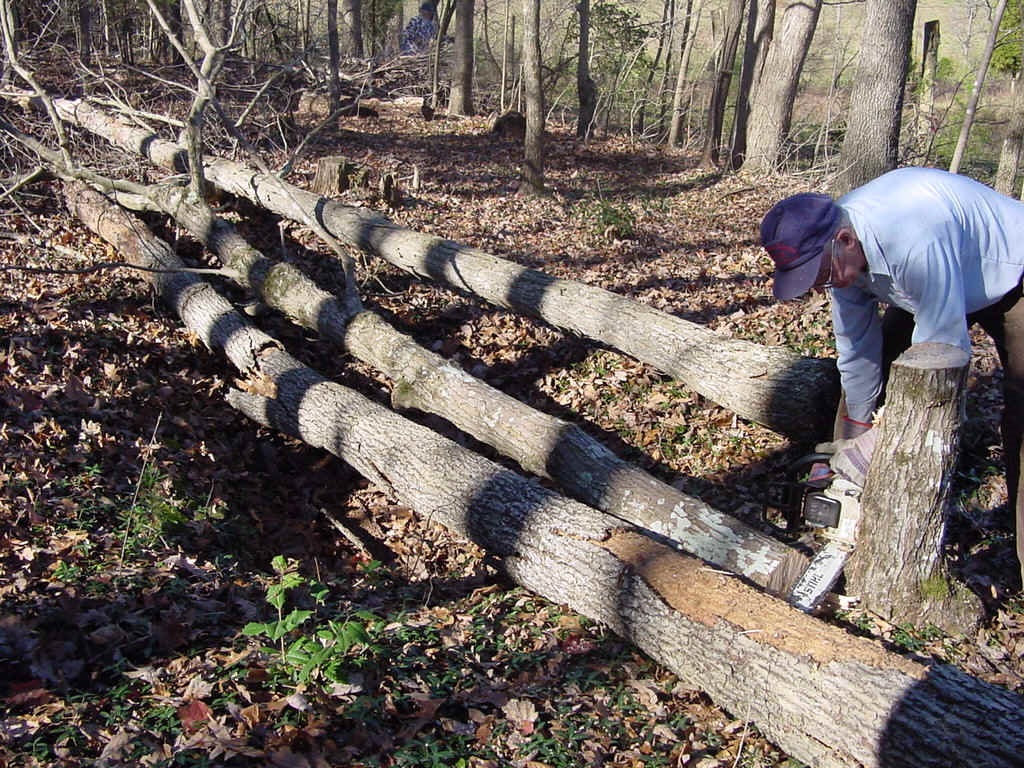 Look closely at this photo and you can see the rectangular hole under the trees that Franklin is cutting.  This hole is all that remains of one of the graves.  Mr. Garner (the former property owner) told us that in the late 1960's, someone - he couldn't remember who - asked for permission to move their ancestor to another cemetery.  He gave permission and the grave and tombstone were moved.  Sadly, Mr. Garner has passed away so we may never know who was buried here or where he/she was moved to.  If you know where this ancestor was moved to - or can identify who was buried in this grave, please contact us.  We are not interested in moving the grave back to it's original burial site - we would just like to know who was buried here for our records.  All that remains of this grave is a rectangular hole about 5 foot deep.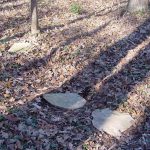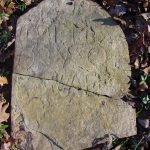 1809 The Memory Of E x SWAFF When we first saw the cemetery in 1998, a large tree had fallen and was lying on top of several tombstones including this one.  Apparently, when the tree fell, it broke the tombstone into several pieces and scattered them as you can see from the photo on the left.  We've pieced it back together now.  If you can help identify this grave, please let us know.  Could this be a member of the Swafford family?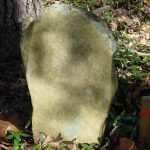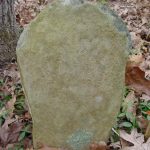 S A 9 of July 1833.  Could this possibly be the grave of Sarah Spencer Allred, wife of John Allred?  Per family and court records, Sarah died before John did in 1848.  More research is needed, but this may be a possible identification.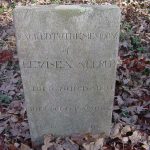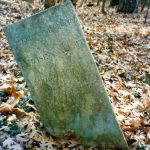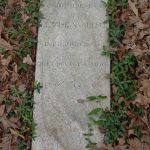 Levisea Allred, June 15 AD 1824 - October 30 AD 1843  As you can see, in 1998 the stone was still standing, although leaning badly.  In the fall, 2003, the stone was broken at the base and lying on the ground.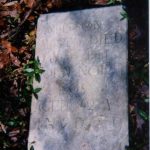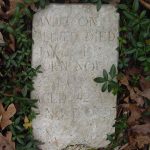 Anderson Allred, died January 31, 1851, aged 42 y, 1 m, 9 d.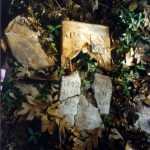 Kissibe Ann Allred  born August 18, 1849  died May 31st 1851  age 1 yr, 9 m, 1 d  This Tombstone Has Been Stolen!!  Click Here For Info!!  There is some questions about this baby's real name.  In 1938, Thad Feree recorded the tombstones in the cemetery and stated her name was Kissibe Ann Allred.  However, some have interpreted the tombstone to read Kiss Reann Allred and the book "Allred Family in America" records the name Kissa Ann Allred.  We have decided to include all possible name variations but list Kissibe Ann Allred as that is from the oldest recording.  Thad Feree's tombstone recordings can be seen by clicking here.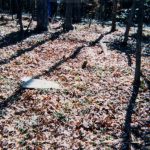 Lavisea Allred's stone in the foreground, Anderson Allred's stone in the back ground.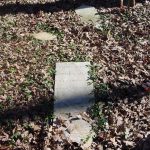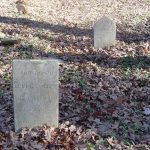 Levisea Allred and Daniel Free's tombstones were standing in 1998, but both had fallen over by Spring 2003.  During the Cemetery Work Day November 2003, the ECAFA members re-set the tombstones so they are standing once again.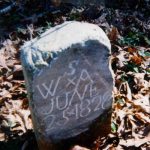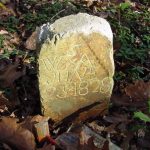 W x S A June 25 x 1828 Very interesting tombstone.  Note how the "S" is above the "x".  What does that mean?  Are this person's initials "W S A" or does the "S" mean "spouse" or "son" or "second" as in junior?  If you can help identify this marker, please contact us.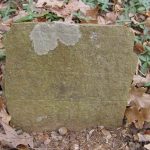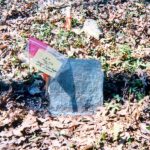 A T Nov 11 AD 1801 Abigail Julian Trogdon, wife of Samuel Trogdon.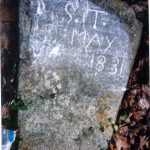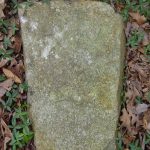 S T May 1831  Sarah Trogdon or Samuel Trogdon?  As you can see from the document detailing the personal items of Sarah Trogdon, sold at her estate sale, the date of the estate sale is just a few months after the date on the tombstone.  But, the date on the tombstone is also just a few months after the estate sale for Samuel Trogdon.  So, who is buried here?  If you can help answer this question, please contact Jean Covington LaCoss
 (1) Someone contacted me about something they said they had seen your website.  She said it was a picture of the headstone of ST who died May 11, 1831 and the question was raised if this was Sally (Sarah-wife of Samuel) or Samuel's headstone.  It definitely wouldn't be the grave of Sally (Sarah), wife of Samuel, as we know she was alive when she petitioned for dower in August, 1831. That petition was granted during the Nov. session of Pleas and Quarter Sessions 1831, but it is possible that she was dead by then, as the sale of her minimal property was in early December, but she was alive in August.
(2) Hopefully I cleared up a little the Samuel situation. His estate sale was in August.  Her estate sale was in December.  He died in May, she died between August when she filed for Petition of Dower and December 9th, with the sale and I believe they had to post publicly 30 days notice of the sale, so she would have died in November probably, but she didn't die in May. Since Abigail his first wife, the mother of all his children is there, I feel quite comfortable that this is Samuel's headstone and not Sally (Sarah).   If any Trogdon researchers have any information that can shed further clarification or facts to this, please contact me, we are always in search of the facts and the Trogdon truths.
(3) I believe somewhere in that cemetery lies Ure Trogdon, his wife Deborah Trogdon and Ephriam Trogdon.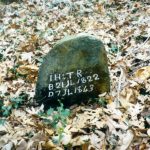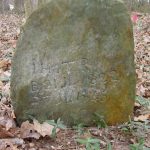 I H : T R B 21 JL 1822 D 7 JU 1843  Isiah Trogdon was the son of Samuel and Susannah Free Trogdon.  Next to him is the grave of his mother, Susannah.  Just beyond her grave, lying on the ground and covered with leaves, we found the grave of Samuel.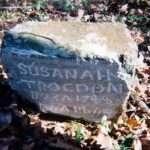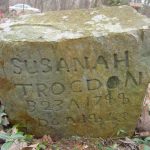 Susanah Trogdon  B 23 A 1788  D 4 A 1843 Susannah was the wife of Samuel Trogdon.  Trogdon family records say she was born in Lancaster, PA but I don't know if this has been documented.  She was the daughter of Daniel and Priscilla Ward Free.  Daniel's will is posted below on this page.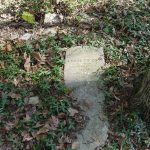 Samuel Trogdon (foreground) and Kissibe Ann Allred's tombstones.  Note Kissibe Ann's tombstone is leaning against a tree trunk.  When we first found this tombstone in December 1998, we had to dig around to find all the pieces and put it back together like a jig saw puzzle.  A tree had grown up within the cracks of the  tombstone and shattered it.  On March 4, 2002, when we photographed it again, most of the pieces were missing, probably buried once more under the forest debris.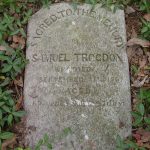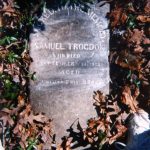 Samuel Trogdon, Jr.  died September 11, 1852  aged 69 years, 8 mo., 27 days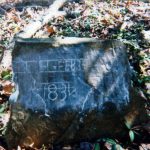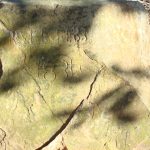 R x H x Feb 3 1834   We thought this might be Rachel Hammer daughter of Abraham and Rachel Meeting Hammer,  however additional research by Nancy Moss brings this into question.  Per "The Genealogy of Hammers Relating to North Carolina" by Ruth Hammer Swearington Winkler:  Rachel was born July 31, 1768.  In 1781 she was received into Cane Creek Meeting with her parents, then she, with her parents and sister Mary and younger brother Abraham, moved to Deep River Monthly Meeting in 1784.  In 1790 Rachel was granted a certificate to Center Meeting House.  That is the only info listed for Rachel.  There is no information listed for her death or if she married or not.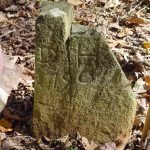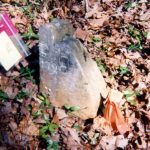 D H 1790 this is the oldest tombstone we have found so far.  Some researchers think it belongs to a member of the Hammer family, but we have not been able to identify it yet.  If you have information about this stone/grave, please contact Linda Allred Cooper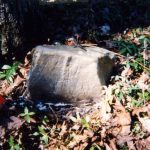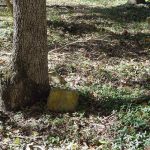 W x T April 11, 1805  William Trogdon was the original owner of the land the cemetery is located on.  Trogdon descendents call him "The Patriot" because he gave patriot service for the cause during the Revolutionary War.  The original copy of William's will is located in the loose estate files for Randolph County, Research Room, NC Archives, Raleigh, NC. You can see the tombstone is at the base of a tree.  Just behind the tree, you see the tombstone of M x T April 11 18 0 (see photo & info below).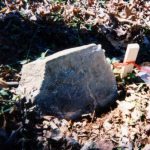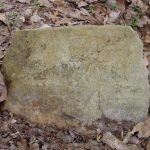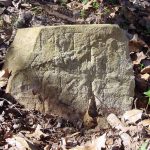 M x T April 11 18 0 We couldn't make out the 3rd number in the year.  The stone has a crack running through that area and it was very hard to see any writing at all.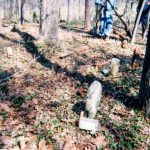 On the right at the base of the tree is the grave of William Trogdon the Patriot.  In the foreground is the grave of S A (unidentified) and W xS A (unidentified).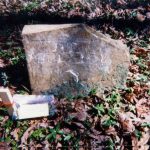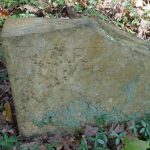 J + F 14 July 1828  Joel Ferree / Free was the son of Daniel and Priscilla Ward Ferree / Free.  Per information in the Free family file in the Randolph Room (Asheboro, NC).  He married Mary Trogdon, daughter of Samuel Trogdon and his wife Susannah.
Per the estate records, a bill from Dr. Parker shows he was treated by him through 13 July 1828.  There is also a copy of the Ferree Family Bible which lists his death date as 14 July 1828.  The family Bible gives his birth date as 17 Sept 1790.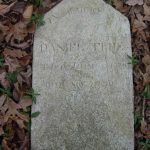 In Memory Of Daniel Free, Born June 8, 1820, Died Nov We couldn't make out the day and year in the death date.   Per Free family records, Daniel died at age 21 and was buried next to his father Joel (see his photo below). The family Bible gives his birthdate as 3 June 1820 and death date 9 Nov 1850 so he died at age 30.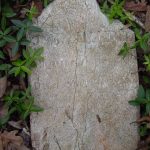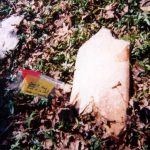 Joel T. Free, born 17 8, died A 17 1856  The birth date was very hard to read.  I could not make out the month or day and the 3rd number in the year.  Joel's tombstone was buried about 6 inches under some leaves and dirt.  When we pulled it up out of the ground, a swarm of flying ants hiding under it became very upset with us.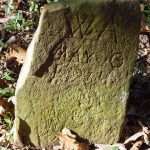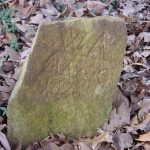 W A  May 3 1825.  Note William's will was probated during the May session of court 1825.  William is known to AFO members as the "Original" William because he is one of the first 6 Allred men to receive land grants in North Carolina in the 1750's.  Click here to read more about him.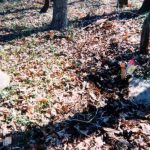 E TRO and M T together  The tombstone on the on the right (E TRO) was actually under a fallen tree.    We had to cut the tree into sections to remove it. Jean Covington LaCoss:  E TRO's tombstone has been identified!  Elizabeth Gilliam Trogdon.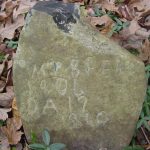 M T x B x Feb 1 1806 D A 19 1840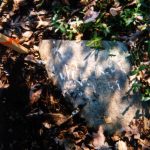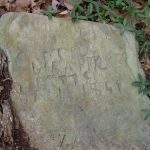 E TRO B April 1778 D JU 1849 Elizabeth Gilliam Trogdon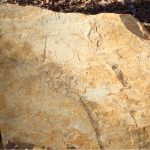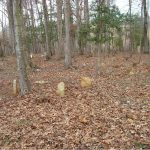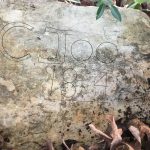 C J Oct ? 1814 The writing on this tombstone was discovered by Jean Covington LaCoss on December 13, 2008.  You can see the tombstone in relation to others in the 2nd photo.  If you can identify this tombstone, please contact us.  Is this a member of the Julian family??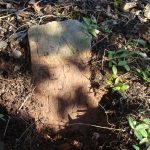 L + A Sept 23 1834 The tombstone was discovered by Jean Covington LaCoss in February 2009. 
Lavisa Burrow  Dec 28 of May 1851, Age 2 years, 8 months, 15 days.    This tombstone was discovered by Jean Covington LaCoss .  She was walking through the cemetery and the light was shining just right, highlighting it just enough for Jean to determine the scratches were really writing.