There were lots of men named William Allred and it can be very confusing sorting them all out.  To simplify things, I am numbering some of them.   Our first American Ancestor was Solomon Allred born 1680 Lancashire, England.  See Research Reports posted at:
2017 Reunion Presentation  and  2014 Reunion Presentation
for more information about Solomon.   One of Solomon's sons was:
(Click on the names below to learn more)
William #1  born about 1715 - died after 1781
his son was:  William #2  born about 1740 - died May 3, 1825 (also known as William Jr.)
his son was:  William #3  Aug 8, 1765 - Jan 24, 1849
The land the Allreds lived on in the mid 1700's is now part of Randolph County, NC.  To understand how the counties formed and changed, visit
https://www.mapofus.org/northcarolina/
Click Here to see where the Original Allreds lived in North Carolina on today's map
William #1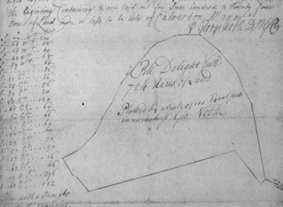 William Allred (#1) first appears in 1746 when he purchased 3 tracts of land in Prince George's County, Maryland.  These 3 tracts had originally been part of a large tract called Piles Delight.  William combined them and called them Allred's Purchase.   A survey for Piles Delight allows us to see where Allred's Purchase was located.   If you rotate the survey drawing so it is oriented North-South, you can see how it fits perfectly into a curve in the Potomac River in Prince George's County, Maryland.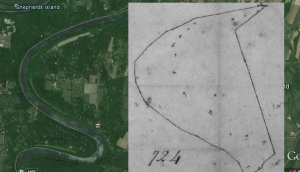 On today's map (Google Earth) you can see where Allred's Purchase was located – just across the Potomac River from Jeremiah York's land, Terrapin Neck.  Note, the river was the state line.  Jeremiah York's land was located in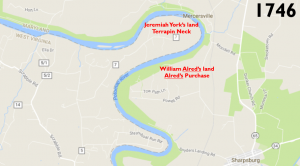 Frederick County, Virginia.  William Allred's land was in Prince George's County, Maryland.   Today, this land is in Washington County, Maryland.
October 2, 1752 William Allred sold his land in Maryland to Charles Higginbotham (spelled a variety of ways).  (Frederick County Court (Land Records) Book B, Page 0627, Maryland State Archives CE108-1)  There were probably a variety of reasons why William chose to sell and move south, but one answer could be because members of his family had already moved to North Carolina - and there was Free Land.  In the 1740's most of North Carolina's population lived close to the coast.  The King, along with Lord Granville and later, Henry McCullough, encouraged more colonists to settle in central North Carolina by giving away Free Land.  Of course, there was a "catch".  The land was free but the new owners had to live on it, farm it or "improve" it someway and, of course, pay taxes.  This was very enticing, especially since land in Pennsylvania, Maryland and Virginia had already been claimed and very little was available for sale to young men wanting to start a family.
Although the name is spelled a variety of ways, a study of later documents (wills, estate records, land records, court records) prove the real name was William Allred.    There is no way to know definitively, but based 
 on the estimated ages of William #1 and #2 along with other factors, most likely these land records were for William #1.
Explanation of North Carolina Land Grant Process
William Allred received a Land Grant in 1762.  The land was located along Bush Creek of Deep River.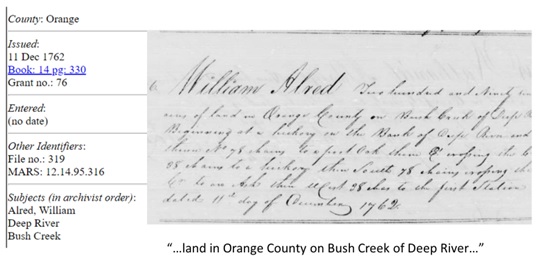 The land grant reads:
William Alred Two hundred and Ninety two
acres of land in Orange County on Bush Creek of Deep River
beginning at a hickory on the Bank of Deep River and
thence No 78 chains to a post Oak thence E crossing the creek
38 chains to a hickory then South 78 chains crossing the
Cr to an Ash then West 38 chains to the first station
dated 11th day of December 1762.
The map below shows the location of that land, now in Randolph County, NC.