Descendants of the
Ancestors buried here
cleaned and photographed
this cemetery several years ago.
Many Thanks for their
Hard Work!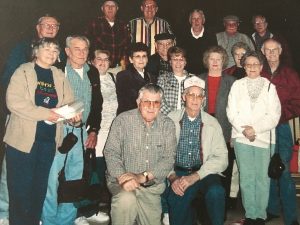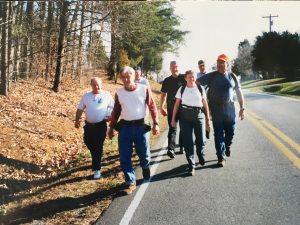 Trogdon Family Cemetery
a/k/a Odell-Trogdon Family Cemetery

Located on Old Liberty Road in Randolph County, NC


Private Property - Seek Owner Permission Before Visiting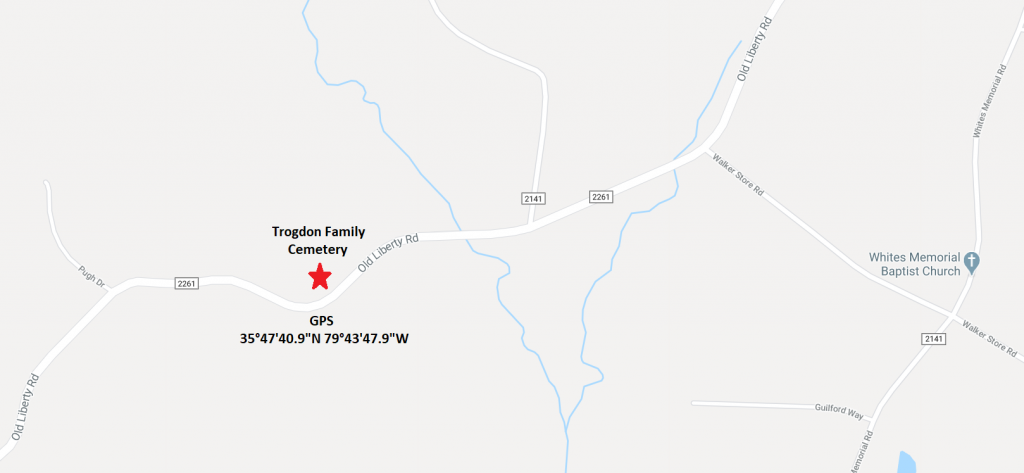 Abandoned and almost completely hidden by trees and woods, the ECAFA gained permission to clean and restore this cemetery around 2000-2001.  For more information, contact Linda
 As the graves of other families are identified, we'll attempt to post copies of original documents (will, estate papers, etc.) to show why or how we identified each.  If you have any questions about this process or would like to help, please contact us.  Unless otherwise noted, all document originals are on file in the Research Room, NC Archives, Raleigh, NC. 
Click on each photo below to see enlarged version. 
Tabitha Trogdon, 1765 - 1860  Tabitha was the wife of Solomon Trogdon, proven by the estate document posted below.  She was the daughter of Seymore and Sylvania Aldridge York.  Seymore (also spelled Semore) was the son of Jeremiah York who appeared listed next to Solomon Allred on the 1724 Tax List of Chester County, Pennsylvania.
Solomon Trogdon, 1760 - 1826  Solomon was the son of William Trogdon, called The Patriot by many of his descendants.  William died 1805 and was buried in the Billy Trogdon Cemetery (located on the land he owned and lived on).   
W x D / May 17 / 1783  So far, no one has been able to identify this grave.  At one time we thought it might be the grave of William Diffee, but a careful look at his will and probate records proved that theory wrong.  If you can help identify this grave, please contact us.
Nehemiah Odell, died July 1783 aged about 40 years.  This one is a puzzle.  The tombstone clears reads the death date as 1783 but the oral will of Nehemiah Odell was proved in Randolph County Court on "second Monday of March 1791".  Were there 2 men named Nehemiah Odell or did the family wait several years before taking his will to court?  
Martha Odell, born 1744, died May 10, 1824 Nehemiah Odell's wife was the daughter of Isaac Julian (1716-1778) and Barbara White Julian per the White Family Bible (Rebecca Downey White Collection on file in Maryland Hall of Records, Annapolis, MD).  Isaac, per family stories, was bitten by a rattle snake while picking apples for his grandchildren and is also buried in this cemetery although no grave or tombstone has been found.   Martha's sister, Abigail Julian Trogdon was married to Samuel Trogdon per the White Family Bible.  Abigail is buried in the Billy Trogdon Cemetery.  Another sister, Margaret, was the 2nd wife of John Allred (died 1792).  John and Margaret's graves have not been found but are thought to be on his land located at the mouth of Mt. Pleasant Creek of Sandy Creek near Franklinville, Randolph County, NC.   Martha, Abigail and Margaret's grandparents, Dr. Robert White and wife Margaret Hoge White, are buried at Opequon Presbyterian Creek, Winchester, VA.  
Isaac Odell, son of Nehemiah, born July 29, 1765, died Nov. 1845
 Magie Phillips, wife of Sam Allred, Oct 6, 1889 - Mar 29, 1938
 G. Lynell Allred, 1911 - 1964  Sadly, no tombstone.  Just this funeral home marker. UPDATE:  Information on his Death Certificate:
Giles Lynden Allred
Born:  11 Apr. 1911
Died 7 Apr. 1964|
Parents were listed as Sam and Mary Phillips Allred
Wife was listed as Thelma McNeill Allred
Burial place is just listed as Trogdon Cemetery
Nannie Allred, born July 2, 1867, died Oct. 19, 1911, age 44 yrs, 2 ms, 17 ds.