The land the Allreds lived on in the mid 1700's is now part of Randolph County, NC.  To understand how the counties formed and changed, visit
https://www.mapofus.org/northcarolina/
Explanation of North Carolina Land Grant Process
Click Here to see where the Original Allreds lived in North Carolina on today's map
William #2's Land
Despite many family histories and online sources claiming to know, the birth date of William #2 is unknown.  No documentation has ever been found (that we know of) proving when he was born.  His tombstone only gives the death date:  May 3, 1825.   However, his birth date can be estimated by looking at the date of his first land record combined with the birth of his first child.  By law, men had to be at least 21 years old to own land.   Most men were 20 years old or older when they married and began having children.   William #2's son, William #3, was born August 8, 1765 (per his tombstone).  William #2's son, John, was born 1764 per his Revolutionary War Pension Record.  As you will see below, William #2 worked as a Chain Carrier for the surveyor in 1756 but the first record that he OWNED land is dated 1762.
1762    First owned land
1764    Son John was born
1765    Son William (#3) was born
This allows us to estimate William #2 was born around 1742.
Nov 5, 1756         #5959  John Hopkins plat dated 5 November 1756,  200 acres in Orange County on both sides of Deep River, joining the lower end of a little island.  SCC:  Wm Allred Jr., Lambeth Hopkins, W. Churton Survr.  Back of document reads:  "Grant 12 January 1761"  The Granville District of North Carolina 1748-1763, Abstracts of Miscellaneous Land Office Records, Volume Five, By Margaret M. Hofmann, page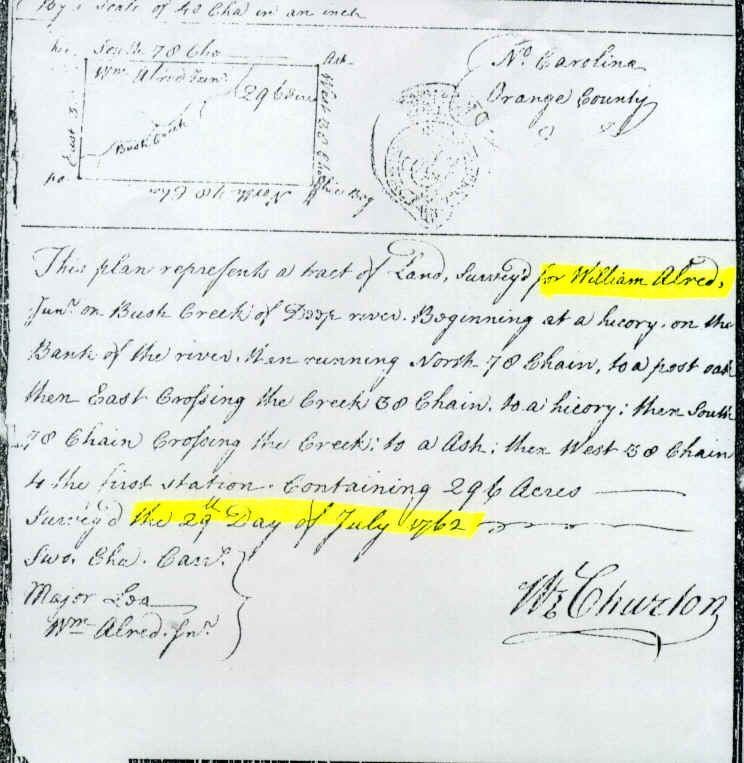 Dec 11, 1762       #3595 pg 330  William Alred    11 December 1762    296 acres in Orange County on both sides of Bush Creek of Deep River  OR:  /s/ (mark)  Wits:  Jas Watson, Thomas Welborn.  Examined by:  Tho Blount and W. Churton.  Surveyed 29 July 1762.  SCC:  Major Lea, Wm Alred Sr., W. Churton, Sur.  Plat reads "…survey'd forWilliam Alred Jr."  The Granville District of North Carolina 1748-1763, Abstracts of Miscellaneous Land Office Records, Volume Two, By Margaret M. Hofmann, page 242
ALSO:  North Carolina Land Grants www.nclandgrants.com  Book 14, page 330, Grant #76, MARS 12.14.95.316    William Alred – Two hundred and Ninety six acres of land in Orange County on Bush Creek of Deep River Beginning at a hickory on the Bank of Deep River and sunning thence No 78 chains to a post oak thence # crossing the Cr 38 chains to a hickory then South 78 chains crossing the Cr to an Ash then west 38 chns to the first station.  Dated 11th day of December 1762