Jane Allred Carter

Lineage: Jane , John, William, William, Solomon born 1680 Lancashire, England
Additional information contributed by descendant Bettie Bennett
    Very little is known or documented about Jane Allred Carter's short life except the facts that she lived and died.  Several of her father's estate papers list her as deceased in 1849 and tell us that she had left behind a widowed husband, James Carter, and eight children:
John Carter
Nicholas Carter
Margaret Carter
Stephen  Carter
Wilshire (William Shires) Carter
David Carter
Hannah Carter
Benjamin Franklin Carter
But little else is found in Randolph County, NC records on Jane.  The 1850 Federal Census for Randolph County, NC lists Jane's husband still living in the county with 3 of his children, but adds a new mystery:
Carter, James        65
Margaret        34
Hannah          22
Martha          7
Note the ages of the children.  A Bastardy Bond filed in Randolph County, NC for Margaret Carter tells us that she had a child by John D. Brown (dated 1843), so Martha must have been Margaret's illegitimate child.  Judging by the ages of James, Margaret and Hannah, the rest of the children must have been grown by then, living on their own.
The 1850 Federal Census for Robeson County, NC lists:
Carter, David        24
Effie              23
Forah J.        2
Alex            5/12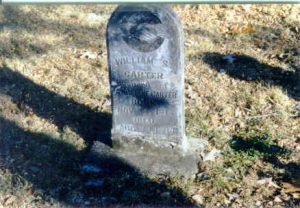 William Shires (Wilshire) Carter and Stephen M. Carter are also listed on the 1850 Randolph County, NC census as living in the Southern Division, possibly in the Richland Creek area near Coleridge.  By 1860 William had moved to Texas County, Missouri where he spent the rest of his life.  He was a farmer, raising hogs for a living.  (info from Bettie Bennett notes)  He is buried in the Mt. Pisgah Cemetery located near Roby, Texas County, Missouri.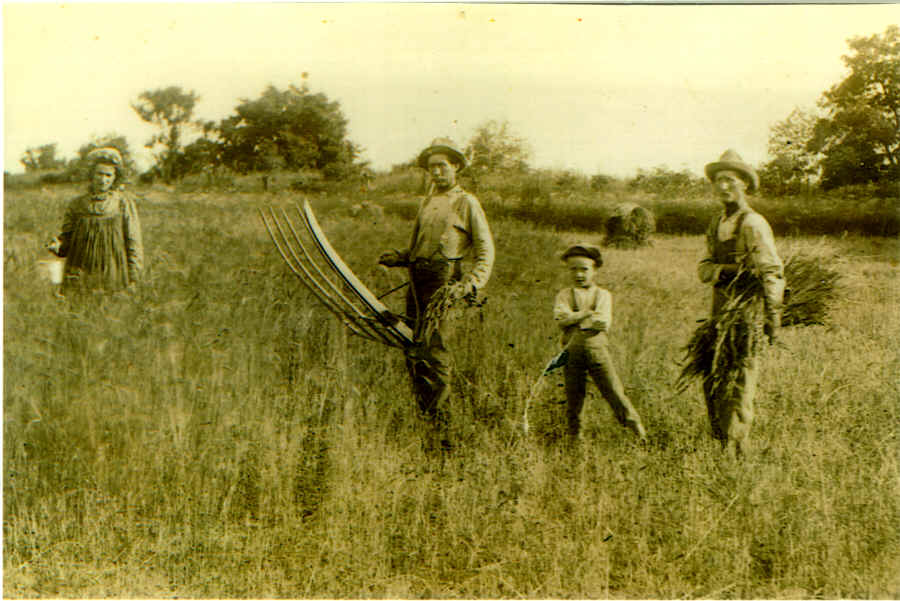 This photo was taken at the James Franklin Carter farm near Roby, MO around 1908.  From left are Minnie Jane Jarvis Carter (James' wife), James Franklin Carter, their son Wesley Franklin Carter, and James' brother Thomas Benton Carter.
A small scrap of paper found in the file containing John Allred's estate papers (NC State Archives Research Room) tells us that Jane's son, Stephen M. Carter, was appointed Guardian for his two youngest siblings (Hannah & "F") and received their "fair share" inheritance from their grandfather, John.  Unfortunately this was not dated, so we can only guess that sometime between the time the 1850 census was taken (usually late Spring or early Summer) and the time John's estate was settled (final estate papers filed November Term 1851), James Carter had also died, leaving these two minor children behind to be raised by their older brother.
No graves have been found for James or Jane.  Taking into consideration that many of Jane's family members, including her parents, were most likely buried in the Trogdon Cemetery located near Cedar Falls (Randolph County, NC), it is possible James and Jane are buried there also.  But this cemetery was abandoned around 1925 and is in horrible shape.  Most of the tombstones have been destroyed by time and nature, so this is a theory that can't be proven.
Below is a transcript of a Carter Family History written by Roberta Carter (born January 1885) sometime in the 1930's.  This family history has been passed around the family for many years and was contributed to the AFO by Elizabeth "Bettie" Bennett, great great grand-daughter of Jane Allred Carter.  It's gives us a wonderful glimpse into the family history and their lifestyle.
****************
The Carter Family
by:  Roberta Carter
(transcribed as written)
James Carter, father of Stephen M. Carter, came from Robeson County (according to Grace Macon) to Randolph County and settled at "Buckeye" place near Coleridge.  The property is now owned by Bud Hayworth.
James Carter married Jane Aldred daughter of Elisha Aldred (AFO note:  we have documented that this is false.  Jane was Elisha's sister).  The Caters are English and Scotch.
Children of James Carter and Jane Aldred Carter:  1.  Shire, 2.  Nicholas, 3.  Stephen M., 4.  Benjamin Franklin, 5.  David, 6.  Charles, 7.  Margaret, 8.  Hannah.  David and Charles Carter moved to Alabama.
James Carter had a farm and tanyard.  Stephen M. Carter was born at "Buckeye" place in Randolph County, October 1824.  His wife, Mary (McCavinh) Caviness was born May 7, 1828.  They were married September 25, 1846.  This is written in the Stephen M. Carter Bible, August 19, 1847)
Stephen M. Carter bought the land left by his father, he ran a tanyard and farmed.  Then he bought a business at Moffitt's Mill, there he ran a store and the mill.  While living at Moffit's Mill he built a house similar to the one built later at Carter's Mill.  In 1860, or before, he bought the four story mill (Carter's Mill) from Alfred Brower.  The mill had been built on Bear Creed, on the Salem Road which connected the mountain section, above Asheboro, to the Yadkin Valley Road and the Fayetteville Scotch and Sand Sections of North Carolina.  This proved to be a good location for mercantile and flour mill business.
The family was moved from the large Moffitt home to a two room house situated on the top of the hill above the mill place and to the left of the Salem Road from Bear Creek.  A two room shed was added to these two rooms and the chimney placed at the end instead of middle of the two original rooms.  In 1868 the house and four large well-built rooms added and completed.  Great care and pride was taken in building for permanency.  The very best materials were used; the best craftsmen of that day were secured.  The old fashioned cashsaw cut the heart timber, wooden pegs put the heavy sills together.  The brick were imported from England.   The woodword was hand tooled.  The plasters were the best that could be obtained, to do the two upstairs rooms and hall.  The two rooms downstairs, for some reason, were not finished by the same method.  The store and house were possibly built about the same time.  The house is large with simple lines throughout, hop roof with chimney at each end.  It has been well said:  "Every man's house is the estension of his personality."  The location for the house was well-chosen; the yard was spacious, surrounded by a beautiful picket fence.  In the yard were four well built summer houses, covered with honeysuckle and rambler roses and a tall old dead cedar tree, ivy covered, with beautiful birdhouses on top of it.  A great variety of trees:  mimosa, mulberry, locust, oak, elm, holly and apple; together with shrubbery:  snowball, spires, althsis, rose bushes, japonica, crepe myrtle; a bower of loveliness to anyone, especially to the grandchildren, who had the privilege of making the place their home.  For nearly seventy years the Carter family retained the place enjoying the roominess and warmth.  The grandfather, Stephen M. Carter, lived only fourteen years in his beautiful new home.
Stephen M. and Mary Caviness Carter raised eight children to be grown:  Their names were:  1.  Martha Louise, 2.  James Tillman, 3.  Eliza Carolina "Callie", 4.  George Henry, 5.   William Graham (named for Governor William A. Graham, was a baby in arms when they moved), 6.  Stephen Benjamin, 7.  Mary Jane, and 8. Annie Magdeline "Maggie".
All learned to work, educational facilities were poor.
Stephen M. Carter was a very resourceful man, he did his own thinking.  He owned no slaves.  He believed in paying people for their work.  the years spent in reconstruction and war times were periods of trouble.   Being a miller and on an important road, he supplied forage wagons with supplies of corn and meal.  In 1865 and on during the war, the miller who stored and protected the grain for the community, ground the corn and wheat for the bread to feed the citisen and the soldier who was serving his county.  He also had a large tanyard near the old mill dam, here the hides were made ready to make leather for boots, and shoes for the citisen and soldier; truly a necessary business.  To him mind this would do more good than going as a soldier to fight, however, he was critized for not going to war.
The business interests of Stephen M. Carter were varied.  The large flour corn mill, flourished; many farmers stored grain in the mill, it was used for a granary by the surrounding community.  The general merchandise store exchanged dry goods, coffee, sugar, molasses, hardware, etc. for money, gold or produce such as wheat, corn, cotton, dried fruits, eggs and chickens.  The produce was carried by wagon and team to water route or railroad such as Fayetteville or Cameron.  Much flour was hauled and shipped from these points by the Carter boys.
Besides the mill, a farm, store, sawmill, tanyard, a cotton gin were run on the place.  the boys and men were given work to do.  Several head of cattle and horses were to be cared for.
The post office was secured and named Carter's Mills, North Carolina.  The connection with the outside world was good because of the excellent direct Salem highway.
Since school advantages were meger, the Carter boys learned in the school of experience and hard knocks.  At an early age, William Graham told of driving a wagon and team loaded with flour to Cameron and Fayetteville, and bringing back good shipped into those places by boat or train.
Another interest of their father was gold-mining.  The Burrus and Cagel gold mines ran intermittently at full blast; and many a nugget of gold was brought to the store and exchanged at the market price of gold for merchandise.
Great crowd of men would come to the store to be furnished from these mines.
A small store was opened at Cameron, and much flour was sold through that, as well as other goods.  The Carter boys were responsible to some extent for the conduct of that business, they also attended school in Cameron and finally went a few months to Union Home School, at lest George and William did.
James Carter, the eldest son, married Betty Hunsucker; he was set up with a wagon and team of horses and a farm near Cameron.
Stephen Carter made a few trips to Baltimore and Richmond to buy goods.  He loved to dress in a broadcloth suit and beaver hat.  From all accounts he was a very proud man and thought much of his personal appearance.
Due to a long time irritated place in his mouth he submitted to an operation at John Hopkins in Baltimore.  The jawbone was scraped, as a cancerous condition was found.  The operation at first seemed successful but the dreaded infection, gangrene, set in, and unexpected telegram came to his wife saying the body would be shipped to Cameron.  He died June 14, 1882, age 52 years, considered in the prime of life.  He left a wife and seven living children to mourn his loss.
For a while the mother and boys, George, William and Stephen Jr., ran the business.  The flour mill was sold to Mr. Isaac Sheffield.  William became the miller.  He was not twenty years of age.  He also assisted his mother with the store and farm.  George married Maggie Neil of Old Hundred and moved away.
On April 17, 1884, William Graham Carter and Maggie Jane MacLeod of Euphronia were married.  He ran the mill night and day during the busy seasons.
Roberta Lee and Walter Stephen were born to "Will" and "Maggie" while they lived int he the four room miller's cottage on the hill just across the road from the mill.  Later he built for himself a small four-room house on his own part of the Carter estate.  Here Mamie Kate, Emma, and Blanche were born.
By now the entire management of the store was taken over by William Carter, attending the mill was given up, all his time was given to running a store, a small farm and sawmill, and a cotton gin.
The old Carter gin had been built on a spring branch near the cemetery, a new gin was built near the flour mill, on a new water race made for the purpose.
He now began in 1895 to buy some of the estate from the heirs.  First he paid $600 to Claudie and Blanche Coffin, left orphans by Callie Carter and James Coffin.  Then he bought George, Stephen, Mary Carter Brown, and Maggie Carter Howard part.  James had already received his share of the estate at Cameron.
In the winter of 1894, the William Carter family moved from the dearly loved little house on the ill to the large house built by Stephen M. Carter.  The mother and grandmother was afflicted with a very bad heart condition.  On February 21, 1895, she died at the age of 69 years.  She was a splendid Christian woman, very energetic all her life, a very fine housekeeper.  She loved to have her children and grandchildren about her.  They loved her very much.
About 1896 two more large rooms and a passage-way were added to the house by William Graham Carter.  Now the house had eight rooms.
The following children were born in the old Carter home to William Graham and Maggie MacLeod Carter:  Willie Pauline, Lillie Grace and Margaret Pearl (twins), William Graham Jr., Annie Virginia, and Robert Lee.  They had eleven children in all.
The business continued good.  The trade from the surrounding community and the gold mines was splendid.
The railroad came to Elise (now Robbins), a mile and half from Carter's Mills, NC.  The new town of Elise grew, stores and other business came to that section; but the country store soon felt a change.  The people went to Elise to buy goods.  Finally William G. saw he must build a new store in Elise.  He did.  The turn-over was not fast enough, because of the great competition he had never known before.  Soon the creditors closed the business.  A brave effort was made to start again.  But the store was finally sold to Sherman Garner.  He now turned all his situation to farming and sawmill work, the sawmill, a new one, was burned, so a depression such as the Carter family never had know hit it.
The education of the children went on.  Teachers including Miss Kate Kelly, were kept in the home to supplement the short term of public school.  The girls taught; often three at once would be teaching.  This helped save the home place from the creditors, while every dollar was paid on the old store debts.  All the children attended high school and some received as much as two years of college, all sacrificing and sharing alike.
William Graham Carter was useful in his community, he advocated better schools and better roads; he and his whole family assisted in all church activities.
It was a happy, hospitable, loving family broken up only by the death of mother and father.  Margaret Jane MacLeod Carter who had been born January 20, 1862 at Gulf, North Carolina, daughter of Angus MacLeod and Katherine McRae MacLeod, died suddenly May 26, 1922 of apoplexy in her sixtieth year.  She had joined Euphonia Presbyterian Church in her youth, later becoming a charter member of the Elise Presbyterian Church.  She was a devoted Christian and lived a life of love and service.  She was president of the Elise Auxiliary at her death.  She bore her part in the establishment of Elise High School, laboring for years in the interest of the school.
William Graham Carter married as his second wife, Miss Mattie E. Gilliam of Pocket Church community near Sanford, North Carolina
William Graham Carter, in his 63rd year, was suddenly called in death.  His summons came in the full vigor of life.  At the time of death he was Chairman of Board of Agriculture, a Trustee of Elise High School and a member of the County Board of Education.
The home under a mortgage to the Home Federal Land Bank, was kept for several years by the children.  Finally it was given up as the Carter heirs could not pay off the loan and thus redeem it.  It still stands and 'tis hoped it can be restored and enjoyed by some member of the family again sometime.