Elisha Allred  1803-1854
Elisha and members of his family are buried in the Moffit Family Cemetery
Moffitt Family Cemetery
Located: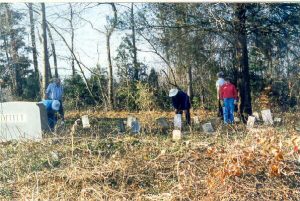 Address: 5151 Riverside Road, Ramseur, NC.  Directions:  From Coleridge drive 2 miles north on Hwy 42 to Riverside Road.  Turn left, go 2.2 miles.  You'll see the cemetery on your left.  If you go in the summer, beware!  Lots of chiggers!!
When Sue and I first saw this cemetery - we didn't actually see it.  The jungle was so thick, so much kudzu and underbrush, that we were standing about 3 feet away from one of the tombstones and weren't really sure what we were looking at.  We definitely couldn't get close enough to examine it.  We spoke to the property owner who gave us permission to cut down the small trees and clean up the cemetery.  But, before we could round up helpers for a work day, someone else had already cut and cleared away the trees and most of the underbrush.  We spent the rest of the day getting rid of all briers and repairing broken tombstones.
Note: Elisha and three of his children died during the Civil War years.  Barbara probably mourned herself to death, as she died a couple of years later.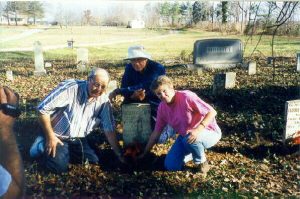 Eddie Clay Allred, Hollis Allred and Sue Whitley Estep honored their common ancestor, Elisha Allred, with a prayer and flowers.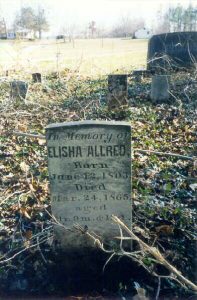 Elisha Allred 6/12/1803 - 3/24/1865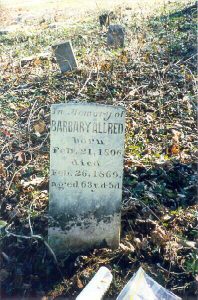 Barbary Allred 2/21/1806 - 2/26/1869 Elisha's wife, Barbara Spoon Allred.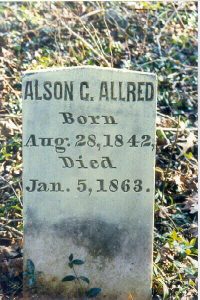 Alson C. Allred 8/28/1842 - 1/5/1863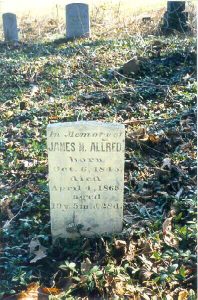 James H. Allred 10/6/1845 - 4/4/1865 James served as a Private in the Confederate Army, Company M, 22 Regiment, NC Troops.  He enlisted March 6, 1862 when he was 17 years old.  He was wounded in the head at Fredericksburg, VA on Dec. 13, 1862.  Wounded again at Chancellorsville, VA May 1, 1863.  Captured at Cold Harbor, VA on June 1, 1864.  He was confined at Point Lookout POW Camp (Maryland) until released on or about June 17, 1864 after joining the US Army. 
 Eliza Jane Allred 5/13/1848 - 12/1/1861