How many times have you looked at an old land record and saw some confusing
description of the land that read something like:
Beginning at a Red Oak running North 70 chains, 3 links to a rock on a ridge
then west 80 chains, 17 links to the big Pine, then south 53 chains 12 links
to the Gum, then east 89 chains and 5 links to the beginning........
I can't help you figure out where the Red Oak or big Pine are, but I can
explain what a link and chain are.  Per notes given to me by Ralph Allred of
Greensboro, land grants were described by North to South lines and East to
West lines measured off by Chains.  A chain is 66 feet in length and is made
up of 100 links, each .01 chain in length or 7.92 inches.
The Colonies used the Metes and Bounds System for surveying. 80x66' = 5280' or a mile.  After the Revolution the Federal Grid System was established during the Jefferson Administration of  6sq. miles by 6sq. miles for a Township.  The Mason-Dixon Line that established the state lines of MD. & PA. was the first base line which ran out of PA and into Ohio in about 1785.  Jim Allred allred@sbcglobal.net
Land Records:
John received his first land grant March 15, 1755.  Unfortunately, the original paper work for this land grant is in such horrible shape that it is only available for viewing via microfilm now. As you can see, it's very hard to read.  However, we do have the following description of this original land grant taken from the book Orange County Records, Volume I, Granville Proprietary Land Office, Abstracts of Loose Papers edited by William D. Bennett.  This book is on file in the Genealogy Room of the NC State Archives.  On page 12, you'll find:
Allrid, John        Warrent        15 March 1755
640 acres on east side Deep River, on mouth of Mount Pleasant Run of Sandy Run; includes his and Thomas Alldrid's improvements; heretofore entered by John McDaniel.
Entered 15 March 1755
Surveyed 2 May 1755
Deed 15 March 1756
#5402 -  John Allrid warrant dated 15 March 1755 to William Churton to survey 640 acres in Orange County on the East side of Deep River on the Mouth of Mount Pleasant run of Sandy Run – Including John Allrids and Thomas Allrids Improvements Heretofore Entered by John McDaniel /s/ Fras Corbin. Entered 15 March 1755. Back of document reads: Deed 15 March 1756" The Granville District of North Carolina 1748-1763, Abstracts of Miscellaneous Land Office Records, Volume Five, By Margaret M. Hofmann, page 132
Another description of the same land comes from the book (page 50) Orange County Records, Vol. V, Granville Proprietary Land Office, Deeds and Surveys, 1752-1760 edited by William D. Bennett, C. G. also on file in the Genealogy Room, NC State Archives, Raleigh, NC:
148.  15 March 1756, John Alred, planter, ten shillings, on both sides Mount Pleasant Creek, begin at a black oak, N crossing the creek 65 ch. to a black oak, E crossing the creek 80 ch. to a white oak, S 65 ch. to a white oak, W 80 ch. to first station, 520 acres, twenty shillings ten pence rent per year, surveyed 2 May 1755, Thos. Allred and Herman Husbands, SCC (SSLG 83-C) (Ed. note: see also N. C. Patent Book 14:332)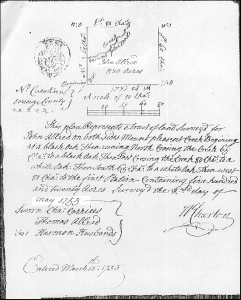 We also have this plat map which was attached to the original land grant.
Using this information we have been able to pin-point exactly where John's land was located.  Using today's map of North Carolina, locate Asheboro (Randolph County) in the center of the state.  Follow HWY 64 East from Asheboro to Ramseur.  Go north on HWY 22 about 1 1/2 miles, turn right on Patterson Grove Church Road.  Go 3 miles, turn left on Academy Road (at the church).  Go 1/2 mile and you'll find a bridge which crosses Sandy Creek.  Get out and walk 1/2 way across the bridge looking to your north.  About 50 yards north of the bridge you'll see the "mouth" of Mt. Pleasant Creek as it branches away from Sandy Creek.  Per the descriptions in the land grants, this is where John was living in 1755.  John's younger brother, Thomas, was living with him at that time.  To our knowledge, John remained on this land and is most likely buried on it somewhere.  His grave has not been found.