Susannah Allred Geren
(also spelled Guren, Gerren, Geron, Guerin)
Susannah was born and raised in Randolph County, NC on her father's farm.  Today that land is located in the Patterson Grove Community northeast of Franklinville.  Susannah married Hyram Geren and together they moved west to the territory known at that time as Kentucky.  Since then, the state lines have changed and the area where the Geren family settled is now known as Knox County, Tennessee.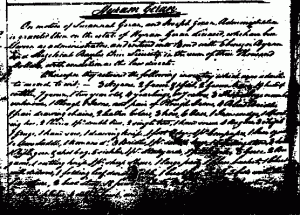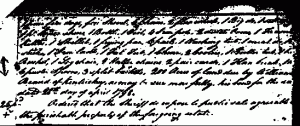 Hyram's estate was settled by Susannah and their son, Joseph, on April 28, 1798 in Knox County, TN.  Transcription below. (  ____ is placed where I couldn't read the writing.)
Hyram Geran
On motion of Susannah Geran and Joseph Geran, Administration is granted them on the estae of Hyram Geran deceased, who have been sworned as administrators and entered into bond with Ebenezer Byran and Hezekiah Bayles for severity in the sum of three thousand dollars with conditions the law directs.
Thereupon they returned the following inventory which was a ___ to record to wit:  3 ____, 2 ____ and 1 foil, 2 _____, 19 kids, 4 cattle, 7 ____, 1 two years old, 4 yearlings, and 7 calves, 3 sheep dogs, or ____ own, 1 plough and Irons, and pair of plough Irons, 4 blind bridles, 1 pair drawing chains, 2 leather collars, 3 hoes, 6 axes, 1 iron wedges, 1 spout with hoe, 2 ____ with double tonge, 2 single tonge, 1 hand ____, 4 ____, 3 ____, 1 tongs, 1 hand saw, 1 drawing knife, 1 fort adger, 1 ____ compass, 1 iron ____, 1 ___ saddle, 1 woman's d:  3 bridles, 1 pr saddle bags, 1 grinding stone, 3 ____ rifle guns, and shot bags, 5 sickles, 1 pr standards, 1 pitch fork, 5 geese, 2 Bee boxes, 1 cutting knife, 1 pr sheep shears, 1 large pail, 1 ___ basket, 1 chest with drawers, 1 folding leaf dining table, 1 breakfast table, 3 beds with their furniture, 2 bed stands, 18 pewter plates, 2 dishes pewter, curtains, 9 delph plates, 4 delph bowls and ___________ 1 pair fire dogs, fire shovel, 6 chairs, 2 flour wheels, 1 big _______ ____ show, 1 bottle, 1 vial, 4 iron pole, 2 _____ ____ 1 ____ kettle, 1 skillet, 1 frying pan, 6 pails, 1 working table, 1 walking stick, 1 iron ladle, 1 bath tub, 1 cheese, 1 cooler, 1 butter tub adn bucket, 1 log chair, 2 ____ chairs, 2 pair cards, 1 Warm brick, 6 pewter spoons, 3 ___ baskets, 200 acres of land __ by William Brevid of Kentucky, as may be seen more ___ his bond for the same dated 28th day of April 1798.
Ordered that the Sheriff __ ____ to public sale agreeable the ____ property of the forgoing estate. 
****************************

Hyram's estate sold for $1,048.52 at auction.  Translation below:
Hiram Geran
The amount of the sales of the estate of Hiram Geran dec'd was returned to court by Robert Houston, Sheriff, and admitted into record amounting to One Thousand and forty eight dollars fifty two cents. .............. Dls 1048.52
R. Houston, Sheriff
*****************************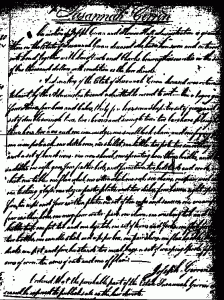 Susannah's estate was handled by her son, Joseph, in Knox County, TN during the January Session of Court 1806. Translation below:
Susannah Gerren
On motion of Joseph Geran and Thomas Hall administration is granted them on the Estate of Susannah Geran deceased who have been sworn and entered into bond together with Live Hinds and Charles Conovery ____ ____ in the sum of one thousand dollars with condition as the law directs.
An inventory of the estate of Susannah Geran deceased was ____ to court by the administrators and admitted to record to wit:  One negro girl, four ____, four cows and calves, thirty four hogs, seven sheep, two set of ___ and a set of double ___ ___, two ___ __ ___, two ___ ploughs, three goes, two axes and one iron wedge, one small back chair and one frying pan and one iron pot rack, one dutch oven, one skillet, one kettle, two pots, two smoothing ___ and a set of hand irons, one oven shovel, one sprouting hoe, three bridles, and two saddles, one rifle gun, four feather beds and furniture, two bedsteads and cords, one chest, one table, one flax wheel, one cotton wheel, one rug, six chairs, one pair wool combs, one looking glass, one dozen pewter plates, and two dishes, four basins, eight spoons, five tin cups and four earthen plates, one set of tea cups and saucers, one cream pot, four earthen boles, one mug, four water pails, one ____, one washing tub and iron kettle tub, one foot tub and one dye tub, one set of knives and forks, one ___ fork, two bottles, one candle stick and a pair sheers, one flax _____ three picks and a pot and five bee stands, two meal bags, a set of working spools, fifty acres of corn, ten acres of oats and one of flax.
Joseph Gerren
Ordered that the perishable part of the estate of Susannah Gerrin to ____ harvested to publick sale as the law directs.
**************************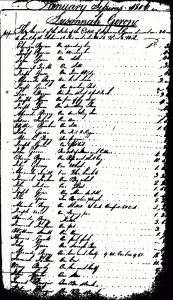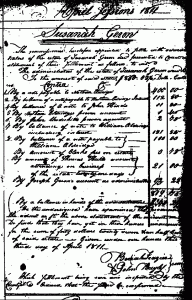 Susannah's belongings were sold at auction in 1806 and the final settlement of her estate was made on April 3, 1811.