Solomon #1 born 1680 England
.....Solomon #2
..........Solomon #3
..........Jonathan
...............John
..........Theophilus
...............Jonathan
...............Francis
...............Solomon #4
..........John
..........Francis
..........Phineas
...............Ezra/Azariah
John Allred 1787-1843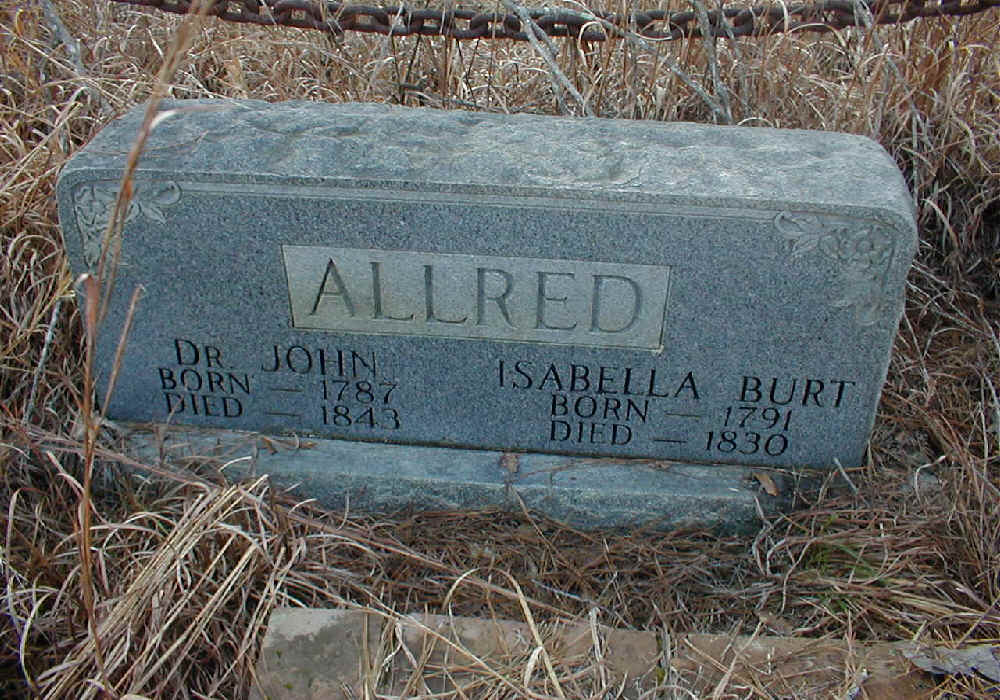 (Allred Lineage:  John, Jonathan, Solomon, Solomon born 1680 Lancashire, England)
Info contributed by Wanda Fuxan
(unfortunately Wanda's email no longer works so we've lost touch with her)
(Grave of John & Isabella is in Copiah County, MS, about 3 miles northwest of Caseyville)
John Allred was born in Richmond County, NC in 1787.  While he was a small child, his father, Jonathan, moved the family to Clarke County, Georgia.  As a young adult, John moved to Mississippi.  Per Amite County, MS marriage records, John married Isabella Burt on December 3, 1812.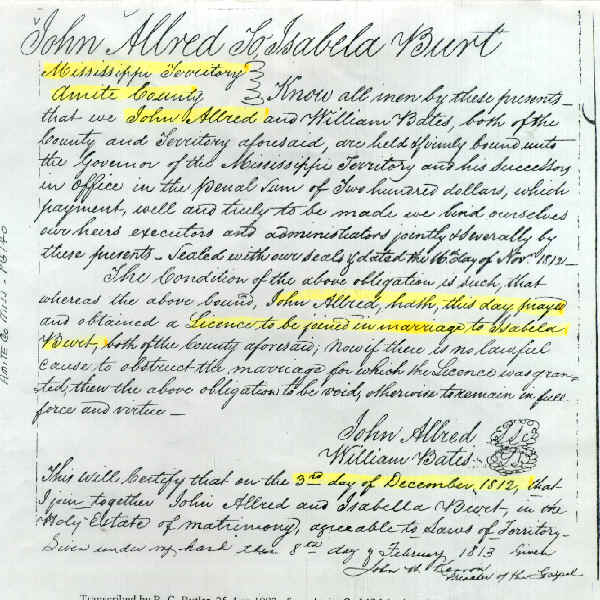 Amite County, MS Marriage Records, page 10
John Allred to Isabela Burt
Mississippi Territory  }
Amite County           }
Know all men by these presents that we John Allred and William Bates, both of the County and Territory aforesaid, are held & firmly bound unto the Governor of the Mississippi Territory and his successors in office in the penal sum of Two hundred dollars, which payment well and truly to be made we bind ourselves our heirs executors and administrators jointly & serverally by these presents.  Sealed with our seals & dated the 16 day of November 1812.
The Condition of the about obligation is such, that whereas the above bound, John Allred, hath, this day prayed and obtained a License to be joined in marriage to Isabela Burt, both of the county aforesaid; Now if there is no lawful cause to obstruct the marriage for which the License was granted, there the above obligation to be void otherwise to remain in full force and virtue.
John Allred (seal)
William Bates (seal)
This will Certify that on the 3rd day of December 1812, that I join together John Allred and Isabella Burt, in the Holy Estate of matrimony, agreeable to Laws of Territory.
Given under my hand this 8th day of February 1813.     Given
John W. Kennon
Preacher of the Gospel
John and Isabella had eight children including their oldest son, William Burt Allred.  Per census records, William was born December 8, 1816 in Amite County, MS.  He married Susan Alice Teacle in Copiah County, MS on January 12, 1839.
William and Susan raised seven children:
    Mary Elizabeth (who married John Watson)
Sarah Jane
Louia Josephine
Lavisa Candice
John Sylvester
Archibald Baker
James Nathaniel