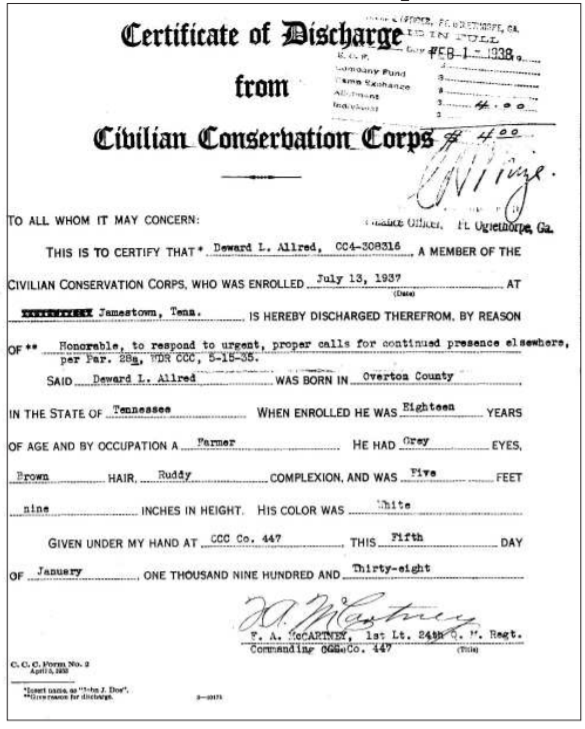 Landis Allred in the Civilian Conservation Corps
By:  Landis Allred (1922-2015)
Lineage:  Landis, Ruddie K., Joseph Francis, Solomon, Theophilus, Solomon, Solomon born 1680 Lancashire, England
Written:  January 25, 2012
After reading the article about the Civilian Conservation Corps camps in the 2011 summer issue  of the Allred Family Newsletter, I decided to send you information about my time spent in the CCCs.  I am listed on my Discharge Certificate as Deward L. Allred but I have always gone by my middle name, Landis. I was born in Livingston, Overton County, Tennessee.  I am the son of Ruddie and Hester Holt Allred. I was born in 1922 and will be 90 years in just a month, February 27, 2012.

I worked at Pickett State Park in Jamestown, Tennessee. I am sending along a copy of my Certificate of Discharge that states I was enrolled in the CCC on July 13, 1937 and received an Honorable Discharge on January 5, 1938.  The area of the camp where I worked included a large building that housed a kitchen and dining area, a dental and doctors office, bathroom area with showers, laundry area, library, education facility as well as an outdoor sports area.

 The Park had access to an area that was suitable for hunting, fishing and bathing.  Frequent entertainment was provided for the CCC men.  We slept in barracks that were situated around the outside of the large building.  My work there was mostly building an entry access area to the park. I worked quite a bit with cement.
I was born near Livingston, Overton County, Tennessee, and lived there until I went into the CCCs. After my discharge, I settled in Detroit, Michigan, where I worked in the auto industry.  I remained there until I retired. I married Ruth Sinske and we had one son, Donald. I now have two granddaughters and two great granddaughters. After retiring, I moved to Englewood, Florida, where I still live. I have been very active in my church. I had a stroke in January of 2011 but am doing quite well now.  I give thanks to God and the persons that have helped me.

Landis Allred