Elizabeth Diffee Allred
Why Did Elizabeth Name Thomas Allred In Her Will?
Elizabeth Diffee named in Bastardy Bond
Report on William (#2) and Elizabeth by Dawnell Hatton Griffin (written 1992)
h's will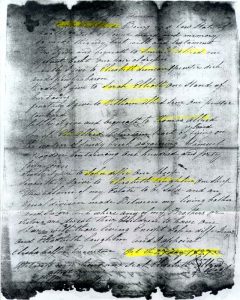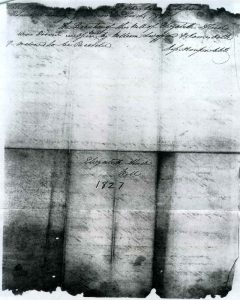 Transcription:
In the name of God Amen
I Elizabeth Allred Being in a low State of health But of Sound mind and memory do make this my last will and testament  First I give and bequeath to Samuel Allred one Walnut Cest (chest) + one pair of dressers
Secondly I give to Elizabeth Duncan 1 pewter dish and pewter bason
Thirdly I give to Sarah Elliott one stand of Curtains
Fourthly I give to William Allred Senr one pewter tankard
Fifthly I give and bequeath to Thomas Allred Son of Eli Allred a certain tract of land lying on the waters of Sandy Creek adjoining Samuel Trogdon Containing one hundred and forty four acres.
Sixtly I give to John Diffee one sheep
Seventhly I give to Elizabeth Laughlin one sheep
The balance of my Estate to be sold and an equal division made between my living brother and sisters and where any of my Brothers or Sisters are disest (deceased) their children to have one share with those living Except John Diffee Junr and Elizabeth Laughlin And I appoint Elisha Coffin Executor
Oct the 27 day 1827
Witness my hand and seal Elizabeth (her mark) Allred
Attest
William Swafford
**************
State of North Carolina Court of Pleas and Quarter Sessions
Randolph County November Term 1827
The Execution of this will of Elizabeth Allred was proven in open court by William Swafford and James Odell and ordered to be recorded.
Jesse Harper  CCC