2 Allred Names Carved on Independence Rock

Story and description written by Alice Allred Pottmyer  originally published in AFO Newsletter #68 Fall 2006
Photos below contributed by Gary D. Allred  who wrote:  "When the Allred's came west, many stopped at Independence Rock and carved their names on the rock.  Then to make money they would carve others names in the rock.  I visited the site in 2009 and found my 2nd Great Grandfather's name carved in the rock and took these pictures."
Reuben Warren Allred lineage:  Reuben, James, William, Thomas, Solomon born 1680 Lancashire, England
Reuben Warren Allred, etched the following into the southeast side of the Rock in 1849:
RW Allred
A Taylor Co.
Sept 10, 49
Reuben Warren Allred was a son of James and Elizabeth Allred. He was born in Bedford County, Tennessee, in 1815.



Independence Rock was called "The Register of the Desert" for the pioneers following the Oregon/California/Mormon Trails. Later the Pony Express Trail went by the Rock.  It was named Independence Rock because if the pioneers arrived at Independence Rock by
July 4, they could reach Oregon, California or Utah before the heavy snows and thus avoid the fate of the Donner Party.
Independence Rock is on Hwy. 220, 48 miles southwest from Casper, Wyoming. Devil's Gate and Martin's Cove are about five miles away. The north side of the Rock is today a Wyoming state rest stop. There is adequate parking and water available. There are interpretative signs about the Rock as well as area wildlife.  Gates permit people to walk around the Rock and see the names etched along the south side.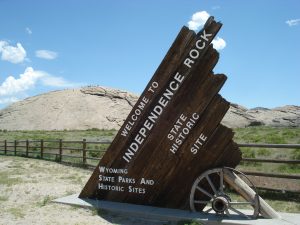 The book, Historic Inscriptions on Western Emigrant Trails, is authored by Randy Brown. It was published by the Oregon California Trails Association, Independence, Missouri.  No other Allred names were listed. Also, there were no Ivie or Sanders names listed.  Descendants of both Sarah Allred Ivie and Mary Allred Sanders also travelled West.