Veda ALLRED
Allred Lineage:    Veda, Edward Warren, John Jones, William, William, Thomas, Solomon born 1680 England
Born: 01/21/1912 Lovell, WY
Died: 07/17 /1999
Submitted by: Sharon Allred Jessop 11/30/2001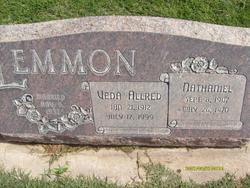 My birth date is January 21, 1912. I was born in Lovell, Wyoming, to Edward Warren and Rebecca Alvrean Lemmon Allred, the youngest of nine children. I was born in a log cabin built by my Father on some land they homesteaded on the Shoshone River.
My earliest recollection is about the time I started school at Lovell Elementary. All of my schooling through high school was in Lovell and I graduated from Lovell High in 1930 with a certificate that entitled me to teach in Wyoming rural schools. I never did teach there, but later taught school in Utah for eight years with no further education.
The three oldest children in our family, Anna, Ellis, and Mary (May) left home when I was very young so I only remember their coming back to visit, which they did often, and we enjoyed many happy times together as a family. We loved to sing, and would gather around the old reed organ, with Angus playing. There was someone for every part. Dad often played his fiddle for us at these gatherings. The ward choir director once said she had no worries about how the choir sounded as long as she had the Allreds there.
Everyone in our family was active in the Mormon Church and our parents taught us both in word and example to be faithful to what we believed. We had a happy life, and were taught to work hard. We always had plenty to eat and were well taken care by our hard-working parents. My mother was a very gentle woman and treated us kindly at all times. Dad was stem, but loved us and provided a good life for us.
In 1932 my Father and brother, Floyd, and I made a trip to Springdale, Utah, to visit family and get a load of peaches. While there I was invited to attend a dance in Glendale, Utah with a group of young people. Nathaniel Lemmon drove his father's lumber truck, with everyone loaded in the back, to the dance. He asked me to sit by him in the front, which I did. After the dance we started home. At that time they were just building the tunnel in Zion National Park and they closed it at night. We were too late returning and the tunnel was closed and we all stayed in the truck all night. It gave us a chance to get acquainted as we talked all night, with a few hugs and kisses. I left for Lovell the next day. We corresponded for the next 4 months and decided to get married. He and his parents came to Lovell, picked me up, and we drove to Salt Lake City where we were married in the Temple on November 9, 1932.
We made our first home at the sawmill on Zion ledges. We lived in the mountains every summer and would go to St. George for the winter until 1940, when we moved to Hurricane and eventually bought land and built our home there.
Our first son, Larry Allred Lemmon, was born November 6, 1933 in St. George. Our second child, Alta, was born August 21, 1937 in Springdale, Utah. Our third child, Norma, was born October 9, 1939, in Lovell Wyoming. We had gone there to celebrate my parent's golden wedding anniversary. In July 1952 we adopted our fourth child, Janice.
Narhaniel died in May 1970. All our children were gone from home and I have remained in Hurricane
---autobiographical.