Thomas Butler ALLRED
Allred Lineage:   Thomas Butler, Reuben Warren, James, William, Thomas, Solomon born 1680 England
Born: 03/17/1841 Nauvoo, Hancock Co., IL
Died: 11/27/1910 Salt Lake City, Salt Lake Co., UT
Submitted by: Sharon Allred Jessop 05/24/1999
Written by his only living daughter, Lucy Emmeline Allred Stapley
Thomas Butler Allred was the second child and eldest son of Reuben Warren Allred, who was the son of James Allred, who was the son of William Allred. His mother was Lucy Ann Butler. Father was born at Nauvoo, Hancock County, Illinois on 17 March 1841. I do not remember hearing him tell much of his childhood, but I do remember hearing him tell that once while a baby he became ill. The prophet Joseph Smith gave his mother a handkerchief telling her to put it around him and that he would be healed. He soon recovered.
When between three and four years of age. Father said he remembered seeing the tears roll down the cheeks of his father and mother as they rowed across the Mississippi River after hearing of the martyrdom of Joseph Smith and his brother Hyrum. Also, that he could recollect being lifted up to look at them as they lay in their caskets. These circumstances being of such an impressive nature, he was able to remember them distinctly throughout his life.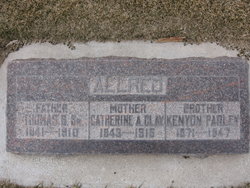 Father was baptized on his eighth birthday by his father, Reuben Warren Allred, and was confirmed on the same day. In the fall of that year he, with his parents, arrived in Salt Lake City in Allen Taylor's company.
In the fall of 1851 his grandparents, James and Elizabeth Warren Allred, came to Utah. Hence he was a pioneer, son of pioneers and grandson of pioneers on his father's side. In 1850 he went with his parents to Sanpete County, settling at a place which is now known as Manti. From there they moved to Canal Creek and then back to Manti.
His father, not having grain to make flour or much else to live on, moved them back to Centerville. Near by was a lake where fish were plentiful. They took their cows with them and lived on milk, butter, and fish. The fish were fried in the butter.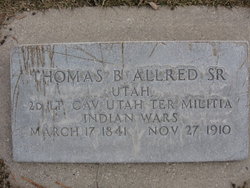 After a few years they moved back to Manti; then to Canal Creek (now Spring Town), then back again to Manti because of Indian troubles. .Later they moved to Fort Ephraim, and in 1860 to Spring Town (now Spring City). It was at this place that he grew to manhood.
He was five feet eight inches tall; weighed one hundred and sixty pounds; had light brown hair and blue eyes. He stood very erect all through his life. He was active and enjoyed all outdoor sports and took part in most of them. He enjoyed wrestling, running, jumping, and swimming. His brother, John L. Allred, said in a letter to me: "I have seen him throw men down by stepping on their toes. He has thrown me that way. If he was ever thrown I don't know of it. He could wear wooden shoes and then beat his chums running! When a boy he could run away from his crowd and hide from them in running one block. By the aid of a long pole (now called pole vaulting) he could jump over a stick as high as two tall men could hold it. By the same means he could jump over a covered wagon. He ran and jumped twenty feet over a cellar. He could stand and jump eleven feet on the level."
Uncle John said: "If i could talk to you I could tell you more about him. I was always proud of being his brother, not because he was an athlete but because he was an honest, upright man."
Father, like all pioneers, went through many hardships much as having to go without necessities of life. But through all he was happy and enjoyed himself along with other young people of his time. I have heard him tell of going to dances barefooted thinking nothing of it. He said, "We had to; we didn't have any shoes." In those early days he and his father made hair ropes and cinches. In this way they helped support themselves.
When only two months past sixteen, on 17 May 1857, he was ordained a seventy in the 47th Quorum by A.P. Rockwood at Fort Ephraim.. He acted as one of the Seven Presidents of the Seventy. I am still preserving his certification of ordination which was issued nine years after his ordination in the Quorum. It is very different from the ones that are now issued.
Father was an Indian War Veteran. He served in the Blackhawk War, enlisting in Spring Town, San Pete County about 25 July 1853. He was discharged at the same place at the close of the war; about 1870. He was just a few months past twelve years old at the time he enlisted. During the war he acted as a minute man - he stood guard, he went in pursuit of Indians; he was in several skirmishes with them. While helping to protect the lives and property of the settlers he had several thrilling experiences and narrow escapes from death. Father was in the first battle between the whites and the Indians in Salina Canyon. In this battle two men were killed. The white men followed the Indians to where they were hiding in the cliffs. To reach them they had to follow a narrow trail wide enough for only one man at a time. As they reached this spot the Indians began their attack. The white men had to retreat. Some had to dismount from their horses. The animals immediately ran off, leaving them afoot. A man by the name of Thomas Williams was one of the unfortunate ones and was run over. As Father was about to pass him Williams cried out, "Don't leave me Tom." Father reached down, and taking Williams by the belt, carried him this way for some distance. He then helped the rescued man on behind him and they rode on to safety. (In 1901 he pointed out the place where the Indians were in hiding. We were passing through Salina Canyon on a visit Mother, Father, and I were making to his two brothers, Ephraim L. and John L. and their families.)
Say 1967 - Father was in a battle near what is known as the stone quarry, a little hill one mile from Spring City. He was one of ten men who went out with the cow herd - they went in companies for protection. At this time an old man by the name of Johnson was shot in the back with an arrow. Father pulled the arrow out of his back, but Johnson died. Meeks was also killed at this time. Uncle Reddick Allred also took part in this battle which he told to me July 1933 at Manti.
Another time when the Indians had stolen some animals a company of men, Father being one of them, went to try to recover the animals. They located the Indians near what is now known as Castledale. When the men came on the Indian camp, the Indians scattered in all directions. One Indian whirled and drew his bow and arrow on Father. Father later said, "I had my gun ready to shoot. The Indian just dropped his bow and arrow." He never admitted killing an Indian; whenever questioned he would always change the subject.
On the night of 19 September 1863 Indians made a raid on Spring Town during which some of the most valuable horses were run off. Two of father's best horses were stolen at this time. Early the following morning, after eating a hasty breakfast, four young men, Andrew Jackson Allred, Rasmus Justenson, Louis Larson, and Father started in pursuit of the Indians hoping to recover the stolen animals. Thinking they would overtake them, they took no food with them. Seeing no sign of the Indians or horses when they got to Fort Ephriam (which is about ten miles south of Spring Town) one of the searchers went to the home of a relative and got half a loaf of bread. They then went east and crossed the mountains into Castle Valley. Towards the evening of the 21st, as they rode slowly along, they suddenly came on to a camp of about one hundred Indians.
The four men were instantly surrounded and ordered to dismount which they lost no time in doing. They were very hungry by this time but were not given anything to eat. The Indians went into council as to whether to kill them or let them go. The prisoners were frightened but said nothing and could only rely on the Lord for deliverance.
The next morning the Indians brought their horses to them and told them to go. They dared not show any fear but rode off slowly towards home. They soon met an Indian coming towards camp who told them to get away as quickly as the could for they were to be followed and killed. They hurried on after hearing the warning. Towards night they found themselves on the top of what is known as the Horseshoe Mountain. This is about ten or twelve miles southeast from Spring City. They were hungry, cold, and tired. One blanket is all they had in the party. They tried to make a fire by using flints and by other means. Their attempt was unsuccessful. They walked around until day break to keep from freezing. The next morning they continued on their way until they reached home where they found a posse starting to hunt for them. They were thankful to get back without their animals as they had been three and one half days without food with the exception of the half loaf of bread.
Later when peace was restored the Utes said that they were "heap brave wino Mormons" and, if they had made a fire on the Horseshoe that night they would have all been killed by the Indians who were trailing them.
During the Blackhawk War he served altogether 595 days but was never pensioned. While serving he had many more adventures which I shall keep in my own history.
After peace was restored the Indians used to come into the settlements begging. Father gave food to them and let them sleep in our yard.
He had a losing experience with Chief Blackhawk after the war. Blackhawk had a good looking mule which he offered to trade to Father for one of our own animals. Father liked the looks of the mule so the trade was made. Some time after that he went by team to Moroni on business. While there he met a friend, Ab Lowery. During the conversation which followed, Mr. Lowery inquired where he had gotten the mule. Father told him of the trade. Lowery informed him that Blackhawk had stolen the mule from him. Father gave the animal back to its rightful owner. A while later he met Blackhawk and reprimanded him severely for his dishonesty. However, he was never given the horse back or paid anything for him.
Father learned to talk the Indian language during the troubles with them.
Spring Town was composed chiefly of Danish people and Allreds. Here he learned some of the Danish language. During the winters he wore wooden shoes the soles of which were so thick that his feet never got cold.
He never went on a foreign mission but was called three times to go across the plains in the early sixties after immigrants. While on one of these trips he became acquainted with a family of Fretwells living in Wisconsin. He became infatuated with one of the daughters, Francis Ann Saxon. They corresponded until the family came to Utah. While in Wisconsin at their home he wrote this verse in Francis' album:
"As friends we are let us remain
While crossing o'er life's dreary plain.
And ever after may it be
Through time and all eternity."
She wrote a tender missive to him, which I still have, signing herself as Frank Fretwell, which name she was commonly called. On 22 February 1864 they were married in the Endowment House at Salt Lake City by Daniel H. Wells. They returned to Spring City to make their home. Two children were born to them: Thomas Butler Jr. and a girl who was never christened for she died soon after birth.
On 15 August 1866 Father was bereft of his wife, leaving him a widower at the age of twenty five. After the death of Francis he made his home with his parents. From letters I have read he must have been lonely and wandered some. In one letter he wrote to his parents and said, "Tell Butler I am bringing him a pair of red boots." One from Grandfather to him while he was in Idaho said, "Every covered wagon Butler sees it is you coming home."
Father did not have much schooling. What little education he did receive was from reading and keeping posted on current events. Notwithstanding his meager education he taught school some in Spring City with his cousin, John Frank Allred. They taught school some in Spring City in the old adobe meeting house. Butler attended his school.
Father was a farmer by occupation. While living in Spring City he owned a good city lot, two farms, and a small herd of sheep. He later sold his sheep, but through trickery of the buyer he never realized much from them.
I have heard him tell of swimming the Mississippi River.
He was the first secretary of the Spring City Sunday School, being sustained to this position at its organization of 27 January 1867. He received and distributed the fast offerings in this ward for a number of years. He also was a ward teacher in Spring City.
Besides performing church duties he held several civic positions of trust. For a number of years he acted as road supervisor in Spring City. He served the people there as city councilman; he served as a deputy assessor and collector of San Pete County for some years.
Father testified many times of seeing the spirits of four of his companions who had been killed by Indians. While he and his Aunt Caroline Butler, his cousin Adeline Tuttle, and one other person whose name I have forgotten were returning from Salt Lake City they camped for noon on what is known as the Divide. It lies between Salt Creek Canyon east of Nephi, and Fountain Green, San Pete County. While preparing the noon meal he and his Aunt noticed four persons around. They spoke of it and Father recognized them as being his friends who had been killed by Indians near Uintah Spring, now called Fountain Green. The other two persons present were not permitted to see them. The names of the personages were James Nelson, William Luke, William Reid, and Thomas Clark. Father said that they were dressed in Temple clothes. The party continued getting the meal looking up often and talking about these spirits.
As the company started on their way again these personages started out with them, then went in advance until they came to a large cedar tree. They passed behind and were not seen again. The tree was never seen there before or since. It was about two weeks before his death that he related this incident to me for the last time. He had just returned home from conference which had been held in Deseret.
John Henry Evans was at the conference from Salt Lake City, representing the authorities. He was also gathering history for early experiences in Utah, for a book compilation. As we, Mother, Hilda, Grant, and I were seated around the fire with him, he told of these four spirits concluding with, "I saw them as plain as I see you sitting there."
On 26 September 1870 he and my mother united in marriage in the Endowment House in Salt Lake City by Daniel H. Wells. To them nine children were born as follows: Kinion Parley, Joseph, Reuben Warren, a baby girl not christened, Martha Catherine, Lucy Emmeline, Cynthia Butler, John Ephriam, and Clay.
Father had full faith in the Gospel and was a firm believer in prayer. On several occasions he took my sister Martha, my brother Angus, and myself with him to his farm. Though very young at the time, I remember his taking us with him in a secluded place and kneeling in secret prayer.
He had all his children (except Butler) no matter what time of year we were born, that lived to become eight years of age, baptized on our eighth birthday.
During his life he met with several serious accidents. At one time he was up in the mountains east of Spring City gathering bark for tanning purposes. This bark was taken from the red pine tree. The trees were felled then one lone narrow strip was torn off the length of the tree. The rest of the bark was peeled off with a tool prepared for this purpose. The Bark was put in a vat or water together with raw hide. The hair soon came off the skin and the leather was softened and colored by the bark, and after weeks it was made into home made shoes. While gathering this bark a rolling log hit him on the chest. Butler told me he had seen Father's mother take care of the wound which was a running sore for a long time. It caused him trouble for years. He carried the scar to the grave.
During Indian troubles it was required that the enlisted man practice shooting. While at target practice at Fort Ephriam he was shot in the foot. The gun he used during the Indian war is being handed down from father to son. Clark Allred, a grandson has it now.
For some time in his youth Father had rheumatism and at times he was helpless. Butler said he had seen him fall in the street while afflicted with this disease, and would get terribly bent over.
On 25 December 1879 he married a widow, Hannah Stoddard Barney. Angus, Alpin Lloyd and Joseph Ammon were the children born of this union.
On 7 August 1884 the 80th Quorum of Seventy was organized at Spring City, with Father as senior president.
Hearing of the mild and wonderful climate in Deseret and the abundance of water for irrigation, he decided to move there in 1885. While not one of the first settlers, pioneering days were not over and we helped dig out several of the large canals that now bring water to Deseret, Oasis, and Hinckley for irrigation. He and Butler took a contract for a part of one canal. He also helped ;make the Abraham canal. He bought a city lot in Deseret close to his two brothers' homes and a farm about one and a half miles north of his home. In some of his letters written to Mother while he was in Deseret he would close by saying, "Remember me to my friends in Spring City and kiss my little children for me."
In those days the method of clearing land was by the use of the grubbing hoe. He and my brother Parley immediately began grubbing the brush. When cleared they plowed it and planted the grain, ready for the coming year's harvest.
In the early summer of 1886 he sent for my Mother and her family. He had not yet built a house so our first home was in a large east room with a big bay window, part of our Aunt Cynthia's house. It stands near the Sevier River and in those days was considered a mansion. During the summer of 1886 he built my Mother's home. It was a frame structure. The lumber in it was from the Fillmore sawmills. Joseph P. Mecham, a friend, sold the lumber to Father.
About 1887 or 1888 Aunt Hannah came with her family to make their home. Father bought the William Alldredge home her. It stood one quarter of a mile north of our home. It was made of adobes and has just recently been torn down (1933). A little later Father bought another forty acre farm of Niels M. Peterson. It lay across the street north of the little two room adobe house built by Benj. W. Scott and later, after he had vacated it, it was used as the first school and church house and is now known as the "Old Mud Temple." He traded this farm to Charles Burke for one one-half mile east of the main street. He owned it up to the time of his death and it is still owned by myself.
While the Manti Temple was being constructed he worked on it, donating one hundred and thirty five dollars towards it. He had the privilege of attending the dedicatory services of this temple 21 May 1888. I have in my possession the card which admitted him to the services. It has the signatures of Wilford Woodruff as President of the church at the time, and of Joseph S. Black, as bishop of Deseret Ward where he was living.
After moving to Deseret Father was chosen president of the young men's Mutual. He held this position for a number of years. While acting as president the Home Missionaries stopped at his home. One Sunday morning he and his missionary friend, Sidney Teeples of Holden, were on their way to Sunday School, he met with an accident near his sister's home. A gentleman from the east had several large horses in this vicinity for sale. He had two of them hitched up and standing near where they were passing on their way to Sunday School. The horses were restless and while moving around the tugs came unfastened. Father quickly stepped up to fasten them. This must have excited the horses for one of them kicked, striking him above the left eye. He was knocked out. Brother Teeples with the aid of others, carried him into Aunt Cynthia's home. It was necessary to take several stitches above his eye. This accident blinded him for some time. He could never see so well with the left eye as he could with his uninjured one. His nose must have been broken too, for it was slightly crooked after this accident. He had dizzy spells for years after. However, he recovered from them several years before his death.
Father was chosen as ward teacher in Deseret acting in this position for twenty four years. During his life he served as was teacher for forty five years.
His experiences were numerous and varied during the polygamous raids. I remember several incidents. One time while Joshua Bennett, Samuel W. Wester (still living and now ninety years old) and Father were hiding in the willows above our home in Deseret, Mother trusted my sister Martha and me to take their breakfast to them. One of Father's townsmen and old friend, Clawson, was a U.S. Marshall. Father was coming home from Spring City on a train on which this same Clawson was riding. They conversed all the way home. Clawson never arrested him, due, no doubt, to the respect he had for him.
Another time Father was informed that the marshals were in Deseret. He, with a friend, Jos. W. Damron, rode down southwest of Deseret, hoping to evade them. There they met several other men and stood talking with them. Here came the marshals! They, however, did not seem to recognize Father, so he rode slowly away and was soon safe again.
While on the underground he traveled through several counties in the southern part of the state. One day after a long, tiresome ride, he and his companion came to a little town in Dixie. Although they were both tired Father did not lose his jocular spirit. He decided to go to a house nearby and see if they could get a meal. It happened that the lady of the house was just preparing dinner. After talking awhile he remarked, "You haven't asked me my name." To this the lady said, "What is you name?" Father cleverly replied, "Tommy Come Eat." Astonished at this queer name the lady repeated, "Tommy Come Eat.? Glad to accept this as an invitation Father answered, "I'd love to! Maybe my companion will too!"
The oldest child of Mr. and Mrs. George H. Walker became afflicted and it was necessary to secure medical help. The citizens were asked to help them in a financial way. Mrs. Walker told me that Father one day shook hands with George and left in his had a dollar bill. He was the only person who lent aid at this time.
Father was honest and taught his children the principle of honesty by example as well as by precept. His record as an Indian fighter shows that he was fearless. He had the hospitality of the southerner. He would share his last crust of bread with a friend. If an acquaintance of one of his friends came near the place he would hunt him up and take him and entertain him as he would have done an old friend.
Emma H. Wright told me that when her husband was on a mission Father would hold out his hand as if to shake her hand and place in her palm some money and say, "Give this to John. It isn't much but will help him some."
Father was a joker and liked to tease. One day many years ago he went into the Wm. A. Ray store in Deseret where two young ladies were chatting. Large bustles were worn at this time.. He asked the girls to stand up together to see which was the taller. They turned back to back but could not get their heads together on account of the bustles. They saw the joke and enjoyed it with him.
After John M. Wright's new brick house was completed. Geo. Theobold and Father were looking through it. When they came to the pantry they saw a cake. They found a knife and soon had generously helped themselves. Then they went on through the rest of the rooms. Emma H. Wright, wife of John M., laughingly told me of the incident.
Father was a slight of hand performer. He could pass a fifty cent piece from his right hand which he held above a table or hat to his left hand which he held below the table or hat. Some times he put a fifty cent piece in the right hand and one in the left. He would then hold his arms stretched apart and say, "Pass." When he opened his hands there would be nothing in his right hand but two pieces in his left.
He was acquainted with all the presidents of the church when they were presidents with the exception of Heber J. Grant, but he met him before he was president.
He loved children and liked to amuse them by playing tricks with money, by playing his violin (which we still have), running with them, and giving the younger ones candy. He played the violin some. He played it for dances in Deseret, and sometimes in Juab and Black Rock.
On 2 January 1906 he started on a three month stake mission in the Millard Stake. He spent his time in Holden and Fillmore. On 20 May 1906 he was ordained High Priest by Orson F. Whitney.
The last few years of his life he suffered with nephritis. In November 1910 he, with Nathan B. Badger, was asked to go out north to a newly settled country now known as Woodrow, to appraise some damages by cattle. It was a cold day, and they took no wraps with them. In a few days father was compelled to go to bed. On the twenty third he had a convulsion and on Thanksgiving day he had a very bad cerebral hemorrhage. The doctor remained all night. I sat up with him. Alpin was with him too, running errands. On the morning of the twenty fifth it was decided to talk him to Salt Lake City to the L.D.S. Hospital. About his last direct works to me were, "I love you girl." While on his death bed, just a few minutes before being carried out of our house, I heard him for the last time bear his testimony to the divinity of Joseph Smith's mission. He said humbly and in sincerity "I know that Joseph was a prophet of God."
His nephew, Wm. R. Black, Bishop Wm. F. Pratt, Joseph W. Black, and others besides the family were at our house to help before taking him away. Angus went to Salt Lake City with him. Butler was in the city at the time and was called to his bedside.
He passed away on Sunday, 27 November 1910 at 12:25 p.m. He was sixty nine years, eight months, and ten days.
He was the father of fourteen children. Most passed away before they reached maturity, so his descendants do not number very high. Up to date, September, 1930, there have been through his lineage fifty two souls: twenty-nine males and twenty-three females. At present there are twenty living male descendants and twelve females, with eleven dead males and nine dead females. Of the twenty living males, twelve are eligible to the priesthood. Of that number there is one High Priest, three elders, two teachers, one priest, and three deacons. Four of his living descendants are holding some church position. He has two descendants who have served with Uncle Sam, one graduate nurse, two missionaries, one deputy state fish and game commissioner, five farmers, two postmasters, and one home maker. Since this data has been compiled four more of his descendants have passed away: Thomas Butler Jr., a son, died 28 March 1931; Hilda Greener, a grand daughter, died 16 August 1931; Angus Allred, a son, died 30 November 1932. Those born are a great grand son, Darrel Thomas Allred, great great grand son, son of Thomas Butler III and Lavern Western; and a great great grand son, James Junior Judd, born October 1933, son of James Judd and Cleree Allred.