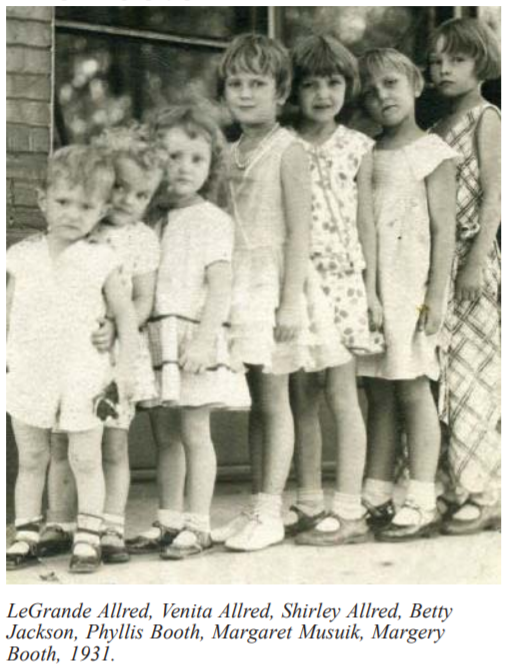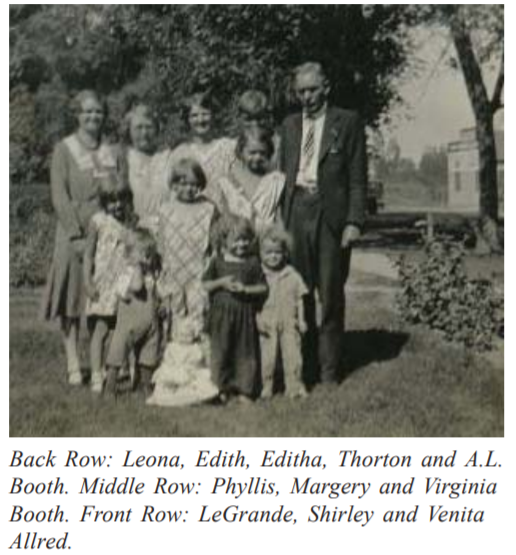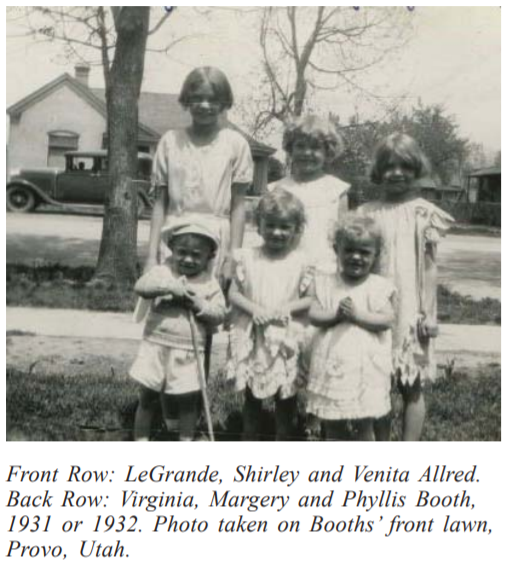 The Allred Children
by Beverly Allred Royer
Lineage:  Beverly, Wendell U., Theras Orson, Orson Pratt, William Moore, Isaac, William, Thomas

"Mom, who are the Allred children in your family pictures?"  My mother, born Virginia Booth, did not become an Allred until she married my father. She had no blood Allred relatives. Consequently, it was confusing to me that there were children surnamed
Allred in my mother's childhood photos. I have since learned the story of "The Allred Children." The following account is based primarily on the recollections of my aunt, Phyllis Phillips.
In 1931, A. L. and Edith Booth were busy raising their four children, Thornton, Virginia, Margery and Phyllis (ages 13 to 6), at 131 West 500 North in Provo, Utah. Also living at home and helping raise the children was Editha Booth, A. L.'s 28-year old daughter by his first wife. There were many relatives of the Booths who lived nearby One neighborhood family who wasn't related resided at 167 West 500 North. This was Elmo Allred (1904-1971) (Elmo, Isaac Alma, William Alma, Isaac, James, William, Thomas), his wife Grace and their three children, Shirley, Venita and LeGrande (ages 4 to 2).

Near the time of her 23rd birthday on 28 February 1931 (1) Grace Allred became ill with an ear infection.  Several days later, a physician determined she had developed encephalitis (inflammation of the brain) and sepsis. The doctor operated on March 9 but Grace died the following day in Provo's Aird Hospital. (2) Times were economically difficult during the Great Depression. Although Elmo was a very good electrician and handyman, he was on government assistance at this time. Edith Booth, a former kindergarten teacher, loved little children. She nurtured young ones with "a rocking chair, a nursery rhyme book and an ample lap." (3)  Her daughter Phyllis recalled that "Elmo's family had lived in the Ashworth apartment just two doors west of us. His three children, Shirley, Venita and LeGrande, needed someone to take care of them. They were so close in age that Venita turned three before Shirley turned four and LeGrande turned two before Venita turned three."(4)

Soon after Grace's passing the children moved in with the Booths. Elmo moved into "The Little House," a separate dwelling behind the Booth home. Everyone ate together. It must have been quite a lively atmosphere. Phyllis continues, "The Allred children called
[Edith], 'Mama Booth,' and she and they became very devoted to each other. She disciplined them, however, and I felt rather put out over the attention she paid to them. Before they left, I had become very fond of them myself, especially Shirley, and wished that they had stayed longer. Mother worried about them when they left, and even gave LeGrande a birthday party on his fifth birthday. She gave all of them birthday presents for years." (5)  The Allred children also gave Edith gifts at Christmas time.

Elmo was a good looking man who liked to go to dances. After living at the Booths for almost a year and a half, he married Louise Gore, an 18-year-old from Springville, Utah, on 30 August 1932. Phyllis stated that Louise "was a very special person, as you can imagine, taking on the responsibility of three little children when she was only 18.... Her stepchildren loved her as much as they could have loved their own mother." (6)

The Allreds settled a few miles away, in the southwest part of Provo. By 1936, Elmo's family was apparently faring better economically. That December, Elmo won the Provo Junior Chamber of Commerce Christmas lighting contest by displaying "a pictorial study of Christmas carolers with a concealed instrument playing popular Yuletide carols." Elmo won $15 for his "clever
variety of sound effects with distinctive lighting."

Elmo was murdered in 1971 while on a sales trip to Billings, Montana. There was a trial and coverage in both the Billings and Provo newspapers. (Click Here to read some of those newspaper articles about his murder and trial.)  His widow survived him for almost 30 years.  The Booths kept track of the Allred children for several years. LeGrande was a resident of Maryland when he passed away in 1999. When Venita (Allred) Morgan died in 2007, Phyllis and Virginia went to her viewing in Orem, Utah, and visited with the family. Coincidentally, Virginia (Booth) Allred and Shirley (Allred) Salgy died on the same day, 10 June 2012, and in the same city, Orem, Utah. I like to think that they both had a warm reunion with "Mama Booth."
(1) Grace was actually born on February 29th.
(2) "Utah Death Certificates, 1904-1956," index and images, FamilySearch.org, (accessed 28 Apr 2013), Grace Small Allred, 10 Mar 1931.
(3) Lora Lark Phillips Michl, "Grandma Booth " in Phyllis Elsie Booth Phillips, Biography of Edith Harriett Young Booth, (Privately published 2007) (hereinafter cited as "Phillips, Biography"), p. 175.
(4) Phillips, Biography, p. 25
(5 )Ibid.
(6) Ibid.
(7) The Evening Herald (Provo, Utah), 22 December 1936, page 1.