Sidney Rigdon ALLRED
Allred Lineage:   Sidney Rigdon, Isaac, William, Thomas, Solomon born 1680 England
Born: 10/22/1837 Caldwell Co., MO
Died: 11/22/1911
Submitted by: Sharon Allred Jessop 01/09/1999
Written by:  Loma Minnie Barney Jensen (granddaughter)
Sidney Rigdon Allred was born 22 October 1837, Caldwell County, Missouri. Arrived in Utah with Allen Taylor Co., 1849. This is written by a granddaughter, Loma Barney Jensen, Canal Creek Camp, Daughters of Utah Pioneers, Spring City, Sanpete County, Utah.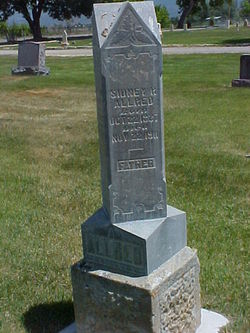 Sidney was born October 22, 1837, at Caldwell County, Missouri, son of Isaac Allred, born January 27, 1788, at Pendleton County, South Carolina, and Mary Calvert, born March 19, 1793, at Elbert County, Georgia.
Sidney's parents lived in North Carolina and later moved to Tennessee where most of their large family (nine sons and four daughters) were born. The boys names are as follows: William Moore, John Calvert, Joseph Anderson, Paulinus Harvey, James Riley, twins Reddick Newton, Reddin Alexander, Isaac Morley, and Sidney Rigdon. Their daughters were Elizabeth Nancy who married Asa Earl; Sarah who married Allan Taylor; Mary Caroline who married Joseph Egbert; and a half sister who married John Robinson.
The family moved from Tennessee to Monroe, Clay County Missouri, where Sidney was born. Later they moved to Adams County, Illinois, in 1839, and in the spring of 1840, they moved to Nauvoo, the Beautiful, as they later called it.
Sidney's parents were early converts to the Latter-Day-Saint Church, some were baptized as early as 1830. The Allred family was personally acquainted with the Prophet Joseph Smith and other Church leaders.
Their father played the violin many times in the home of the Prophet, and Sidney remembered well of sitting on his lap. He also heard him say, I go like a lamb to the slaughter.
While living at Garden Grove, Iowa, Sidney was baptized by Lisher Groves. His two older brothers, Reddick N. and James Riley, volunteered for service in the Mormon Battalion.
Sidney traveled from Illinois to Utah with His parents and brothers, Isaac Morley and William Moore, in the Emigration Company, led by his brother-in-law, Allan Taylor. His father, Isaac was president of the company - 500 people with 100 wagons - were outfitted at the station in Kanesville, Iowa, on July 12, 1849.
They traveled with oxen team and Sidney told his many experiences, some sad, some very humorous, to his children and grandchildren. He told us one day when the company was resting and repairing wagons, some of the younger boys his age (12 years) scouted around the camp and played around a cliff hanging over a stream, when he put his hands along the edge to hang on. He felt something unusual and looked to find a human body that had been laid under the hanging rock for protection or had crawled there themselves and died. He said he would never forget the fright and awful chill he experienced, and dropped into the water and swam away as quickly as he could.
He often told us of bugle-call to prayers night and morning, of their extreme care of live coals, so they would not have to borrow fire from their neighbors, of their dancing bare-footed around the campfire, singing and being happy. One song I remember so well he sang to us was "My Father's Gray Mare;" the story of it was that a young man came courting a girl with his eyes on a fine horse her father owned, but she let him know she knew why he was paying her so much attention.
His relative, a second cousin, Lucy Ann Allred, daughter of Lucy Butler and Reuben Warren Allred, Sr., was in the same company. He helped her along the rough spots while crossing the plains.
His older brother, John Calvert, who married in the East, never came West with the rest of the family.
They arrived in Salt Lake Valley, October 18, 1849, and lived in Little Cottonwood, where his mother who had endured the long Journey across the plains passed away in 1852.
During the Johnston Army trouble, when Sidney was working on fortifying Echo Canyon, he broke a blood vessel in his breast as he lifted a heavy rock. He lay unconscious at Widow Hannah Aldrich's home for three days. After ten days, his brother, Isaac, came for him with his wagon and team and took him home. He almost lost his life at this time.
President Brigham Young asked the family to locate with other Allred families in Sanpete County. They located in Spring City on the lot where the Frank Hansen live now.
Sidney and fourteen others were called to go to the Salmon River in Idaho to help immigrants whom the Indians had attacked as they were trying to settle there. It rained and snowed every day of their 400-mile journey, and the return trip home was made with only cracked wheat to eat. Grandfather Sidney was very fond of rice and said, as a boy, that if he had all the rice he could eat, he would be perfectly happy.
As he neared Sanpete one time after being on duty at Ensign Peak, he was singing "Our Captain is Crossed in Love". His brother, Joseph, heard him a distance of four miles and could tell the song. The reunion was a happy one with his father and brothers. He saw his future bride for the first time since crossing the plains.
They were married May 13, 1860 (Sidney Rigdon Allred and Lucy Ann Allred) and their first home was on Alvin Allred's lot. "We had a quilt for the door," Grandfather told us. "Not until some time later when Elder Orson Hyde came to eat baked potatoes with us and gave me nails and some material to hang a door, did the quilt come down to help us with a warmer bed.
Other furnishings were a homemade bedstead, one frying pan, six plates, two or three knives and forks, and a much prized bake skillet for which he paid $14.00, and an iron fire shovel, costing $3.00. Their first broom was made of rabbit bush tied together around a round stick. He bought a spinning wheel for $10.00 and cotton from Dixie which his young bride soon corded and spun and made his first suit of clothes.
After the return from Fort Ephraim (as he always called it) where they had to go for protection from the Indians, they traded their lot for the one north of the post office, later known as Rasmus Justeseus.
They had many scared encounters with the Indians. One time when his brother, Reddick, led a group of Whites against the Indians in Salina Canyon, a bullet came so close to his nose it scarred it for life. A young companion, Frank Hyde, had his horse shot from under him. Sidney seeing his plight ran his horse past him, and Hyde jumped on behind him, and they fled to safety.
Grandfather Sidney was a very hard worker, mostly getting their wood and timber from the mountains and selling it to others. He loved the mountains and spent summers and winters working in them. He wasn't a public man, and one time when he was asked to say a few words at a celebration honoring those had seen and known the Prophet Joseph Smith, he said, "I'd rather face a band of wild Indians than an audience."
They lived in Chester, Utah, several years but with this exception, they spent their entire married life in Spring City.
They were the parents of sixteen children: Lucy Ann, Sidney Warren, Calvert Lorenzo, Calvin Alonzo, Francis Arletta, Minnie Druzilla, Lula Luetta, Eliza May, Ida Elzada, Marriett, Joseph Fielding, Bertie Geneva, William Burton, Thomas Harvey, Nancy Louisa, and Hazel Luella.
Eight of these grew to maturity. Lula died at the age of nineteen. The names of the others and who they married are
Calvert Lorenzo - married in polygamy - Maria and Andrea Jensen
Minnie Druzilla - married William Charles Barney
May - married Peter R. Peterson
Ida - married William Ling
Mariett - married Easton Kelsey
Bertie - married John Bowman
William Burton - married Lillian Anderson
His wife, Lucy Ann, died September 17, 1906. His last days were spent with his seven living children and his many grandchildren. His daughter, Bertie, didn't marry until after his death, November 22, 1911. She took loving care of him.
We grandchildren enjoyed talking about our love for him and his kindness and the interest he showed us all. The stories and songs he told us and sang and taught us will always remain in our memories of our dear grandfather, who was a faithful member of the church. When he died suddenly, his reading glasses and grandmother's picture were his bookmark in the Book of Mormon he had been reading.