Seymour Legrand ALLRED
Allred Lineage:   Seymour Legrand, William Moore, Isaac, William, Thomas, Solomon born 1680 England
Born: 04/15/1862 Grantsville, Tooele Co., UT
Died: 04/30/1923 Afton, Lincoln Co., WY
Submitted by: Sharon Allred Jessop 07/30/1999
Seymour Legrand Allred was born to William Moore Allred and Orissa A. Bates on April 15, 1862 in Grantsville, Utah.  When he was still very small his family moved to Bear Lake County, St. Charles, Idaho.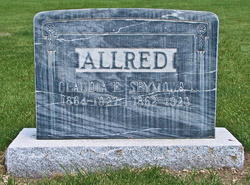 This is a most unforgettable experience which occurred shortly after they were settled in St. Charles: A company of Mormons were immigrating from Nauvoo, Illinois to Utah. Men were called by President Brigham Young to meet this company -- just as men today are called to fulfill missions. They left in June, 1868. They met the company and continued the journey. When Green River was reached, they found it necessary to build a ferry to take their loaded wagons across and then they would have oxen swim across. There were six men who lost their lives in the water while trying to make the oxen swim. My grandmother's's brother, Edwin Stock was among those men. Struggling and fighting for breath he clung to some willows but fell unconscious back into the stream. Grandfather's brother, Marvin Allred, threw a rope and lassoed him and finally brought him back to life. Afterwards he went through so much suffering, many times he wished they had let him die. However, he did recover and live to be a old man and raise a large family and died about 1939. After everything was adjusted and they were on their way again, a song was composed about the incident by members of the group.
Back home, the people had heard that some of them had been drowned but did not know who until the company returned int he fall of the year, for there were no means of communication.
When the men returned home, grandfather was sitting in the house crying with his chappy feet. He had no shoes and his feet were very sore. His brother Marvin rode by their house and fired three shots to let them know he was back. Grandfather said he forgot all about his sore feet and they all ran out to meet him. When the excitement was all over, Grandfather looked at his feet and found they were all covered with blood.
THE GREEN RIVER FERRY
(This is the song that they wrote)
1 We the boys of Cache and Bear Lake County
In obedience to the call
We started out with sixty wagons
To bring immigrants in the fall.
Without fear or that of danger
Joyfully on our way we sped.
And with every heart abounding
Captain Molen at our head.
Over hills and by the fountain
Thro the mud and in the dust,
Slowly climbed the lofty mountains
Far about the snow white crust.
With the sun to West declining
Glad to welcome close of day.
By some stream or gushing fountain
To refresh all night we lay.
2- When we reached Green River Ferry
On it's bands all night we lay.
In the morning we ferried our wagons over
Thinking soon to roll away
Next to cross our oxen over,
But we found they would not swim,
To accomplish our mission
We were called to fill below
We left our friends our wives and children
O're the dreary plains to go.
3- As the boat was passing over
And the water in the boat did pour,
Cried Captain Molen, "We'll go under,"
Ne'r again to step on shore.
Down they went and broke the tackling
Boys and cattle all went down.
And that mighty gushing current
Swept them with a haughty frown.
Some to oxen horns were clinging
Till with them life seemed all o'er
Boys and cattle all went under
Ne'r again to step on shore.
4- Some to plank and boards were clinging
Down the rapid stream did float,
Some by heaven seemed protected
Drift ashore upon the boat.
One had landed on an island
Clinging to the willows green.
But to him life seemed extinguished
Back he fell into the stream
Thus six boys from parents driven
And from friends whom they did love.
Left us here, again to meet us
In that better world above.
At this time the Indians were rather unfriendly and "Indian Scares" were frequent. Grandfather herded cattle which belonged to the Mormon Church. One day he was seated on his horse tending the cattle when he was an Indian fishing. When the Indians saw him he put down his fishing pose and got out his bow and arrow. Grandfather was too, frightened. He was just frozen in one spot and stared that the Indian. Since the boy showed no frantic signs of fright the Indian laughed and put his arrow away. The boy then turned and rode slowly away to make the Indian think he was very unconcerned. When he was out of light, he said he had never made that horse run faster and he had never been so glad to get safely home.
When he was about sixteen years old he began working in saw mills which were operated in Logan canyon. While working here he also hauled rock from the canyon to build the Logan Temple.
John Stock was Bishop of the Fish Haven Ward when Grandfather wanted to be married to his daughter, Claudia. He was much against the marriage and said to Grandfather, "I don't know of anyone who could starve a woman quicker than you could." However he did issue recommends for them to go the Endowment House in Salt Lake. So, on June the 22, 1883, Grandfather was married to Claudia Ellen Stock in the Salt Lake Endowment House. (The Endowment House was used for marriages until the Temple was completed).
The Church owned large herds of wild horses and Grandfather was hired to break the wild beasts to ride.
Here is an incident relating to the hostility of the Indians in those days; Two young boys went to the hills just west of the St. Charles to get the cows and drive them down to be milked. The boys did not return. All the men of the town went to search for them. Grandfather was one who assisted. The boys were found dead, one with his heart cut out. Then a search was made for the Indians. They were finally found and hung on the Bear Lake Shore. Just before they were to die they were asked why they had cut the boy's heart out, and their answer was that the little boy was brave and they thought if they ate his heart then they would be brave, too.
The Indians begged to be permitted to go to their families before they were hanged but this was their answer "You did not let those little boys say good-bye to their families."
Grandfather and his family moved to Montpelier, Idaho where he delivered mail from Montpelier to Randolph, Utah, for several years.
They moved from Montpelier in May of 1891. The trip was made in an old covered wagon. When they came to Crow Creek they got stuck in the mud. Grandfather's older brother, Byron, came for them and they carried their belongings and the children to his home in Fairview. His wife had made beds for them all across the floor.
They made their home in Fairview. While there, baby Maud was born to them. Shortly afterward they moved to Afton, Wyoming into a one room log house. The floor covering was a home made carpet with straw under it for padding. This was about 1895. Later a two room house was built and the other one was used for a granary. Grandfather's main occupation was buying and selling cattle. They were turned out on the Tygee Range in the summer.
Grandfather was the first man to own a buck rake in the valley. This is clearly remembered by daughter Ada who was working in Davis Dry Goods Store in Afton at the time. He was proud of it and had driven it right through Main street and stopped at the store and told Ada to come out and see it. Incidently, all the people in town were interested in the new gadget, too.
He was one of the first to won a two-seated white topped buggy. His daughters Eve and Ada went to Fairview to get the buggy which had been brought from Montpelier. People who saw the Allreds coming in their buggy would bow and hold out their hats as they went by.
And we cannot forget the first cars in the valley. Dr. West, Joe Call, and Dr. Procter, all of Afton each had a model T. Ford. Grandfather was not to be outdone and soon afterwards he had one too.
On one occasion, when most of their children were married, a trip was planned. They were going to Bear Lake to have an outing. Grandfather's son-in-laws Joe Tayson and Ben Nield took their cars and he also took his. Ben had a Grant Car and had quite a bit of trouble. He had 11 flat tires on the way. Ben went ahead of the other cars and soon they would see him standing in the middle of the road and they would say, "Well, Ben have you another flat tire?" He would answer, "Well, sure."
The party camped in Montpelier Canyon that night and went on the next day. Ordinarily it took two days with team and wagon to get to Montpelier, and four to six days when there were muddy roads. Today with our modern automobiles the trip is made in 45 minutes or an hour. Later Grandfather purchased a Page Car. At one time he paid $40.00 for a spare tire for it.
Grandfather was sheriff of Lincoln County for many years. This is but one experience: Jack Merill ran a saloon in Afton. Will Davis, who was said to be drunk, came to shoot Mr. Merrill. However, Mr. Merrill shot and killed Mr. Davis. Grandfather heard yells and shots from his home one mile away while he was milling. He immediately got his horse and rode to town. Mr. Davis was dead when he got there. He was father of five young children. Those who Grandfather took as prisoners were locked up in his granary until they could be taken to Kemmerer, Wyoming to the jail. At one time Parley Cook and Dolf Rodgers had broken into a store in Afton. They were locked in Grandfather's granary. His children remember very distinctly when they had to take their meals out to them.
During his experience as sheriff, he was heard to say, "Honestly, I hate a liar. You can lock you door against a thief but you can't against a liar." During his career he did everything he could to clear up any feelings that were among his people.
Grandfather freighted cheese from the Roberts Creamery which stood across the street form Melford Neild's home (1953). The cheese was taken to Montpelier and there he loaded up with groceries and gas to bring back.
Grandfather was very fond of sauerkraut. He used to call his children into help him make it. They had to stay until midnight at times cutting cabbage while Grandfather stomped it and salted it.
Shortly after their last baby was born they had a new house built where Legrand Allred's house now stands.
He was the father of nine children and was a very kind father. He held the priesthood as an elder and acted as a ward teacher. He was not will for several years before his death because of heart trouble and sugar diabetes and was bedfast for about three weeks then passed on.
When Grandfather was young he was an excellent boxer. He was never beaten or throne down by anyone in the State of Utah. He was also very good at wrestling. His brother Medwin was equally as good at these sports.
This information was gathered from his children, of different incidents they were told and experiences they could remember.
His children - Eva Claudia Nield, Ada Ad
STAR VALLEY INDEPENDENT
Friday April 20, 1923
Seymour Allred Answers Last Call
One of the old pioneers succumbed to heart failure.
Seymour Legrand Allred passed away at him home in Afton early this morning from heart trouble following an attack of flu.
Mr. Allred has been in poor health most of the winter, and about three weeks ago was taken ill with what was thought to be the flu. He partly recovered from the attack but his heart was very weak and dropsy set in which finally ended his life early this morning.
At his bedside were his wife Claudia Allred, his brother N.C. Allred, his son Legrand Allred, his daughters Eva Nield, Mrs. Ada Nield, Mrs. Nora Harrison, Mrs. Ohloe Taysom, Mrs. Lavon Venter, Mrs. Lois Hale. His other daughters Mrs. Maud Dayton and Mrs. |Belva Kent were on their way in. Mrs. Dayton from Salt Lake City, Utah, and Mrs. Kent from Smithfield, Utah.
Seymour was an old and respected citizen of Afton Having resided here about 34 years. He was born in Grantsville, Utah in 1862 and was 61 years of age last Sunday (13 April 1862). He came when a small boy with his parents to Bear Lake and settled near St. Charles and passed through all the trials incident to pioneer life in a new country.
He married Claudia Ellen Stock also a Pioneer and they came to Star Valley about 1889 and helped in the settlement of Star Valley. Seymour has always been a Latter Day Saint and was the father of a large family of girls and one boy all of them survive him. He is also survived by two brothers: N.C. of Afton and Marvin of Bear Lake.
Mr. Allred was always a highly respected man in the community and did much toward the enforcement of laws. He served as Deputy Sheriff under the late Sheriff Ward for many years, and also served int he same capacity under Oakley until recently.
We extend sympathy to the bereaved family.
Star Valley Independent
Friday, Nov. 11, 1927
Mrs. Seymour Allred Called Beyond
Mrs. Seymour Allred who has been seriously ill for the past two months passed away at Afton last night. Mrs. Allred fell and broke her arm about two months ago, which helped bring on a number of complications which resulted in her death last night.
We are unable to get a complete story of her life for today's paper but have made arrangements to get it for next weeks issue.
Funeral services will be held in the South Ward Chapel at 1:00 p.m. Sunday.
Star Valley Independent
Friday, Nov. 18, 1927
Another old Pioneer of Star Valley and Bear Lake Valley called to the great beyond.
The death of Mrs. Seymour Legrand Allred was recorded in the last issue of the Independent. She died last Thursday at 8 p.m. after a lingering illness of two months.
About two months ago Mrs. Allred fell and broke her arm between the elbow and the shoulder. Dr. West set The Fractured bone and it seemed to grow together alright but her having to lie still so long it brought on her heart trouble and dropsy witch resulted in her death. Dr. Beal and Dr. Ashely of Montpelier were called to her bedside but it seemed that the doctors skill and the power of the priesthood and all that loving hands could do nothing could spare her life any longer.
Mrs. Allred was born at Paris, Idaho sixty three years ago. She spent her childhood days at Fish Haven and St. Charles and was married to Seymour Allred 21 June 1882 (1883) and made her home in St. Charles where they lived for ten years then they moved to Star Valley and in Fairview for four years then moved to Afton, where she has made her home since.
To this union nine children were born: eight girls and one boy are living and have families of their own and they were all able to be at her bedside when the end came. They are as following:
Mr. J. W. Nield, Mrs. Ben Nield, Mrs. Joseph Taysom, Mrs. Joseph Harrison, Mrs. Wm. N. Dayton of Salt Lake City, Mrs. Clarence Venter, Mrs. Louis Hale, Legrand and Mrs. Golden Kent.
Mrs. Allred also has six brothers and four sisters that survived her. They are: Edwin Stock of Fish Haven. Idaho, Mrs. Hyrum Rich, St. Charles, Idaho, Mrs. Chris Merkley, Logan, Utah, R. W. Stock, Afton, Epriam Stock, Salt Lake City, Utah, Haft brothers and sisters, Mrs. Charley Shurley, Fish Haven, Mrs. Louis Gardner of California, John and Joe Stock of Fish Haven, Idaho, besides a host of other relatives too numerous to mention.
Mrs. Allred has 39 grandchildren and 3 great grandchildren.
Funeral Services were held last Sunday in the South Ward Chapel with large attendance.
The floral display was beautiful. Splendid music was furnished by Afton South and North Ward choirs under the direction of Ernest Clark. Male quartet by Ronald Allred and company. Duet by Nellie Roberts and company. Violin duet, "Oh, My Father" by Arch. Gardner and James Nielsen accompanied by Mrs. Arling Gardner. Prayer offered by Bp. Hyde. The speakers were Bp. Osborne Low and Bp. Kennington.
All spoke of the splendid character of Sister Allred.
Closing prayer by Chas. Leavitt. Grave dedicated by Chris Merkley.
Sister Allred will be greatly missed by all who knew her as she was a good wife and mother, devoted to her family and the church.
She is one that kept the Word of Wisdom in every respect and her life was well worthy of imitation.
Her husband Seymour Allred preceded her to the grave five years ago and since that time she has spent considerable time doing temple work in Logan and Salt Lake Temples.
Outside relatives who attended the funeral were Mr. and Mrs. Chris Merkley of Logan, J. P. Stock of Fish Haven, Ezra Allred of Paris. Her son-in-laws Wm. N. Dayton of Salt Lake City and Golden Kent of Smithfield.
Many other of her kinsmen expressed a desire of coming but owing to the weather and roads they were not able to come.