Sarah Anna JOHNSON
wife of Birten Allred
Allred Lineage:  Birten, Wilson Monroe, William Hackley, James, William, Thomas, Solomon born 1680 England
Born: 04/06/1883 Mona, Juab Co., UT
Died: 05/05/1948
Submitted by: Sharon Allred Jessop 05/29/2003
Sarah Anna Johnson Allred was born April 6,1883, at Mona, Juab County, Utah, to Joseph Horace and Julia Hills Eagar Johnson. She was the sixth child in a family of fourteen. When she was six months old, her parents moved to Poverty Flat (Grand County, near Moab).
After years of suffering from a dwindling water supply, her family moved to Moab. Here she met and married, Birten Allred, in the Salt Lake Temple on October 9, 1900. He left the next day on a two-year mission to the Northern States. While he was on his mission, Sarah Anna worked as a hired girl for different families to support herself and help her husband. Thirteen children were born to this couple over a twenty?four year period. Ten children lived to maturity.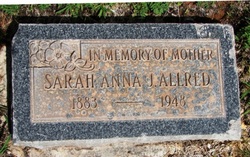 Mother was of slight build, approximately 5'4" tall, weighing 98 lbs. She had stooped shoulders, caused from ten children and lots of hard work. She was very humble, self-sacrificing, exceedingly honest and thoughtful of others. She never wished for furs or jewelry or any other luxuries of life, just a few of the necessities.
Mother and Dad's first home was a half block of land in Moab west of the lane going to Aunt Lottie's place. They had a two?room log house with a willow shed on the north. Dad put an old kitchen stove under the willow shed so Mother could wash outside. A few days before Wendell was born, Mother started a fire in the outside stove and went in the house to wait for the wash water to heat. The hot chimney sparks set the willow shed on fire and it was out of control before she discovered it. The fire burned everything!
In the family record book, I [Wendell] found an envelope, yellowed with age, and listed on the pages inside were friends who contributed money?fifty cents to ten dollars each for Mother and Dad at the time their home burned down January 2, 1904. Altogether, one hundred and twenty two people contributed from Thompson and Moab.
As the fire was recalled later, Pratt (about five or so) vowed that if there was ever another fire, he would "carry out the sugar bowl." The home was rebuilt and Fay, Pratt and Clay were all born there.
As nearly as family members can recall, mother completed the eighth grade. Dad's school was intermittent. Both read and wrote acceptably and both were studious and read a good deal before there were too many children.
Sometime in 1912, Dad traded the half block of land to Uncle D. A. Johnson for his little farm northwest of town, near Granddad Johnson's log house. Bertha and Elna were born at this home.
he two Rambler automobiles used to transport mail from Thompson to Moab by the Allred Brothers were bought in 1912. The first Moab steel span bridge over the Colorado river was opened to traffic in January 1912.
Dad and Uncle Wash (George Washington Johnson) bought the Huff Ranch in 1917. All the rest of the children?Josephine, Frieda, Afton and Claron were born at the Huff ranch. Also, two of the three children who passed away-Edith who died of pneumonia at nine months and a little girl (not named) who was stillborn, were born there. The folks lost another child, Ruth (stillborn), between Pratt and Clay.
The Huff ranch was nestled beneath the hills south of Moab. It comprised about 120 acres with less than half under cultivation. The two spring watered about ten acres which included the garden, apple orchard and peach orchard, a job pasture and a small corn patch. The rest of the farm was watered from Pack Creek water. The ditch started up in the south side of the Murphy place, Pratt recalls. The Huff ranch was mostly in alfalfa with about ten or twelve acres of corn. Dad later put most of the corn ground into grapes.
We lived at the Huff ranch (now the Allred ranch) about sixteen years. Most of the memories of Mother and growing up are about our lives there. Dad mortgaged the ranch and bought the South Mesa ranch in the La Sal mountains in 1927 where he ran a herd of sheep. Wendell, Pratt and Clay helped herd the sheep during the summer months.
When the stock market fell in 1929, Dad and Mother lost the Huff ranch, the South Mesa ranch and the herd of sheep. The folks moved to Moab in 1933 during the height of the depression. They moved from a nine?room home to a two?room home with an attic. Six children were still at home: Bertha, EIna, Jo, Frieda, Afton and Claron. The bank offered Dad forty dollars a month to herd the sheep he had owned. (The amount he formerly paid a Mexican sheep herder.) Times were really hard. Later the folks added two more rooms and a bath plus additional space upstairs.
The Draper place in Moab was a half block in area, six blocks from town, next to Uncle Wash. The folks lived there until 1945, when they moved to Salt Lake City. Mother was failing in health and Claron had an accident with a dynamite cap that blinded him in his right eye. They wanted to be closer to better doctors and some of their children. Fay, Clay and Frieda lived in Salt Lake at the time. The home in Salt Lake was located at 621 East, 2700 South.
It was difficult for the folks to be transplanted so late in life. They missed Moab and their friends and relatives there. Mother's health was so poor after a stroke and crippling arthritis that she was unable to get around to make new friends. Fay and Chad were thoughtful and took them on many long car rides. Fay was especially helpful in running errands and taking Mother to the doctor.
Mother passed away May 5, 1948, of coronary thrombosis at age 65. Dad lived another seven years and died November 1, 1955, at age 77.
History taken from "Allred & Johnson Family Memories"
In honor of the 90th birthday Celebration of Fay Allred Chadwick
Salt Lake City, Utah 19 July 1996