Sarah Alice TAYLOR
wife of Daniel Henry Allred
Allred Lineage:   Daniel Henry, William Riley, Sarah Lovisa, Isaac, William, Thomas, Solomon born 1680 England
Born: 07/17/1869 Kaysville, Davis Co., UT
Died: 12/02/1938 Fremont, Wayne Co., UT
Submitted by: Sharon Allred Jessop 05/28/1999
Sarah Alice Taylor was born July 17, 1869, at Kaysville, Davis County, Utah. She was the sixth child of William Riley and Margaret Jane Ellison Taylor. She was blessed May 5, 1870, by H.B.M. Jolley, and baptized on April 28, 1878, by William D. Pace. She was confirmed on the same day by her father. At this time they were living in New Harmony, Utah.
She started to school in New Harmony, but in those days their schooling was quite limited.
Sarah Alice moved from New Harmony, Utah to Loa, Wayne Co., Utah with her parents and family. They came in wagons and the boys drove the livestock which consisted of sheep, cows, and horses. They arrived in Wayne Co., Utah on the 11th of November 1881, which was a very cold winter and was very hard for the Taylor family and their livestock. With the help of their good neighbors in the little community of Fremont they survived the winter all right.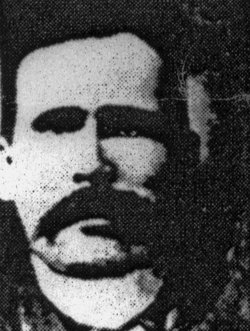 The Taylor family settled a tract of land just as you enter the valley. It was walled Road Creek. Two years after they came to Wayne County, Alice met and married Daniel Henry Allred on January 1 1884, by Elias Hicks Blackburn at Fremont, Utah. She was only 14 years and 6 months old. Their marriage was later solemnized in the St. George temple on June 18, 1884. Daniel and Alice bought Road Creek from her father and they lived there for a good many years. It was while they lived here that their family of 13 children were born.
There were 11 boys and two girls; Daniel Henry Jr., James Orson, William Andrew, Alvin, Mary Alice, John Franklin, Thomas Warren, Nora Jannette, Willis Irvin, Loren Irl, Heber LeRoy, Milton Carl, and Harvey Ellison.
Alice Allred was a great help in the community of Fremont. She was first counselor in the Primary from the year 1900 to 1907. They lived out at Road Creek for many years until Daniel's health wouldn't permit him to do any hard work. They sold their farm to their two oldest sons Henry and Orson and they moved to Fremont. Their younger sons bought a tract of land up on the Fremont bench and farmed it for a good number of years. They later sold it to Vance Taylor. Their sixth son, John Franklin, was in the first World War and was right in the front lines in France. He was with Harold Brown just a few seconds before a shell exploded and Harold Brown was blown to bits.
They had many tragedies in their life. They lost three of their children while they were very small.
Sarah Alice passed away in Fremont at her home on December 2, 1938, and is buried in the Fremont cemetery. Daniel Henry also died at his home March 17, 1936 and is buried in the Fremont cemetery.
Sarah Alice was a very large woman. He weight was 200 pounds and her hair was black and her eyes were hazel brown.