Reuben Warren ALLRED
Allred Lineage:   Reuben Warren, James, William, Thomas, Solomon born 1680 England
Born: 11/18/1815 Bedford Co., TN
Died: 10/04/1896 Spring City, Sanpete Co., UT
Submitted by: Sharon Allred Jessop 02/03/1999
This story is about Reuben Warren Allred. It is "Oral History", which has been passed down through the years and came to the attention of Dawnell Griffin (Author of "Kiss the Babies for Me", a history of Ephraim L. Allred.)
Reuben was well known for his temper. He was known to go for days without speaking when he got angry about something. One day during one of his silent spells, his son Reuben Jr. even poked him with a pitch fork, just to get him to say something...But now for the story.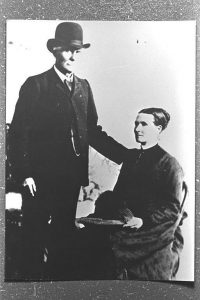 One day R.W. got mad and he wouldn't talk at all to Lucy Ann, his wife. Several days went by without a word. One morning he went to the breakfast table and there was no breakfast. Lucy Ann was very busy looking in all the cupboards. R.W. waited awhile but was so stubborn he wouldn't talk so he left the house to work. By and by lunch time came, and a very hungry man come in for lunch. This time Lucy Ann was still very busy and she was looking through all the shelves. Again there was nothing ready for lunch. Fuming, R.W. left hungry and went back to work.
Supper time came and this time when R.W. came in Lucy Ann was looking under the beds...still nothing to eat. He was madder than ever but darned if he would ask her what was going on, so he went to bed.
Lucy Ann was persistent and this went on until finally he could take no more. "What's going on here anyway, Lucy, what are you looking for?"
"Oh, I've been looking all over for it and I've finally found it," she replied. "Your tongue!"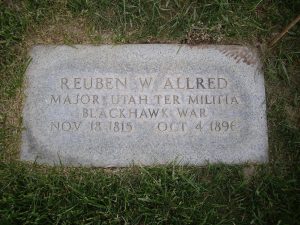 Patriarchal Blessing of
REUBEN WARREN ALLRED SR.
Covington, Recorder
#365 The Patriarchal Blessing of Reuben Warren Allred, son of James and Elizabeth Warren Allred, born in Bedfored Co., state of Tennessee, November 18, 1815.
Brother Reuben, I lay my hands upon your head in the name of Jesus of Nazareth. I place a blessing upon your head. According to your lineage and rights of Priesthood, the same that hath had influence over you and over your father's house, to guide your footsteps in the way whereby you may be saved with your household. Through which there is and will be a promise unto your posterity unto the lastest generation.
Being of the seed of Abraham which is of the promised seed, of lineal descent, through the loins of Joseph, and of the promised covenant, which saith in thee and in thy seed shall the families of the earth be blessed. Therefore, you are blessed, the same bringeth meekness and lowliness of heart, honor, and integrity, for thus you are disposed and have a desire for the ministry, for this is your right, even the right of Priesthood, through the lineage of your fathers, by which your name shall be perpetuated and had in honorable remembrance by your children, children's children, even unto the latest generation whilest the earth shall stand. Ye shall be blessed with the gifts and power of the holy Priesthood, and shall prosper in the ministry, and shall receive an endowment and the anointing for the burial in the house of the Lord. And shall bear testimony, even the sealing testimony and shall have days and years multiplied upon your head according to your faith and desires of your heart.
You shall be blessed in basket and in store, in your incomings and outgoings, and in fields, flocks, and herds, in your house and habitation, in your generation after you, from generation till generation. The same is and shall be sealed upon your head as a blessing by promise from under my hands and by the desires and faith of your father. Your inheritance shall be in Joseph, and your father's house. You shall be blessed with honor, immortality, and eternal life. These blessings I seal upon your head. Even so, amen.
Given by Hyrum Smith at Nauvoo, Illinois, January 16th, 1843.
James Sloan, Clerk
Patriarchal Blessing of REUBEN WARREN ALLRED
No. 939. July 23rd. A blessing by John Smith, Patriarch, upon the head of Reuben Warren Allred Sr., son of James and Elizabeth Warren Allred, born November 18, 1815, Bedford Co., Tennessee.
Brother Reuben, I lay my hands upon thy head by the authority vested in me to bless the fatherless and place a blessing upon thee for and in behalf of thy father, in the name of Jesus Christ.
Thou art of the house of Joseph through the loins of Ephraim and a lawful heir to the priesthood and all the blessings which were sealed upon his head, which have since come to thee through the lineage of thy father. I now seal the same upon thee to continue in the lineage of thy posterity to all eternity.
Thou art called to labor in the Lord's vineyard, to prune it for the last time and thou shalt go forth with power to bind up the Lord's, seal up the testimony, thou shalt be mighty in gathering the ruminants of Jacob, even thousands with much riches, shall establish them in the land of Zion, even in a stake of Zion. Thou shalt preside over it forever. Thou shalt do any miracle that will enable thee to accomplish thy work, for it shall be very great.
Thou shalt be blessed in thy family, they shall be very numerous and shall inherit all the blessings of the priesthood. Thou shalt have every blessing which your heart desires, live to see the closing scene of this generation, shall stand in the earth with thy Savior, and reign with Him a thousand years and enjoy all the blessings, glories, and powers of His Kingdom to all eternity in common with thy companion.
In as much as you endure in faith to the end this union shall not fail. Even so, Amen.
Patriarchal Blessing of REUBEN WARREN ALLRED SR.
Manti City, March 1, 1853. Isaac Morley - Recorder
#17 Patriarchal Blessing given under the hands from Isaac Morley on the head of Reuben Warren Allred, son of James and Elizabeth Warren Allred, born November 18, 1815, Bedford Co., Tennessee.
Brother Reuben Warren by virtue of the holy Priesthood in the name of Jesus, I lay my hands upon thy head and in His holy name I seal thy father's blessing upon thee, which seal shall be an everlasting seal and blessing to rest upon thy mind and memory.
Thou art in the same everlasting covenants with the sons of Abraham. Thy father's seal shall become a comfort to thy mind for thou hast been faithful thus far in keeping covenants with thy God. Upon thee and thy posterity after thee shall the blessings of the everlasting Priesthood rest, for thou art a legitimate heir to the blessings of the Priesthood and a descendant from Jacob. Thy seed and thy blessings shall be equal with the seed and the blessings of Abraham, of Isaac and of Jacob.
Thou hast had trials and difficulties to pass to prove thy fidelity and thy loyalty in the new and everlasting covenants. Thou will yet learn many things and principles by contrast, yet thy faith shall be equal to thy day. Remember there is a work for thee to do in pruning this last vineyard. I seal upon thee this blessing by promise that thou shall have power over every incorrect principle and spirit, the winds and the waves, through thy prayer of faith, shall yet obey thee. Therefore let thy heart be comforted and thy mind stayed upon the mighty God of Jacob, for He will be mindful of all thy steps and watch over thee for good in the coming hour of trial. Remember this for it shall be thy father's seal and thy blessings shall be equal with the seed and the blessings of Abraham of Isaac and of Jacob.
Remember that the dew from the Heaven will cause the earth to bring forth for thy good. I seal thee up to come forth in the morning of the first ressurection, whereby thou shall be prepared to receive crowns of glory, immortality, and eternal lives in the mansions of thy Father. Even so. Amen and Amen.
Isaac Morley Recorder. February 7, 1854. Great Salt Lake City.