Redick Newton ALLRED
Allred Lineage:   Redick Newton, Isaac, William, Thomas, Solomon born 1680 England
Born: 02/21/1822 Farmington, Bedford Co., TN
Died: 10/10/1905 Chester, Sanpete Co., UT
Submitted by: Sharon Allred Jessop 04/17/2000
The Diary of Reddick N. Allred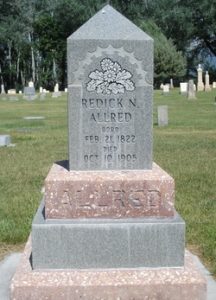 "I'll go where You want me to go, dear Lord; I'll do what You want me to do."
(Diary entries 1833 to 1859)
[Typed from "Treasures of Pioneer History"]
Reddick N . Allred was one of the well known pioneers of Utah active in Church, civil and military affairs. He was born February 21, 1822 in Bedford County, Tennessee, the son of Isaac Allred and Mary Calvert.. He was baptized in 1833, and in 1840 moved to Nauvoo, Illinois where he remained with the Saints until their expulsion in 1846.
While living in Nauvoo in 1843, he married Lucy Hoyt. After the exodus from Illinois, Reddick enlisted in the famous Mormon Battalion and marched to California and back to Winter Quarters in 1846-1847. He came to Utah in 1849 in charge of a company of seventy-three wagons and located in Salt Lake County.
In 1852-55 Reddick Allred filled a mission to the Sandwich Islands for the Latter-Day Saint Church, presiding part of the time over the Maui conference. Upon his return home he removed to Kaysville, Davis County, Utah where he remained until the move south in 1857. In 1856 Pioneer Allred went out to meet the belated and suffering handcart companies in Wyoming and that same year was ordained a High Priest by Bishop Edward Hunter and set apart to act as a counselor in the Bishopric of Kaysville.
In 1857 Reddick married Amelia J. McPherson and the following year located at Nephi, Juab County remaining there one year; thence he moved to Sanpete County. From that time on until his death he made his home in Spring City and Chester. He took an active part in the Black Hawk war in Sanpete County and served as a colonel in the Nauvoo Legion. In1861 he married Celestia W. Warrick. In 1867 he was ordained a bishop by President Canute Peterson and set apart to preside over the Chester ward which position he held for ten years. He was ordained a Patriarch by Apostle George Teasdale May 15, 1898.
During his lifetime Pioneer Allred filled many positions of honor and trust beside those mentioned. He served five terms in the Territorial Legislature, was a justice of the Peace, Postmaster of Spring City and a member of the first City Council of Spring City. In all his associations Mr. Allred won the respect of his fellow men among whom he was a natural leader. His integrity to truth, his humility and his obedience to every call made upon him were characteristic of his nature.
Reddick Allred passed away October 10, 1905 in Chester leaving a numerous posterity among whom are seventy grandchildren and forty great-grandchildren all proud of his life record.
Throughout his journal Pioneer Allred signed his name Redick but his family and others give the spelling as Reddick. We have chosen to present the journal as written and have only given the correct spelling when the meaning was not clear. It is an outstanding record of a great man who in his humble way tells the story of every day living in pioneer times. Of necessity we have omitted paragraphs in the diary dealing with unimportant events.
THE DIARY
I, Reddick Newton son of Isaac and Mary Calvert Allred, was a twin. My brother said to be the first born, but doubted by some. His name was Reddin Alexander. His weight was 9 ½ - mine 8 ½ lbs. We resembled each other so much that our mother was under the necessity of making our clothing different to prevent us from getting mixed up, until we got old enough to know our names. After that we dressed alike as long as we remained at home. We were always a great puzzle to the people. He appeared to be endowed with all the boldness and I with all the bashfulness.
I first learned my letters in an old log school house, and when seven years old removed with my parents to the state of Missouri, on Salt River, Tols County, afterwards Monroe. Father purchase a home on the great highway form east to the west. My parents were members of a school of Presbyterian and brought up their children to reverence a God and were very exemplary in their lives, so that when a new religion was introduced they naturally looked at is with suspicion, having been taught that Prophets and Apostles were no longer needed, so some cried False Prophet. In 1831 two men preached in our settlement saying a new Prophet had organized a new church and introduced a new gospel or rather the old one come again. His name was Joseph Smith. Their names were Hyrum Smith, brother of the Prophet and John Murdock. Other Elders were passing every few months from Kirtland to Jackson County -- the gathering place for the saints, and father opened his house for meetings. George Hinkle and others stopped a few months and baptized the Allred families, Ivies and others and a large branch was organized in 1832 called the Salt River Branch.
Brother Reddin and I were baptized in the spring of 1833, by John Ivie -- local Elder and President of the Branch. In the fall of 1833, the Saints were driven out of Jackson County, Missouri into Clay where they remained temporally. The night the Saints were expelled from their homes, the western world was shocked by the starts falling from the heaven that lit up the whole atmosphere.
In 1834, early spring, the Prophet Joseph Smith came along with a small company of armed men, called Zion's Camp, to reinstate the Saints upon their own lands from whence they had been driven by mob violence. Uncle James Allred raised ten men and joined them. They lay by a week completing the organization, reinforcing it.
On his return he stopped and preached in our settlement and told the Saints that they could not get possession of their lands but go gather up to Clay County. In 1835 father moved up to Clay and located on Fishing River where he raised one crop, and the influx was so great that the old settlers became alarmed and the mob spirit began to raise, which was checked only by a compromise by which the old settlers were to buy out the Saints, and we to move into a new county adjoining called Caldwell County.
1837-- Father pre-empted land on Long Creek where he hoped to be able to build and inhabit -- to plant and eat the fruit in peace thereof. This was eight miles from the newly laid out city of Far West. On the 14th of March 1838 the Prophet and other leading men came in from Kirtland and settled in Far West and the Saints began to gather and spread out so that two counties had to be organized, Caldwell and Davis where two Stakes of Zion was organized.
April 12, 1838 Oliver Cowdery was cut off from the Church and on the 13th David Whitmer was cut off for not keeping the work of wisdom and soon after the Johnsons, Boyingtons and McLellans were cut off. The foundation of a temple was started in Far West and the fame of the Church began to be heard. The few ranchers in Caldwell and Davies counties raised false reports about the lawlessness of the Mormons and at an election in Galiton, Davis County they forbade any Mormons to vote and surrounded the polls to prevent it, but a fight ensued and the Mormons cleared the way and voted. This was enough to wake up the whole of Jackson, Clay, Ray and Carlton counties into a howling mob, and they began to make raids upon outside settlements. We had meantime organized a regiment for self defense and the Prophet called all the outside settlements into Far West.
In order to be able to stand a siege, a company was sent to Davis County to bring in a horse mill to grind out corn. I was 16 years old, but boy as I was, I went with father's ox team. We were gone two days and three nights and scarcely slept any to prevent a surprise. We returned on Oct. 24, 1838 and I had put up at Father Morley's and finished my supper as Father came in and said a mob was attacking families on Log Creek within a few miles of our place. He told me to go home, (8 miles) that night so we could move out next day.
Although I did not know at what moment I might meet the mob I slept while I walked beside my team, but I got home at 1 o'clock all right and found all well. As I drove across the Public Square in Far West as dark was approaching, I saw Apostle David Patton on his horse rallying his men to go out to defend the exposed Saints. He found the mob headed by Bogard, on Crooked River and attacked them in their camp at day light and routed them -- himself and P. Olbanian being mortally wounded and Gideon Carter killed. Father heard the gun fire five miles distant.
On the 25th we moved into Far West and so did all the settlement except at Haun's Mill. The Prophet sent them word to come in, but they thought they could protect themselves, but a mob from Carlton County Massacred the most of them.
Oct. 30, 1838 -- Gov. Boggs' army of 4000 made their appearance against Far West -- 3000 more to follow. We had two companies out leaving only about 150 men and boys in town, being in line the Prophet stepped to the right of the line and said, "Come on boys." We halted at the edge of the town and formed a line. The mob militia commenced to form a line of battle, but when about one Regiment was formed, seeing out two companies charging into town on the east and west, they broke ranks and fled in confusion.
They camped that night in the timber and rallied several times in the night fearing an attack by us and next day had an interview with our Col. George Hinkle, who agreed to deliver up the Prophet and other leading men and lay down our arms.
Oct. 31st -- The Prophet, his brother Hyrum, and others were delivered up as prisoners of war and about 800 pieces of arms including guns, pistols, swords, spears, etc., at the word "ground arms" was laid down while their 4000 men had us cooped up in a hollow square and them outside about 4 deep. That night they held a court martial and passed sentence of death upon the Prophet and those with him to be shot next morning at 8 o'clock General Doniphan protested and lead his Brigade out of camp which changed the program, so they sent them under a strong guard to Jackson and after to Liberty Jail.
Gen'l Lucas then marched our men onto the Public square and compelled them at the point of the bayonet to sign what he called a Deed of Trust to hold all their property, real and personal, to pay the expenses of the war -- which was however never fully enforced, but we were permitted to fit up teams as best we could and leave the State in the dead of winter.
The people of Illinois made the Saints welcome and they scattered out wherever they could rent land or get work to supply immediate wants. Father rented a farm of Mr. Stone in Adams Twenty miles south of Quincy. The Prophet Joseph, Hyrum, Parley Pratt and others were held until far into the next season when it pleased the Lord to deliver them.
IN NAUVOO
The Prophet lost no time in securing a place to gather the Saints on the Mississippi River at a place called Commerce, but the Prophet named it Nauvoo. A general conference was help at Nauvoo in the open air on the 5th and 6th of October 1839, the Prophet presiding.
I engaged in the mason trade and while the temple was being built in Nauvoo I worked upon it part of the time. Many of us worked on bread and water part of the time, because of extreme poverty after the robbing and driving from Missouri.
In 1840 about November Brother Reddin and I went on a visit to Uncle John N. Calvert's in Marian, Williamson County, Ill. On the way I was taken with chills and fever so we had to lay by about a month at Bro. Harris Alexander's and Thomas Allred a distant relative. As soon as I was able to travel we went to Uncle John Calvert's and stayed with him about a month during which time we preached by the fireside and left a very favorable impressing upon his mind in regard to Mormonism. He said it was scriptural and reasonable, but he thought he could get all the salvation he needed where he was by being a strict Presbyterian. In about 3 months we returned on foot to Alton and by steam boat to Nauvoo.
In 1841 at fall conference the Prophet called out a large number of Elders and sent them into different parts of the U.S. I went with Daniel Garn and Jacob Foutz by steamboat. They went on to Pennsylvania and I stopped in Cincinnati as I was sick with chills and fever. In about two weeks I was able to take the field with Father Lamoreaux and later with Andrew Lamoreaux a noted preacher, but could not sing, so I done the singing and he the preaching. Together we drew out the people. A large branch of the Church was raised up and organized in the vicinity of Trenton, Indiana with John Chaplan as President. When Elder Lamoreaux found I did not improve much in public speaking he sent me alone to fill an appointment in Trenton. ....Had a full house in attendance. After this I traveled alone most of the time, but occasionally with father David Pettegrew, Willard snow and Elder Moss, and finally I was left entirely alone as Elder Lamoreaux had gone home.
REDDICK'S FIRST MARRIAGE
Nov. 26, 1843 I married Lucy Hoyt, daughter of James and Bulay Hoyt starting out on the sea of life without house or land, money or stock, except one cow. In about a week we went to Patriarch Hyrum Smith and got our patriarchal blessing in which he promised us a long life.
The further organization of Seventies was completed and Reddin and I were enrolled in the 4th Quorum. The Nauvoo Legion was organized and the Prophet was commissioned a Lieutenant General by the Governor also Mayor of Nauvoo. When the enemy began to see the greatness of his achievements and the rapid gathering of the Saints and the union of our people under the leadership of the Prophet, mobs began to rage and Gov. Boggs sent a demand for him and they sent a posse to kidnap him while he was on a visit to Dickson but in this they failed as our people were on the lookout.
The mob spirit prevailed so much in Illinois and Missouri that the Mayor declared the city under martial law, and made a last speech to the Legion leaving them to protect the city while he crossed the river having in view the intention to go to the Rocky Mountains to find a location for the Saints where they could dwell in safety, but some half-hearted saints followed him and accused him of cowardice for leaving the Saints at the mercy of the mob. Then the Prophet was killed.
LEAVE NAUVOO, THE BEAUTIFUL
In February 1846 the Church, being continually in fear of mob violence, began to evacuate Nauvoo, crossing the Missouri River on ice. Father Y. Allen Taylor fitted up a team and I drove it to help out the first company. I went in Bishop George Miller's company as far as Garden Grove and then returned to help our own folks. I was gone about two months, enduring much hardships in the heavy storms of rain falling like a flood. President Young traveled with the main camp but he said to me, "Tell Bishop Miller the nearer the root the sweeter the grass." The storms were so bad we had to lay by for days at a time and two other men with myself were sent out to trade for the camp with a settler as guide, but they had a jug of whiskey along and drank so freely that I left them the first afternoon and returned to camp.
I found my folks on the Iowa side of the river opposite Nauvoo being unable to move till I returned. We were soon on our way, and as the storms had ceased we had good roads and plenty of grass. Having a pleasant time we soon passed the newly formed settlements of Garden Grove and Mt. Pisgah and found President Young on the Missouri River in the Pottowattomie country, but Bishop Miller was still ahead up the river.
JOINS THE MORMON BATTALION
At this point we were visited by Capt. James Allen of the Regular Army with orders to enlist a Battalion of Infantry, 500 men to march to California as war with Mexico had been declared. President Young said, "Go and you shall have no fighting to do -- you shall go before and behind the Battles." In 2 or 3 days five companies were organized and we were mustered into service on the 16th of July 1846. I was third Sergeant in Company A. Jefferson Hunt, Captain. I left and wife and one child in camp, in my father's care and we marched to Fort Leavenworth where we were armed and equipped for the war. My brother, James Riley, also enlisted in the same company. I was appointed Quarter Master Sergeant to deal out rations for Company A and have charge of the baggage train. This permitted me to have my luggage hauled.
Our first point of destination was Santa Fe where Gen'l Kearney had preceded us, but we had only been on the way a few days when our Colonel died and Lieutenant A.J. Smith of the Regular Army took command. We regretted the loss of Col. Allen had been very kind to us, and had refused to admit any in our ranks that were not of our people and entered us on the Muster Roll as the Mormon Battalion.
Col. Smith as he was called was more harsh and put us on a forced march, and if any got sick they were not permitted to ride unless they reported to Dr. Sanderson who was quite cruel in his treatment to the sick call and many walked when they were not able, rather than take his calomel, etc.
So many became feeble that Capt. James brown was detailed to stop and winter with them at Pueblo. The rest of us hurried on to Santa Fe arriving October 12th to find the place captured by Gen'l Kearney who had moved onto California, leaving Col. Doniphan in command to hold the country of New Mexico, with orders for Capt. P. St. George Cook to take command of the "Mormon Battalion" and follow him on to California. When we marched into the Fort Gen'l Doniphan ordered a salute fired, but when Col. Price came in with his cavalry two days later he made no demonstration at all -- much to the annoyance of Col. Price. The cause of this was that while Col. Price was a mob leader Col. Doniphan was our friend. I went with a requisition to get the Colonel's signature and drew sixty days' rations to last us to California. We staid about a week without seeing our future commander, then he sent his orderly with orders to march. We went about 8 miles and found his tent by the roadside waiting for us. After tents were pitched, he sent his orderly and invited all the commissioned officers to his tent, and all responded but Capt. Hunter who had ridden back to Santa Fe. When he returned the Colonel asked him why he left Camp without leave, and took his sword, saying, "You can walk in the rear of your company tomorrow." which strict discipline he exercised throughout especially with the officers -- all of which pleased the men for the reverse was the case with Officer Smith. We were soon put on half rations as a precautionary measure.
We traveled down the Rio Del Norte River several days then crossed over and traveled west to the Copper Mine Road which runs south into the Spanish Country. There guides persuaded the Colonel to go down where we could get plenty to eat but we would have to fight for it. The Colonel consented and ordered likewise. Levi W. Hancock, remembering the promise of President Young that we should have no fighting to do said to a few of us, "Pray that God will turn him from his course." We had not gone more than a mile till he ordered the halt sounded and said to the guides. " I was ordered to California and take this course," then he turned a square corner. We felt satisfied it was in answer to our prayer.
We approached the summit of the Rocky Mountains on a gradual slope from the east but to look off west was like the jumping off place. We had to pack everything down on mules and take the wagons down with one span of mules, with as many men as could get around them. I had charge of one wagon and got it down without accident while some others tipped over.
We camped at the base and reloaded wagons. While Timothy Hoyt was eating his dinner Lieut. Oman called him to help and because he was slow starting he ordered me to put him under guard but I told him I was in other business. He however got him tied up to a stack of arms. We moved down into a beautiful valley where once stood a Spanish Town which had been broken up by Indians. The country was well stocked with wild bulls, so we lay by next day and got a good supply of fresh meat, as our own supply had been exhausted days before.
The next day while passing down San Pedro Valley, the bulls made a descent upon our train which resulted in the wounding of two men and the killing of 3 mules and 12 bulls. I stood between the Colonel and staff and the train surrounded by wild beasts, unharmed and saw the battle.
One day we saw an army drawn up in line of battle across our road which proved to be friendly Indians ready to join us
We met a carrier with news from Gen'l Kearney that he had formed a junction with Commander Stockton's Fleet -- had fought the decisive battle with Phena Castro who had fled to the mountains with his regular army and to look out for him but for us to march direct to San Diego. We crossed the Coast Range and sighted the Pacific Ocean on the one hundredth day from Santa Fe and arrived at San Diago on the one hundred and second day Jan. 30, 1847.
Commodore Stockton's Fleet was in San Diago Harbor but sailed away the next day. We staid there two days then went up the coast 40 miles to San Luis Mission where we remained over a month, kept under strict military drill. Here I was appointed Quarter Master Sargent of the Battalion which gave me the oversight of the Baggage Train including men and animals -- an extra duty. I attended the drill and was soon set in charge of a squad drill. We was here a month without flour living entirely on fresh beef but were allowed 5 lbs. per day. Gen'l Kearney sent orders to............................., to march at once to Los Angeles with the Mormon battalion, compel Fremont, who was quartered there with his Battalion of mountaineers assuming the governorship of California, and who refused to submit to Gen'l Kearney to give up. I was mounted and stood the trip well but the men were much fatigued. When Fremont learned we were coming he made haste to Monterey and surrendered to Gen'l Kearney rather than risk a fight with the Mormon Battalion. The General placed him under arrest and took him back to Washington, detailing some of our men as guards much to the annoyance of Fremont.
For a time fears were entertained that his men would join Californians and make an attack upon us, so the colonel ordered earth works thrown up around the camp on the hill overlooking the town. This found employment for the men instead of Drill. I found daily employment riding about to see that the mules were properly taken care of.
Col. Cook returned home with Gen'l Kearney and left Col. Stevenson in command of the Post. As I had a good chance riding about and getting able to speak Spanish, many of the boys got me to buy animals for them, as we were soon to be discharged. I bought one that proved to be a stray and they thought to get me into trouble, but I protested that I was innocent, yet it bothered me and that night I dreamed that I was to be hung,and that the Prophet Joseph Smith came into court with a big knife in each hand and said, "I appeal this case to the highest court" and I was instantly released.
We were called upon to re-enlist one company at our discharge and Lieut. Dykes asked me to favor it but I told him no. He sad, "Don't say no, you have influence with the boys and if you don't it will fail." I said, "I enlisted by council and will not again without it." He said, "We can't get it and must act upon our own judgment." I said, "that is what I am going to do and return." The boys sent a man to say if I would enlist they would make me captain. I said no.
About a month before our discharge a mule fell with me and tore the ligaments of my left wrist which caused such pain I couldn't sleep day or night for some time, and I was in the doctor's care till we were mustered. out.
On the 16th day of July 1847, we were mustered out of the service and before we broke ranks a sealed letter was opened by Bro. Levi Hancock and read - signed by the Apostles saying, "You will meet the Church in the Valley of the Great Salt Lake on the east side at the foot of the mountains."
We moved out a few miles from Lost Angeles and camped about a week organizing for our return trips. Bro. Hancock assumed with Father Pettegrew the responsibility and organized up in tens, fifties and hundreds. Wm. Hyde, Captain 50; Daniel Tyler 2nd and 3rd with Andrew Lytle over all.
July 20th my company being ready we moved up 20 miles to Gen'l Pico's Ranch. It crossed a spur of mountains to San Francisco where we remained till the 29th waiting for the other two companies to come up -- meanwhile we were jerking beef for the journey. We employed a guide to a place called Hot Springs. August 1, 1847 we camped in a beautiful valley where we found the name of Peter Lebeck who was killed by a grizzly bear Oct. 17, 1837. After our guide left us we missed the Walker Pass and turned down the "Toolary" Valley to Sutter's Fort on the Sacramento River where the city now stands.
JOURNEY TO COUNCIL BLUFFS
We reached there on the 26th Aug. 1, 1847, 600 miles from Los Angeles without accident. We found a few families of Saints that came on the ship Brooklyn from New Year expecting to meet the Church in California until we told them they were settling in Salt Lake Valley. The Burr family was there. We rested a few days and then took the old California Road -- crossed the American Fork and found a daughter of widow Murphy, one of the ill-fated Hasting party. Bro. John King and I visited her to find her married to one Johnson.
Henry Pike Hoyt was taken sick. I stopped with him a couple of days -- the company going on to Bear Valley; 8 men stayed with me. The third day he said he could go, but after we crossed Deep Hollow he got so bad we took him off his horse as he was apparently dying. Twice we administered to him and he revived so much he said he could go, but got so bad again I had to hold him on and finally I had to break his hold of the horn of the saddle. He said, "No, go on..." his last words, for he was dead in 15 minutes. We wrapped him in his blanket and laid him ½ mile from Deep Hollow two rods below the road, having nothing but a hatchet to dig down in the hillside, and to build up the lower side. Over the top we put rocks and sticks and marked on a tree, "Henry. P. Hoyt died on the 3rd of sept. 1847 after 9 days' illness with jaundice, 80 miles from Sutter's Fort."
We overtook the company in Bear Valley next day and proceeded on our journey on the 5th and met Sam Brannan with an Epistle from President Young for all that did not intend to go to the Bluffs for their families to stay in California and get work through the winter. When we passed the summit of the Sierra-Nevada Mountains, we found Hastings winter camp. At the base of the mountains we struck the Truckee River, then crossed an arm of the Great American Desert to the sink of the Humboldt River, passing the Hot Boiling Springs. From the sink we traveled several days up the river finding plenty of water and grass. Then crossed a mountain to the noted spring wells, some of them without bottom apparently. Then crossed the Goose Creek Mountains to Fort Hall on Snake River where we found Capt. Grant of the Hudson Bay Fur company. When we told him where the Church was locating he said it would be a failure if we attempted to colonize there, for we could not raise a bushel of grain in Salt Lake Valley.
Some of the company went to Salt Lake and the rest of us went to Soda Springs and up Bear River over to Ft. Bridger. I sent Henry's outfit to his brother Israel -- also my fine mare to my brother Harvey. We rested here a few days waiting for the rest of the company to come from Salt Lake. We found Joseph Thorn here with his family who joined us.
We left Ft. Bridger 33 strong and made Ft. Laramie without incident except I had killed a buffalo. The traders at the Post offered to sell us dried meat telling us if we killed buffalo on the plains it would make the Indians mad. I had a weak mule that an Indian traded me a pony for. The next day we passed a Sioux camp of 300 lodges and as I had fallen a little behind on the pony, a large Indian caught him by the bridle and held me fast. Thorn called that they had taken me a prisoner. Capt. Lytle and Tyler came back, but they soon lead the weak mule up and swapped back and we continued our journey in peace.
However, when we had got well unto the plains and our meat was gone we killed a buffalo, but as soon as we got it into camp the Indians raised a signal smoke on the opposite side of the Platte River. Capt. Lytle called a council of war which favored the idea of striking camp and fleeing in the dark, but I opposed it on the ground that our animals were weak and they could easily overtake us and we would have to fight them at a disadvantage in our scattered condition, and I preferred to fight them in camp on the open plain. To this they yielded, but the Indians only showed themselves on the distant hill tops next day and we passed on in peace.
At daylight one morning we found ourselves under a foot of snow and a hundred miles from timber -- nothing to burn but wet buffalo chips and without tents. The day before we got to the Loup Fork I found the head of Bro. Rainey's mule, a company a week ahead of us had eaten the animal but left the head. I cut out the brains and I got help to eat them. We got to the Loup Fork too late to cross, so we camped, but when we got up in the morning it was snowing hard and the river was full of floating ice and we could not cross. It snowed all day so we lay in camp -- divided all the flour and meat we had and ate it up. It was 5 days before the ice block dissolved enough for us to cross during which time we lived on raw hide.
On the 5th day of our slow journey down the river, one of Capt. Lytle's mules got down and I told the boys to lift it up and I would cut its throat and we would eat it -- which was done and all partook.
The next morning the ice being sufficient we crossed over into the Pawnee Indian corn field and gleaned enough corn with some we bought from Indians to last us home at one gill a day which we parched, ground and ate in water with a spoon.
After leaving the Loup Fork my noble mule was attacked with stiffness, so I had to transfer the pack to my riding pony and take it on foot, leaving the mule by the roadside. The snow was from 1 to 2 feet deep and when night came we thought of the saying, "would to God it was morning" (having to sleep on the snow until our bones ached) and in the morning saying, "I would to God it was night" anticipating a hard day's tramp through the snow.
Dec. 17, 1847 -- We camped on Elk Horn River 30 miles from Winter Quarters. I told Capt. Lytle we could go through next day but he said no, it would be too late to find our friends. I told him I had friends that I knew would rather have me come in than to sleep out on the snow another night. Of course none of us knew of our folks.
Dec. 18, 1847 -- When our animals were packed I said to the boys driving that day that I would lead out afoot and if they would keep up with me we would make Winter Quarters that night. When the sun was about an hour high we found we were within a mile and a half of town, so Capt. Lytle said to one of the boys, "Let the Sargent ride your horse and go ahead with me."
Before entering the town we were met by Dr. Braley almost an entire stranger who turned to me and said, "You go home with me." I thanked him and said, "We will see if my folks are here." The next man was Col. Rockwood who said President Young sent him to tell us to take our animals to the Tithing Yard and we would be distributed out among the people for the night and he turned to me and said, "You go home with me." This I accepted with thanks, but while I was unpacking Sister Henry said, "If Redick Allred is here he must go home with me," so I thought 3 times and out and stayed with her, a good old friend. But when she got a good supper ready and I had only eaten a few bites she asked me to stop, saying you have been starving so long it will make you sick. Of course, I stopped -- reluctantly however.
Then she fixed me a good bath, gave me clean under clothes, and a good feather bed. In the night I waked her up with my heavy groans, and she said, "Does your supper hurt you?" I laughed and said, "I have had none, but it is this bed that hurts me."
Dec. 19, 1847 -- I crossed the Missouri River and went 8 miles to Little Pigeon, Allred's settlement, where I found my wife and daughter living with father -- all well and overjoyed at the safe return of their soldier boy and husband. It was several days before they would allow me to eat what I wanted and even then I was much distressed with my victuals. Father had kept my wife and child as one of his family and we remained with him all winter. Father was presiding over this Branch of the Church.
After we rested awhile Prest. Young proclaimed a jubilee in the Log Tabernacle at Kanesville and invited the returned soldiers. As Br. Wm. Hyde and I were approaching, President Young said to Prest. Kimball and others (pointing to us) "These men were the salvation of this church." We all had a free dance and enjoyed it very much.
In the spring of 1848 I moved a mile below into one of Joseph Egbert's rooms and that season I put in a small crop of corn. I also went down to Missouri and worked for old Bill, man of mob fame, and earned a cow. I went to Fort Leavenworth and drew 3 months pay and subsistence by which I was able to clothe myself and family very comfortable, for I had returned quite destitute.
TO THE VALLEY OF THE MOUNTAINS
Nov. 26, 1848 -- A son was born unto us, and we called him Redick Reddin. Up to this time I had not been able to do anything towards a fit out for the valley, but in the spring of 1849, I drew a land warrant and traded it for two yoke of oxen and a wagon and set about getting ready for the journey. The first week in June we camped on the Missouri Bottom and was organized in tens, fifties and hundreds by Elder Geo. A. Smith thus: Allen Taylor, Capt. of Hundred; Enoch Reese, Capt. of first and myself Capt of second fifty. I had 73 wagons in my company and Capt. Taylor traveled in my company, my father and my father-in-law being with us. My team consisted of a yoke of oxen on the wheal and a yoke of cows on the lead, and I drove the lead wagon to the valley. Captain Taylor, having crossed the plains the year before as captain of Prest. Young's company, was of great service.
He advised us to tie our stock by the head outside of the wagons as they were corralled at night, which I strictly observed, but Capt. Reese did not, with the result that he had not been out a week until his cattle stampeded in the night smashing down wagons to get out. This so frightened them that they broke up into small companies. Bro. Perkins asked me to let him come into my company with 10. I said yes -- fall in the rear, which I soon learned was bad policy for their stock, remembering their fright, started to run while moving. As soon as I saw it I gave the word to halt and stand by their teams. In a short time teams were running in all directions except a few at the head, although one team ran the entire length between the two lines. I stood by my team talking kindly to them and they did not move. It was frightful to behold especially when we gathered up the wounded, three was badly hurt, and one, Sister Hawks, died that night. We had no more trouble on the road, but the journey was long and tedious and as we entered the mountains we split up into smaller companies for convenience for feed and camping.
IN SALT LAKE VALLEY
Oct. 16, 1849 -- We arrived in Salt Lake City, and lived there that winter. The Saints renewed their covenants by baptism when they came into the valley.
The Nauvoo Legion had been organized with Daniel H. Wells, Lieutenant General; Franklin D. Richards, 1st Brigadier General and Harris I. Eldrdge, 2nd Brigade. I was appointed Brigade Major in the Second Division and was Drill Master for the Infantry and James Ferguson drilled the cavalry. A new Regiment of Infantry was organized with Daniel Garns as Colonel, but it was argued that I would be of more service to the Legion as Chief-of-Staff to General Eldridge and serve the whole Division as Drill Master.
Mar. 4, 1850 -- My wife Lucy gave birth to a full grown, but still-born, infant girl.
During the winter of '49-'50 the Indians attacked the small settlement at Provo and almost our entire regiment was called out to resist them. Andrew Lamoreaux was sent with a small escort with an express and I went with him, but before we got there the main fight occurred and the Indians broke up into small parties, the better to evade the troops, as the snow was quite deep.
Lamoreaux was sent with a small force to Peteetneet Creek (Payson) after a small party in the brush. The company was divided into 3 parts -- one on each side of the thick willows and I was ordered with 4 men to penetrate the brush to drive them out or fight them as they lay in the brush. We found only 3 warriors hid, and they would not drive a bit, so killed them in there. One of my men got a slight wound, and an Indian concealed about 2 rods from me sent an arrow against my breast striking a button on my coat which however fell to the ground without taking effect. I had dropped to my knees when I saw he had got the start of me and before he could get ready with another arrow, I sent a bullet through his head.
While we were here dispatching these, Gen'l Wells was around by the Lake where a number were killed. We then returned to Provo crossing an arm of the lake and joined Col. Lytle and went up a canyon after another party killing some and capturing the rest which ended the war. Young Isaac Higbee was the only man killed, but 2 or 3 were slightly wounded.
In the spring I attempted to get some land 8 miles north of Salt Lake City in Sessions Settlement (now Bountiful) but although there were only six families there, they said the water was all taken up.
Brother Harvey and I then went into Big Cottonwood and located near the mouth of the Canyon where we had plenty of water but little land. Father and brother Reddin settled on the opposite side of the stream, where mother died Sept. 16, 1851 and father married Matilda Park, March 1, 1852. She was a widow with 3 children.
HIS MISSION CALL
August 28th 1852-- I went to Great Salt Lake City to attend a special conference, called for the purpose of selecting a number of Elders to go as missionaries to the nations of the earth. President Young, Kimball and others addressed the conference when one hundred and nine Elders were called upon to make speedy preparations to go as ministers of the gospel to Europe, Asia, China, America and the Pacific Isles. Nine of the number were destined for the Hawaiian Islands,viz: Wm. McBride, Ephriam Green, Eggerton Snyder, James Lawson, Thomas Karren, Nathan Tanner, B.F. Johnson, my brother, Reddin A. Allred and myself. My cousin, Isaac Allred, with many others was to go to Europe -- thus three of our family were called.
30th -- From this time I began to make preparations for my journey and to situate my family as comfortable as possible; but being a man of small capital, I could not provide the many necessaries which nature required to sustain a family in the absence of a husband and father, but as I had a very good span of horses I concluded to trade them for a more worthless team and use the money to buy some things for the present use of myself and family -- take one horse to carry me to the coast and leave one at home, which was a large likely mare. All this I accomplished with unexpected success and the Lord opened the way before me in my attempts to go on the mission. My brother, Isaac M. owned one horse and as he had no one but himself, he agreed to put his horse with the odd one that I was to leave, live with my family, tend the farm, stock, etc. and take half of the income as a remuneration for his toils, which I thought would be a profitable job for him as well as a blessing to my family.
October 10th -- I attended the conference 'till it closed which was in the afternoon. I indeed enjoyed it much and the spirit of union prevailed throughout the thousands of Saints that were assembled and it was expressed by many that this was the best conference ever enjoyed by the Saints. I returned home and found my babe sweltering under a severe attack of fever and diarrhea, I then hastened to administer to her myself and also to get the united faith of the Elders. At times she appeared to receive benefit and then again it seemed hopeless, until at least by being persuaded I sent for Doctor Lee to administer medicine to stop the diarrhea and break the fever that was fast wasting her away but all this did not seem to have the desired effect.
20th -- Brother Reddin and I went over to Bro. Nathan Tanner's as he had made preparations to travel together, us four, N. Tanner, Thos. Karren, Reddin Allred and myself, each furnishing a horse to put to Bro. Tanner's carriage of which I paid six dollars to assist in repairing. About 7 o'clock p.m. Bos. N. Tanner and Reddin started on their missions from Bro. Tanner's and went to Bro. Karren's on Dry Creek, Utah Valley. We had been compelled for some time past to keep a close watch over the child both night and day, and as Mary Webb, the girl that had been helping my wife was expecting soon to leave, I brought Lydia Jane Tanner home with me to stop with my wife 'till the sickness of our babe should have abated.
21st -- Notwithstanding the extreme difficulty of my family, I had to take my departure for a season and leave them in the hands of God. My friends had come into bid me adieu for I could no longer stay as my comrades had left and would soon enter the settlements of the savage Redskin. I called upon T.G. Hoyt to offer up a parting prayer, after which we lay our hands upon the sick child and rebuked the destroyer by virtue of the Priesthood and in the name of the Lord. I also dedicated and consecrated myself and family into the hands of the Lord and to his service, and about 10 o'clock a.m. I left my lovely little family consisting of a wife, a son and two daughters, the youngest of which was then laying upon her mother's lap apparently lifeless -- yet she breathed
TAKES SOUTHERN ROUTE TO CALIFORNIA
22-24 - I joined Bros. Tanner, Karren and my brother Reddin as we were going to mess together. We put two horses to the carriage and two of us rode on horseback, changing each day to rest the animals. We took dinner at Bro. Rollins'. It was very tedious traveling today as it rained quite heavy. From this place we went to Peteetneet, where we found a number of the Elders on their journey. Brother Reddin and I stopped with Bro. Jos. McClellen and other Elders stopped with the saints of this place who willingly administered to our wants as to ourselves and animals...In the afternoon we organized our company for crossing the desert; our number was thirty-eight men, fifteen wagons and horses. Hosea Stout was chosen Captain; N.V. Jones, chaplain; Burr Frost, Officer of the guard, and A. Musser, clerk. Bro. Tanner and I stopped overnight with father Cazarr.
25th -- After breakfast our train started, an emigrant Mr. Lancaster and L. Hogeland and family, bound for the gold regions, were in our train. We traveled 18 miles to Chicken Creek and then to the Sevier River. It rained all afternoon and night, which made it very disagreeable, especially to those on guard, of which I was one. Bro. Israel Hoyt accompanied us to this place with timber for bridging the Sevier River.
26th -- Israel returned home; we crossed the river by fording and went on our way, but we encountered very bad roads on account of the heavy rains which made it quite tedious indeed. When we got to Winter Valley I left the company and rode on with Samuel Lewis to Fillmore Fort in Pahvant Valley; it took us until after dark to reach the fort, but we found friends to take us in. I stopped with Bro. C. Holbrook, and old acquaintance of mine in Nauvoo. The company camped about ten miles back.
27th-- The camp came up about noon and concluded to stop 'till and next morning; we turned our animals onto the range as it was quite difficult getting grain. Our mess stopped with Bro. George Catlin, who made me a present of a pocket Polyglott Bible. We held meeting in the evening and several of the brethren spoke, short but interesting. President Call and others treated us kindly, while others would if we could of presented them with the "everlasting dollar" in exchange for their kindness; but a draw on our "Father's bank" was our only means, which was promised in the name of our employer. As this place had been selected for the capitol of the government, they had commenced to build the State house.
28th-- We left about 10 o'clock and went eleven miles to Corn Creek and camped in the vicinity of which is three small streams all well surrounded with good land, and the only difficulty appeared to be the scarcity of timber. Here I exchanged my heavy rifle with an Indian for one lighter.
29th -- We went about 20 miles passing through timber and very rolling country, and the rain falling in great abundance which made it cold and disagreeable traveling, as the hills were quite slippery for the teams. We stopped on the way to wait for the teams, as some of us rode ahead on horseback and while waiting I cut my thumb very bad preparing to build a fire. We camped in Cove Creek in Prospect Valley.
30th -- After traveling about one mile from camp, we met Bro. Wm. Kimball with an ox train returning from Iron County. We passed up this valley about five miles to the head, and then about ten through the hills to Sage Creek; thence five to Beaver River and camped. There was a chance here for an extensive settlement.
31st -- We started early as the grass in the bottom was dead and went about 9 miles to bunch grass where we halted our animals, and then went about 20 miles to Red Creek traveling the most of the time in little Salt Lake Valley, in which Red Creek Fort was located with a few families consisting of Dame, Hall and others of my acquaintance who treated us kindly by feeding us and animals with the best Fort Dame could afford, and lodging as many as they could.
November 1st -- We went 5 miles to Parowan City the capitol of Iron County where we were kindly receive by George A.. Smith and all the Saints. We four stopped with Joseph Robinson and his wife. Elder G.A. Smith who had just preceded us to this city requested us to spend a few days with them, and then go to Cedar City and set the fire a-going there. We told him that we were under his directions and felt to submit to his counsel. President I.C.L. Smith called the Saints together in the evening and called upon some of the company to address the assembly, after which Elder George A. Smith spoke at some length giving us much good instructions in relation to our present mission. One thing he said would be well for us all to remember, as many were inexperienced in the ministry, and that was the instructions of the Prophet Joseph to him when he first commenced preaching which constituted his college education; which was as follows:, "make short prayers, preach short sermons, and deliver them with a prayerful heart and preach the simple principles of the gospel." He said our missions were to do good in any place wherever the chance afforded us 'till we returned home.
2nd -- The Saints were called together at 2 o'clock p.m. to give us a chance, as Elders G.A. Smith said, to sow our wild oats before we left the cities of the Saints, and hoped it would suffice till we returned to Zion among the Saints; the only people that had any right to dance. Our party lasted till 12 o'clock at night, was conducted harmoniously and all felt well. I felt to enjoy myself quite well in our time of recreation, yet I could not but reflect upon the situation of my family when I left but a few days before, but I felt to leave them in the hands of the Lord for protection.
3rd -- It snowed all day which made it very disagreeable going out; but as we had been recommended to take horse feed to cross the desert with, we visited some of our acquaintances who gave us freely of their substance. Bro. Robinson let us have 3 bushels of oats from Bro. West which I took to the mill and got chopped for our four animals.
4th -- We met with the Saints of Parowan in their monthly fast. Elder G.A. Smith preached instructing the Elders on their present mission, and the Saints in general in their several duties. The Saints were all filled with joy and rejoicing while the elders and Saints were speaking, singing, and praying, as the Spirit gave utterance. I also felt to mingle my voice with them in speaking of the great work of God and felt to rejoice that I was one of the "called" to bear the gospel tidings to the Islands of the Sea and hoped I should be able to be numbered with the"chosen." This was a very cold day.
5th -- It was more pleasant today and we started for Cedar Fort about 18 miles. I rode ahead to see President Henry Lunt and report our near approach. I wished him to make arrangements for our animals and take us into their houses as it was quite cold. The company soon arrived and all were provided for. Attend meeting in the evening and many of the Elders spoke, short but with spirit, and the Saints rejoiced.
7th-- We met this morning at 9 o'clock and President Lunt called upon some of our brethren the missionaries to preach both fore and afternoon; he also administered the sacrament of the Lord's supper. President G.A. Smith arrived in the afternoon and preached in the evening, again directing his remarks to us Elders bound off on foreign missions, and to us the Sandwich Island missionaries he said, "You are strong handed, therefore don't think to confine yourselves to that small group, but if the way should open to go to other Islands anywhere in the Polynesian group it would be in the bounds of your mission; or if the United States should succeed in opening the ports of Japan, we would do well to send some there providing we did not all have business at the Sandwich Islands."
8th -- We left the last city of the Saints and went about 9 miles to Iron Springs and camped for the night, a company of gold seekers also camped near us. At this place the hills were covered with iron ore in rich abundance. We kept strong guard around our animals lest some might be taken in the night by Indians, or our fellow travelers to the gold region as some of them were going on foot.
10th -- We traveled 9 miles to Summit Creek where a few wild Indians visited us while nooning. From this place we passed through a beautiful little vale about 2 miles and turned over the dividing ridge of the great Basin; thence descended through a forest of cedars about 16 miles to the Santa Clara and 4 or 5 miles down stream before we found water which took us till after dark before the first wagons got into camp.
11th -- We went about 16 miles down the stream, crossed several times through very thick timber then turned to the right leaving the stream and went 3 miles to Camp Spring where we stopped for the night; water and grass scarce.
12th -- Here at these springs we left three men as their teams had given out; they came into our train the 9th inst. And wished to travel with us, but we told them their team could not keep up and travel with us, and they had best stop for the ox teams, but they would not till they were compelled, for their horses were unable to go any further this morning. We passed up through a narrow, rocky canyon for several miles and passed over a divide at which place we found a new species of berry very delicious indeed -- they grew on shrubbery as high as a man's head and down to the ground. They were about the size of strawberries and blood red. I called them Allred berries. We passed over this ridge and down a long gradual descent to a fork of the Rio Virgin; this plain was covered with a new species of cactus. As we were likely to be in the dark Reddin and I rode ahead to select a campground and find grass, which was very poor. Dark met us at the campground we returned about two miles to conduct the train through the forest. We camped at the creek and turned the animals up on the sand ridge. After we got into camp, two strangers came upon foot, leaving a third alone with the team to await the arrival of the ox train.
13th -- Before starting this morning we debated the case of the strangers, whether it was best to send them back to accompany their partner or take them along, finally the Captain decided to let them go. We passed over a very heavy sand ridge to the main stream and went down about 12 miles, crossed 8 times very heavy sand, which was much fatiguing to our teams. We camped in a large bottom covered with mesquite and plenty of grass to recrute the animals.
14th -- We lay by to rest the animals, and held meetings in the forenoon. Bro. Wm. Hyde preached, followed with a few remarks by myself and others. In the afternoon we went five miles down the river and camped. Bro. Jones was taken suddenly ill in the night with chills and fever, but appeared to receive no benefit by the prayers and faith of the Elders.
15th -- When the camp was called together by morning prayer, Elder Jones was again administered to but to no great effect and to all appearance he was threatened with a severe siege of sickness. We traveled down to where the road left the Rio Virgin. Ten Indians came into camp; we took their arms from them, fed them, and let them lay in camp till noon, under the eyes of the guards.
16th -- Brother Jones was not better and we took him into our spring carriage till he got better which was several days. In leaving the Rio Virgin we had to ascend a long hill and so steep in places that the teams were unable to draw their loads, and we had to take them up by making the ropes and a file of men extended in front to assist the teams. This made it quite tedious and it was noon before all the wagons reached the top, and we, then, had 20 miles to drive to find water, and knowing to would take till after dark, Reddin, Mr. Lancaster and I armed ourselves, as the anticipated campground was in or near the settlement of a strong and wild Indian band, who had before attacked parties of whites, and rode on to the Muddy where we arrived about the setting of the sun. We saw Indians in different directions running like turkeys and smoke ascending to the right and left. The train arrived in camp about 3 hours after dark. The day's labor brought to my mind a saying of President Young: "Preaching the gospel is manual labor from first to last." I observed to some of the brethren that without labor the gospel was not preached, and said, "How different is our labor in going forth to preach, to that of popular Christendom."
17th-- The Indians came into camp as soon as the sun was up and followed us to the crossing about 4 miles where some attempted to steal. They were driven from camp. We fed the teams and took in water for the desert as this was the last for 52 miles. We left the Muddy at noon, drove about 10 miles to grass, turned out the teams, got supper, and then traveled till 10 o'clock at night as the road was good.
18th -- We started with the sun and went to the Las Vegas, a most beautiful little stream and a large vale of good land, but timber scarce except fire-wood in the valley. We had a very heavy rain all night. I was on guard, and my blanket, gun, and myself got wet.
19th-- We drive to Basin Springs 4 miles; this is the head of Las Vegas, a large spring about two rods over. Here we stopped till the next day as the feed was good, and as Elder Jones was yet very low, Br. Hyde called about 5 or 6 of us and we prayed for him according to the order of the Priesthood and he immediately commenced to mend. In the evening the Elders were all called together and were requested to concentrate their faith in his behalf that the bond that was then broken might not again be renewed, but that he might soon be restored to health. A line here from Elder Sherwood informed us that they were two days ahead, all well.
21st -- We continued to ascend, passed through a narrow canyon to the top of the mountain covered with cedar; we found a spring off to the right of the road and camped for the night. It blew up a very cold rain, and the wind blew all night like a hurricane, which almost took the lives of our animals.
22nd -- About daylight the snow began to fall at a heavy rate till the ground was covered to the depth of 4 inches in a short time. We harnessed up as soon as we could and left for a warmer country. The miles took us into the valley and out of the snow and 9 more to Stump Springs where we found water but no grass, so we took in water and went about 8 miles to good bunch grass.
23rd -- We went about 14 miles to Resting Springs and nooned. My mare slunked her foal this forenoon as we were traveling which detained me behind the train till they were almost ready to leave their place of nooning. Reddin tarried for me or I should have been alone most of the forenoon. As our train came up to the springs, Elder Sherwood's train was in sight. In the afternoon we drove over to Bitter Water (so called from its being poison to man or beast) and down it to Amagotia springs where we overtook Sherwood's camp, and me Elders Lyman and Rich, with a company of 18 bound for the Great Salt Lake City. Bros. Murdock, Grouard and Moses were with them returning from their missions; the former from "Sidney" and the other two from "Tahiti," they being compelled to leave the Society Islands on account of the Catholics who had taken possession under the French flag and expelled the Elders from the group.
24th -- We all lay by and held a meeting in the forenoon. Elders Lyman and Rich preached giving much good instruction relating to our missions, and also the saints emigrating to San Bernardino. We met again in the evening and they both preached exhorting the missionaries to faithfulness and prophesying good upon our heads. Elder Rich said he was glad to see us going for now we would have time to think. Elder Lyman said our missions were to save mankind and the first object was to save ourselves, and if we only saved one each (ourselves) we would do a good work. I wrote to my wife by Bro. Rich.
25th -- We took in water as this was the best for over a 100 miles ad all broke up camp and started early . We went to Salt Springs and rested till near sunset allowing our animals to drink a little of the water, then started and traveled about 12 miles after night, but the road was good and the moon bright.
26th -- We started early for water, it being about 45 miles to Bitter Springs; and finding that we could not get there until after dark, Bro. Tanner and I went on ahead in the afternoon to find water and grass. It was late when the camp got up, and I took a guard and watched the horses on the grass about two miles from camp until the morning, turning all loose but one.
27th -- We went about 35 miles to the Mohave; the roads being sandy and animals weak. It was very late when we got into camp and Bro. Johnson and Hogeland did not get in till the next day. We camped in the woods.
28th -- We rested the forepart of the day and held meeting while Bros. Snyder went back to bring up Bro. Johnson as one of his horses was sick.
29th -- We went up five miles to good grass and water, and rested the animals the next part of the day. Held meeting in the evening consulting the provision line as it was scarce.
December 1st -- we went about 12 miles to the last crossing and place of leaving the Mohave and camped, rested the afternoon, and held meeting in the evening, preaching by father Graham, Johnson and others, upon the subject of restoration, long life, health, wisdom, faith and every other blessings enjoyed by the ancients, showing that these things would be restored by obedience to the laws of "Celestial Marriage" as revealed by Joseph the Prophet, in conjunction with all other laws that are and yet may be revealed to the Prophets of God.
2nd -- We left the Mohave and ascended the mountain to the Cahoon Pass, which was a gradual and smooth ascent, passing through a forest of cactus-like-large-post oak trees.
3rd -- We passed down the canyon into the beautiful valley of San Bernardino and found the Saints settled near a very large grove of timber and on the bank of a large stream. Their farm that we had to pass to get to the settlement was very extensive and of the richest quality of land. We were joyfully received by the Saints and all were provided with homes. Reddin went to R. Egbert's and I stopped with Father M. Harris.
4th -- I visited with the saints who had emigrated to San Bernardino and truly it seemed much like home to meet with the Saints with whom I had associated, both in prosperity and adversity, in war and peace, in the progress of this Church.
5th -- We attended meeting in their new temporary but commodious Church and felt to rejoice at beholding the faces of so many Saints in the enjoyment of life, peace and the spirit of God attending them. Meeting again in the afternoon and others of our company were called upon to preach.
6th -- Reddin and I went to work putting up a shoe shop of adobes for Bro. Hakes and he did our boot mending and gave us a little money. We tried to get some of the company to work with us and we would get the mending done for all or such as had no means, but we failed and Br. Hakes employed an Indian to help us.
7th -- An hour or two in the morning finished the shop, and we spent the best part of the day in visiting among our friends which were numerous.
8th -- Sister Lyman, Bros. Nathan Tanner, Reddin and myself went to the San Bernardino Mission and spent the day visiting the Br. Bybee and John Harris; truly our visit was agreeable and when we came to the table there were all the sweetmeats one could desire and even the large wine grapes were very delicious. We returned after dark to the fort.
9th -- I plastered a room for Gilbert Hunt and by sitting in the damp house I took cold which made me quite unwell for several days. He gave me two dollars and a shirt. John Harris' wife had given birth to a pair of twins, a boy and girl on the 4th inst., the girl died towards morning as Sister Harris and I were watching them.
10th -- I helped make the coffin and interred the child, then went to see Bro. Lytle and talk over our days of soldiering, and my present mission. He gave me 5 dollars to help me on my way, and for old acquaintance sake.
11th -- By request Reddin and I took dinner with sister Priscilla Lyman, and the table was well furnished with the best. My cold yet very bad..
Dec. 12th -- Attending meeting in the fore and afternoon, a number was baptized, myself, among the rest. By request Bros. Stout, Savage, Reddin and myself took dinner with Sister Emilion Rich, who did justice to her sex and we feasted sumptuously upon the dainties of life she set before us. Reddin and I went to Bishop Holladay's for the night. I made my home with the Harris family, who did all anyone could to make me comfortable and my invitations were so numerous I could not fill them all.
13th -- I visited friends and in the evening, the Sandwich Island mission with some others of the Elders and the young people of the Tanner family met at Sister Lyman's for a visit. Bro. Robert Egbert and I to go to the store and get such things as we wanted for our journey and we got 15 dols. worth, for which we felt to bless him in the name of our Maker for his liberality.
15th -- We found a small sheet of snow upon the ground in the morning which soon left -- it was however quite cold through the day. I visited Bro. Egbert's with Reddin -- felt much better today.
16th --Gilbert Hunt made a feast and invited Elder Sherwood, and some of the missionaries. Reddin and I took some of Elder Lyman's family and attended the feast which was set with all the luxury of the "Promised Land." We assembled about 4 o'clock p.m. and closed at 2 a.m. The time passed agreeably in conversation, singing, music and dancing and an address by Elder Sherwood. The Bishop called for a contribution for Elder John Hyde as he was without means to take him further; about $70 was handed in by the Saints.
17th -- As the most of us had disposed of our property to the liberal Saints of San Bernardino who took our poor teams at about full value, which supplied us with means to take us at least to San Francisco, we all started this morning except Elders Brown and Thomas who had left before for San Diego, and Elders Stout, Lewis and Dunkin who had not yet disposed of their animals. Joseph Matthews, John Lewis, L. Shepherd, Seth Tanner and others very kindly turned out with their teams and hauled us down to the coast. We went 30 miles to San Jose Creek and camped. Bro. Matthew had a severe fit of the ague on the road. It was with peculiar feelings that we bid adieu to the Saints of San Bernardino, the last settlement of the Saints, to go out into the wide world among strangers.
18th -- We went to the "Monta House," 20 miles and camped. It commenced raining in the night.
19th -- The rain increased. We, however, started leaving Bro. Tanner's wagon behind as one of his animals strayed. We went 10 miles through a very heavy rain to Pueblo de Los Angeles, the former post of the Mormon Battalion of which I was a member. The old place looked quite familiar though much improved. Mr. Granger very kindly stored our things free of charge. We put up at the Star Hotel at 75 cents per meal and 50 cents for singe berths. The rain continued falling like a torrent till about midnight.
20th -- Jesse D. Hunter was there in Pueblo employed for the government but he took the pains not to call on us. We started about 2 o'clock p.m. All the teams but 2 had left before and gone the lower road, so we went within four miles of San Pedro and camped.
21st -- We went one mile below and met the other teams, and as it has commenced raining again this morning we rented a room old Diego Sepulvada, to await a vessel as there was none in the anchorage. I took cold and had a severe pain in my head. I had to pay 50 cents for a bed which four of us occupied, being 50 cents each and 2 dollars for the whole.
22nd -- I got up in the morning but was so sick that I could not set up. I, however, called upon some of the elders who administered to me and by the power of faith in the name of the Lord Jesus I was made whole every whit for which I felt to praise the God of heaven. The Brig. Fremont, arrived this morning form San Francisco; the rain ceased and we went down to San Pedro where we stored our things and took up board at 75 cents a meal. Bro. Addison Pratt came ashore, said his family except the two oldest daughters were on board the Brig; also Elder Wm. Perkins and wife on their return from the Sandwich Island mission.
23rd -- It commenced raining again in the morning and the sea was so rough the Brig. could not land her passengers and freight. The steamer Sea Bird came to anchor in the night.
24th -- Bro. Jones and Johnson as committeemen engaged our passage for San Francisco on the Brig. Fremont, under Capt. Herskin, at 17 dols. 50 cents each; good food was promised.
25th -- It was raining and cold and poor fare was the general cry. Some of us went down the coast about a mile to an old barge that was stranded and bought some sardines, and crackers for a Christmas dinner, as the fare was so poor at the boarding house.
26th -- Bro. Perkins and wife came off the steamer on their return from the Sandwich Islands mission which they were counseled to leave on account of her ill health. Also Bro. Pratt and family came ashore, and as the teams were returning without loading they took Bros. Pratt and Perkins strait to San Bernardino.
27th -- This morning the tide was so high that the sea hove beyond her bounds and washed down the government warehouse. Some of us went down to the Barge again and took fresh meal for our stomach's sake.
29th-- The birthday of my daughter Lucy A. We all went onboard the vessel as we lay at anchor about a mile and a half from shore; we went out in a small boat. The Captain returned about dark and was quite angry with the mate for taking us aboard. He also refused us the fare promised, and we had to sleep in the hole, as our fare was steerage, but we suffered the abuse rather than to return to the miserable place we had just left as we had been waiting a week for passage. We lay at anchor as it was a perfect calm.
30th --We paid our bills, weighed anchor and stood out to sea with a light breeze about 10 o'clock a.m. Night found us but little off the harbor laying near the shore and no wind, but before long a light breeze carried us out from land.
31st -- We had but little wind all day and night; yet some of the brethren were quite sick. Thus ended the year 1852.
Jan. 1st, 1853 -- This New Year dawned upon us in somewhat different circumstances to anything that we had before been acquainted with, for we were then trying the realities of a sailor's life, rolling and pitching on the billows of the Great Pacific, while many of us were counting up our accounts for the year just past, and cleansing our systems for the then ushered in '53. I thought how changed the scene when far from home and families dear. We were on the boisterous sea. The New Year brought with it a wind, yet it was bold ahead, which made our passage slow and a very rough sea.
2nd -- The wind the same, and the course as before. There was only 5 or 6 of our party that were able to administer to the wants of the others, as we were almost continuously sick and unable to be out on deck.
6th -- We had a good wind but still ahead; and it was late in the afternoon before we discovered land which was the mountains above Monterey. But little wind all night and a rough sea., and it was with difficulty that we kept our beds as the vessel was rolling on the restless waves.
7th -- We had an aft wind which carried us to the entrance of "Bay" but the tide was running out, and it was with difficulty that we got up through the "Golden Gate" into the bay to anchor. After passing some ships at anchor, he dropped his anchor but the chain got fouled and we were carried back with the strong tide and struck a large ship under her bow which appeared like taking away all our rigging, but finally past with no damage to either.
8th -- Sailed up through the fleet as they lay moored in the Bay; this looked grand to me as it was the first I had seen in my life. We dropped another again in about 4 rods of the wharf and paid 50 cents each to get ashore, and the same for dragging our things to a boarding house. After getting into the crowded city of San Francisco I ate the first agreeable meal for 10 days past. Bro. Morris came to our stopping place, and Reddin and I went with him to see Sister Woodbury, found her well, also Bro. Cheney with whom we stopped what time we had in the city
9th -- Reddin and I were emploid writing home, I also wrote to Bro. Harris, San Bernardino.
10th -- We started to Salmon Falls to see our brother James. Took passage at 4 o'clock p.m. on the steamer Bragdon for 5 dols. each deck passage a distance of 105 miles to Sacramento where we arrived just at day light.
11th-- We found this city which had been but a short time since almost entirely destroyed by fire, now overflowed from the river till boats were running the streets. We took breakfast at a hotel, and started on foot which was very bad indeed on account of the mud. We got to Willow Spring Hotel, 25 miles, we paid $2.50 each. Thus our little purses were drained day by day.
12th -- We past Mormon Island where we found I. Davenport and family well, thence to Salmon Falls where we found Reuben W. Allred and family well, except himself. James R. was off about eight miles mining. It was with difficulty that I got there as my boot rubbed my foot.
13th -- We sent for James to come in and spent the day in visiting with Reuben's family as there were several Mormon families in this place. Bro. Thatcher who had once been a member gave us $20.00 each, expressed his unshaken faith in the work and wished to be readmitted. We advised him to go to San Bernardino and report himself to the presidency there. It was dark when James came in and truly I could not refrain from tears for the had been toiling in the mines till he had lost his health and almost his voice, and only living from hand to mouth. He felt anxious to get home and we advised him to quit prospecting and go to work by the month till he had means to take him home.
14th-- I went to see Bro. Smith and told him our mission. He said he had been greatly blessed with means and therefore would help us before we left; and said he, "Don't let any of the brethren have the 'Extry' containing the revelations to Joseph on celestial marriage. I want it and will give you ten dols. for it." In the afternoon we went to see Bro. Orr and presented the case to him. He appeared willing to assist. While there Bros. West and Carter came up from San Francisco and stated that we were to gather all the means we could by donation, and that Bros. Horner, Sparks and others would make up the deficiency. We told Bros. West and Carter that we would go out among the brethren and see what we could do while they rested and waited our return.
15th-- Reddin crossed the river and I went to Father Chase's about 10 miles and stopped over night with him. He gave $10.00 and Bros. Clark Huband and W. Shaw $5 each.
16th -- Bro. Chase went with me to Jefferson Edmonds nearby; he owned the "Deer Creek House" but had rented it and was living just below at his mill. He gave me 25 dollars. I met Father Duston on the road walking out for his health as he had been quite sick, but was on the mend. I then went to Bro. Arnold's where I found a number of boys who all helped me according to their ability, but the most of them were only able to buy their daily food. Bro. Arnold gave me 17 dollars and his two boys 2.75; Bro. R. Stevens, 5; G. Dibble, Young, Dodge and two others gave me 1 dollar each. I spent the night with them; advised them to settle their business as soon as possible and return to the Valley. Bro. West preached to an attentive congregation at 2 o'clock p.m. in Salmon Falls.
17th -- I returned to Salmon Falls very lame with my foot, which was inflamed.
18th -- Bros. Chauncey West and Wm. F. Carter started to Honeytown to visit some friends. Reddin returned having raised about 90 dollars for the "mission " from Bro. Crow and others.
20th -- John Orr made me a present of a silver watch. I told him the Lord would reward him for his kindness; he said he did not know for he had never been baptized into the Church. I was surprised at this and told him not to delay for we had no claim on the promises of God till we first obeyed his command. Elders West and Carter returned having collected 25 dollars for the"mission."
21st -- We all remained in the town and held meeting in the evening at Mr. Thatcher's. Elder West preached upon the order of the Church and the Kingdom, laws of adoption, etc. I followed him upon the same subjects. After we were through a Mr. Cheasman said he had been well entertained and he moved a collection be taken up to forward us on our mission -- about 60 dollars was collected, 50 dollars of which was handed in by Bro. E. Hanks.
23rd -- We held meeting at 2 o'clock p.m. Reddin preached followed by Bro. West. Elder West preached again in the evening followed by Reddin.
24th -- We left Bro. James R. Allred and friends then returned to San Francisco. Bro. Orr took us down to the river as he was going after a load of goods. We walked about 4 miles at the last end of the road through mud and water to our knees, and arrived in Sacramento after dark. We put up at a rooming house; here we met with two gentlemen by the hand of Goode Esq. and R. Colgrove, who expressed a very favorable opinion of our people and wished to become more acquainted with our principles. We conversed much with them, bearing a faithful testimony to the truth.
25th-- Mr. Colgrove kept us until afternoon steamer and paid for our dinner; he continued with us till the boat left the wharf and appeared like a brother. We arrived in San Francisco about 9 o'clock p.m. and soon found the most of the brethren in a room rented by them and we were happy to learn that by the kindness of Bros. John M. Horner, Thos. Williams, Sparks and others the cash was forthcoming for the passage of each mission, being over $4,000 and that our missionaries for the Islands had the engagement made with the ship Huntress, under Capt. Jas. Lambert for 50 dols. each cabin fare, except we furnish our own bedding. Bro. Wm. Hyde informed me that Harris Clark had come to San Bernardino and reported the death of my daughter Lucina Azelia whom I had left very sick at my departure. She died soon after I left on the 25th of October after I left the 21st of October '52.
Wednesday, Jan. 26th -- Reddin and I went to Bro. Cheney's and he told us to make it our home with him while we stayed in this place. Bros. Tanner and Hyde received the money from Bro. Horner and distributed it to each mission. We threw in what we had collected for the missions and drew $111.10 each. We all bought some clothes for the season.
Thursday 27th -- We sent 20 dols. each to our families by Bro. Jas Brown.
Saturday 29th -- Bro. Jas Brown sailed for the lower country on his way to the Valley. We went on board in the afternoon and moved out into the Bay and as they dropped anchor and Calcutta--Siam missionaries sailed gently by us just getting out for their long and tedious voyage. We went to bed without supper as the Capt. was not yet provided with a steward.
30th-- The Captain let us take his boat to go on shore for breakfast and something to last us through the day. We visited the brethren of the Australian Mission on the ship Pacific and bid them adieu; they were excepting to sail in two or three days, and the China Mission was expecting to sail in about ten; thus the Lord opened the way before us.
31st -- The Captain set us a good table and appeared very kind.
February 1st -- The pilot came on board at daylight, hoisted sail, but as no wind arose they furled them again. The officers were on board attempting to stop the vessel for debt, but the Captain left money in the hands of an agent to carry it to law, so the officers left the ship.
2nd -- They hoisted sail and weighed anchor at sunrise and with a pleasant breeze we glided gently through "Golden Gate' when the wind ceased, and we were carried out by the rolling tide till about 2 o'clock p.m. About that time there was a fine wind blew up and drove us on our course at the rate of 10 knots an our. We had already began to be quite sick; all except Bros. Johnson and Snyder.
3rd-- some of us continued sick as there was plenty of wind and rough sea. I lost my hat overboard.
5th -- I felt still better and was able to be reading and writing. We saw a Brig heading the wind.
6th -- We all felt quite well except Bro. McBride, he was feeble all the voyage. The wind continued strong and favorable for us. We saw two more ships heading the wind. I was reading and writing part of the day; in the evening the Captain and a Mr. Cook came in to hear us sing and talk. The Captain was quite sociable. Said he had shipped Saints from England and appeared very much attached to us and our people. He proposed some of us preach and Elder Tanner spoke a short time, but as we composed about all the passengers it did not warrant public meetings. He gave us the privilege of the shop for any exercise we wished, and generally spent the evening with us till 10 or 12.
8th -- While reflecting upon scenes of the past, of the perilous situation of my family when I left home and the death of my children, I wrote an acrostic on the name of my first born.
9th -- I composed the following acrostic on the name of my youngest daughter who died Oct. 25, 1852 just four days after I left home. Born Sept. 20th, 1851 and dedicated it to my wife.
Let me compose a line for you,
Upon the death of one we love
Called home to meet her brother, dear,
Into a world that's free from care.
Now when I left our child was low,
And said I, "Lord, wilt thou bestow
A life of peace, and let her be
Zion's fair daughter, kind and free."
Ending this prayer I went away,
Like many others - long to stay,
I had not left the ocean shore,
A brother says, she lives no more,
A feeling then I can't express,
Like anguish came across my breast,
Let us so live that they may be
Restored to us in purity.
Eternal joys we then shall see,
Death cannot sever you and me
But with the children God has given
We shall with peace be crowned in heaven.
11th -- Bro. Tanner was taken sick with a breaking out and he entertained fears of small-pox but is soon passed off and he was well again.
12th -- Just after dark a squall struck us for the first time since we left the coast; all sails were up even to the studsail; all hands were called and we assisted them till most of the sails were furled as it was quite rough all night.
13th -- Late in the afternoon The wind increased and clouds began to thicken up; they battened down the hatches and prepared for a stormy night but Providence ordered it otherwise for we had a pleasant night.
14th -- We still had aplenty of wind making as high 14 miles at times. We were soon under full headway again, and just after dark we discovered the Island of Hawaii directly ahead; we tacked to the right and run by slacking sail for fear of rocks. About 9 o'clock p.m. a storm of rain and wind struck us again from the land; all sails were taken until the blow was over which was but a few moments, but it continued to rain quite heavy for a time; after that part the "trades" were fine all night, but as were near land and the night was very dark the Captain was afraid to put up much sail. We saw a vessel bound out.
15th -- At daylight we were opposite the Island of Hawaii. Had a fair view of the snowy peaks of Mauna Kea. We however passed the east point of Maui before dark.
16th -- We were opposite the Island of Molokai at daylight, but were becalmed there till about noon, when a light breeze came up and about 11 o'clock p.m. we reached the Island of Oahu and lay to opposite Mauna Loa till morning.
ARRIVES AT HONOLULU
Feb. 17th-- We sailed up with a fine breeze, passed "Diamond Head" about sunrise and when about one mile off the harbor the wind eased. A pilot met us with a small boat worked by natives and towed us into the harbor. As we neared the harbor we had a good view of the city of Honolulu and the beautiful country surrounding it and while reflecting upon our future field of labor, among people of different habits and customs to our own, and unable to speak the first word in their language and nothing to be expected from our own countrymen but frowns (for the sake of the Gospel). I had the first feeling of discouragement to encounter that I had felt since I left my native shore; but I said nothing to the brethren and went into my room, closed the door and there poured out the feelings of my soul before the Lord in solemn prayer. I returned feeling light and free. About this time we were entering the beautiful little harbor of Honolulu which contained a fleet ... and is surrounded by a coral reef. The only admittance is by a narrow passage guided by buoys. We paid one dollar each at the custom and landed as missionaries, but the newspapers both English and native were before apprized of our near approach and asked, "Is it right to have anymore missionaries visit the Islands?" We found Bro. and Sister Lewis in the city and as Elder Cannon and the rest of the brethren were laboring out in the country and on other Islands, we rented a room at 9 dollars per month for sleeping and took up board at Bro. Lewis' to await our distribution.
19th -- We all went and took a pleasant bath and in the afternoon some of us visited Bro. Burnhams' and took supper with him. He requested some of us to stop with him for our meals as we were much crowded at Bro. Lewis'. We also formed acquaintance with Bros. Dennis, Rice and Franklin all of whom had received the gospel of the Islands. Bro. Burnham had a foreign wife.
21st -- I remember as my birthday, being 37 years old, I wrote a letter to my wife. Brother Tanner was quite unwell. We met in council at Bro. Lewis' and decided to call the Elders there for conference, so Bro. Lewis accordingly wrote to them to come together in Honolulu.
March 19th-- Written hand-bills were posted at the most public places and the corner of streets calling the attention of the foreigners of Lahaina to a meeting of the Latter-day Saints on Sunday the 20th, 2 p.m.
April 4th -- I commenced with the first chapter of the New Testament to read and translate the native language with the assistance of the vocabulary and applying to some of the natives or Elders for the right pronunciation.
6th -- We met in native conference which was called to order by Elder Cannon and Elder Hawkins was called to preside. Elder Winchester and Priests Napela, and Kaleohana, clerks. The branches were then reported -- there was in all 1045 reported in main conference priests 3, teacher 25 and deacons 40. Elder Cannon preached in the afternoon and by request of Napela, Bro. Lawson and myself spoke in English and Bro. Cannon gave the interpretation which seemed to please the Saints. Conference then adjourned till the 7th inst. Which was to be devoted to prayer and fasting. I wrote a letter to Elder Wm Hyde, Sidney, Australia.
11th -- Bro. Hawkins returned to Wailuku to accompany Elder Woodbury to Molokai leaving Reddin and I alone without any interpreter for the first time, so we were left to talk or starve. Kaleohana gave us 2 or 3 lessons on reading through the day. He said we would soon be able to read as well as he did. I told him "mahope" (by and by) indeed I thought if we could learn to talk and understand as fast as we could learn to read, we would soon be preaching.
22nd-- Kaleohana's wife gave birth to a daughter, all hands attended men, women and children and Reddin and myself were called I to administer and pray for her. In half and hour after it was born she sat up and ate her dinner, and next day was doing the work, and visiting the neighbors. I noticed this because it was so different from our former customs. We attended to our studies as before.
May 8th -- There was singing school which was taught by Kaleohana and also a meeting. After he was through preaching he wanted Reddin and I to speak to them in native, but we told him we could not now. He told the people that we would talk to them in 2 weeks, but I told him to say 3 or 4.
June 21st -- I went to Wailua and spent the night. After our singing was over we held a meeting and I spoke a short time feeling anxious to improve upon the little I had gained in the language, and the natives were so flattering as to say I spoke well and was prepared to commence preaching -- that they could understand, etc.
July 1st -- After the grass dried in the morning, Elder Hawkins and I walked up toward the mountain in quest of fruit but without success and we should of necessity returned without being in any way benefitted had we not used the good reason in calling upon the Lord in secret that he might bless us openly. After we returned we sat a few minutes upon the seashore and watched a couple fishing; one held a net in his had and the other a short spear. With these they dived to the bottom, held the net at the entrance of a hole while the other would frighten the fish. They say that they have stayed under water till the blood would gush out of their mouth, nose and ears. It was surprising to see their dexterity in water. If their boat sinks they can raise it out again. In the afternoon we were reading both English and native which served to enliven our spirits.
10th -- I had a singing school in the morning and attended two meetings at which I took part. I felt much limited but I felt desirous to improve upon the little talent I had received that it might increase more abundantly. I married a young couple in the afternoon.
11th -- They furnished me a horse and I rode up toward the mountain with them as they were in search of timber to build a new house for our accommodation. I rode about two miles and stopped at a brothers house while they went up as it was raining very hard there. They returned about noon with each a pole on their shoulders and we returned to Keanae. In this manner they get all the timber for their houses. An old man brought in his daughter, I judged to be about 12 years old, and a young man that was expecting to marry her. The old man wished my advice as the young man was not in the Church. I told him we were opposed to the principle; but they agreed to let them marry. In the afternoon a sister was taken quite ill, but was immediately relieved after I had administered to her.
October 6th -- We met in conference of the white Elders when the branches were represented by Elders Cannon, Tanner, Karren, Johnson, Lewis and myself. Total 3031. It was then decided that we purchase a press for the use of the mission, and that Elders Cannon, Johnson and Lewis by a committee to carry out the same by donations, etc. and by visiting the branches from Island to Island. A committee was also appointed consisting of 5 to select a gathering place for the Saints and Bro. Hammond reported a favorable prospect for a location of Lanai; also a committee of 3 to draft a petition to the legislature to grant equal rights in schools with other churches. The Elders were then distributed as follows: N. Tanner was appointed to preside over the Island of Hawaii and Elders Karren, Keeler, Lawson, Snyder, Riae Linn and fourteen native Elders and Priests called to assist him. I was appointed to preside on Maui, and Brother Reddin, Elder Hammond, Napela, .....................assistants. Elder Bigler to preside on Oahu and Elder Hawkins with 3 or 4 native assistants. Elder Tanner to preside on Kauai with Elders McBride, and some natives assistants; Elder Woodbury to preside on Molokai and Elder Green with native assistants and Elders Cannon, Johnson and Lewis traveling or financial committee for the press.
19th -- The locating committee made preparations to go to the Island of Lanai to search out the land and as Brother McBride was unwell, I was appointed to go in his stead. We started about 10 o'clock a.m. accompanied by Elders Karren, Cannon, and Napela, making eight besides the boatman which quite filled our craft it being a common whale boat. We passed out through a whaling fleet of 35 ships anchored between the two Islands and continued across the channel which was principally done by rowing as there was not enough wind to fill the sails but little of the time, so that our passage was slow and hard for our row men and tedious for us for Bro. Tanner and I were quite sick. The channel was only 9 miles but our place of land in was about 15. We stopped with a Catholic who was believing. Napela preached in evening followed by Brothers Cannon and Hammond after which two were baptized.
20th -- We ascended the bench about two miles which brought us in view of a basin of fine tillable land surrounded on the East, South and West with a low ridge of good land admitting of a plow or wagon in any part and on the North a high mountain containing some small timber but not any great amount and at the foot there were some few oozing springs which we visited but none of them running; also at one or two other places which was the only fresh water the Island contained except when the rainy season came around which generally lasted about four months in the year. The brethren thought the water might be saved by making reservoirs to hold the great quality of water which rushes down the canyons in rainy seasons and thereby supply the inhabitants with water for both man and beast, but for my part I thought the committees would look further before locating the Saints, especially the natives for whom we were buying to teach them cleanliness on an Island where there was no running water. We returned to the beach and slept -- again held meetings in the evening -- speaking by Elders Cannon, Hammond and myself.
LAHAINA, MAUI -- January 1, 1854 -- In company with Bro. Tanner, my brother, Reddin and Sister Lewis at Bro .and Sister Hammond's having been invited by them to spend the New Year. It being Sunday we went to meeting. Bro. Hammond invited me to preach which I did to the best of my ability not being much acquainted with the language, nevertheless I felt quite free in teaching. Elder Hammond followed in support of the truth. We had a good dinner which was quite a treat to us, but the society of my brethren was best to me, as it is now a rare thing for me to have to privilege of seeing one of my own countrymen in this far-off region."
Note: Then follows a day by day account of meetings, preaching, fasting, praying, and baptizing native brethren, a real missionary doing all he can to give his message. Then came his release as he had been ill for some time.
LEAVES THE MISSION FIELD
Feb. 10, 1855 -- We arrived in Port about 10 a.m. and when I asked Capt. Thos. Hobern his bill he said he only charged our Elders half price which brought it down to $2.50. I found the brethren all well except President Lewis who had been feeble for some time past but was slowly recovering. Reddin had arrived the 9th inst. from Kauai as he wished to see me before I left. Bro. Kauwahi had been convicted for the alleged crime of unlawful marriage and sentenced to 6 months; imprisonment and 50 dollars fine, and Reddin had come up to take out an appeal to the Supreme Court. Reddin and Woodbury went to se Judge Lee upon the subject, but he said Kauwahi could neither have a re-hearing nor yet bail; however, Squire Blair said he would see that he had both and Chief Haalelea agreed to foot the bill and carry it through.
13th -- I was writing some in the forenoon and in the afternoon I walked up Nuana Valley about two miles to where Bro. Flanders was at work. He gave me a large camphor chest for which I felt thankful. I returned to Bro. Kapahi's where Elder John T. Caine was living while studying the language and stopped over night with him.
18th -- Brother Reddin preached in the forenoon and was followed by Bro. Woodbury. In the afternoon I attempted to preach but I felt too weak to preach a very lengthy discourse. Bro. Woodbury followed me with a few remarks. At 3 p.m. we had a meeting at President Lewis's and enjoyed ourselves well in the capacity of a prayer meeting. I was, however afflicted with a severe pain in my head and an aching throughout my whole system. I soon found out my additional illness was when I woke in the night with a hard chill accompanied by a fever. It was Lahaina or Panama fever.
Feb. 20th -- I felt a little better. Bro. Reddin and I went down and secured my papers on the steamship my papers on the steamship City of Norfolk which was advertised to sail the next day. My fare was $50.00 steerage which he paid down and took a ticket. She was late from Australia and not having coal she was making the trip to San Francisco with sails, being a full bargue rig.
21st -- Reddin had laid in a small sea shore, "Porter" being one of the ingredients which Bro. Lewis advised me to partake freely of on my voyage. Reddin had been laboring at mason work a few days and presented me with $10 which left me over $40 after my passage was paid. President Lewis gave me a parting blessing promising me a full and speedy recovery and a safe return to Zion where I would meet my family in health, and prosperity. We took my trunk on board as she was advertised to sail today but as she didn't I went ashore and stopped with Bro. Lewis while I waited. It was raining so I got my feet dampened going down which I felt the effects of for a few days and feared a back set.
The trip to San Francisco was made without incident
IN SAN FRANCISCO
March 19, 1855 -- the pilot met us out about 10 miles and having a light breeze and fair tide we soon run in and found ourselves laying alongside the wharf about 2 o'clock p.m. I soon found Elder Pratt alongside the wharf about 2 o'clock p.m. I soon found Elder Pratt and the other brethren. Bro. P. P. Pratt advised me to find a home with some of the Saints and rest and recruit my health. I took my trunk to Br. Cheney's and stopped with Sister Sargent (whose husband was not with us ) where Bro. Hawkins and Sister Woodbury was living.
20th -- I visited and took dinner with Sister Jones and returned by Bro. Pratt's. I had quite a tramp before finding his place not knowing the street. He had got a lot of books and had them for sale at the Mormon Book Depot and Sacramento and Dupont Streets. I took tea with Sister King (whose husband is not a member ) and then returned to Bros. Hawkins and Tanner to Elder Pratt's and spent the evening, then returned with Bro. Hawkins to Sister Sargent's. She invited me to stop awhile with them while resting from my labors and replenish my stock of health.
22nd + We attended a prayer meeting in the afternoon. Bro. Pratt told me he thought a door would open for me with the May company. I stopped again with sister Sargent.
23rd -- I wrote a letter to Reddin and Bro. Woodbury, and again visited Bro. Pratt's and took tea. He presented me with the history of "Joseph the Prophet." I stopped at bro. Cheney's house with Bro. Garner.
24th-- I visited Mother Jones and family, and looked at some wagons by the request of Bro. Tanner in a letter from "Mormon Island" where Bros. Tanner and West were mining. I wrote them a letter. I received by the schooner Restless a letter from Reddin dated Honolulu the 5th inst. All well with the mission. He was expecting to return soon to Kauai.
25th -- I attended a meeting and heard an interesting discourse delivered at the hours of 11and 3 by Elder P. P. Pratt to an assembly of Saints and unbelievers in a hall rented for the purpose. All appeared interested and some donated for the rent of the Hall. I stopped over by night with Father Mowrey. He was a backslider but his wife and son were standing in the faith and strong, too. Feeling desirous to get my brother James R. out of the country as his health was poor and circumstances low every way, I felt on retiring to rest that I might have some manifestation in relation to my duty when the following night vision passed. I was in company with him on a small craft in a swift running stream, and everything looked precarious all around + we had no command of the craft and we were going down stream with great rapidity wafted with the current and wind which was then blowing a hurricane; but by a lucky leap I reached the bank and reaching my hand lifted him ashore. At the time I felt somewhat in doubt as the course I should pursue, whither I was to take him with me or first leap and then reach back to his rescue.
26th -- I remained at Father Mowrey's and wrote up my journal from the 21st.
27th -- I took the stake in company with Sister Crosby and Frances Pratt and rode about five miles to Bro. Horner's. I spent the night very agreeably with Bro. Crosby and family.
28th -- I felt quite unwell from a fresh cold which I had taken, and more seemed to be added by getting my feet wet in the dew as I was talking and walking with Bro. Badlum. Bro. Jas Hawkins came out and spent the night with us.
29th -- We took breakfast with Bro. J.M. Horner and then returned to the city on foot. I felt fatigued and had a severe pain in my head and returning pain in my breast occasioned by the new cold and a little exercise in singing. We attended a prayer meeting at Sister Irvine's in the afternoon at which time a number of prayers were offered up, and a lengthy discourse given by Elder P.P. Pratt by way of instructions to the Saints. I went to Sister Sargent's and stopped over night with Bro. Hawkins. Sister Sargent became the mother of a couple of daughters on the 26th inst.
30th -- As it was raining all day and my shoes thin, I stopped overnight not wishing to expose myself in the rain. I wrote a letter to my brother James R. in the mines wishing to know his circumstances and desire.
31st -- Mr. Sargent found fault with his wife because I was there by her invitation so I left as I was intending to do when it cleared away. Mother Jones gave me some tea to give to Sister King where I could call occasionally and take tea.
April 1st -- I attended the meeting at 11 o'clock and 3 p.m. at which times Elder Pratt preached to attentive assembles of Saints and unbelievers. His remarks were interesting to sincere inquirers after truth.
2nd -- I went with Bro. Hawkins and visited Sister Hollenbock by her request. Her husband being in business was not inclined to take hold in the work like his wife, yet was faithful in attendance to our meetings.
3rd -- I went down with Bro. Karren, bought me some clothing to the amount of $18.00.
4th -- I went down again and got an overcoat ready for the journey across the Plains. My cold which was again afflicting me was increasing and I felt quite unwell.
5th -- Was kept as fast day, but as the valley mail had arrived I went to the office and intercepted a letter from my wife on the first of March. She and the children were in Juab Valley visiting her mother and brothers' all were well. My daughter, nine years old, wrote a part of the letter which pleased me much. When I returned I felt so unwell that I did not go to meeting. Some of the Santa Clara Saints came down to attend conference.
6th -- Bro. Gates came down with his spring wagon and took Bros. Pratt, McBride, myself and other out to Bro. J. M. Horner's for the conference which was opened at eleven o'clock, Elder Pratt presiding. He spoke at some length reviewing the rise and progress of the Latter-day work. And then spoke of the company of Saints intending to emigrate soon, telling that it was their duty to take the Elders home and if we were provided for, then take as many more as they could but he said the Elders who had filled their missions aught and should be cared for, in particular, myself, as my health was poor on account of hard labor in the ministry and exposure until my constitution was worn down and a visit to the mountains of the Saints where my family reside was requested. We stopped overnight with Bros. Horner and Crosby and the Saints enjoyed themselves in a social dance of which I but slightly participated.
7th -- We rode back to the city where we interviewed in Father Mowrey's house. At the hour of 11 o'clock President Pratt called up me to open by prayer when he read President Young's speech delivered in the G.S.L. and printed in the Deseret News. It was misconstrued and falsified by many of the California papers showing that the world loves lies rather than truth. The conference voted to approve Governor Young's views. Capt. Hunt who was with us and others of the "Battalion" to the number of ten held a party for the ten soldiers. The first set was filled by Elders Pratt, Hung, Cheney, and myself. I wound up with that and retired early. Bro. Hale made me a present of $20.00 for my journey.
8th -- Conference again convened in the rented hall when the day was spent in preaching, closing the business of the conference, and sacrament administered. Elder Pratt preached again in the evening. Bro. Dodge presented me with ten dollars.
TO SACRAMENTO, CALIFORNIA
9th -- I made arrangement and started with Capt. Hunt at 4 o'clock on the New World for Sacramento. My fare in the cabin was seven dols., which the Captain kindly settled. We arrived about 2 o'clock a.m. and he took me to his room at the Commercial Hotel where he stopped while the legislative body was in session, himself being one of the number.
10th -- We took breakfast and as my boots had rubbed my feet with only a mile's walk. I got a pare of shoes which the Captain settled. He also paid my passage on the stage "Mormon Island" being 28 miles for five dollars. Bro. McCoy was with me. After we got through we walked a mile to Bro. Smith's where Bros. West and Tanner had been mining and getting ready to return home this spring. We took dinner with them and then Bro. C.W. West took us in his carriage to Salmon Falls. I stopped at Bro. Hank's where I found my brother, James; he was lame from lifting, otherwise his health was good. I wanted to see him before I left and if possible take him along, but I found him without means and the most due him was uncertain and unsettled.
11th -- James and I went to visit Reuben in the afternoon, visited and took supper with them and then returned to Father Orr's and stopped overnight. I spent the evening with the old lady as all the rest were off on business. I composed an acrostic for Mary Ann Orr and wrote in her album.
12th -- I returned to Reuben's and stopped till the afternoon then returned to E. Hands' and stopped overnight. He made me a present of a Colts' revolver.
13th -- James went off on business and as I felt anxious to take him with me, I went to see Mr. Orr and called for a settlement. James had been with him about 11 months without any definite understanding and some said Bro. Orr would not pay him, but he said he would do right about it. After dinner I went to Reuben's and then returned to Bro. Hanks' for the night.
14th -- Bros. Tanner and West came to see me as they had come into the place the evening before and expected to return early. James and I went to see Mr. Orr and settle with him, but he didn't give him more than one-fourth his due. Mother Orr gave me five dollars. James agreed to go home with me but as he had only about 1.50 he could not get his own outfit. He had to go with the company and drive a team. Bros. Tanner, West and myself went to Bro. Smith's's from which place we were to start.
16th -- Bro. West and James left in the rain to go by Sacramento in his carriage and was to meet us on the road. Mr. James Crocker gave me twenty dollars for which I hoped the Lord would convert him to the faith, to bless him abundantly that the may do good and bless others thereby.
17th -- We load up three carriages belonging to Bros. Tanner, West, and Smith, the latter was expecting to go down by water and join the company at some point below. Tanner, Cole and myself set out about daylight each driving a team. We met the carriage and arrived at Bro. Wm. McEntire's after dark on Dry Creek.
18th -- We stopped over day and night as Bros. Tanner and West had some wild colts to get up and tame a little for the trip.
19th -- We again started, five in number, driving 4 teams and 4 loose horses -- crossed Dry creek on a bridge ferried the Macaloma drove through many and deep sloughs and camped out near Stockton City.
20th-- We passed through Stockton which was situated on a slough navigable from the San Joaquin River. We thon passed on to the San Joaquin River and crossed in a boat. It was up level with the banks, and run out till the sloughs were well filled on each side, which had been the case with all the country since we left with the teams, and as I had driven one of the heaviest loads all the way I felt very sore and much fatigued each day. We camped about 12 miles from the river -- this side of the river was more dry.
21st -- We passed over a low range in San Jose Valley on the Bay of San Francisco where we arrived after sunset at M. Wheeler's. James and I want to John C. Nail's.
22nd -- Bros. West and Tanner went to see the company at Santa Clara as they were expecting to leave the next day, but they agreed to drive out to San Juan and wait a week for us. I rode out with Bro. Nail's wife in his carriage and visited Bro. Cheney's and Rizar's. Bro. Nail kindly presented me with a mule.
24th -- Bro. Tanner went to the city and I visited Mr. David Cheney.
25th -- I went and stopped with Bro. Isaac Harrison and cleaned a gun that Br. Nail presented me for the journey and forever.
26th -- I rode up on the hill with Bro. Wheeler to visit Bro. Edmonds. Bros. West and Tanner returned from the City and Bro. Smith came along with his family to go down by land. He came with a fine carriage which cost $500.00.
27th -- We made preparations to start on our journey next day to join the company at San Juan as they were there awaiting us. The Brethren got some of the animals shod and found two that had been lost. I rode down with Sister Wheeler to Bros. Rizars and Cheneys on a short visit and got some clothing that sister R. had washed. I stopped at Bro. Nail's and was up till one o'clock at night, as friends had collected in for a social dance before our departure.
FROM SAN FRANCISCO -- HOME
28th -- Bro. Nail let Bro. Tanner have a span of mules for his young horses and an older horse for his colt. We started in the afternoon and camped on the creek running through the valley. I rode on horseback and led two animals which was very tiresome.
29th + We went to San Juan a distance of 50 miles over good road. I rode most of the day in Bro. West's carriage which rested me. We found the company in camp and organized as follows: Wm. McBride, Capt.; H. W. Bigler, Sergeant of guard, and Father Dustin, Chaplain.
30th + Elder Pratt called together and addressed the camp upon the order of traveling, etc., after which the five last wagons were added making 13 and I was appointed captain of ten. We then set out on our journey together, passed over a small mountain into the Salinas Valley and camped near the Tevedah Rancho.
May 1st + We went up the Valley 25 miles and crossed the river then 7 miles to Dry Creek and camped. The feed was poor as there was a great drouth in the Valley.
3rd + Bro. Tanner's horse got loose in the night and left the camp so he followed him about 15 miles back up the road before he found him. H. Swarthout and I went back several miles after the camp had started and met him + this gave me a hard ride before we overtook the train which had crossed the San Antonio a few miles and camped.
4th + We went about 20 miles and left the river + passed over 2 miles and camped.
5th + We crossed the river and over the ridge about 6 miles to San Miguel Mission and River + went up the river about 16 miles and camped on a beautiful grass bottom.
6th + We lay by and held meetings in the fore and afternoon when the sacrament was administered and the brethren spoke as follows: Father Dustin, C.W. West, myself, N. Tanner, McBride and Bigler.
7th + We kept up the river and crossed near the mountain passed some ranches + the San Margarita over the mountain, town a bad sideling road 3 miles and camped among the wild oats.
8th + The road continued very bad to within 4 miles of the Mission of San Luis Obispo, passed through and camped near the sea shore, made only about 15 miles. Capt. McBride's wagon turned over.
May 9th + We traveled on the beach about 8 miles then turned over 2 miles of sand ridges into a valley and up to the foot of the mountain at the pass about 20 miles and camped at a small spring. There was no road up this valley and we went to a pass on the right and then turned back which brought us out of our way some five miles. In the evening Bro. Tanner told me that Bros. West and him had business in San Bernardino to fit up teams and take goods through for Bro. Thorp and must leave the train to go ahead. I told him not to leave without consent from the Captain which was asked for and granted.
10th + Bros. West, Tanner and Smith left with 5 wagons, and James Cole, James R. and myself being concerned left with them. We passed into another valley where we took up an impassable canion by the direction of a Spaniard which hindered us + we then took up the valley on the main road, passed a rancho, over a very bad pass into the San Tanes Valley and camped near the San Tanes Mission and River. I told them that I did not wish to direct the camp while we were separated because they knew their business and the gait they wished to travel. Bro. Tanner said he would not go contrary to his mind if there were 50 captains so I only agreed to order the guard by request.
11th + The rest of the company came up while we were at breakfast having camped at the foot of the mountain without water. We left them and started early + went over the river, crossed two large bridges, down the rocky canion on to the sea shore about 10 miles over deep gulches and camped at the mouth of a small creek.
12th + We passed through Santa Barbara 2 miles and camped on the sea shore near Bro. Rowlens and others who had scattered themselves.
13th + We went a few miles and turned onto the beach which was sandy and nice for 14 miles + left the sea, passed the Mission of San Buenaventura.
14th -- We passed through a mountainous country in the afternoon and camped in the hills.
Tuesday 15th -- We passed out of the hills through Pico Valley and camped within 10 miles of Los Angeles.
Wednesday 16th -- We passed Los Angeles, moved to San Gabriel River and camped at the Muse Springs or half-way house. Bro. Smith stopped back 10 miles without water. Bro. James left him at noon on account of some words passed between them.
BACK IN SAN BERNARDINO
17th -- We go to San Bernardino, took dinner with Elder Lyman and stopped over night with Bro. Egbert. I felt rejoiced to see the Saints.
May 18th -- I found a letter from my wife dated Salt Creek April 1st, which left all well. She was anxiously waiting my return. I visited some of my acquaintances. Sister Mary Rich had a pair of twins and the boy was quite sick. I stopped again at Bro. Egberts
19th -- I visited with my friends and by request with Elder Rich's folks as they were sick and he had not returned from Salt Lake.
21st -- Capt. McBride arrived with the rest of the company.
22nd -- The mail by D. Savage arrived from Salt Lake leaving times favorable on the 12th inst. I read the News with interest the 12th General Epistle and sermons being therein contained.
23rd -- Sister Rich's child was quite sick which engaged a part of my attention. Capt. Hunt returned from the legislature.
28th -- Bro. West and Tanner were attentively engaged purchasing wagons and teams to take the goods, so that I could scarcely get to spend a moment with them. I had asked them before to let me have a small share with them which was agreed to providing they rigged two teams, but I soon found they wished to do it all rather than divide the profits.
31st -- Sisters Mary and Harriet Rich, M. Perkins and I took a carriage ride over the Santa Ana River to the old San Bernardino Ranch. Took dinner at Bro. I Harris' and visited Bro. Tenneys'. The most of his family was sick -- being requested I administered to 3 of them and the little girt which was considered the most dangerous soon revived and called for something to eat. As we returned the wind blew so hot that it almost scalded our face and the thermometer stood 104 in the shade.
June 1st -- The weather continued hot. I visited Bro. Lyman and he said it would be best to wait until fall, on account of heat. Capt. McBride started over to the Mohave with a part of the company.
3rd -- Attended preaching by Elder Lyman. Visited Bro. Eldredge's in the afternoon and stopped overnight with the Rich's.
4th -- We expected to start but Bros. Tanner and West could not get ready.
5th -- Elder Rich arrived from Salt Lake having left the company of the Mohave. News was good from the Valley except that the crops were being destroyed by grasshoppers but in this the Saints felt to acknowledge the providence of Him that provideth for His Saints.
6th -- Bro. A. Lytle gave me a note of $25.00 against Messrs. West and Tanner. We started about 1 p.m. with 3 wagons, six mules each, and Bro. West's carriage which he set me to drive through -- it made me a comfortable berth as I was not yet very rugged. I put my mule in their team. We met Elder Cannon as we left the city. Camped in the canyon 12 miles out . . . others went to help us over the pass.
7th -- Went 15 miles and camped at the foot of the mountain 8 miles above the last water. The mailman came up in the night and camped with us.
8th -- Easmon's animals and one of West's mules went back in the night and he and I started back by daylight. I followed them on horseback to the mouth of the canion, caught them and returned while they had doubled up the Cahoon pass. Easmon and I followed and overtook them near the Mohave. It was very warm and we suffered much for water. We camped at the first crossing and repaired a wagon the next morning as the tire had run off the day before, only 3 days out.
Saturday 9th --We started after the wagon was righted and went 20 miles to the big timber where we found Capt. McBride's company all well. Bro. Gates and Sister Burton had got married. We met a company of 60 soldiers, a part of Colonel Steptoe's command.
10th -- We lay by, set wagon tires, held meeting, etc. In the afternoon it blew up a thunder storm greatly cooled the atmosphere.
13th -- We started at one o'clock to cross the first part of the desert. About 4 o'clock p.m. the Captain halted to rest the teams, but Bros. West and Tanner drove on till near sunset and stopped -- hitched up again at dark and drove on alone till daylight which brought us to Bitter Springs. The rest came up about an hour later.
14th -- We lay by all day and night. Guarding our animals on grass about one mile away and tied them in camp at night.
15th -- We started about 10 o'clock a.m. drove to the Salt Springs which took us till daylight steady driving. The Captain and others had feed and water and stopped to rest on the way. No grass was to be found on the drive. Bro. Wilkin's youngest child died on Saturday 16th, 1855.
Saturday 16th -- We drove to the Amagotia Spring where we arrived about 2 o'clock p.m. and the last wagons did not get up till near night. I was so outdone with the loss of sleep, and heat that I fell asleep in the carriage as the train was moving, and when I awoke the train had got near a mile ahead and the wild mares were standing still in the road and the lines lay upon the tongue. I felt alarmed when I came to myself and saw the danger I was in.
18th -- Recruited our animals and interred Bro. Wilkin's child.
Tuesday 19th -- We passed over a hard and stony hill where Bro. Tanner's wagon tire broke and the wheel smashed down; this hindered us some time in tying it up and soon after the Captain turned his wagon over all tending to belate us. It was long after dark when we arrived at the Stump Springs and no feed was found till daylight.
20th -- We found a small patch of grass near the camp and bated our animals until one o'clock p.m. and then drove 15 miles -- camped after dark without grass or water. Indian smokes were seen.
AT LAS VEGAS
Friday 22nd -- We drove to the Las Vegas springs and camped. We met Bro. H. Rollins with a small party on their return to San Bernardino. On learning the Bro. Wm. Bringhurst was 4 miles below with a company with the intention of locating there, Bro. West and I went down after dark and spent the night with them. James S. Allred, and many others of my acquaintance were with Bringhurst.
23rd -- The camp moved down and camped with Bro. Bringhurst's company and made arrangements to repair wagons while the animals rested 2 or three days. I was very lame with rheumatism which had been afflicting me many days, and was now worse.
24th -- My illness had so much increased that I could scarcely get up when down. About 1 o'clock p.m. Pres. Bringhurst called the camp together for meeting -- a number of us spoke followed by himself. A number of Indians had visited the camp and gave the greatest attention in time of service being told by the interpreter that we had met to worship God.
25th + The brethren were busily engaged repairing wagons, and Bro. Bringhurst's company preparing to plant gardens, some of which were then coming up and the prospects were flattering. I called upon some Elders to anoint and lay hands on me and was immediately relieved.
26th -- The work was completed and we started about noon to cross the 55 mile desert. We traveled all night and arrived at the Muddy River about noon the next day, Wednesday.
27th -- A number of Indians visited our camp many of which had been baptized and evinced very friendly feelings. We hired them to herd the animals -- gave them a feast. Bro. R. Allen, president of the Harmony Mission and some of his men was with us from Las Vegas and served as interpreters.
28th -- I traded my mule to Bro. Thales Haskell and gave him fifteen dollars. This I had to do to prevent his being killed or severely beaten by the teamster, Jas. Cole, who kept a continual fighting and swearing all the way until my patience was worn out. We started about noon and traveled till daylight next day which brought us to the Rio Virgin.
29th -- We lay by until sunset and then drove 9 miles and camped.
July 1st -- Drove as before laying in the middle of the day and held meeting when Elder T.P. Brown addressed the camp. Bro. Allen and others of his men started on ahead and left Bros. Brown and Haskell with us who acted as interpreters. We camped on Cottonwood Fork.
2nd -- In camp till 5 p.m. then went to the summit and camped till 2 a.m. without water. Some of the animals had become so weak and for some days past it had been difficult getting them into camp at night. While getting a mule shod in the morning, James Cole beat it so severely that I bought it from his to save its life, and Bro. N. Bringham finished the job without any trouble.
3rd -- We drove down to Santa Clara and camped till the next morning. Several Indians came into camp evincing a very friendly disposition and said they were Mormons.
6th -- We took the right hand -- a cut-off of 15 miles to Cedar City. Capt. McBride camped at the 15 Mile Creek and the "goods train" with Brimhall and the two interpreters went to water -- a sulphur spring.
7th -- We got to Cedar City about noon. I took dinner with Bishop Smith.
9th -- We went into Parowan City. I took dinner with Pres. G.C.L. Smith.
10th -- Bro. C.W. West and I took his carriage and started ahead for G.S.L. City. Camped alone on the Beaver River.
12th -- Started at daybreak, went to Fillmore, took breakfast and dinner then went to the springs and took supper. We then traveled till about midnight and camped in Round Valley above the road.
13th -- We went to Salt Creek and stopped with Brother Israel Hoyt -- his mother and all my friends were glad to see me returning home.
14th -- We went to Provo City where we found Pres. Brigham Young attending conference. It was with a hearty shake of the hand and a heart full of thankfulness on our part that we met.
15th -- Elder H. C. Kimball said for us to stop with them for meeting but Pres. Young said for us to go on home and see our families, and tell them that he wished them much joy. We stopped at American and Dry Creek, changed teams and drove to S.L. City. I stopped with Bro. West who found his family all well and glad to see him return to them.
WITH HIS FOLKS AGAIN
16th + Bro. Harvey took me in his carriage to Kaysville 20 miles north of the city where I found my family all well and happy to meet me in life and the degree of health I then enjoyed -- it being much repaired. My family was in a house belonging to Bro. Shem Pernel nearby my father and others of my family. They were quite destitute having lost their crop the two successive seasons as also many others throughout the territory, especially the last season.
17th + I was at home visiting with my friends who had collected to hear me relate my travels and to hear me sing some songs composed by Brother Reddin and myself. I went with my wife after my trunk below the city and returned Sunday morning 22nd to the city and attended meeting in the Bowery on the north side of the Tabernacle. The assembly was large and the meeting was addressed by several of the returned missionaries as was generally the case when Elders returned from their missions. The President called for me with the rest but I did not get there in time to take the stand, but I arrived in time to hear the President give some general instructions which was good indeed.
The wall around the Temple Block encircled ten acres being one block and was then built three feet high with cut stone adobes that are to be covered with stone coping and iron pickets set in the coping. There is to be four heavy gates, one on each side. The foundation of the Temple was in course of erection on the east side of the block which evinces fine workmanship and bids fare to be the finest Temple of the age.
24th + I attended the 7th anniversary of the entrance of the pioneers into these valleys and we were regaled by songs, recitations, speeches and then partook of a sumptuous picnic dinner.
29th + I preached in the ward by the request of Bishop Wm. Kay. I gave a limited account of my travels and enjoyed myself well with the Saints. A short time after I was re--baptized with my wife and daughter . . .
I rested and renewed my health about a month before I commenced to work. I then sold five head of cattle for building material and provisions and built a house 16 by 23 feet. This left me with only 3 head of cattle which I deemed wisdom as there was but little feed in the country, a hard winter was expected and my stock had to take their chance on the range. I had traded my mule to Bro. West for two and paid him $50. One of them turned out to be Bro. James' for debt which left me with one. Drought and grasshoppers cut the crops so short throughout the Territory that provisions could scarcely be got at all for any price and as I had no money I felt at a loss. I, however, rode through the settlements north and south offering anything I had but could not procure it although I found Bro. Charles Huband and others with from five to eight hundred bushels. I finally met with Bro. Casper Truman and Boyce who let me have corn and potatoes on credit when they had been offered the cash in hand. I felt to say "God bless all such men with a hundred fold and lives eternal."
December 1st + Brothers Reddin and James arrived in Salt Lake City with Elder Amasa Lyman and on the 2nd went up home.
January 1st, 1856 + Bro. Rosel Hyde made a New Year's party and invited a number of his friends to partake with him. His wife done justice in setting a good supper. I enjoyed myself well with the brethren and sisters present. The winter passed off well in meetings quite frequent and occasionally a social party for recreation and past time.
TO THE AID OF HANDCART COMPANIES
October 6th 1856 + I attended conference in Salt Lake City, but as the handcart emigration was belated and likely to be caught in the mountains in the snow without provisions and the necessary clothing, I responded to a call upon the brethren to assist them in, and on the 7th about 50 men and 20 four-horse wagons with ten tons of flour, and other provisions and clothing left the city. I got a pony to ride from Wm. B. Pace. G.D. Grant camped at the foot of the big mountain with ten wagons and I camped at the east foot of the little mountain with ten wagons.
8th + We crossed the Big Mountain and overtook Bro. Grant on East Canyon at the cottonwood grove. Encamped for the night where we joined his camp and organized. G.D. Grant had been appointed by letter from the President to lead the company and R.T. Burton, clerk. Charles Decker Capt. 1st ten and 1 of the 2nd ten; Wm. H. Kimball Sergt. of Guard and C.H. Wheelock, Chaplain. It snowed all the afternoon and evening so that I took cold and it gave me a severe pain in my breast that lasted one month that was almost like taking my life.
12th + We reached Bridger where we got seven beef cattle.
13th + Met Capt. A.O. Smoot in advance of the Church trains. In order to obtain supplies he returned with us and on the 15th left with Bro. Wheelock, Joseph A. Young, S. Taylor and A. Garr who were sent ahead to meet the trains. We crossed Green River and on the 16th met Capt. Smoot's train on Big Sandy where we camped. I suffered much from pleurisy or a pain in my breast and side.
18th + We arrived at the South Pass and camped on the Sweetwater 3 miles from the pass. It snowed and was quite cold.
19th + Capt. Grant left me in charge of the supplies of flour, beef cattle, four wagons, the weak animals and eleven men for guard. I killed the beef animals and let the meat lay in quarters where it froze and kept well as it was very cold and storming almost every day. We were reinforced by 3 wagons and 6 men loaded with flour.
23rd + I received an express from Wm. H. Kimball in charge of Capt. Willie's handcart company then at stony point forty miles below in deplorable condition.
24th -- I took 6 teams and met them 15 miles below in such a hard west wind that they could not travel facing the drifting snow even if they had been ready for duty. I found some dead and dying laying over the camp in the drifting snow that was being piled in heaps by the gale thus burying the dead.
ACTIVE IN CHURCH AND CIVIL AFFAIRS
January 11th, 1857 -- I married Amilla Jane McPherson in President Young's office -- himself officiating.
April 6th + A daughter was born to my wife Lucy and we called her Avelia Emmigene.
Allen Taylor was set apart as Bishop of Kaysville Ward and I was chosen First and Dore P. Curtis Second Counselor. I was appointed superintendent of works on the meeting house then in the course of erection.
In 1857 the Military of Davis County was organized with P.C. Merrill as Colonel, and I as second in command with the rank of major. In the fall of 1857 President Jedediah M. Grant visited Kaysville and held a two day's meeting and urged a Reformation with all the Saints, which was endorsed by President Young and he introduced what was known as the Universal Reformation throughout the whole Church -- Priests and people. Faithful Elders were appointed to visit from house to house and teach and catakize the people.
July 24, 1857 + Was celebrated in Little Cottonwood Canyon. The principle authority of the Church were present and we had a very enjoyable time. While here A.O. Smoot and Porter Rockwell brought news of the approaching of Johnston's army ordered by the President of the United States to subjugate the rebellious Mormons. President Young said, "As Governor of Utah I will resist their entrance into the Territory" and dismissed the camp with instructions to return home and prepare for defense. Gen'l Daniel H. Wells proceeded at once to place the Nauvoo Legion upon a war footing and took the field in person. Headquarters in Echo Canyon.
As the army was nearing our borders small detachments were sent out to impede their progress by stampeding their stock, destroying their freight trains, but not to shoot a man. Thus every approach was guarded. Col. Merrill and I remained at home, sending out detachments and supplies until the army encamped on Black's Fork Struck camp and started for the city, when the whole of our Reserve Forces were put on a force march for Echo Canyon. The snow was so deep and the cold so intense that many froze their feet badly. The army however made camp at Bridger for the winter, and our forces were disbanded except one Battalion left in Echo Canyon to watch the pass and the army.
Gen'l Wells called me to take command, but I being a member of the Legislature he released me and I returned home.
During the session of the Legislature a standing army was organized and I was Major of one of the Battalions. The session of the Legislature was very harmonious and unity was the motto.
Early in the spring before the army could cross the mountains, Gov. Young ordered the inhabitants to evacuate their homes and move south using these words "It is clear in the South." Our standing army was kept on hand to burn and destroy everything in case of emergency. I sent my family to Nephi and remained behind with the rear guard.
Col. Kane, who had labored with President Buchanan, visited the camp of Johnston army and prevailed on Gov. Cummings (appointee of the President) to leave the army and come in. As he approached the valley we met him with our finest troops and made him welcome to our Territory, but he found our homes desolate without inhabitants. He followed up the people and pleaded with them to return and promised to protect them in their homes. But when he found they would not return he told President Young that "he was governor of the Territory, but you are governor of the people." Much credit is due Col. Kane for his labors in the interest of our people.
President Buchanan finding his mistake in sending the invading army sent peace commissioners by which arrangements were made for the army to pass through our deserted city without molestation and locate away from our settlement and the people to return to their homes in peace. The President issued a Free Pardon to the "Rebellious Mormons" and the war ended. Elder Hyde made the statement that this was the turning point "to build up the waste places of Zion." President Young said to Hosea Stout, "that now we are pardoned they may give us a State, if they do all right, if not better."
I came to my family at Nephi and instead of going back I sold my home worth $500 for one yoke of oxen worth $100.
July 2, 1858 + My wife Amilla H. gave birth to a son and we named him Neron Alonzo. In the fall of 1858, I was freighting to Camp Floyd army camp when I lost my horses and did not find them for 5 months. While hunting I was stricken with typhoid fever but I succeeded in reaching home after 3 days riding on horseback. Very sick and continued so for near 2 months before I could get out.
The U.S. Courts sent out by the President called sessions in Salt Lake City and Provo--guarded by soldiers and were arresting every one that they could hatch up a complaint against especially church authorities. Judge Cradlebaugh sat in Provo. The people were in suspense not knowing what moment a marshal with a posse of troops might enter their towns. As soon as I was able to ride I was sent to Provo to watch the court and report findings. I reported myself at our attorneys Blair & Stout. After staying a few days the attorneys told me to go home as the Judge was issuing writs in Chambers, instead of open court and everybody must look out for themselves.
When I reported this they sent me to see President Young for counsel. I had an interview with him--a pleasant visit. But all he could say was "wise men should know enough to take care of themselves, so all must keep out of sight that have any fears." This raid did not last very long and the Judges did find they were in no danger of being helped so the soldiers struck their tents and marched away.
September 7, 1895 + Our dear son Neron died and was buried in the Nephi Cemetery.
MOVES TO SANPETE VALLEY
I raised two crops in Nephi and in the fall of 1859 I sold out and moved to Sanpete Valley locating in a place afterwards named Spring City where George Black and others were relocating the place from whence Uncle James Allred and others were driven by Indians in 1853. I put up the first or second cabin in the place. A town site was located and people began to move in, among them some of the Allreds and others -- former residents here. We began to hold regular meetings -- George Black presiding. One Sunday he told us that two of the Apostles were coming soon to organize a ward and we had better choose a man for Bishop, so they could ordain him when they came. I said the Apostles had authority to set in order the Church in all the world, and said I thought we had better wait for we had no authority to organize a ward. This drew the remark from Brother Black that I thought they would choose me and that would not do as the Allreds were so numerous I would favor my relatives. I told him I was not aspiring, for on a former occasion when a party was preparing to settle Pleasant Creek (Mt. Pleasant) they organized while two of the Apostles were in Ephraim without them knowing it. I was appointed Bishop but declined to accept. While I lay sick Elders Benson and Snow called to see me and ask if I intended to respond to the call. I told them I held myself ready to respond to every legitimate call but not from that source. They said that is right for such work is like boy's play. . . building straw houses to be blown down.
The Apostles, Benson and Snow after hearing of Black's attempt to choose a Bishop brought C.G. Larson from Ephraim and set him apart as Bishop with myself as first and J.S. Black second counselors. My father, Bros. Joseph, Isaac and Sidney also located here.
February 8, 1860 + My wife Amilla gave birth to a son and we called him Willard Niece.
11th + My wife Lucy gave birth to a daughter and we called her Jennette Adelade.
January 5, 1861 + I married Celestia W. Warrick.
February 14, 1861 + Daughter Lucy Adaline was married to Henry B. Stevens as his plural wife. (She died in Dixie April 23, 1866 leaving three children -- one girl and two boys.)
Col. Warren S. Snow being on a mission in Europe, I was chosen Colonel and after his return he was chosen General and I was Colonel first regiment Sanpete County.
THE BLACK HAWK WAR
The Indians with Black Hawk made a raid on stock running them into Salina Canyon. They killed Barney Ward and another man as they went. I followed them with a company -- run into an ambush and lost two men, Kearns and Sorenson and returned without the stock. I tried to hold the men but the majority fled in disorder.
I sold out in Spring City and moved to Scipio, lived there one year and returned to Spring City. An occasional raid was made and Gen'l Snow with about 100 men crossed the mountain from Manti and I crossed at Fairview with 80. We found 3 or 4 lodges of Tabby's Indians returning from a hunt and the boys wanted to kill them, but I restrained them. We formed a junction with Gen'l Snow on Price River and went to Green River without seeing the marauders and returned by way of Cottonwood and Huntington Creeks and crossed on the rocky trail to Manti. Raids became so frequent that companies were sent from Salt Lake, Utah and Davis counties and Gen'l Wells assumed command. Gen'l Robert T. Burton also came into Sanpete.
I made frequent visits to the different towns, holding meetings, mustering and inspecting the troops under my command, so I was continually in the service, but I did not keep any dates on account of service.
The people of Sanpete had a co-op herd of dry stock in Thistle Valley and Noah Guyman had them in charge and was camped there with his family. The Indians made a raid on Fairview, killed one man and wounded another and fearing for the safety of the herd and the family with it, I went up with a company in the night, it being so dark that we couldn't see the man next to us in line, but Thomas Coats piloted us safely through. We found the family and stock safe and moved all into the settlements the next day and delivered them to the president, J. A. Allred.
I went to Ephraim to meet Gen'l Burton and Pace to hold inspection only taking J.T.S. Allred, Sr., and daughter, not knowing that a band of Indians was lying in wait in the cedars to take the herd soon to be driven out. They made a brake on the herd -- killed James Meek and Johnson, and slightly wounded Wm. Blain. When we got to Ephraim we got a telegram from Mt. Pleasant giving the news of the raid and we joined Capt. L. Larson's "Minute Men" and joined the men from Spring City and Mt. Pleasant with Col. Ivie. But the Indians had made good their escape into the mountains taking only the horses from the herd. We pursued them to the top of Horse Shoe Mountain and left them. We exchanged a few shots at long range. A raid was made on Ephraim, down into their fields killing a number of people and getting away with a lot of stock. This was one of the most daring raids they ever made and at a time when most of our troops were away from town and they met with very little resistance.
Another raid was made on Ephraim when they got away with a lot of work cattle from the range, but no one was killed. This was done in the night. Gen'l Snow went with a company from Ephraim and Manti and I with a company from Spring City and Col. Ivie from Mt. Pleasant joined me and we met Gen'l Snow in Joe's Valley. When we assumed command of the whole force, with a view of pursuing the raiders still further, he placed our supply train to the advance guard, but I said, "Gen'l that will never do." He said, "Why?" I said in pursuing the enemy keep your supplies in the rear of your main force, and when fleeing from them keep it in front. Capt. Bigler said, "So I think." We did not follow far until he ordered retreat -- finding no signs of the reds.
Gen'l Wells ordered a large body of men under Capt. Albert Dewey to make camp in Thistle Valley to guard the north end of the valley, as Governor Young had ordered the weaker settlements to move into larger towns. Spring City moved to Ephraim, Fairview to Mt. Pleasant, and Fountain Green and Wales to Moroni. The same rule was observed in the south, and small parties were detached to attend to the crops. Capt. Dewey had about 100 men and I told him to locate his camp in the center of the valley to prevent surprise but he located in gunshot of the cedars and on the 23rd the Indians made an attack on his camp killing one man. A messenger was sent for help. Col. Ivie from Mt. Pleasant hastened to their relief with 30 men, run off the Indians and removed his camp to the place I had advised. I got the news at Ephraim and I went with a small party remarking that Col. Ivie would remove their camp to a place of safety.
When I got there I found that the Indians were closing in on the camp and Col. Ivie got there in time to relieve them and then moved camp. When Governor Young ordered the removal of all the weak settlements I took a company of cavalry and guarded the inhabitants of Sevier County until all were in safe quarters.
Aug. 12, 1872 + I sent a telegram to Gen'l Wells as follows: "Tabby sends word to all the Bishops that he can control his men no longer. He was in Spanish Fork yesterday. I, with a detachment brought the herd from Thistle Valley yesterday -- having started as soon as I got word of the raid at Fairview. The wounded boy, Stewart, is dead."
13th + Bishop R.L. Johnson of Fountain Green telegraphed Agent Dodge to send troops to protect the settlements and Gen'l Morrow came out with regular troops from Fort Douglas and camped in Sanpete Valley.
Sept. 7th + Whitney, the Historian, recorded that Gen'l Morrow, Apostle Orson Hyde, Bishops Selly, Tucker, Olsen and Col. Allred and others met a number of chiefs in council and entered into a treaty of peace. But on Sept. 26, 1872 Apostle Hyde sent Gen'l Wells the following: "The Indians are upon us. Several horses were stolen last night, and this morning a man was shot off a load of lumber and his little boy wounded in the hip and wrist near Snow's Mill in this place. The murdered man is said to be Miller from Nephi." We took young David Miller home and kept him till he recovered and my wife Amilla attended him like a mother without compensation.
I did not keep a journal so I could not give date or day of marches, but I was continually in the service for about five years, so that I did not raise enough bread to feed my family and other expenses.
MOVES TO CHESTER, SANPETE CO.
After peace was made I was prostrate with rheumatism during the spring and summer months so that I was not able to earn a dollar on the railroad being worked through the Territory. I was a member of the Legislature in the winter of '69-'70 it being my fifth and last term. While in the City I was present when President Young drove the last spike in the Utah Central R. R. from Ogden to Salt Lake City, and on the 10th of January, 1870 I attended a Grand Ball for the occasion in the theater.
After coming home Bp. Olsen, who succeeded Bp. C.G. Larson, told me as land had come into market, "I had not used my right," and he wanted me to get others to go with me and secure some of the best groves of timber in the mountains for the benefit of Spring City and the people should pay us for it. After we had started our claims, he sent me to locate a quarter section in the farming land in canal bottoms with the same promise of reward, but neither was realized, so I proved up on the land in Chester for myself and moved upon it, after which many others did the same making quite a settlement. I traded off my property in Spring City and moved the remainder of my family to the new farm. My brothers Isaac, and Sidney and my son Redick R. located there.
July 6th and 7th, 1877 + President Young and party held a conference in Manti and organized the Sanpete Stake of Zion with Canute Peterson as president, Henry Beal and John B. Mayben counselors. The new settlement of Chester was organized as a Ward and I was ordained Bishop under the hands of Pres. Peterson assisted by others of the authority, Counselors, John L. Ivie and John Tilby. A Relief Society was organized with my wife Lucy as President, and the Sunday School with Henry Cowles Superintendent. A co-op store was started with myself, President and I.N. Allred, superintendent.
John L. Ivie moved away and Andrew Nielson was chosen to fill the vacancy in the Bishopric and Henry Cowles removed and David Candland was called to superintend the Sunday School. The place grew to be quite a prosperous settlement -- living on their farms. Meetings were held in private houses for some time -- first building a log house to meet in, until we secured a lot and built a more comfortable house which was used for meetings and schools which were well attended.
I divided up my quarter section with three poor families keeping only 60 acres for my family to keep down prejudice -- to keep from being called a land jumper. The water supply that had been so abundant was being cut off from us, so we organized into an incorporate company and built 3 reservoirs that proved to be a great blessing to our little settlement. Presiding Bishop William B. Preston visited us and instructed me to purchase a lot and build a Tithing granary and coral which I did and collected a good amount of hay and grain tithing.
The Edmund-Tucker law being vigorously put in force the polygamists were advised to be on a sharp lookout or take the "under ground" for the deputies were raiding the country starting in Salt Lake City. Brother George Lambert of S.L. City notified me by letter that a force of Deputy Marshals was leaving Salt Lake City for the south and to be on the lookout for them.
I went down by the point of the mountain and stayed a week with my grandson Newton H. Stevens. Nothing occurring in Sanpete I went home, but soon after Bishop Charles Dorious was arrested and bound over and from time to time others were caught. So I took the train and went to my son-in-laws', George Mills, where he was section boss, with his family on Sevier River above Leamington and stayed with them a month and then returned home on the sly. The Chief Marshal was on the train but we did not make each other's acquaintance.
Soon after I hitched up a team and took my wife Lucy with her bed and trunk and went north for a couple of months on the "underground" visiting with my brother William and his folks in St. Charles, Bear Lake Valley. While there we went with them to Soda Springs for a few days' outing. I remembered passing these noted springs in 1847 on our way home from California after our discharge from the army.
This trip proved to be a pleasant affair for we stayed every night with relatives or old friends except one and then we were royally entertained and the next day our host sent his son to help us up the steep mountain without charge. While stopping with my niece Mary Layton on the "Range" above Kaysville a train came into the settlement in the middle of the night to take the remains of President John Taylor to Salt Lake City -- he having died in exile keeping out of the Marshal's way. I drove back to the city and attended the funeral of Pres. Taylor.
I returned home in October 1888 and on the way I met Bro. Folsom who told me to go home in the night and said, "Don't tell anybody you saw me." The fact was no polygamist was safe in sight. When I got home I found my wife Amilla's baby quite sick -- so kept nearby and visited my folks often. The child died as also its older brother both only about one year old -- the first Frank, 9 months, and Jeddie one year. My boys were keeping sheep and so I thought I would go out with them for awhile. I visited President Peterson and I proposed visiting my brother Reddin a few months as a safe policy, but he said , "No, I want you to stay nearby so you can run in once in awhile because your help is not competent without you." I said my folks wanted me to resign and I said I would if it was not for one thing. He said, "What is that?" I said it would damn me and he said, "Why?" I said President Kimball said if a man was called on a mission and would not fill it he should apostatize. He said not if he was honorably released, and I am willing to release you for you have had a hard field. He called the High Council together and gave me an honorable release, and although I had some opposition to contend with, I honestly labored to do my duty and I had the pleasure of knowing that I had the confidence of the Priesthood over me, and when I settled up with the Presiding Bishop agent there was due me $16.00
THE YEARS OF 1887-88
1887 -- While this was going on my son Charles was sent to the penitentiary, so I resolved to go with him if staying at home would put me in the hands of the Marshal. I was glad I did for he told me that every act of his life should be to redeem himself (his after life proved it). I remained at my home in Spring City, but kept up my visits to my young family on the farm in Chester. On the ............. day of .................... 1888 Judge Jacob Johnson told me there was a warrant out for me, and said he had told me so I could get out of the way if I did not want to meet it. I told him I thanked him but I would stay at home for them as soon as I returned from Salt Lake City. That afternoon my brother and I started to Chester expecting to go on to the City next day in a buggy, but near the farm we met 3 marshals and they kindly, without reading the warrant, asked me to appear before Judge Johnson at 2 p.m. This I did and was bound over to appear in Provo, my sons Redick and Henry going my bonds. My wife, Amilla and daughter, Lydia, was subpoenaed as witnesses. I was to appear at any time while court was in session.
In a few days I hitched up my teams taking Amilla and Lydia to appear against me and my youngest son Wilford to drive the team back after the trial was over.
On the ............. day of .................... 1888 I appeared before the Grand Jury and an inditement was found against me and next day I had to appear in open court where I pleaded guilty of having two wives and was sentenced to 60 days' confinement in the "Pen"; $50.00 fine and cost of court by Judge Judd of Tennessee.
When I was called up he said, "Where are you from, old man?" I said, "Ten" and he said "Tennessee" it being his native state he was amazed. While in the "Pen" a man asked me how I happened to get so light a sentence. I said I was "a country cousin," so he was light on me.
We arrived at the Prison after 9 o'clock at which time all was to be still -- no one allowed to speak above their breath inside the prison, but outside in the office department we were searched and everything we possessed except our own clothing was taken from us -- not even a pocket knife left us. Our cells were fitted up with two bunks each and as we passed in the officer said, "You may choose your partner. I selected Bro. Wagstaff, and he said that is my choice and as he was a very large man, I said you take the lower bunk, and as I got up into my bunk he said, "Now, if you can't sleep, I will stand up by you." I thanked him and a kindly feeling was entertained between us. There were nine of us new convicts. After meditating for a while upon my first experience behind prison bars and offering up a silent prayer, I fell asleep and had a good night's rest.
The next morning when our cells were unlocked which was done all at once by tiers, I stepped out and had a good view of the immense building at that time containing over 200 "Co-habs" and "Tuffs" in 4 rows of cells two on the ground and 2 above. The "Co-habs" above and "Tuffs" below. The Warden, Arthur Pratt thus showed his kindness.
I walked around the corner alone to the long row of wash stands and there I found President Geo. Q. Cannon. We greeted each other warmly and he said, "How are you Reddick, I am glad to see you, but sorry to see you here." I said, "Not at all -- I am no better than anyone else." Said he, "I would not miss it for anything." After taking a wash we walked out in the yard, we locked arms for a promenade and had a good visit.
We often had a good time together and some of the brethren would say -- "Well, you have had a visit with Brother Cannon, how does he feel?" I finally began to think perhaps some of them felt that I monopolized too much of his time preventing them from enjoying his company, so I held myself aloof from him for some time, but one morning he came up and took hold of my arm saying, "I will take hold of your arm, if you won't take hold of mine." I told him why I had not done so, and he said, "I am better acquainted with you than any man in the Pen and we ought to be allowed to walk together."
President Cannon went in one week before I did and he had, by permission, organized a Sunday School which was well attended by the "Co-habs" and others.
I met my son Charles the first day. He was what they called a "Trusty" and was outside most of the time and was one of the waiters at the dining table. After a day or two the warden kindly allowed Charles and I to occupy the same cell as long as I stayed there which pleased me very much. I was pleased to hear him say that although he had been wronged it was no sign that he should wrong anyone else. I had occasional visits from relatives and friends and had presents of fruits and dainties to mix with our substantial food which was very likely supplied by the warden.
When the call sounded we all fell into line and marched to our places at the long line of tables in the large dining room and when meals were over we returned in the same order and at the sound of the call at 9 o'clock p.m. all must go into their cells and all locked up -- no talking till morning. All that was to be heard was the night watchmen call the time every hour.
I met old friends and made new acquaintances and enjoyed my confinement very well for during the day we had free use of the yard inside the high wall upon which a guard was stationed armed and equipped. I was sentenced to 60 days but I could stay 30 days longer and thereby settle my fine and cost. I stayed up the 90 days and was taken by the guards (with others going out at the same time) before a United States commissioner to pass examination. In my case commissioner Pierce decided that although I had divided my property between the two families but had failed to give them a Bill of Sale, he would hold me and I must go back to prison. I said to the marshal, "Take a walk with me," so we went up to Hyde Bros. Store and I told them I had to go back to prison or pay $90 dols. Alonzo said , "Go back to prison," but Frank said, "We have got no money to lend, but you shall not go back," and he forthwith secured a check for the amount and I bought my freedom. I had written to my son Redick to send me money enough to pay my passage home and he wrote me to go to the Contributor office, so as I now had my liberty, I went and to my great surprise and joy I found a check for $110.00. In an hour I restored the money to Hyde Bros., with many thanks to friend Frank.
This was Sat. 21st of Dec. 1888. I visited the Church lawyer and he said if I had telephoned him he would of helped me out but it was too late then.
RETURNS AND MAKES HOME AT SPRING CITY
22nd -- I remained in the city over Sunday and went to meeting. Pres. A.M. Cannon saw me in the congregation and called me to the stand and I opened by prayer. I did not think he would recognize me as I was clean shaved according to prison rules. Many did not.
23rd -- I took the train for home and met Henry at Nephi to escort me back home where my family was awaiting me. Some was astonished to see the great change in my looks with a clean shave.
Dec. 24th -- We met at Miriam's and spent Christmas eating the repast prepared for my reception. As soon as convenient I prepared a home for my first wife in Spring City to make a show of keeping the law. My second wife and family remained in Chester on the farm. Next season I assisted Pratt and Wilford on the farm, or rather they assisted me when they were not off herding sheep. The marshal did not disturb me anymore, yet I had to be on the lookout. I was not home long till we began to work for Charles' pardon. His mother and I visited the governor with petitions and after repeating our visits a few times Gov. Thomas was induced to grant him a pardon. Redick made the last call and brought Charles home with him.
After he got home Pratt and Wilford being off with sheep much of the time, Charles took hold of the farm work in earnest and went to work to make his word true about redeeming himself. As my age began to tell on me I began to leave the work on the farm to the boys. But having a horse and buggy I visited back and forth occasionally helping on the farm at the light work -- repairing tools etc. I was called as a home missionary to visit through the wards of the Stake and called from time to time as directed by the presidency of the Stake. I spent two years in this labor on Sundays.
When relieved from this labor I was called by the general Sunday School Board to visit the Sunday Schools of Juab Stake in company with John Mower. President Paxman accompanied us through the Stake and we had a good time. We then reported our labors and was released. My son, Redick, was running sheep out on the edge of the desert and I went with his wife to visit him and I also visited Holden, Fillmore and Deseret with Bro. Smith and his wife, Adaline, as he went there to fill a Sunday mission.
Not having kept a daily record with dates of passing incidents my time up to May 14th, 1898, is almost a blank. But I was not idle for Jan. 1st, 1899, when I was able, I attended semi-annual conferences in Salt Lake City and the Stake Quarterly conference as well as a reunion of the elders of the Pacific Isles.
The first week in June we met the Hoyt family in Manti and done a few days temple work for the Calvert and Hoyt families. While there stopping at L. Tuttle's I took a chill which resulted in my having a severe spell of malarial fever after I got home. Prests. Peterson, Beal and Allred attending ward conference came in and administered to me. The fever was soon broken but I was quite feeble all summer. My wife Lucy had a very sick spell.
February 1, 1899 -- I spent the evening at Chris Anderson's giving Wm. Downard and Daniel W. Larson and wife Patriarchal blessings. Edith Anderson scribe.
5th + Observed the fast -- went to Priesthood meeting, Sacrament meeting and spoke a short time....
21st + This is the 77th anniversary of my birth. I am in good health and spirits -- faith increasing. No demonstrations were made.
24th + The Deseret News contained an account of the McCune Law bribery case being investigated by a Board of Legislative members.
April 5th + I went to Chester and had the pleasure of eating Miriam's birthday dinner and then took train for Salt Lake City. I related an incident of early experience when I hitched up an ox team to a wagon loaded with tithing wheat with my wife Amilla on top of it and drove to Salt Lake City thence to Kaysville in 10 days -- visited five days and returned home to Spring City in 10 days more -- total 25 days. And now I said I take dinner here and supper in the city showing the contrast.
10th + A meeting of the Priesthood met in the Tabernacle and the presidency instructed the officers in the different departments in regard to their duties. There was no meeting in the afternoon so I visited and met many old friends among them Byron Harvey Allred, a returned missionary, having filled an honorable mission, and the man that first told me of his return said he was one of the best posted Elders in the Church in gospel principles. I went to the President's office and while shaking hands with Pres. Snow I said I have the privilege of looking upon the five first presidents of the Church of Jesus Christ of Latter-day Saints.
11th + I returned home. The engine gave out in Spanish Fork Canyon and we were detained about an hour. They sent to Thistle Station for an engine, and I got home in time to vote "no" on bonding for a new school house. "Yes" carried by about 2 thirds -- so I am democratic enough to yield to the majority.
May 17th + I took Sarah Johnson to Chester to help Amilla clean house and then went on to Ephraim with our granddaughter Viella. I attended the closing exercises of the Academy at 11 A.M. and the laying of the cornerstone of the Stake Academy building to be erected at Ephraim at 4 P.M. Apostle Lund made the dedicatory prayer. Speeches were made by the Stake presidency and several bishops.
22nd + I went to Chester and turned the washer for Amilla.
June 3rd + I went by train to conference at Manti. Elder Lund spoke and called for men to go and help the Canada colony.
6th + I was called to administer to Hans Peter Nielson who was sick nigh unto death. I was assisted by Bishop Christensen, and by request we gave him up and he was dead in ten minutes. His suffering had been severe for days and they was glad to see him rest.
19th + I watered my lot, and as I had received my pension, I went to Chester to cash my check and settle up all my accounts, there and here.
8th + I wrote a letter to Wm. Bench in regard to an encampment of the veterans of the Black Hawk War.
July 12th + My wife Lucy and I visited the Goldsbrough family. I attended the funeral of Wm. Borroman who met his death by falling 100 ft. down a shaft in the Timtic mines.
24th + My nieces, Mary Layton and Matilda Davis took the train with me for the Lagoon at Farmington to attend the reunion of the Elders and natives of the Pacific Isles. Had a good program including a speech from President Cannon and Smith.
26th + At 7 P.M. I got a telegram -- "come home by train. Charles is badly hurt" Jenette Anderson.
27th + I left buggy and took 9 A.M. train and met Jennette at noon at Spring City depot who took me direct to Charles. I found Charles alive but unconscious. He fell 35 ft. down a well and strange to say not a bone broken but his scalp was literally torn from his skull. It took 28 stitches to replace it. As Dr. Moore required silence, I quietly laid my hand upon his arm and asked God to save his life. He did not pay any attention to my being present. They kept him asleep much of the time with chloroform to ease his suffering.
28th + Redick and Henry came to see Charles, but Wilford, being in the mountains, did not get here till late today.
30th -- After meeting Wilford, I quietly administered to Charles. His mind unsettled but improving in body.
August 2nd + We kept 3 or 4 with him night and day. Not much change except as his body improved his mind became more unsettled.
4th + He was very wild all day and at 2 A.M. his mother called me up saying they could do nothing with him. "Oh, I wish he had died in the well," she said. His wife felt the same fearing he might be a total wreck. I went over. The Bishop was sent for. We administered to him rebuking the evil power and said, "now I feel well." He soon laid down and went to sleep. I said to the Bishop, "We have gained some ground and if you will stay with me till morning we will hold it." Then we sent the watchers away and he slept till late in the morning.
6th + He was quite rational and inquired to know what was the matter with him. When told the whole story he said, "Poor Pratt -- he must have felt worse than I did -- well, the Lord must have saved my life for some purpose." After this he began to get worse and was uncomfortable all night. The Bishop was with him all night so they did not call me. I got up at daylight and the Bishop went home. Charles then in a quiet way sent all out of the room on some errand and then turned to me and said, "Now you go." I said, "No, I won't go." He said, "Why?" He fixed his fevered eyes upon me and said, "Are you not afraid?" I said no and met his gaze with a determined look till he wilted before me and laid quietly down and went to sleep.
7th + He finally awakened perfectly wild and by advice of Dr. Casaday we sent him to Salt Lake City to St. Marks Hospital. Joseph Beck took them to the depot and his wife, Wilford and D.A. Candland went with him. To be safe they borrowed $100.00 expecting to spend much more before he could return home sane. We sent his name to the Temple to be prayed for.
8th + Getting no news at home I went to Chester 4 P.M. and in a little time received the following dispatch, "Meet us at R.G. tomorrow -- All O.K." This gave us some comfort. I stayed at Chester.
9th + They got home. Charles feeling much better. The Dr. said all had been well done and he would be all right in a week or two -- as soon as the little blood on his brain was absorbed.
10th + Charles felt still better -- took a ride with his wife, walked down to his store and attempted to look over the accts. I could detect a little defect and told him to leave it to Pratt a few days longer.
18th + I took train for Salt Lake City to witness reception of our returning volunteers from Manila.
19th + An escort of mounted men met the soldiers at the depot and led them through the streets past the arch on Main to Liberty Park where the exercises were held. The throng was immense.
24th + I took breakfast and drove my rig (that I left when Charles was hurt at Lehi) then went to Provo Resort on Utah Lake where the Black Hawk veterans were holding their campfire celebration. After the exercises I drove to Spanish Fork . . . then went to Henry's at Nephi where I found Charles and wife, John L. Ivie and wife and two other Ivie boys.
27th + I went to Fountain Green and took dinner with Parley Allred, went to meeting, then drove to Chester. I felt pleased to be at home again with horse and buggy and to get my hay cut. Paid Joseph Tillman 50 cents to cut hay.
September 1st + Bros. L. Christiansen and George Mills hauled my hay.
October 3rd + I was feeling quite sick, but after being administered to I felt much better and rested well all night.
16th + The people turned out en masse at the Opera House to welcome the returned soldiers Sears and Robinson. I acted as chaplain. The mayor made the speech of welcome . . . A dance in the evening closed the exercises. Each of the soldiers was presented with a gold watch and a purse of money.
17th + I was at home registering voters for city election.
November 1st + I posted election notices and finished copying. Joseph C. Allred of Arizona came unexpectedly to see us. I did not recognize him, he had been so long absent.
3rd + An agent for Sanpete History presented my notes and offered to take less than half, but I told him it was a great fraud, and I would pay nothing. He admitted it and said he did not blame me. The author had collected all he could and left the state.
7th + I voted the Democratic ticket which was carried except the Recorder, Treasurer and Marshal.
21st + Carried the mail to D.R.G. Deport and back and then went home.
December -- Carried Chester mail and returned home. The boys were shipping grain at 38 cts. per bushel.
19th + I felt better -- went to the Postoffice and got my pension.
Monday Dec. 25th + My wife Lucy and I took dinner at Chris Anderson's and our daughter Jennette's.
27th + I went to Chester and stayed overnight. Amilla and I partook of a fine dinner with Lavina Allred and visited with a party of ladies, I being the only man present.
31st + I was feeling better and went to Sunday School and Sacrament and evening meeting, spoke at the latter. I wrote a letter to Milan R. Anderson to comfort him on his mission.
January 1st, 1900 + My wives Lucy and Amilla and some of our children and grandchildren spent the day with our daughter N. Martina Blain -- it being her 42nd birthday. The family had an enjoyable time with her folks. The smallpox having made its appearance in different places in the State and one of Geo. Mill's children being broke out with a rash it raised great excitement in town and the Quarantine Officer was sent for. This day Wilford driving with me in the buggy started the alarm afresh and the word flew over town that it was really smallpox -- that Wilford had taken the Doctor up again.
7th + (Fast Day) I attended the Quorum meeting and spoke a short time. I also went to Sacrament meeting . . .I made a public announcement that the report of smallpox was false.
14th + Not feeling very well the past week, I kept rather still about home, but today I went to meeting and listened to Elder Isaac Grace of Nephi and by request of the Bishop I followed him -- had a good time.
In the evening the Bishop called Elder Hyrum Hyde to speak in testimony meeting. He led out by blaming everybody for being down on him and trying to bear him down. He went so far that the Bishop had to check him. It threw an ill feeling over the whole meeting.
16th + I visited Bro. Hyrum Hyde and talked to him about his speech Sunday night. He said he had felt sorely depressed ever since his return from his mission and felt like everybody was down on him. I told him he had filled a good mission -- had been honorably released and all felt proud to hear him preach such a powerful discourse as he delivered on his return; but this feeling of depression was the work of the devil to destroy him for all good people were proud that he had returned full of the spirit of the gospel as was manifest in his first discourse on the restoration of the gospel.
21st + Sunday I went to meeting. Elder H. Hyde asked liberty to speak. Said he regretted that he had given way to his feelings last Sunday evening and asked pardon.
DEATH OF MOTHER ALLRED
22nd + Mother Allred had been quite unwell for sometime, but this day she was taken worse and suffered great pain.
23rd + My son Redick R., John Robinson and I administered to mother Allred rebuking the pain, and asked the Lord to remove her pain and if her time had come to let her depart in peace. She was soon relieved and quietly slept her life away. She slept her last sleep at the age of 91 years, 4 months, and 15 days, an honored mother in Israel.
27th + The funeral services were held in the meetinghouse at 1 P.M. The house was crowded and six Elders spoke followed by the Bishop. I told them I had as good a mother as ever lived and my step-mother filled her place as well as any woman on earth. Twenty-four vehicles followed the remains to its resting place. The pall bearers were 2 sons, Sam'l and James Park; 2 grandsons, Joseph and George Zabriskie, 2 step-sons Redick and Isaac N. Allred. James H. and Heber Allred and Heber's wife from Lehi was present.
February 1st + I went to get a bucket of water at the big ditch, the ice gave way and plunged me head long into the ditch striking my head against a rock that raised a lump as big as a hen's egg. I was so wet I had to change clothing from head to foot. I said I wonder if this is not a trick of the devil to keep me from going to Elders' Quorum meeting. But I went and heard Elder Hyde bear a faithful testimony.
5th + I went and witnessed the dedication of the new School House in Spring City at a cost of $10,200 for which the city was bonded. The exercises consisted of singing and speeches. . .
March 16th + I signed a Quit Claim Deed to my share of father's estate and received $20.00 as agreed by the heirs present and Freeman E. Allred was to settle up the claims and take the city lot which was all that was left of the estate. After this was agreed to Sidney came to me and said he wanted $100.00 and if he could not get it he would go to law. I said, "Don't do that." He then said he would take it to the Bishop. I said, "Don't do that either." I told him that if he was going to make a fuss over it, he could take my share and I would have nothing to do with the matter. He afterwards agreed that we who was with father and helped care for him in his declining years should have their share and what should be left after it was settled, he should get to apply on his claims that he had made.
STILL SERVING HIS CHURCH, FAMILY AND FRIENDS
17th + My wife Lucy and I went to Relief Society meeting in commemoration of the first organization of said society in Nauvoo by the Prophet Joseph Smith. I was called to open by prayer. Bro. John Schofield and I left at noon to visit and administer to George Mills. I asked the sisters to pray for him while we were gone . . . .
18th + Sunday I went to visit Thomas Garnet who had received a paralytic stroke and was very bad on his right side. From there I went to see old Sister Sorenson who had been very sick -- laid my hands upon her and left her feeling comforted.
26th + Was my wife Lucy's birthday. Some of our children and grandchildren spent the day very pleasantly with us.
April 2nd + Was election day and although I had spent sometime transferring the names of the voters, I had overlooked six names, but I was able to rectify the mistake. The majority were Democrats.
6th + I met my nephews Edgar and Seymour Allred. The boys were on their way to fill missions as per call. Conference opened at 10 A.M. President Snow presiding. He was the first speaker and reviewed the growth of the Church from its infancy to the present, it now being 70 years old -- fully matured to manhood, and the failings of youth could not be passed by lightly now, in old age. Elders Young and Lyman followed giving wise counsel -- one item was to the world to stop fighting the Church of God.
30th Samuel King's son about 11 years old stole away from school and in his play fell from the fence of the graveyard and broke his leg. Dr. Woodring chloroformed him but he never came out of it and died in the operation through strangulation, supposed to be caused by a hearty meal just before.
May 3rd + Louis Maxfield's 4 year old daughter died on the 1st from croup and, by request, I spoke at the funeral--said of such is the Kingdom of Heaven--but to secure them to us in eternity we must have that sealing power to bind us together.
10th + Jennette, Edith and I visited our folks in Chester on this the birthday of Charles' wife--also their wedding day 6 years ago. All well. I stayed all night. While visiting at Charles I noted the following. Miriam was married to Fredrick Candland on Dec. 14, 1883; Charles to Hannah Nielson May 10, 1894; Pratt to Nora Neighburg, Dec. 2, 189_ and Lydia to D.A. Candland, Jan. 4, 1982 and our Wilford to Roseilene Christensen, the Bishop's daughter on the 6th of June 1900 in the Temple.
18th + Sister Mary Ann Pierce Hyde was brought from Salt Lake, a corpse, and the funeral was held here. I had a copy of the Resolutions handed to me in the meeting which announced the death of my twin brother Reddin which occurred on the 9th of June 1900. After waiting a couple of weeks I wrote asking the particulars of his sickness and death and was informed that he exhibited signs of failing health for a month and the last 3 weeks he did not complain of anything only that he felt tired and wanted to rest. That he kept growing weaker till he dropped off like going to sleep. I felt that this came nearer home than anyone else.
19th + I attended sister Larson's funeral and the Bishop told me that they wanted me to speak. I also dedicated the grave.
20th + I bought a new buggy at $62.50 to pay by installments. My wife Lucy and Amilla went to the Temple. Lucy stayed and brought Amilla home.
July 4th + We visited a few friends and as no preparations were made to celebrate the glorious day we went and witnessed the ball game, but as that was not very interesting I went to visit my old and tired friend Patriarch Jacob G. Bigler. I found him apparently quite vigorous, but hobbling around on his crutches, and strong in the faith.
26th + I went to Chester and found one of Miriam's children, Dora, and two of Charles, Delorus and Phylis, sick with Scarlet Fever.
27th + I went to Chester and carried the mail. Dr. Jenson had been there and put up flags at both places.
August 5th + I had been troubled that morning with gravil [?] which had distressed my much, but while at meeting I did not feel it. After getting home it seized me with double violence which was almost unbearable. Elders came in at dark and blessed me and I rested much better.
11th + Ethel came up after me saying Dora is nearly dead. I went and found her dying. The children had recovered as they thought, but a relapse took place in 24 hours. The Bishop and Wilford had administered to her and gave her up.
12th + Phylis was taken with a relapse -- had a high fever. Charles called me in. I administered to her and the fever was checked and she was soon made whole. Charles told me afterwards that he felt alarmed for her safety, but as soon as I blessed her the fear left him. Dora was buried in the afternoon without ceremony except at the grave. The bishop said Fred had said nothing to him about officiating so he requested me to attend to that matter and I dedicated the grave and the little one.
13th + I went to Mt. Pleasant to see the great Ringling Bros. Show. I thought it was the best I had ever seen.
15th + Miriam gave birth to a fine son at 10 o'clock A.M. to take the place of the little girl Dora, just died. She had the shortest and best time she ever had.
17th + I went to Chester and found Phylis feeling good -- she said "Grandpa lay your hands on me again." I blessed her and sealed the blessings of life upon her. I went with the mail but the train was detained above five hours by a collision -- no serious results however occurred. I came up home and got dinner then took Lucy to Christiana Clawson's birthday and then went to the depot. The boys got uneasy and Pratt came up to see what was the matter -- so I came home and left him to wait for the train.
27th + I went to Chester and carried Mail besides doing other little chores. Charles went to attend a Republican convention at Moroni. His wife was quite unwell.
28th + I carried mail and returned home. Hannah was better. To my surprise Charles told me he had credited me with $8.00 for carrying mail. I had done it to help the boys in their rush of work in the harvest and thrashing, but I was willing to accept it on my debt for the harness. I was also drawing small accounts on the store as needed.
September 10-11 and 12th + I carried mail and on the afternoon of the last day I went to Sterling where I found Lucy and Aurelia with our granddaughter, Mirta, and witnessed her marriage to Frank Funk in the evening -- ceremony performed by Bishop Christiansen at Sterling.
October 19th + I went with Miriam to see a Dr. Stiner. He used his electric battery by which he claimed to tell her the different ailments of her body and by using a belt would cure her for $20.00 or refund the money. I then took her home and stayed all night, Lucy and Jennette having gone to the Temple, I found Amilla quite sick. Wilford and I administered to her and she rested quite well through the night.
20th + Willis Allred's wife died about noon. She died after a very pleasant confinement of child bed fever brought on by putting her on the same bed upon which his first wife was confined and died, so say the doctors.
27th + The telephone line running through the country was completed to Chester and the office opened in the Allred Bros. store.
28th + I carried mail everyday this week. Little Venis was sick and Charles asked me to administer to her after which she broke out with measles. During the week a number of speakers entertained the citizens of Spring City namely Frank J. Cannon, Dem; William Livingston, Rep.; Aldrich Copening and Ridalch, Dem. Although the telephone office was opened communication was not opened until November 1st, 1900. The 2nd of November, 1900 the line was opened to Spring City. I forgot to say that John Henry Smith spoke to the Spring City folks on Republican planks.
10th + A very large attendance witnessed the funeral exercises of Sanford Allred at 1 P.M. A number of Elders spoke, myself, included. About 40 vehicles followed, and the Bishop dedicated the grave.
13th + I carried mail and returned as usual. Charles had a man drilling for water and today struck a flow of 170 ft. It flowed 20 gallons to the minute -- beautiful clear water.
14th + I went to Chester and stayed in the store while Charles went with the mail and brought Wilford and his wife home from the city. I returned home. Word was received of the death of Samuel King who was killed by a train at Clear Creek.
21st + I stayed at home and wrote a letter to my brother William and while writing it the daily "Trib" was handed to me which recorded that my brother Paulinas Harvey Allred was buried in Lehi. Funeral services held in Lehi tabernacle on the 21st inst. He was honored by the speakers as being an honorable upright man -- a Colonel of the Nauvoo Legion -- endeared as a true Latter-day Saint.
25th + As Reddick was with us I did not go to Spring City. He returned to Ephraim and I went to meeting in the afternoon and evening.
December 6th + I went to Chester and carried mail. Charles got a telegraph that one of Henry's little boys, Hoyt, died this morning with scarlet fever. He was a little over two years old -- a bright and loving child. Charles and his wife went over by team the same day.
9th + My wife Lucy and I went to conference at Moroni -- took dinner at Mira Olsen's and returned to Chester and stayed at John Tilbys. Elders J.H. Smith and A.H. Lund were in attendance and organized a new stake by dividing the old Stake running the line south of Spring City, Chester and Wales, making all north of that line North Sanpete Stake with C.N. Lund, president of said Stake; P. Madsen and George Christensen counselors. Pres. Peterson called me to dismiss the forenoon meeting.
20th + Last night someone broke into the Bishop's house while he was at meeting and took $40.00 from his trunk.
21st + The Bishop's son Milton was arrested for the robbery. A snowstorm came up in the morning, so I sent the pony to Chester and stayed at home and cleaned up the chicken house and read "News."
23rd + This being the 95th anniversary of the Prophet Joseph Smith's birthday a few said to me privately, "This is the Prophet's birthday." I said, "Yes." I thought it would have been spoken of. The Bishop called on me to dismiss. We also had a good meeting in the evening.
Dec. 25th + My wife Lucy and I hitched up and drove to George Mills, found him very bad with rheumatism which he complained was affecting his heart severely. Their sons-in-law Andrew and Frank Fund with their wives were there spending Christmas. We returned and found Wilford and wife had been to see us and returned. My wife Amilla also came up and we saw her at Chris. Anderson's. She made Lucy and I a fine present -- a silk handkerchief and cravat. Jennette presented me with a box of writing material. Amilla returned home. I kept Joe's pony and fed it overnight for its use today.
28th + I visited Sister Ann Lunbert who was gradually failing. By her request I left my blessing with her. She was reconciled to go.
January 6th, 1901 + My wife, Lucy, was feeling quite ill.
7-8-9-10th -- Lucy was still unwell. Reddick called on the 8th to see if we could go to the temple. I stayed about home as Lucy was still ill.
12th -- I got Chris Anderson's mare and went to Chester and found Lydia's children improving -- the rest of them well. I got my pension and finished paying for the buggy. Lucy a little better.
13th -- I attended Sacrament meeting and evening meeting. Counselor George Christiansen lectured to the Y.M.M.I.A. to be followed by others every night this week.
SMALLPOX EPIDEMIC
15th + Another meeting not so well attended but was well entertained by Elders James Anderson and J.S. Blain. They jokingly remarked that the reason of the small company was the appearance of Smallpox in town -- 3 or 4 cases reported.
19th + Reddick was with us writing up his mother's record of Temple work. Lucy was much better.
20th + As meetings and schools were closed on account of Smallpox I went to Chester and attended meeting.
February 3rd + I gave a Patriarchal blessing to Ferdinand Kraft. Bro. Kraft gave me a dollar. My granddaughter Edith Anderson wrote it for me. I asked her what she charged. She said, "Nothing, I was just thinking what a blessing it was to be able to write patriarchal blessings given under the hand of my grandfather." Smallpox increases. Andrew Olsen and family down.
6th + The Health Board and City Council invited a few citizens to meet with them and talk over the best plan to check the spread of Smallpox. I told them that we once corralled Smallpox here and kept it in one family -- now it had got so far spread that it would take strict sanitary regulations to stop it. They voted to start meeting and schools and left vaccination un-compulsory. I visited some of the sick in the forenoon -- some better, but Bro. Nielson and Parley Livingston no better. I was taken quite sick in the afternoon. I felt very bad having had several passages of almost clear blood through the night making me feel very bad all day. I got a half-pint of brandy and Edgar sent the following receipt: "Boil 5 cts. worth of cloves; get all the strength into ½ pint then put in 4 tablespoons of sweet oil, take four doses 30 minutes intervals." I took it and it helped me. Also Sidney said the following was infallible. "Parch rice, grind and eat."
Feb. 8th + I was quite unwell all day. At night teachers John S. Blain and C. Stoddard came and visited us and administered to me. I had a very good night's rest. Henry Anderson had taken a relapse this afternoon, the lockjaw attacked him slightly.
9th + Henry got so bad they sent for Dr. Winters who came at 4 A.M. and found him suffering badly with lockjaw which continued all day and night. They telephoned for Redick R., Henry and the folks at Chester. Charles and his mother came right up. Redick came from Ephraim and Henry from Nephi. Lydia, Nora and Wilford also came up.
10th + Sunday morning Henry continued very bad. They sent for Dr. Winters who administered chloroform to prevent spasms. The Elders were called and Elder Baxter said, "Oh, God, if Thou hast called we will give him up." He wanted to go, and breathed his last at 20 past 8 A.M. He was conscious to the last.
15th + Charles sent us a telephone message at dusk from Chester that Miriam's baby was dead which struck us with dismay. It was six months old -- healthy and strong and was only sick six days.
21st + This being the 79th anniversary of my birthday, we spent a time with our sons-in-law and their families, viz. Mills, Anderson, and Blain, also granddaughters Lucina and husband. Amilla and her children from Chester could not be with us on account of bad roads and sickness -- Pratt's two children being very sick with Scarlet Fever. As we were seated at the table, I said when we get through our days visit, on the present occasion, we would adjourn to meet again one year from today, which would be my 80th birthday. Four score years of life on earth, and I hoped to see all of my family present.
22nd + Wilford came up to mill. He called and left a sack of flour. He said his mother was staying with Pratt and Nora, as their children were yet quite sick. By Pratt's request the Bishop came up and prayed for them, but as a precautionary measure Charles and Wilford kneeled outside with the Bishop and he offered prayers for the children.
Feb. 25th + I spent most of the week home regaining my health and strength.
EVERY DAY LIFE IN SPRING CITY
March 8th + I attended an exhibition of skill in enlarging photos that was very interesting -- first night free, next 10 cents.
11th + I heard this morning that Edgar Allred and Hyrum Hyde had a fight for which complaint was made. Each claimed self defense.
12th + I attended the trial of the fighters of Sunday night which resulted in Hyde being fined $10.00 and Edgar $7.50. Hyde gave notice of an appeal. In the afternoon I was taken sick.
14th + Brother Sydney came over and wanted me to write a statement of facts relating to the settlement of father's estate; in case I should drop off before it was settled. I told him I would do so, but as long as I lived I would make it in person, and if I was gone it would be found in my records.
16th + Having received my pension I paid $5.00 tithing and settled up all accounts.
6th + Being Lucy's 77th birthday we met at Edith Brough's and had a good time notwithstanding the stormy day. Redick R., my wife Amilla, Thos. Ivie and wife and Lizzie Allred were present from outside town.
April 12th + Pres. George Q. Cannon passed peacefully away at 12 A.M. in California.
18th + I spent the day sawing wood and reading the "News." Learning of the accident of Bros. Angus and David Cannon by being thrown violently to the ground from a buggy, I wrote a letter of condolence to them expressing regret at their misfortune and also of my ill health which hindered my attendance at the funeral of their brother, a very dear and loving friend of mine. Pres. George Q. Cannon, I said was one of the most God-like men I had ever met.
28th + I attended Sunday School. Supt. A. Johnson and Sec. Porter visited and talked to the school referring to the noble life of the late Pres. Geo. Q. Cannon. J.F. Allred said he had heard it said that Jesus had visited and talked with him. To confirm it I said that while in prison together he told me that he knew that Jesus lived for he had seen Him.
May 8th + I was about home nursing my lame hand, etc. I had received an invitation to attend a reunion of the Nauvoo Legion veterans to be held on the 10th inst. but wrote them I was unable physically to meet with them, which I much regretted.
11th + I had another attack of gravel coming on me and immediately returned home from Chester. In the evening Elders administered to me and I had a good rest. Near 20 gravel stones passed off as large as peas.
14th + I got up feeling much better. I borrowed $5.00 and sent to Denver for Dr. Bennetts Electric Belt.
15th + I felt much better and finished planting my garden. John F. Allred Jr. died at Sunnyside yesterday.
30th + I went to Chester and as this was Decoration Day I went to the old graveyard alone and dressed up the graves of my father, brother James R. and five of our children -- one of Lucy's and four of Amilla's, one being at Nephi.
June 5th + My wife Amilla went with me to the Temple and I was endowed for Stephen Runnel's ancestry. There was a full house and a number if young couples were getting married.
22nd + I went by team and Grace and Blain went with me to Nephi -- visited with Henry's folks -- found all well.
23rd + Sunday. Went with him and children to S.S. Bishop Sparks called on me to talk about the Prophet organizing the Nauvoo Legion.
24th + I left my horse and buggy at Henry's and took train 6:40 for Salt Lake to meet the "Nauvoo Legion," "Mormon Battalion" and "State Militia" veterans at Salt Air. I met Pres. McCleston at depot and he stepped up to me and said, "You are one of the old veterans" and attached a flag to my coat and was surprised when he found out who I was as they feared I would not be able to attend. Although a stranger he took a great interest in my welfare through the entire day. When we got to Salt Air he said, "Now go through this host of people and enjoy yourself with your old friends till time for the program. I found too many old vets to name them and I had a good time. There was a splendid program rendered at 3 P.M. consisting of songs and speeches. Bishop Whitney read a piece giving a detailed account of the Nauvoo Legion, its principle officers in Nauvoo and Utah, but it failed in some points for it did not give me credit for being Gen'l Eldridge's Chief-of-Staff with the rank of Major and acting as Infantry Drill Master in the Utah Militia.
26th + We returned to Chester and went home.
July 18th -- Lydia and Nora came up and got some fruit. They said Charles got home Wednesday 17th .
30th -- My wife Lucy and I went by train to Salt Air to the Reunion of the Elders and native Saints of the Pacific Isles. Meeting commenced at 3 P.M. John T. Caine presiding. Prests. Snow and Smith were there and the latter made the address giving a sketch of the different missions.
September 9th + I sent my electric battery to be renewed, it having burned out.
11th + Amilla came to help with the plums, but they were too green so returned. I felt bad in the afternoon.
24th + It cleared up in the afternoon and we drove to Chester on our way to Nephi to a celebration.
25th + We left the team and took a train for Nephi. This being the 50th anniversary of the settlement. I met many old friends. Gov. Wells read his speech in the afternoon.
28th + Lucy stayed and I took the train for home. Amilla met me at the station and took me to Chester. I then drove home alone and stayed alone all night.
October 10th + President Lorenzo Snow died at 3:35 P.M. suffering with a severe cold for weeks which prevented him from attending conference until Sunday P.M. when he spoke at length on the duty of the local Priesthood of the Wards and Stakes of Zion.
13th + I met with prayer circle at 8:30 A.M. then went to S.S. and spoke with others in a memorial service for Pres. Lorenzo Snow. At 2 P.M. meeting spoke of Pres. Snow's demise and noble life.
November 5th + This being Election Day for the city they sent a buggy and took us to the poles. We cast a Democratic vote and returned. James Blain, as Recorder, was the only Democrat elected.
25th + We got Bro. Jensen to whitewash the ceilings of two rooms which he done without charge.
26th + Jennette and Edith finished papering the walls.
December 20th + I was canvassing the town to get subscribers for the Juvenile Instructor but I had poor success -- money scarce.
January 14, 1902 + Lucy and I went to Mt. Pleasant. Had dinner with Lizzie Allred and then went down to Madison's Pavilian and joined the Black Hawk War veterans Reunion where we met Col. Ivie and many old comrades. At 2 P.M. D. Candland delivered an address of welcome. Speeches and music was the order of the day. I returned before the exercises closed but not until I yielded to a pressing invitation to speak. I told them I entered upon the war of life in 1821, and I had passed through the Missouri War, the Nauvoo war, Mexican war and the Black Hawk war and I am here yet, thank God, and next month I would be four score -- hence they must excuse me if I withdrew before night.
April 11th + Amilla came up with the buggy and took Lucy and I to Chester to meet the Old People's party. They had a program at 1 P.M. -- quite interesting after which I responded to a call from the committee for a speech. They had a good time, a dance and lunch at night which I attended, but did not dance. I came home at 12 with Redick.
May 1st + We went down, eleven of us, to celebrate Amilla's 61st birthday and we had a very pleasant day with a crowd of Chester folks filling three large tables well loaded. The Bishop blessed the food and at the close asked God's blessings upon all that we might live to see many returns of the day. We returned home.
22nd + Amilla spent the day with us. A number of friends called to see us. I had been quite deaf in my left ear for a few days, but by dropping mucilage of hollyhock in the ear to soak up the wax and removing it with a hair pin my hearing was restored and my lame back was better.
25th + I had a bad cough and my complaint distressed me very much most of the day but the Lord gave me relief long enough to give P. Bunnel a Patriarchal blessing.
June 4th + Lucy and Avelia went to the Temple and I went and stayed at Jos. Blain's. I had a good night's rest. Amilla came up to stay with me, so we went home and rested well.
September 7th + Sunday at home feeling relief. I got a letter from Dr. Shaver, but as I was feeling relieved I wrote to stop further correspondence.
20th + Charles came up to a Republican convention.
22nd + Was a fine day and I felt much refreshed. We got a bushel of good peaches at $1.25. In looking at my scrap book I found to my account for service in the Black Hawk war of 1865-67; $148.67 - $338.00 - $1338.00. Lucy put up fruit in bottles both fresh and preserves without help and kept up well.
25th + I had a severe spell of gravel pain but had relief with a turpentine poultice and rested very well at night.
October 3rd + I got an Alcox plaster and put it on my breast and had a better night's rest. I was feeling better in strength.
January 11th, 1903 + Sunday. I suffered much all day so sent for Dr. Gowan. He came in about dark and left two kinds of pills, one a dark pill to regulate the water and one a little pink pill to stop the pain. Amilla sat up till 2 o'clock and gave one pink pill each hour till six was given as directed which eased the pain so I dropped off to sleep and slept till morning.
June 2-3-4 + I wasn't feeling well but I sent my pension papers and I got J.F. Allred to send papers to Milo B. Stevens with Dr. Burdick's signature for pension. Wilford called on his way to the mill.
5th + About this time I sent a paper to Washington to my lawyer for re-rating my pension.
July 27th + Amilla came up and stayed all night.
August 11th + Amilla and Miriam came up. I was feeling so well I took a buggy ride with Amilla. They went home. I got 50 cents worth of nice peaches. I ate so freely of them I didn't rest good all night.
29th + Still O.K. I had my eyes tested and found my left eye almost blind. I got a new glass for the sight.
November 1st + Sunday. Did not feel well enough to go to meeting. Amilla came up to see us a few minutes. I had a very bad cold. They sent a team to take us to the poles. We voted a straight Democratic ticket.
End of Journal.