Reddin Reddick ALLRED
Allred Lineage:  Reddin Reddick, Reddin Alexander, Isaac, William, Thomas, Solomon born 1680 England
Born: 05/25/1853 Kaysville, Davis Co., UT
Died: 06/16/1893 Sulphur Springs, Cochise Co., AZ
Submitted by: Don Allred 02/10/2001
The Diary of Reddin Reddick Allred was transcribed exactly as he wrote it using the same spelling. Only Punctuation and a few words have been added to make the meaning more clear. Maps showing the area he traveled are enclosed as well. Pages of the diary which show Reddin Reddick's handwriting and his cure for several ailments. The diary transcribed by Deanne Gardner 1988. Cambridge, MA said this was the Pons/Brook comet . HOLE-IN-THE-ROCK by David Miller (Salt Lake City, UT: University of Utah Press 1966) Page 90-92: (Account of George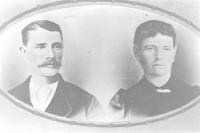 B. Hobbs)
As we were crossing Montezuma river just before reaching the fort proper we met two men coming from the east (Ernest Mitchell and James Merritt); they had three pack animals well loaded with provisions and bedding and two riding horses. As I had met these men on my previous trip I introduced them to my two companions while our horses were drinking nose to nose. They told us they were seeking a cattle ranch where they could drive cattle and no one interfere with them; some isolated watering place. As we had seen Lake Parahrit from a distance as we were coming out it looked good to us for a place as they wished to find. Seeing their packs were well filled and not knowing where we would get any supplies for our return trip, they looked like mighty good company for So we did all in our power to persuade them to wait for us while we made the trip up to the fort and returned.
But this they refused to do. While we were talking it started to rain, raining harder as we approached the fort.  It rained all that night and the next day [Dec. 30, 1879]  compelling us to stay at the fort........ 
We now started our return Journey, Dec. 31, 1879, Harvey Dunton joining our party as he wished to meet his son who was in the company and bringing provisions for him. Just after crossing the Montezuma Wash we discovered our friends Mitchell and Merritt who had been driven to shelter in a cabin that had been built on a piece of land close by. We still thought Providence was favoring us and that we could yet persuade these men to accompany us to Lake Parahrit.  After my friends talked long and loud to them with no effect, Mr. Merritt dropped back to where I was driving the pack and I used my persuasive power. But Mr. Merritt informed me he was not hunting a cattle ranch at all; providing I would keep the secret he would tell me what he was after. I promised I would, but as they met death later the secret is not now a secret at all.
Mr. Merritt in passing from Ft. Wingate to Lee's Ferry about a year before, through the Navajo Nation, had discovered three crude smelters, where the Indians had been smelting silver from silver ore which assayed at 90% silver. He was going to try and locate these mines and promised me, if I would leave my companions and accompany him, he would grubstake me and give me one-fourth interest in our discovery--the same as he was giving Mr. Mitchell. I thanked him kindly for his offer, but told him that I was a representative of a large company who were at the Colorado river and they were waiting for our return, so they could proceed on their journey. We traveled together until we came to the mouth of Comb Wash when we separated, they crossed the river to the south going on the south side which was free from snow; we going up the Comb Wash, north into a snowy region. We separated about 4 o'clock in the afternoon, they going their way and we going ours.
Page 99: Footnote #29. Both Mitchell and Merritt (or Merrick) were killed by the Indians in Monument Valley. For an account of their fate see Charles Kelly, "Chief Hoskaninni," Utah Historical Quarterly, July 1953, 223.
Page 184: (Account of Kumen Jones)
Just before reaching the camp of the few men left of they party who went out in the spring, the four scouts met two miners who were making a start to hunt for the lost Pashelkine mine, reported by Navajos and others as being very rich in silver. The mine had been worked by Navajos but had been lost, as the few Indians who worded it were killed off by the soldiers when they were being rounded up several years before to be taken to Santa Fe. These prospectors tried to persuade the Mormon scouts to go out with them, promising that they would lay over for them and would let them in on the big mine, which they said was a "sure thing". Had the Latter-day Saints scouts fallen for this wild proposigion, it might easily have resulted in failure for the San Juan Mission, at least at that early date. The two miners, Merick and Mitchel, were killed by the renegade Pahutes and Navajos as they were returning with their pack animals loaded with ore supposed to be from the lost mine. The Mormon men would most likely have met the same fate and the coompany could not have got the news of what have become of them for a month or two.... .
Utah Historical Quarterly (Salt Lake City, UT: Utah State Historical Society 1953 Vol. 21 p. 219 by Charles Kelley Monument Valley lies in the extreme southeastern corner of Utah, on the Arizona line...Because of its massive monument-like formations and its colorful Indian life more color film has been shot there in recent years than other spots in Utah, and it has been used as a background for many movies. Yet as late as 1925 it was the least known section of Utah.
There was a very good reason for that lack of knowledge by white men, and the reason was a Navaho chief called Hushkaaney, or by white men Hoskaninni. From 1862 until his death in 1912 he had been the emperor of Monument Valley and in most cases unfriendly to white visitors. He had a secret silver mine, and when it was discovered by two prospectors in 1880 they were killed....
On various visits to Monument Valley I had noticed a tall very dignified old Navaho gentleman, with an aristocratic profile. He was about 85 years old and was treated with great respect by all the Indians. One day I asked Harry Goulding, the trader, who he was. "That, " replied Harry, "is Hoskaninni-begay, only son of Old Chief Hoskaninni. You ought ....If he would talk he could tell yo the whole history of Monument Valley and his family."
Page 222 (Account of Hoskaninni-begay)
One day while my father was riding on the mountain he found silver in the rocks. He brought it home and found he could shape it without melting. He and sic other men went back there and took out more silver, which we made into ornaments. He would never let anyone else see where it came from. In those days all silver was made smooth, without designs. Our people learned to ornament silver from a Mexican at Bosque Redondo......
When we came away from the mountain, people were surprised to see us. They knew we had never been to a trading post, yet we had much silver. So they said to themselves, "Chief Hoskaninni must have found a rich silver mine." When the whites heard about it they all wanted to come into our country and hunt for the mine. But father would not allow it, and none of the men who knew about the mine ever told a white man or even a Navaho how to find it. I do not even know where it is myself, because when whites began coming into the country father would never go there again.
When I was about twenty years old (1879) two white men (Merrick and Mitchell) came into our country, found father's mine, took some samples, and got out again without being seen. Later they came back for more samples. On their way out they passed near our camp. In the morning I saw more tracks in the snow and followed them. Near what you call the Mittens in Monument Valley I found one of the bodies, with some small sacks of silver. The two men had been killed by Utes, and some of the Utes were still there, dividing up their stuff. They said they had asked the men for tobacco, and when the prospectors claimed they had none, killed them and took their stuff. My father and his people have often been blamed for these killings, but it is not true. He had nothing to do with it. I have killed many men, but I did not kill those two.
Reddin Redick's Journal:
25 August 1883 - 15 Jul 1884
25 Aug 1883: I started from home at Plesenton for Globe or vacinity for some money owing me. Was four days to Smithville & there laid over 6 days. Done my bisiness & started to see what might turn up. After 6 days journey without note, I arrived at Greer's ranch. Still no work.
After laying over 3 days I started for Holbrook, after laying over 5 days for mail. I hired to drive team. On the next day, the man sold the team & I was out of work. I layed over two days more when Jim Allen came along from the Frisco R. He had bought some cattle of nasl down the river & I hired to drive them to Cherry Creek, but when we arrived the cattle were sold to another man. No friends,
no money, no grub, & a stranger in the land. There is a man here that wants me to go and prospect for a very rich mine discovered by one miner. The indians killing him before he made its where abouts known. He brought 60 pounds of rock that went eleven doll to the #. Mr. Williams said if I would go, he would furnish grub & all nesesaries. God's will be done. It is hobkins choice with a chance so I am making preparations to start. Luck good.
23 Sep 1883: Started from Winslow for Williams & camped at mouth of Sanfrancisco Wash 35 miles.
24 Sep 1883: Camped 10 miles from black falls & 10 miles from Indian Spring.
25 Sep 1883: Camped at Indian Spr 30 miles from Williams.
26 Sep 1883: Camped 6 miles from Williams.
27 Sep 1883: Arived at Williams's ranch.
28 Sep 1883: Rested today.
29 Sep 1883: Prepared for the trail.
30 Sep 1883: I started from Blue Cannon in co (company) with Harry L. Wilson and Ben T. Bill in search of the afore said mine & travailed in a northerly direction 16 miles & made a dry camp for the night.
1 Oct 1883: Traveled 20 miles & made a dry camp at foot of white messa.
2 Oct 1883: Found water about 4 miles from camp took dinner at lake & bought a sheep. Camping 4 miles beyend haveing made 18 miles.
3 Oct 1883: Started on the trail it commenced snowing about 10 p.m. We travaled down a verry rough trail to the garden & took dinner in West Cannon & went up the left hand fork to Rosses camp haveing made about 24 miles.
4 Oct 1883: I went to look out a trail into our cannon, but could not get in.
5 Oct 1883: Left Rosses and camped at spr on 12 mile messa.
6 Oct 1883: Took up trail & camped at some tanks about 10 miles south & went again to look a way in how the wind blows.
7 Oct 1883: Moved to a spring about 4 miles, rough country.
8 Oct 1883: Went to trace trail & find we can get in with animals by slideing them over the rocks.
9 Oct 1883: In at last, after a hard days work & much danger.
10 Oct 1883: Now for the mine may the luckey man find it.
10 to 13 Oct 1883: In same camp but no sign of mineral.  Some discouragement on that account.
14 Oct 1883: Being Sunday washing & preaching is order of the day.
15 Oct 1883: Moved camp about 4 miles.
16 Oct 1883: Rained all day staid in camp.
17 Oct 1883: Harry got excited over some ore findings some green talk calling it horn silver.
18 Oct 1883: It was not silver & slack has fallen.
19 Oct 1883: Broak camp & started for Utcyda Cannon distant about 9 miles & the indians tried to turn us back but it was no go. Maple Cannon & the firs we have found it was said that Maple must be found before the mine. High spirits.
20 Oct 1883: Traced out the cannon but found no mineral.  After one half days work the majority voted that we left the cannon.
21 Oct 1883: Out we go in my opinion the worst move.  Camped at tanks on top, travaling about 14 miles.
22 Oct 1883: Ben left us to return for grub. We moved camp about 8 miles. Sulphur springs found to day.
23 Oct 1883: No mineral but plenty of ruins in caves.
24 Oct 1883: Moved camp north 15 miles. Country looks bad for mineral. We sympathize with Meric wonder if he ever lived.
25 Oct 1883: Things are getting blue grub is getting down to flour alone.
26 Oct 1883: Harry went for a sheap to day & has not returned.
27 Oct 1883: Harry returned this morning with meat. Ben returned tonight with grub after 6 days again plenty to eat.
28 Oct 1883: We have gone into winter quarters & built a shanty it snowed hard.
29 Oct 1883: Got in camp after a hard days work.
30 Oct 1883: Moved camp about 8 miles north found water scarce.
31 Oct 1883: Our work is a long distance on account of water.
1 Nov 1883: I discovered a new trail it is a long road that has no turn.
2 Nov 1883: I went to Navajo Mountain & could not get back.
3 Nov 1883: Returned to camp found the boys verry much discouraged.
4 Nov 1883: Moved camp 5 miles west had a bad trail. 6 hours to 5 miles.
5 Nov 1883: Found some sign of mineral.
6 Nov 1883: Harry sick to day found 3 very large caves all had been camped in. Meric was in here 1 winter consequently, great expectations.
7 Nov 1883: No mine.
8 Nov 1883: Broke camp & started down the cannon to again visit Maple Cannon. Camped at mouth of our first cannon.
9 Nov 1883: I went up said cannon on account of grass, the older boys going around. I told them I would meet them in Maple Cannon. Went to head of gulch and took in two forks. Night, but no boys so camped along without grub.
10 Nov 1883: Took in a little more ground. When meating an indian, he advised to go no farther, so I did not, and started for Blue Cannon. Travailed about 35 miles, and again without grub after 4 miles south of Cow spring.
11 Nov 1883: Over hauled the boys this morning found I had camped 1 mile from them. Got some breakfast & feel better. Arived in Blue Cannon for dinner, haveing been out 43 days.  So ended the trip for the Meric Mine. My horses both give out when about 2 miles from camp.
12 Nov 1883: Found that Williams was at the railroad after grub. I cannot go any farther on account of horses & grub.
13 Nov 1883: William not returned yet.
14 Nov 1883: Started to starve it out.
15 Nov 1883: The boys started to meet the team.
15 to 20 Nov 1883: No grub but ground corn in coffee milk.
21 Nov 1883: Williams returned last night, but only brought 100# flour. Am verry sick both spiritualy & temporaily.
22 Nov 1883: Have a savere billious attacked.
23 Nov 1883: Shall help Williams to build a house for grub.
24 Nov 1883: But he will have to go after it.
25 Nov 1883: Will again return to Maple gulch. Williams furnish grub & an indian.
26 Nov 1883: Worked on house.
27 Nov 1883: Same to day. O for my mail.
28 Nov 1883: Same as yesterday 3 months from home & not one letter. How I would like to hear from them as I cannot see them.
29 Nov 1883: Have worked hard to day. To night two men arived from Mosda. Mr.Fouts in search of stock. My two pardners have gone a traping for beaver.
30 Nov 1883: Have not done much to day. Prepared to go to Moencoppa but did not get off.
1 Dec 1883: Went to Tuba Citty to day. Arived at sundown.
2 Dec 1883: Stormed all day attended Church to day.
3 Dec 1883: Returned to Williams with grub found them without any thing, but parched corn.
4 Dec 1883: Rained all night last night & snowed all of the afternoon. Dark & still snowing everything wet. I wish my wife had me I am half sick with a bad cold.
5 Dec 1883: Have been sick all day with a bad cold, & a cripled hand from runing a snag in it. It is clear & cold.
6 Dec 1883: Williams did not get off to the railroad. My God, when will I get to hear from my family? It seams as though I could not wate but Gods will be done.
7 Dec 1883: He had gone at last I shall count the hours untill his return. Whill be about 13 days. Have not sean my horses for 3 days & don't know what has become of them.  I have been to work on the house to day.
8 Dec 1883: Has been a plesent day have worked on the house. My cold is better, but Mrss Williams & children is sick with colds.
9 Dec 1883: Verry plesent day. Have plasterd the top of one room, am verry tired. O for one word from my wife & children. Have not sean my horse yet.
10 Dec 1883: Again we live the indians have brought a sheep, but our coffee & sugar is out, but bread and mutton is pretty good. I got one room done to day. Fine wether.
11 Dec 1883: Moved into the new house to day, & jist in time for it is snowing to night. O for one word from home. My God, what will the end be?
12 Dec 1883: It is raining to day I have rested all day. This is the lonesumest day I ever saw. If it was not for the chance of finding the mine, I would start home tomorrow, money or no money. If I ever get home I will not be caught this far from home again. God bless my home & family.
13 Dec 1883: It is plesent to day have sold about 6 dollars worth of goods. Taken in $1.50 worth of hides & wool. It is verry lonesum here. I am anxious to be travailing.  Good night to my loved ones at home 9 o'clock p.m.
14 Dec 1883: Walked about 10 miles to day & found my horses. One of them has got the mange & pretty near devoid of hair but I am like the indian that says `no `ketch deer, ketch rabbit. Rabbit pretty good'.
15 Dec 1883: Went to get a sheep today but found none.  Parched corn stract is pretty good.
16 Dec 1883: Rode hard all day got 1 sheep & 1/2 & 30 lbs. corn. I guess we will have plenty to eat untill Williams gets here. We look for him in 3 days. Then, to hear from my family. God speed those days.
17 Dec 1883: Worked on pack outfit nothing of note to day.  I have no tobacco & that is quite a trial.
18 Dec 1883: At last John has returned but has only brought me one letter, but lots of grub. God willing I will start on my trip to look for the mine in two days. The indian mail carrier has come along & I can write to my family. God bless them with health and sustanence in my absence.
19 Dec 1883: The excitement of reading a letter from home caused me to lay awake nearly all night last. I have got my pack all redy & waiting for my indian. I am ansious to be off. Maby my whole future depends on this start, as there is others prepareing for the same trip. If God is willing, I shall find it on this trip. If I do, I shall devote the most of my time to serving my God.
20 Dec 1883: It has rained all day & I have had to stay in all day, & my indian has not come. Bed time & still raining.
21 Dec 1883: Rained all night last all day today the house leaked & had to cover with 3 inches more dirt. This is the darkest day I ever saw. Will the light ever come or when will I get to see my dear ones at home? God have mercy on me but they will be done. Thy punishment is just.
22 Dec 1883: Have hunted horses all day & not found them.  O Father, my lot is hard, but thy will be done. It is snowing as I prepare for bed. No indian.
23 Dec 1883: Snowing hard as I get up. Made every thing sloppy all day. Have not hunted horses today, but will tomorrow, if God is willing. From appearence, I never will get able to see my family again. It gives me the blues.  How will this end? God only knows.
24 Dec 1883: Found my horses after about 10 miles walk. If God is willing I will start tomorrow. May success attend my efforts but my indian has not come, & I will have to go alone.
25 Dec 1883: Crismas day, took dinner with Mr. Williams' family & started again to look for the rich mine, taking with me his youngest son. Travailed about 8 miles & camped for the night. Grass poor.
26 Dec 1883: Started at sunup. Travailed about 22 miles & again camped. Grass poorer, & no water.
27 Dec 1883: Made about 14 miles. Bought a sheep & waited for it to be brought 5 miles so went no farther. How is my family to night. I pray God they are well.
28 Dec 1883: Bought some corn to day & arived in Maple Cannon all right. Find no indians here. Tomorrow prospecting comences in ernest. God willing. we will find the mine before we leave here. Have taken posesion of utsitys house.
29 Dec 1883: Have prospected all day & not seen a trace of mineral, but found 1 acre of green grass of which our horses are well pleased. No indian has come to day so I guess they are not much afraid of our finding the mine.
30 Dec 1883: To day brings Sunday. I have observed it to the Lord & done nothing. My boy laid in bed untill about 1 o'clock a.m. No indian & no corn for our horses, & grass poor. O, how I wish I could spend one hour with my family, or could know that they were all well. Day after tomorrow Mrss Williams will cook our new years dinner. Will we be on hand to eat it? If God is willing it shall be so. I pray God it may be so.
31 Dec 1883: The last day of the year & I think the coldest. I have walked hard all day to keep warm & then nearly froze & have found no mine. Does such a mine exist only in the imagination, or is it for my new year's gift? I hope so. No indian, no corn, no grass & no mine. It cannot get much worse unless I get sick.
1 Jan 1884: I have not only the pleashure of croniclein a new month, but a new year. I wish you all a happy new year. I have worked hard all day but found nothing. Come to camp tired, in boddy and mind. Found my boy with grub reddy, which was thankfully received. No indian yet, but there is a camp fire 2 miles away. Who can it be? I would give most anything if I new how my family is to night, or could see them five minutes. I dreamed last night of receiving a letter; but in morning I awoke & it was all a dream. I pray God it may allways be so, good night to my loved ones.
2 Jan 1884: I feel somewhat incouraged, haveing seen the first indication of mineral to day that I have seen. It is a streak of spar that I can trace accross 3 cannons, Maple Cannon being one. It carried black oxide in places, but of what quality, I do not know. Our campers have gone & who they were, we cannot guess. It looks like snowing. I hope not for a few days.
3 Jan 1884: Have put in a hard days work & find nothing.  It is enough to break the heart of a stone. I only have one more day & then my boy has to leave me. I don't see how I can get along without him & get my thing done. The days are so short. Cooking to do and wood & water to get spoils the best part of these short days. Say nothing about being alone & sixty miles from any one. God have mercy on me. How is my babies to night? I hope they are well.
4 Jan 1884: No mine to day, am about discouraged. If I ever get out and straitened up again, I have sworn never to prospect again, unless it is for money. I wish my wife & babies had me to night. My boy leaves tomorrow & I must write home.
5 Jan 1884: Broke camp & moved on to messa, 25 miles.  Shall wate at this camp for boys return.
6 Jan 1884: Bought a sheep, am alone tonight & very lonesum. If I could spend this night with my family, I should be happy, but the way of the trancegressor is hard.  I pray God to bless my family & keep them from harm untill I return, & may he hasten that time.
7 Jan 1884: The boy has not returned to night. I hope he will not fail, because through him & what I know & Gods help, we have got it down to a fine point. I pray God it may be so for my familys sake & then I will hasten to them.  I wonder what they are doing to night & if they think of the wanderer to night & sigh for his return or wether they are happy without him. I dare not think to much.
8 Jan 1884: This is the longest day I ever saw & so I will have to write a while. It is about 2 o'clock & my boy has not come. If he does not come to night I will go on alone. I cannot think what is the matter unless his father would not let him come which I cannot think possible. If he knew what I do, he would not keep him long. Bed time & no boy. One of my horses came verry near dieing to day & I shall have to pack the other tomorrow & walk my self afoot & without money in a strange land & alone. I thought it had got to its worst before, but it might be worse yet. Thank God I have my health. If my family are as well as me, I am satisfied. O for one woord from them. It would be like a meal to a starving man. Midnight, in better spirits for my boy has got back. All is well that ends well.
9 Jan 1884: Broke camp & travailed 25 miles. Indians followed to see where we went. We lost some time in throwing them off the track. Going the rong trail some distance pulling the shoes off of our horses & returned accross country. Supposing that we have outwitted them.
10 Jan 1884: Arived in the gulch where the mine is suposed to be by. The indian boy camped & made a shanty to keep out the cold & other wise prepared for 10 days stay. May God bless our efforts is my prair.
11 Jan 1884: Have had no success to day. I am hardily able to get up or down to night. I have taken cold & it has settled in my back but I hope it was be better in the morning. I feel that we are in the gulch where the mine is but without the aid of the Allmighty I fear our efforts will be vain. As the indians have covered it well. O how I wish my wife had me tonight, I feel as though I needed petting.
12 Jan 1884: Still no mine am almost discouraged. My back is better, but far from well. My boy roped a horse to day & he jerked him into a cactus. The parts are verry sore.  Last coffee in the pan, last fruit in the kettle, meat enough for two days, flour enough for about 7 days and then...
13 Jan 1884: No mine to day. Being Sunday devoted a part of the day to patching, so done verry little prospecting.  Back a little better. If this fails, God knows what I will do, for I don't.
14 Jan 1884: All days are about alike, one disappointment after another. No mine, and no sine. It would make anyone but an honest man sware. If I ever get there, no more I will rome, but content will stay at home.
15 Jan 1884: Some thing new to night. It is a star with a long tail . I wonder wether it is our lucky star. No mine to night. I would like to write something new. This thing of haveing the same stuff for supper every night is getting old. If I could hear from my babies, that would be some change & one I should like.
16 Jan 1884: All well. We are talking of going after meat tomorrow.
17 Jan 1884: I was verry sick last night & though the chance of living slim but am well to day. Broke camp & moved 10 miles for meat & find we are in rong gulch. That is bad as we have lost 8 valuable days, but we hasten to right the rong.
18 Jan 1884: Started for the right cannon after buying 2 sheep & 1 hundred lbs corn for our flour, coffee, sugar & fruit is gon, so we will have to live on parched corn & mutten, but our spirits are high & we think our fare is good. If I only knew that my family were well, I would be happy.
19 Jan 1884: Arrived at our destination after a hard days travaile. Feed poor. It is verry cold to night.
20 Jan 1884: Talk about the blues, they are no where. I have got the blacks. If ever a man was temped to use cuss words, it is me. No mine & no more sign of mineral than there is of oisters, and they are scarce, for neither of us has a cold. Did such a mine ever exist, except in some ones mind? I pitty any other man that is fool enough to hunt for fiction. If I ever get out of this, & am ever caught in this position of looking for another mine, I hope some one will kick my xxxxxx.
21 Jan 1884: No sucess as yet. If all is well tomorrow afternoon, we will leave here for Echo spring. Live and learn. This evening we are takeing lessons on the matata, grinding corn between two rocks. This is a hard way to searve the Lord, but unto this end was we born.
22 Jan 1884: Have worked hard all day & no mine. Tomorrow we leave here, if all is well, for Echo spring. I hope we will have better sucess as it is our last chance, & then for home.
23 Jan 1884: Travailed about 25 miles. Nothing hapening of note. Tomorrow will reach Echo Spring, if no bad luck. How is my babies & wife tonight? Are they thinking of me?
24 Jan 1884: After going 5 miles for one of our horses we arrived at Echo Spring all right, in time to fix our camp.  Grass, wood, & water in abundence.
25 Jan 1884: One month out & we are poorer than we were then. No mine, no money, and no grub. Necesity compells us to start for Blue Cannon tomorrow.
26 Jan 1884: Left our camp at Echo & made 25 miles toward Blue Cannon. It snowed off & on all day. Boiled corn & mutton is our fare. Pretty good.
27 Jan 1884: It snows like hell & looks as tho it might till the end of time. Meat strait & then takeing the trail going about 4 miles. Our dog was taken sick, & we stoped for a couple of hours. When the dog being better, we again took up the trail going about 10 miles, when it was taken worse. When camped for the night, we went after the horses. On returning, the dog, being a hunter, had discovered a nest of little dogs, of which she was verry proud.
28 Jan 1884: Haveing to many dogs, we had to kill 4 of them. One horse gave out about 3 miles from our destination & we left it. Ariving all right with that exception. Found that 2 of my letters had been sent out, of which I am verry sorry, but got a chance to send a letter home.
29 Jan 1884: I returned this morning for the give out horse, and found it making free with MS grass having the saddle on all right, but when I saw her nose, and the roots of her tail all swelled up from falling down the day before, my concionce smote me, and I turned a wiped a drop from my nose, caused by the morning breeze. But we feel happy as we have plenty of grub, and a daly cook. That is as happy as I can be away from my family.
30 Jan 1884: I have got two letters from home, the last a month old, and all are well. God bless them to night. My heart is lighter to night than it has been for a long time.  Tomarrow we leave here, again in search of the rich mine.  It will be the 3, and I hope the last time, and that I may be able to then return to my loved ones, O, but that would be a happy hour. Judge not that you be no judged. If those that desert the sick in their distress, and the poor in their need, then is my faith vain? But you may tell the tree by its fruit.
31 Jan 1884: Wrote to my wife to day, and got ready to start again to look for the rich mine, but did not get off. But will get off, if God is willing.
1 Feb 1884: We started today, again, to look for the Meric Mine, and made 15 miles, making a dry camp, and having a new pack horse.
2 Feb 1884: Continued our course, buying a sheep by the way. Going about 25 miles. It raining most of the way. Finding some hard water, and a very good indian. But, we made our selves comfertable for the night, but grass being poor our horses will not fare so well.
3 Feb 1884: It snowed all night, and has snowed all day, that is, up to this time; 12 o'clock. But, being Sunday, I am willing to lay over. I have devoted so much of the day to reading my letters from home, and reading the Bible, so I thought I would write a while. It has been storming for 3 days, and I hope the last, for it is disagreeable, 9 o'clock, and still snowing like fury. Our dog ran away today and has not returned. My boy bought 2 rabbits today, and we had a change of meat.
4 Feb 1884: We broke camp, and traveled about 20 miles, having snow from 4 to 12 inches deep. I have seen it more pleasent, and more disagreeable, but a good supper, and good grass soon revived our spirits. But where is our little dog gone?
5 Feb 1884: After sliding over rocks and snow for about 5 miles, we arrived in Crevis gulch, and camped in a cave.  Plenty of grass and it green. Plenty of water; thanks for the snow and rain. This is the third time in this gulch, and each time I have thought to be the last. God only knows, I don't.
6 Feb 1884: Prospected a little this morning, but it stormed so I came to camp. It has snowed ever since, and now, at dark, is snowing very hard. It looks as though winter had just set in in place of spring.
7 Feb 1884: Again, half of a day work, and the weather got so bad I had to return to camp. It is very bad work in the snow and mud, becides it makes it dangerous climbing over the rocks. I wish I could spend these few days with my babies, while I cannot work to advantage. As it is, I devote my idles time to reading the Bible. It is a great comfort to me.
8 Feb 1884: As we arose this morning we found the snow 6 inches deep, which excluded any prospecting today, so we washed clothes and we both washed our selves. I also done some patching. It has been a nice day and about half of the snow has gone. If all is well I shall try to prospect a little tomorrow.
9 Feb 1884: The snow goes very low, and my work is so tedious that I am almost discouraged. If I could be with my family away from this temptation, I sware that I never again would alow myself to again be caught in such a snare.  It has been fishermans luck today, and it looks as though it was going to snow again. it almost makes me cry. My God, my God, why has thou forsaken me? But thy will be done. But it seems hard to acknowledge the hand of the Almighty in all things. My punishment is almost as great as I can bare.
10 Feb 1884: Having a bad cold from wet feet, and today being Sunday, I have laid in camp today hoping the snow would go off that my work might be better.
11 Feb 1884: Vain hope for it is snowing at day light.  Later it cleared off, and the snow has pretty near gone. I got a very good days work done today, but no mine. I would give a good deal if I had the mine, or was out of its influence.
12 Feb 1884: But it seems as though it has got me in here, and intended to keep me here, for it has snowed from daylight to this 9 o'clock p.m. Against our will it is forcing us to move down the cannon on account of grass, for the snow is so deep on the mountain that we cannot go the other way. The prayers of the wicked availeth nothing. I must be wicked indeed, that my prayers are intierly ignored. But unto this end was I born, perhaps a child of perdition, for God says, on whom I will I will have compation, but they will be done, and Father, I bow my self to thy chastizement and care 'til a pleasure that I am able to be though worthy, to be chastened by Thee, and that I am able to stand the chastizement and still give glory to God. I pray thee, O God, to comfort my family through these trying circimstances, and to provide for their necessary wants, and to keep them from sickness and death, and to keep them from the temptation of this wicked world, until such time as I may be enabled to return to them.
13 Feb 1884: Breaking camp. We started down the cannon, having a big hill to go down the first thing. The ground being froze, and a light snow, sometimes our horses was on their feet, and some times us, but the most of the time, neither, and some time we made better time than a boy with his sled. Our pack horse turned two hand springs but a last we arrived at the bottom with no other accident than the sheding of a little innocent blood. Thanking God for our success we again took up the trail. After going about 12 miles, we were startled by the sound of what we supposed to be a blast and being in a deep cannon the echo was terifick, and before the sound had died away there was three more in quick succession. We do not know of any one within 20 miles of us. Consequently are all a loss to account for the disturbence, and more so, as there is no game in the county. Going about three miles further, we again pitched our camp, but grass is so scarce that we cannot hold it down more than a couple of days.
14 Feb 1884: Have been about half sick today with a sore throat and headache, but feel better this evening. But I have prospected all day. For my trouble, I had my pains sleeping cold last night. My boy has built us a house today. Nothing today to excite or make us afraid.
15 Feb 1884: The best of plans fail. When we got up this morning it was snowing, and snowed until noon, when concluding that it was impossible to do anything more there at present, we packed up and started down the gulch, but before we started, it begin to snow again, and snowed on us for ten miles when we again pitched our camp for the night, and now it is still snowing, and has made about an inch since we arrived. This weather makes me wich was at home.  i wonder how they all are tonight. God bless them.
16 Feb 1884: It snowed until day light this morning and....all day. Breaking camp, we pursued our jorney after going about 12 miles, when my poney's feet came from under her, and we both struck the ground. No one hurt. After going five miles, we again fell, and roled into the creek on her back, and it being quick sand it come very near being her last role, but again we are on the trail. Now thinking my self secure, I cut some tobaco for a smoke, when all at once found my self on my back in the snow, and did not hunt for the tobaco. The reason was a piece of hard water in the trail, nicely secreted in the snow. Without loos of time, we again took the trail, and pitched our camp in an indian hut, without further accident, having made about 20 miles. Grass very poor.
17 Feb 1884: After breakfast we started to climb out of the cannon. It is a hard road, and is 5 miles long. Before we got to the top my sadle horse gave out, and I had to put my saddle on the pack horse. By so doing, I made it to the top of the hill, but could get her no farther. And there is the snow from one to three feet deep, I left her to brouse on pine and cedar trees. God protect her for it is blooing and snowing like feathers in the wind. Then wending our way accross hill and dale for about 5 miles, we again camped in an indian hut (for which this country abounds) and were visited by a couple of natives and told us we could have a sheep, by going to their camp. also that they had an extry hut that we might use.
18 Feb 1884: Of all dissagreeable days, this has been the worst. Blowing and snowing so you could not see a hundred yds, only at times. But the sun has set clear and we hope for a better day. We got a sheep today. The Lord will provide for his own.
19 Feb 1884: We have had to move out of our hut, for the owner wants it. So we have repaired an other. Tomorrow my boy goes after grub, while I have to lay here on account of my horse. However, we have got information that we think will give us the mine inside of the next 2 weeks. We pray God that it may be so.
20 Feb 1884: This has been a long day. My boy went for grub today and will be gone 4 or 5 days. I do not know what I shall do if all days are as long as this. If I could spend them with my family. I would be happy, but the hope of soon being able to see them is a great cumfet to God bless them untill that time, and may He hasten that time is my constant prair.
21 Feb 1884: The same as yesterday, only a little more so, and ecept these days be shortened, there will be one more subject for the assilum, but for my sake, they must be shortened. The Bible is my friend.
22 Feb 1884: And still nothing to excite anyone. My neighbors are all quiet, but nearly beg me to death, and keep me buisy to watch what little stuf I have which is 5 facakes, about 1 lb dried apples, and 3 lbs beans, but plenty of meat.
23 Feb 1884: This being four days, I thought my boy would have been back sundown, and he is not here. But I shall look for him tomorrow verry strong. I have scarcely left my hut today, having had an overdose of company and it is tedious. My house being so low that I cannot stand up in But with the setting sun, the female portion have dispursed.
24 Feb 1884: Noon. This is the 5th day since my boy left, and has not returned, and I am worried nearly to deth. This morning there was five men from Colerado fast looking for the mine and, if our information is corect, every man is danger to us. And here I am tied hand and foot and cannot move. What can keep my boy, I can't see? Night, and no boy, so I had to buy some corn. So it is parched corn again.
25 Feb 1884: It is six months since I left home, and I am not there as I agreed. I gave an indian $100 to hunt up my horse today. If the boy is not here tonight, I shall leave here tomorrow and try the cannon alone. Later herd from my horse, and it is dead. The men that went down have done to our gulch. The boy has not come, and I am boiling corn for supper. Can things get any worse? And my neighbors have all moved away. Bad company, I find, beats none, finely. I am alone, fifty miles from any where, afoot without grub, without money, and could not use it if I had it, but I have my reason and my health for which I think my God. It calls to mind the song ~what shall I do, where shall I go, O shall I ever get home'. But my trust in God is strong and I pray that he will aid me in some shape. How I would like to hear from my family, and to know that they are well.
26 Feb 1884: It is dark, and I write a little after breakfast. I took a walk, came back to camp, read a few chapters in the Bible, played a few games of solitery, eat my lunch of boiled corn and meat, then took another walk. Came back, read a little more, plaid another game of solitery, got my nights wood, got supper, and no boy yet, and not much chance, for it is snowing and blowing a heracain, and I have not eaven said a cuss word. I believe I am learning to have the patients of Jobe.
27 Feb 1884: It being a verry cold day, I will devote a short time to the history of the Navaho Tribe. They live verry much as other indians, their producion being horses, cattle, sheep and corn. They are an infidelic sort of people. they have no God, but think there is a devil. They think that their ancesters was the wolf. They have no modesty. They talk of sexual intercorse among the old and young, but seem to have a great deal of virtue. Their girls are all sold. The price rateing from one to two horses. and if they have been used sexuly, they are worth nothing. so this accounts for the virtue. They live on corn and mutton, and they waste nothing but the bond. their clothes concist of a six bits suit of calico, and generly ornimented with a string of corral beads, from three to nine times round the nect, costing from one to hour horses.  Their saddles and bridals are ornimented with silver, to a great amount, sometimes as high as fifty dollars. They are very nice workmen in silver and the squass make very nice blankets. They do not count their work worth anything.  They will bring you a sheep ten miles for the same price that you can get it by going after it, but they will eat a snake, and you can give them as much as they can carry, then ask them to bring wood or water, and they will want to know what you will give me. this is a very good account of them. It is 11 o'clock, and no boy. If he does not come to day, and the Lord willing, I shall take a blanket and a piece of sheep and start out and see whether a man, a foot, can find a mine, for this suspence is intollarable.  Night, and no boy. I feel as if I could almost fly to have the mine almost in my grasp and let it go, and afoot in the bargain. My feelings at this moment no human tongue can tell. My punishment is greater than I can bare. Some angell direct me to where I shall go. How is my babies tonight, and when shall I see them?
28 Feb 1884: I have herd it said not a cloud to be seen, but this morning there is nothing to be seen but clouds, so I shall stay in my quarters. For a bird in the hand is worth two in the bush, as I have learned from said experience. After dark, and no releif. What can be the matter? I cannot stand this any longer. Tomorrow I must do something. I seams like all hell was striving to get me under. This is nine days since my boy left, and was to have been back in 4 or 5 days. This is worse and worse, or as the Dutchman says, gets no better very fast. I have about 2 lbs. of corn, and 3 of mutton, and then what? Faith without works is dead.
1 Mar 1884: Haveing a dream last night that my boy would be here at noon, Sunday, and that being tomorrow, it was impressed so on my mind, that I did not go. So I prayed to God to strenthen me and cause something to draw my attention. So having some buckskin, I cut off my exaderrous (that is the leathers) off my sirups, and made me a pair of mockasens. So now if I had a gea string, I would be a very good Navajo. I have felt perfectly contented all day. That is, as far as a man could be, as far away from his family as I am, and under such circumstances as I am. About one hour after dark my boy came. His father having gone to the railroad for  grub, so he had to wait for him. He brought me two letters. My family are well, but the death of my youngest brother hit me a terable blow, and brings to my mind that life is uncertain. I pray God that I may so live that I may be readdy for that journey when the time comes.
2 Mar 1884:  Breaking camp. And traveled 22 miles, and arrived in camp with my legs nearly walked off, for I am afoot now. Bought a sheep and 50 lbs corn, and after going about 12 miles, we arived at our cannon. Emagain our feelings when we found it to be about two hundred yds long. Balked again. What to do I donot know.
4 Mar 1884: Has rained all day, as well as half the night last night. But I have prospected a little, and made the first location in one hundred and three days prospecting, and the first ore I have seen in that time. If all is well tomorrow, we go ten miles above, and back, and then for home.
5 Mar 1884: I am the tireds in boddy and mind that I ever was in. Boddy from walking, in mind, for we got off on the rong track, and now we know not what to do. Without the help of God this trip is lost. O that I was a Godly man, I might expect a repreive. But I should not complain. I have my health, and for that I think God. Perhaps in time my prairs may be answerd. If I new how my family were to night, I would not care.
6 Mar 1884: We layed abed to day till about noon, not feeling like moveing, but have worked hard this afternoon, and have accomplished nothing. It is the queerist thing I ever say, but such perseverience as our, most have its reward.
7 Mar 1884: I have herd of March winds and April showers, but this is the sixth day that is has rained, and blowed, and it begins to get old. More especily as we don't find the mine. I am at a loos to know where it can be.
8 Mar 1884: I believe that I have almost lost my grip. I have hardily been able to walk to day on account of a lame knee. I guess it is rhumitism, but the weather has at last settled, and I hope it will pas away. No mine yet, and we have got to go put again for grub. If all is well, we will go day after tomorrow. God forgive us for our thoughts, but it is hard to acknowlage His hand in all things.
9 Mar 1884: The time has come that we have to return, for we have about enough flour to do us in, and nothing else, and have not found the mine. This is enough to break the heart of a stone. To be afoot, with out grub, without money, lame, three hundred miles from home, and it so cloudy that you can't see a star. The wind I won't mention. God help me for I can't help my self. I hope my babies and wife are all well to night, and am glad they donot know my condition.
10 Mar 1884: We have made 25 miles, and it snowed half of the way so you could not see a hundred yrds. And is a verry cold night, to say nothing of haveing to sleep in wet blankets. We left all of our things, so if we never go back there, we cannot have the use of them again.
11 Mar 1884: Moved about 7 miles, and stoped for meat and to try to learn something more of the mine.
12 Mar 1884: I am getting to be quite a pedestrain. We have made 40 miles do day, and we walked 25 miles, ariveing at Blue Cannon, about tired out. But finding all well and getting a good supper, we feel better. This being 40 days without seeing a white man.
13 Mar 1884: I find that my other horse is dead, so I am afoot, and to save my sole I cannot see my way out. My leg is still lame. I have rested all day. Tomorrow I shall write to my wife and babies. I hope they are all well.
14 Mar 1884: Tomorrow, I loose my boy as he goes to Defiance, to clerk in a store. so I will have to make my next trip alone. I also get to send a letter to my family. My knee is still verry lame. I begin to be alarmed for fear it may be a white swelling, but hope for the best.
15 Mar 1884: Have done nothing to day except patch shirts and overalls, but it has rained this afternoon. O' how I would love to see my family to night, but is is not to be.
16 Mar 1884: I have turned out to be a talor if it has been Sunday. I have cut out a vest from an old coat, and made You may think it an easy job. It may be for any one that is used to such work, but I have sworn that the next one I make, I will have my wife to do. But if it is not verry nice I am verry proud of it, for poverty is the mother of invention, and idleness breeds discontent.
17 Mar 1884: Has past off without any excitement. I made 4 stools, mended a pr overalls, and wore the day out.
18 Mar 1884: This day has been a long one, for only 12 hours, that is to one of Gods creation. I hope that I may have some change, and that before long. I am verry ancious to make another trip and this, with the will of God, will be my last, for if this mine is no account then I must leave here.
19 Mar 1884: Parched and ground some corn to make bread for one more trip. And if I have no bad luck, it will be a short one. we hierd a horse of an indian, and it is to be here tomorrow. If it comes I shall start forthwith, and think I shall be gone 6 or 7 days.
20 Mar 1884: Got the indian horse and started again to look for the mine, and thought I should go alone, but the indian went along for fear steal his horse, and as we had hierd the horse to go after our things we had left. It makes it bad, for they would not let us have a horse to look for the mine. We made 12 miles.
21 Mar 1884: After getting a late start we made 30 miles without an accident.
22 Mar 1884: Breaking camp. We took up the trail and made 30 miles more. It storming all the way. Ariveing at my cash, camped for the night.
23 Mar 1884: I went to where I understood the indian to say the mine was, but it was not there. Again I am foiled.   What to do, I do not know. Without money, horse, grub, or work, 300 hundred miles from home, depending on my friends, for they have been friends to me.
24 Mar 1884: Done what I could to day, which is not verry much. This is my wifes birthday. I prayed God that her and the children are all well.
25 Mar 1884: As I promised to be back in seven days. I must start to day. To say nothing of not haveing grub. Made 30 miles in good order.
26 Mar 1884: Of all days, this has been it. We made 30 miles faceing a nice gentle March wind, and in five minutes after we made camp it began to snow. We thanked God for a wigwam and a squaw to cook our supper, of which, after partakeing we laid down to take our rest.
27 Mar 1884: My stomache is getting better, as I can eat breakfast on one side of the fire, while a squaw eates lice on the other. I made Blue Cannon. Find all well, but Williams not back and folks without grub. Jest enough for supper. This makes seven monthes from home, and not a dollar nor a horse. How are they to night, what must they think of me. I hope not to bad.
28 Mar 1884: This has been a day of starve out, but coffee plenty. As far as I am concerned, I do not care, but Mrs. Williams and her daughter of nine years, for them I feel verry sorry. But her son got a horse of an indian and has gone to meet his father.
29 Mar 1884: Snow is 4 inches dep this morning, and continues snowing up to this 9 o'clodk p.m. But after coffee, we all are in good spirits, Relief came about 4 o'clock a.m. in the shape of a sack of corn, and a good mutton. After eating supper I weighted 171 lbs, so I have not lost much flesh.
30 Mar 1884: Williams has not come yet, and I begin to feel uneasy as the indians tell us that the little Colorado is If he does not come to day I shall get a horse tomorrow, and go and see what has become of him. Have tried all day to get a horse, but cannot get one. I would give a goodeal to know hwat he is doing, and what the end of all this will be. How is my family to night? I pray God they are all well. O that I was with them.
31 Mar 1884: This is the last day of March, and a snowey one (that is one month). Tomorrow is all fools day. I wonder how badly I will be fooled. If much worse than I have been, for the last seven months, it will be pretty bad for it has been nothing but  disappointment for that length of time. The hierd man started out afoot this morning to see if he could see anything of Williams, and has not returned at dark. This is verry hard liveing for Mrss. W, and more so as she is not well. Still she does not complain, but prays to God continuly for his well fare.
1 Apr 1884: All Fools Day has come at last & past off without any excitement, father than the return of the hierd man, but no sign of the wanderer. But we hear the river is verry high. A little milk added to our corn & meat is verry good, but I am verry poor in purse, but weigh 172 lbs. this morning. I think if I had some good grub I might recruit up a little.
2 Apr 1884: Williams has not come & this suspence is fearful. We grind corn night & morning. Mrss W. is sick with the sore throat this evening. I have sworn off smokeing today. My God help me to succeed.
3 Apr 1884: This is 20 days since W went & no sign. What can possible be the matter? I cannot tell & I cannot hire a horse, or I would go and see if I could find him. If ever a man was in a bad fix, I am he & how to loose my self I cannot tell.
4 Apr 1884: I expect I shall starve, for I only weigh 174 lbs this morning. No Williams yet.
5 Apr 1884: Herd W was coming & went to meet him. Met him 20 miles away & sent him on home & staid with the team.
6 Apr 1884: Made 15 miles which ended this trip of 22 days duration. I suppose tomorrow I will find what I shall do.
7 Apr 1884: I shall have to wait a few days & see if I can buy a horse, or trade for one, & then I will try the mountain again. O, how I wish I could find this mine & return to my loved ones. I feel some times like I could fly. I never was in such a fix in my life & I pray God to relieve me. If I could have one word of incouragement from my wife, but no, my letters have been forgot & I not herd from her since Feb 12. Imagain my fellings. I believe I am getting childish. I told her when I left, that when I come back, that I hoped to be able to stay there. I wonder if she ever things of what I said, or pities my grief. My girl cried, and did not want me to go away to stay. Would I had not come away. I wander this is not a book of my feelings, but of my daily doings. This being Sunday, I am clerking a little for the indians, but my thoughts are far away.
8 Apr 1884: Have helped make a few dobies, and helped work on the store. I expect this will last so long that I will get tired of it and leave.
9 Apr 1884: Have worked hard today makeing dobies. I tell you this is getting old. I must have a change soon.
10 Apr 1884: It has rained off and on all day. I have bailed a few skins, and an indian has promised me a horse to use for a month, so, I guess, I will be able to start to again look for the mine in 3 or 4 days. How I wish I could spend those days with my family.
11 Apr 1884: Have had a change to day. Was hauling some logs and had a long leaver in the break going down a steep pitch. I was tending break, and when about half way down the leaver broke. I decended verry quickly and lit on my head, catching my legs in the rope. Was drug about 15 feet before the team was stoped, but received no harm except a sprained hand and a stiff neck.
12 Apr 1884: This has been a verry cold and windy day. My hand has been verry lame so I have rested all day. It is 8 o.c., and it is raining and blowing a jimecain.
13 Apr 1884: Have hauled wood and logs to day, and this evening 3 of the Mormons from Moencopy, and they are haveing an argument petraining to the gospel while I write. O, that I could return to my family, and live according to my belief. But the will of God be done and not mine. My he give me strength to bear my daily cross.
14 Apr 1884: W has at last got reddy to go to Winslow and I can send a letter home. And I hope will get me letters from there. God bless them, and keep them from sickness, and death, and provide for their neccisary wants untill my return is my continual prair.
15 Apr 1884: After a hard days work we got our load to the top of the hill a mile away.
16 Apr 1884: At daylight it is raining. This is disagreeble and more so as W cannot get away while it lasts.
17 Apr 1884: W started this evening. I went with him 7 miles.
18 Apr 1884: After getting W started I returned to Blue Cannon and becides that , I have got the blues.
19 Apr 1884: Patched shirts and overalls useing the whole day.
20 Apr 1884: This being Sunday, have done nothing and it don't look like I ever would.
21 Apr 1884: This afternoon I started to Moencopy, and went about half way. Camping with some indians.
22 Apr 1884: Arived at my destnation about 11 o'clock.  Find people all well. Stoped at Duffins. They have a little boy the same age of my little fellows, and this makes me more homesick than ever. I would give one year of my life, as peresious as it is, if I could spend a few days with my family. It would be some comfert if I knew they were all well tonight.
23 Apr 1884: Returned today and as I write, my thoughts are of the loved ones at homme. Those happy hours, I'll nere forget that you and I have spent together. May God watch over them untill my return is my continual prair.
24 Apr 1884: Have worked a little at garden to day.
25 Apr 1884: This day is 8 months since I left home. A kingdom for one glance at that loved place. This has been a most disagreeable day with wind and dust and loneliness.  I am a fit subject for the assilam, but my trust in God is strong, and I am deturmend to fullfill his will haveing his spirit to guide me.
26 Apr 1884: I have done nothing good today, nor anything bad so the world goes. BE it ever so humble there is no place like home.
27 Apr 1884: This being Sunday, and verry windy, we staid in the house, and devoted our time in reading the Bible, which caused an argument, of which I took the Mormons against the orthadox world and concider that I have the best of the argument.
28 Apr 1884: Another windy day. This only makes my sojourn here almost unbearable, altho the people here are verry kind. Yet, there is no place like home. O, if I only knew that my family were all well, it would be a great releif to my mind. God bless them.
29 Apr 1884: I am about the most no account man I know of.  Got to get up. Wont work. Can't go any where, for I am afoot. I guess Mrss. W will be glad when I leave, for I feel as though I was getting cumbersom.
30 Apr 1884: This is the last day of April, and still I am in the same position. But hope sees a star.
1 May 1884: This has been a nice day. This is for young ducks. For it has rained off and on all day. Got a letter from W to day. He will be here in three days, if no bad luck. Then for letter from home. I can hardily wait.
2 May 1884: Still the same from day to day. O, for a little change. But I pray God it will not be for the worse.
3 May 1884: Today we look for W, and then for my mail, and then for the mountains.
4 May 1884: No W yet. I cannot express my feelings, but have vowed that I will acknowlage the hand of the Lord in all things and serve him to the best of my ability, for which I have faith that he will aid me in my labor, so that I may be able to return to my family and to protect them from harm in my abcence.
5 May 1884: No W yet, and laziness has set in.
6 May 1884: All the same. If all work and no play makes Jack a dull boy, what will all play do?
7 May 1884: And yet no change, and no word of W.
8 May 1884: What has become of him? I don't know, and I will not try to judge. Some report. No change.
9 May 1884: And still the same.
10 May 1884: I could nearly sware.
11 May 1884: His boy has gone to see what is the matter.
12 May 1884: We have heard from W to day, but has not come up to dark.
13 May 1884: W arived at nine last night and brough me 3 letters, for which I am verry thinkfull. My loved ones are all well, but I hear news of which I am not verry well pleased. He that knowith all things will judge those wicked persons in that day, but thank God, I am inocent of such a charge, and I hope my wife will think so. I have not seen but one woman in eight months and her an old ladie with a husband and 4 children, except going to Morencopy twice on business dureing that time.
14 May 1884: I think I shall know what I am going to do. I will put my trust in him that will judge the quick and the dead. My Bible says it must need be that offences come, but woe unto him by whom they come.
15 May 1884: Been buisy takeing in wool and pelts.
16 May 1884: Sacking wool and bailing pelts has been the order of the day. I have not been very well. The pluricy has pained me a great deal of late.
17 May 1884: Well, things have come to an issue. W says he cannot help me under three months. What shall I do? I will not steal. To beg, I am ashamed. To starve I won't.  God helps them that help themselves. I will pray to him to night to strengthen and direct my food steps. I have written ot my wife today but can't tell her of my condition. God knows her lot is hard with out shareing my troubles illy. Have I cared for them? God, help me to become worthy of their trust.
18 May 1884: Worked on road all day, not standing, it was Sunday.
19 May 1884: Again all day on the road and got it in the evening. A mormon from Morencopy arived to haul freight to Winslow.
20 May 1884: They start today and can send a letter to my family. May it find them all well. God bless them.
21 May 1884: Got the loads to the top of the hill, but lost some horses and did not get off.
22 May 1884: Got off at noon. Mr. Duffin has a horse at the Oriba Village he says I may use, so I shall go after it.
23 May 1884: Went after the horse, but did not find it, so went up to the tower. Found one indian that could talk and he wanted to know where his father, Bill Maxwell, was. He said all of th family and named them over, Jacob Hamblin and was much pleased when he found I knew them. He said him name was Li. I did not get the horse. It seemes as though I never would get away from here. Her is hundreds of horses running around, and I can't get one. If I ever was tempted to steal it is about now.
24 May 1884: At Blue Cannon again. The indians have promised to bring her in (that is my horse) in 2 or 3 days.
25 May 1884: This is my birthday, 32 years old, and I think less of myself today than I ever did in my life. From this day forth, I am resolved to be a better man, with the help of God. O, that I could see my family to day, it would make me the happiest man alive.
26 May 1884: It seams as though there never would any thing turn up and I guess that never will, unless I turn it up, but how to comence I don't know.
27 May 1884: I have found no way yet, but I must, or I shall die for I am worried nearly to death, God help me, that I may show you my thanks. I took a nap after dinner, and dreamed I was with my wife. She had but one child with her. I thought she went with me to meet my mail. I have sent to her, her and the children, likenesses and I expect them this mail. I thought we went along till we met it. I got three letters and one had 3 likenesses in it, but when I opened it one likeness was my mother carrieing my oldest brother in her arms. Another was my youngest bro, but one, and he would make faces and role his eyes and I remarked that he was crazy. The other one I did not see, nor get to read the letters, but I wondered why I did not get any letters or likenesses from my wife. I thought I wept at thei trouble and disapointment that came upon me. I awoke and dozed again. I dreamed I wanted to put my horses in a field that was fenced part with wire and part with 2 inch plank and the only way to get in was to cut the wire or break the plank. One I must do, but before I decided I awoke and found it was all a dream. I have dreamed twice before of my oldest brother. Has it a meaning? Both times he was sick.
28 May 1884: To day Mr. Gardiner, formerly of Mowencopy, came today. After telling him of looseing my horses, he said he had a horse I might have, but it is down where his mines are. He says if I will go with him there, I can have the horse and he will give me an 8 interest in a mine, if I will take it. If not he will be back in about 15 days and will bring the horse. If I can get a horse, I shall go.
29 May 1884: Have got no horse yet. Mr. Gardiner went to Mowencopy to day, and will wate for me till Monday. this being Thursday, I have some hopes.
30 May 1884: Went again to Ariba to look for my horse.
31 May 1884: Hunted the range over, but found nothing. All of the Indians wanting four dolls (dollars) to get the horse, and with no money it leaves me flat.
1 Jun 1884: Another month, and I feel like I could fly.  the time is past that I was to meet Gardiner, so I have nothing to do but await the time for him to bring me the horse which, will be about 15 days. The prairs of the wicked availeth little, but if my family are well, I do not care. We look for Wm today, or tomorrow, and then I guess, I will get some letters and, I hope, some likenesses from the loved ones.
2 Jun 1884: At Blue Cannon. Arived late last night. It is stormey this p.m. The day wore away without any thing of note. at dark Mrss w. little girl was taken sick with a high fever.
3 Jun 1884: She past a bad night and is not much better this P.M. This afaternoon I had to put an indian out, which nearly caused a row, but did not.
4 Jun 1884: The girl is better to day. O, the days ware away slow. Toungue cannot tell how bad I want to see my family, nor what I would give to be there. It almost makes me sick to think of it.
5 Jun 1884: I, what shall I write? The days are all alike.  If W does not come soon I shall loose what little sence I have left, and that is not much.
6 Jun 1884: There has (1500) hundred lbs of wool left here to day because ther is no goods nor grub. If at W don't do better he will loose his trade. We hope he will be here today.
7 Jun 1884: Have heard that W will be here tomorrow. I pray God he may and that I may hear that my folks are all well. We have taken in 30 dollars worth of wool this morning. Latter, W has come. Brought me a letter from home & best of all it had the likenesses of all of my family & they are all well.
8 Jun 1884: I have sacked wool all day and am verry tired.  W wants to start back in 2 days & I want to start the next. I dare not whisper where.
9 Jun 1884: Again sacking wool.
10 Jun 1884: W got away to day. His wife went with him.  He had to haul his load up the hill at two loads. When he arived with the last, the indians had stolen one sack weighing 325#. No trace of the cupret.
11 Jun 1884: Rained all night, but is fair this morning.  Haveing got one of my eyes hurt, I have confined myself to the house all day.
12 Jun 1884: Started to Mowencopy. Arived here at 4 o'clock. Found all well. Attended Ward prair. Haveing an invitation to attend an indian dance tomorrow night I excepted.
13 Jun 1884: Attended the dance. There was about 200 indians present. Staid till midnight, enjoying our selves verry well.
14 Jun 1884: The man failing to bring me the horse I started on my return to Blue Cannon. Going half way camped with some indians. It looks as though I never would get home. I wonder how my loved ones are tonight. How I would love to see them.
15 Jun 1884: Arived at my destination. Found everything all right, but I feel verry low in spirit. Which way to turn I don't know. I pray God to direct me. I am homesick; if you know what that is you will pitty me.
16 Jun 1884: Today I have worked hard. Washed all of my bed & clothes to get rid of those little bugs they call gray backs, as they were about to distroy me. Also baked enough bread for 4 days. I am going to try & go home, but do not tell for fear I cannot get off.
20 Jun 1884: After haveing been verry sick for 4 days & being some better, I again resume my journal. I did not know whether I should make a die of it or not, but the fever has left me & I think I am all rite.
21 Jun 1884: I am still on the mend. We look for W and wife to night.
26 Jun 1884: I have not ben able to write since the 21, but am a little better to day, but far from well & the last letters I got does not help me any. I feel to cry in my anguish. O God, have mercy on me. He has said the river of sorrow shall not the ore flow. If he will preserve my family I will not complain.
27 Jun 1884: I am no worse & no better. My punishment is as much as I can bear without some unforeseen thing occurs. I shall die without seeing my family. A nice thing to contemplate.
28 Jun 1884: Am some better today & think I will soon be able to travail. W started for Winslow to day. Sent a little, but want to beat it home.
29 Jun 1884: I am still getting stronger. This is the warmest day I have seen. My hopes are great, my fears are pain & ere I write my book again, I think that I shall know my fate & when I return to my estate.
30 Jun 1884: I have started for home, but I have got a little horse, and am not verry well, so shall travail with W to Winslow.
1 Jul 1884: Roads verry heavy & progress slow.
2 Jul 1884: Still, I am drawing a little nearer home. I expect to get to Winslow in two days more.
3 Jul 1884: Made 20 miles to day.
4 Jul 1884: Camped 15 miles from Winslow.
5 Jul 1884: After setting two tire, we arived at our destination at six o'clock, but could not unload.
6 Jul 1884: Being Sunday, done nothing.
7 Jul 1884: Unloaded. It did not rain, but the whole country is swimming. Got some letters from home, and want to get there worse then ever.
8 Jul 1884: I have started home in earnest. Mr. Tanner, from Beaver, accompanies me to see the country. We made as far as St. Joseph, stoping with a bro of his. It will take us 8 or 9 days to go though, which seams an age before I shall see them that are so dear to me.
9 Jul 1884: Camped at Woodruf. Met Ples Williams & a few other acquantences.
10 Jul 1884: Camped at my old ranch on the Colerado, now owned by Nat Greer. He is very comfertably fixed. He has 2 boys aged 3 years & 1.
11 Jul 1884: Traded horses this morning & travailed to the meaddows. Find all well & glad to see me. It makes me want to get home worse then ever. I pray God my family are all well. We went to a social. They started a game called obin under the blanket, which I can show better than discribe.
12 Jul 1884: After stoping at St. John & seeing the sights, we camped 8 miles above on the creek.
13 Jul 1884: Leaveing camp, we made our way to Round Valley, takeing dinner with bishop eager. After dinner we pursued our way to Nutraosa, stoping overnight with Wm Lun, an old acquaintence.
14 Jul 1884: Made our way to Luna Valley. Staid overnight with Wm Brown.
15 Jul 1884: After a hard days ride, we camped on Salese Creek. Thank God tomorrow, if it is his will, I will see my loved ones. I wonder if they are thinkeing of me now.  This will be a long night.