Rebecca Alvrean LEMMON
wife of Edward Warren Allred
Allred Lineage:   Edward Warren, John Jones, William, William, Thomas, Solomon born 1680 England
Born: 09/14/1872 Northup, Kane Co., UT
Died: 06/02/1945
Submitted by: Sharon Allred Jessop 06/28/2002
Written by her son Angus Allred August 1, 1937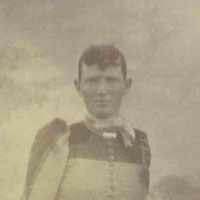 Rebecca Alvrean Lemmon Allred was born 14 September 1872 at Northup, Kane County, Utah, and was the third child of James Abbot Lemmon and Olavia Dorthea Nielsen. She was of a large, robust stature, and since there were on boys in her immediate family, she played the part of a boy, by helping her father in the field. She harbors a loving memory of that parent who died when she was only nine years of age. She lived with her parents at Northup and walked from there to Rockville to school for three winters, after which she was forced to discontinue because her mother, after her father's death, had married another man who had squandered the small estate left by her father and because of this fact her schooling, with that of the other children of the family, was neglected due to the requirement that parents buy the school supplies for their children and help to pay the teacher's salary.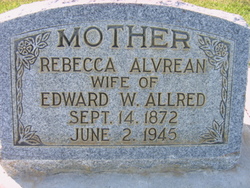 Alvrean, with her husband, has always been an ardent supporter of the education of her children. She often expresses regrets to have received so little in her day, yet its absence, (which sometimes tends to harden the nature of the receiver), has left her genial nature to radiate naturally to all those who are associated with her, for she is known be her kind and generous disposition. She has been a perfect wife to her husband, and a devoted mother to her children. Like her mother, she keeps a clean, tidy home and surroundings; not only has she done this well, but she has often assisted with the work in the field and has always managed a portion of the chores about the farmstead.
She has always been shy of exposing her talents, but on rare occasions she would use one in which she was naturally gifted, that of composing poetry. Following is a quotation from one she composed for one of her children to be used at the lower-grades closing day exercises at school:
Our school work now is through at last!
We've put our heads and hands to work
And done our very best.
Our teachers have been good and kind
When attention we have paid
And now, I hope that we at last
Have made another grade.
One of her special talents in which she was very much interested was that of quilt designing and finishing. She served as head of the quilt department of the Lovell West Ward Relief Society for some time.
On October 1, 1889 she married Edward Warren Allred in the Saint George Temple. To them, nine children have been born: four boys and five girls, all of whom are living today. This couple also number in their posterity forty living grand-children and one living great grand child. Alvrean lived at Northup, Utah until her marriage, after which she, with her husband and family, lived at various places in Southern Utah where they farmed and did various sundry labor for a livelihood. These places were: Northup, Hatch, and Springdale. From Springdale they moved to Lovell, Big Horn County, Wyoming, arriving June 27, 1902. They took up a homestead and bought land in connection, on the banks of the Shoshone River, four miles southwest of the town of Lovell. Most of the writings of this biography have happened at this last mentioned place.
A while after Alvrean's husband bought his first car, a Model T Ford, she felt confident that she could drive it, so one day as she neared home from a trip to town, she took control of the vehicle and proceeded commendably well until she approached a sharp turn which she would have to make after crossing through a ditch. In her attempt to meet both demands on her attention she became excited and turned the car the wrong way, whereupon it came to a sudden dead standstill, have butted snugly up against a tree.
A rare moment when good nature deserted her occurred just a short while after her husband had purchased a small band of sheep. These sheep were locked in a corral through which Alvrean had to pass, in gathering eggs. As she paused to unloose the gate latch, she turned to see a rather disreputable buck sheep following closely behind making ready to butt her. Without losing a moment she seized the sheep by the horns and attempted to lead him to a club with which to pummel him. Not being successful, she felt that she should not let the creature go without rendering some sort of inhuman punishment upon him, so she drew back her fist and with great force let it land squarely between his eyes. The buck suffered no nervous shock nor skull fracture, but Alvrean found her hand a bit useless for some time.
During her life time, she served as a Relief Society visiting teacher for thirty-eight years. Part of this time she served at Hatch and Springdale, Utah; the remaining majority was rendered at Lovell, Wyoming. For ten years she was head teacher for the rural district of the Lovell West Ward Relief Society, having been presented with an occasional-table by the organization as a compliment to her unfailing efforts. She was a second counselor in the Relief Society at Springdale, Utah, and for three years she worked as second counselor to Katherine A. Monour in the Foster Primary which was a branch of the Lovell West Ward Primary, located on the Lovell bench three and one half miles south of town.
She has always been a regular attendant at church services and has urged the same, together with participation in church organizations, with each of her children. She with the help of her husband has kept a good home life for them, for the old home still holds a nucleus about which their posterity love to form. It is said of them by some observers that their married life is one of ideal congeniality. She confirms this observation by a statement she makes spontaneously, wherein she discloses >that she wishes to live after her husband so as to be able to give him her personal care through any affliction of old age.
Certainly, her part in carrying on deeds as have been mentioned in this text, is worth of emulation.
(This biography taken from The Legacy of Edward Warren Allred a Descendant of William Allred