Nancy Susan MILES
wife of William Alma Allred
Allred Lineage:  William Alma, Wiley Payne, James, William, Thomas, Solomon born 1680 England
Born: 08/22/1871 Ball Ground, Cherokee Co., GA
Died: 01/17/1960
Submitted by: Sharon Allred Jessop 05/06/1999
I was born on the 22nd day of August 1871. In the town of Ball Ground, Cherokee County, Georgia. My Fathers name was John Westley Miles and My Mothers name was Mary Jane Swinford. My Father was the son of William Manning Miles and Nancy Marada Jordan. He was born in Mount Croghan, Chesterfield County South Carolina on the ___ day of December 1844. My Mother was the daughter of Rueben Swinford and Sarah Hughes. She was born on the 14th day of September 1840 at Ball Ground, Cherokee County, Georgia. As a Lad of 18 years of age my Father left home and went into the Southern Army in the Civil War. After the war was over, he met and married my Mother in Georgia. I had two Sisters older than myself. Martha Artissmissia who was born on the 11th day of May 1864 at Ball Ground, Cherokee County, Georgia. The next child born in my family was Sarah Elizabeth.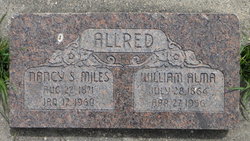 She was born on the 1st day of September 1868 at Ball Ground, Cherokee County, Georgia. My youngest Sister and the last of my family was born on the 14th day of April 1875 also at Ball Ground, Geogia. She was named Rebecca Jane Fidelia.
When I was 4 years of age we moved to the vicinity of Coleman, in the County of Randolph, Alabama. It was here that I spent my childhood working in the cotton fields. My first recollections of the Mormon Elders was encountered at Coleman. I remember the first baptism that I ever witnessed for it held for the man who married my oldest Sister Martha. The Elders names was William Humes, and a man whole last name was Rodgers. There was 3 of them and the one was a man names John Gibson. They were all from Utah. I was 6 years of age when this baptism took place. My Father was baptized in the fall of 1887. My Mother was baptized in 1882. After my Mother was baptized by Benjamin Bowen. My Sister Rebecca or Becky as we called her was baptized by William Woodbury, this was all done in Coleman. After we joined the Church a Sunday School was organized in Coleman. My Father furnished a home for over 40 missionaries from all parts of the country. They traveled in those days with out purse or script and some of the happiest memories in our young lives was in helping with the care of the missionaries. We surely enjoyed helping with the work.
After we were baptized members in the Church, Dad decided to emigrate to Utah. On the 6th day of September 1886, Dad took sick and died he was buried in Coleman. A conference was held on the 15th of September 1886, and our crops was still in the fields when Dad died. He died around conference time. Brother Morgan appointed 2 Elders, a Mr Rueben Warren Allred from Spring City, Utah and a Mr. Hibbert from Arizona to help Mother get the crops in so we could emigrate to Utah. Mother sold the crops which was not an easy task because of the enemies of the Church. They made the statement that they would not buy the crops. They thought it would prevent Mother form going to Utah. Mother sold 3 cows and 3 calves, the one being for 8 dollars. A young heifer was sold in the afternoon that we were to leave the next morning. Mother sold a wagon that Dad made by hand and a yoke of Oxen for 40 dollars. When we got ready to leave there was my Mother, my Sisters Becky and Sarah, or Sade as we called her, and myself who went to the depot to board the train for Utah. There was several people to see us off. Among them was a man who my Father had worked for, they yelled as the train was pulling out you will be back in 2 years. We left Coleman on Tuesday the 22nd of November 1886. We arrived in Salt Lake City the following Sunday night the 27th of November 1886, the snow was about 2 feet deep and we were dressed in straw hats and calico dresses. I remember my ride up through Salt Lake city in a Hack Wagon, as I rode on the drivers seat with the driver. I remember how cold that ride was. The next morning Brother Bowen bought us a hood to wear on our heads, but we still just had on our calico dresses when we left for Tooele. We left in a big white top buggy. We arrived at Tooele that night. Upon our arrival we stayed with Brother Bowens family for about 3 months, while at their home we all got the chicken pox, I was the last to get them.
We then moved from the Bowens home to the home of John Delmores where we occupied 2 rooms which were fixed rather nice. Rueben Warren Allred's Father came and got us on the 1st of June 1887. We then moved to Spring City, in Sanpete County , Utah. We lived with the Rueben Warren Allred family until September then we moved to ourselves. My Sister Sade met the man she married, Wm. Hackley Allred. 1858-1921 in June 1887. When we first arrived in Spring City. Sarah told my Mother that, "That was my guy the first time she ever saw him." This one day when he came to Rueben Allred's for something. A few days later Sarah, Hilda Zabrinshie and myself were all out in the road playing when he drove up the street in a 2 wheeled cart, and Hulda yelled at him to give us girls a ride which he did. He gave Hulda the first ride which was around the block, then he took me for the same ride. He then took my Sister, Sarah for a long ride and when they came back they were engaged to be married. They were married on the 19th of September 1887.
I met my husband on New Years Eve. I was on my way to Sarah's home. We were talking by the fence when William Alma Allred 1864-1956 and William E. Robinson came up the street.
I had never saw him before. I went over to Sarah's place. I was then introduced to him and he asked me to go to the New Years Eve dance with him. It was held in the adobe Church House which was located on the same block as the present Church House. The old Church House has been torn down. When he came for me that night he had another girl with him. Her name was Mary Zabrinskie. After the dance we took her home first then we spent the rest of the evening alone. After that evening he went back over to Castle Valley. We were married on the 28th of February 1890. Our marriage was solemnized in the Manti Temple, in Sanpete County, Utah on the 15th of November 1891. I left Spring City for Castle Valley or Emery County, Utah. In those days it was called Castle Valley. I spent 19 years of my married life in Castle Valley or Emery County. I came back to Spring City in July after I was married for the sole purpose of taking care of my sick Mother. She was married in May 1890 to a man named Crawford. I stayed until September with my Mother.
My youngest Sister Rebecca or Becky married, a man by the name of Charles Terkelsen. It was in September of 1890 that the railroad was built through Sanpete County, Will came back to Spring City, and got a job on the railroad and we moved to ourselves. My first child a girl was born on the 8th of January 1891 at Spring City, in Sanpete County, Utah. We named her Mary Jane Elizabeth. We stayed in Spring City until March of 1891, then we moved back to Castle Valley to a place called the Muddy Creek. It was located 3 miles North of the City of Emery. I spent 16 years at this place.
My second child a boy was born here on the 29th of March 1893. We named him Alma after his Father. The next 6 Children was born to us on the Muddy Creek. After Alma Their was:
3 rd Aaron born 9th of July 1895
4 th Rueben Swinforn born 10 th of March 1897
5 th Bessie born 28 th of January 1899
6 th Betsy born 27 th of March 1900
7 th Wilford "T" born 13 th of April 1903
8 th Marion Alonzo born 17 th of January 1905
9 th Dorothy Odessa born 8 th of June 1906
Incidents That Happened On The Muddy Creek
Our daughter Bessie took sick with a cold or flu on the 1st day of March and died on the 3 rd of March 1999. All the men which included my husband had left for Ferron to grind wheat for flour. The men made sure that my husband got his wheat ground first so he could get back to the sick ones at home. Our 6 th child Betsy came down with the old fashioned flu. We had been to the town of Emery for Church. It was a long trip in a wagon drawn with horses. Before we got back home the kids started coughing. Betsy was real sick for several days. My husband had gone to settle a debt for seed wheat. I sent my oldest son for the Bishop and one of his counselors, who was working on a bridge. The Bishop was one of my neighbors. My husband arrived home about the time the Bishop did. My husband was holding the baby at the time, when another neighbor, Frank Miller stopped by to see how the baby was. Frank asked for materials for a mustard poultice. My daughter Mary got it for him, he turned and looked at the baby and went home for his wife, by the time they got back she was dead. She died in her Fathers arms.
The 7th child Wilford "T" was cutting teeth and he came down with the mumps. My Sister-In-law came down to see us on Wednesday. She never stayed, she rushed back home and told Dad Allred, Wiley Payne how the baby was. He sent word back to have the babies gums lanced and if we could not get any one to do it he would come and do it. I sent for Frank Miller, he came and lanced the babies gums so the teeth would some through. They did come through but we had left them too long, with him having the mumps too. He died Sunday the 21st of February 1904. The 8 th child Marion Alonzo started to cry one night at 5 o'clock. I sent for the Elders to come and administer him. Frank Foote and Erastus Jacobsen came. They named and blessed him. Frank Foote stayed and helped me for a while. Marion never stopped crying he went into a convulsion the next day and died that afternoon around 5 o'clock. This was the 5 th of February 1905. He was not a year old. He was buried soon afterwards. The 9 th child Dorothy Odessa was a victim of whooping cough as there was quite an epidemic that spring, of babies that got whooping cough. It lasted 4 weeks. Twenty four hours before the babies would die, there would be a black streak run down their spines. They called it pneumonia. After an investigation it was decided that they had had Spinal Meningitis. There were 9 babies died that spring all the same way and within a 3 week period of time. The babies ranged in ages from 2 years to 2 months. Dorothy died on the 20 th of May 1907. These babies were originally buried on the Muddy Creek. Wesley another Son helped me to excavate the 4 bodies and they are all buried in one grave in the Emery City Cemetery, in Emery County, Utah.
We left the Muddy Creek in June soon after the death of Dorothy Odessa and moved to Orangeville, Emery County, Utah. It was here that our tenth child Wesley Jasper was born on the 18 th of April 1908. We named him in honor of Jasper Robertson a Bishop of Orangeville. He was a bishop for 26 years. We were still living at Orangeville, when our 11 th child was born on the 24 th of August 1911, we named her Dessie Ileen. While living in Orangeville our 12 th child and the last of our family was born on thee 8 th of December 1915, we named him Lyman Gerald. At the time of this writing 4 of my 12 children are still living they are: Mary, Westley, Ilean Gerald Or Jay as we call him. The other 8 children are dead.
We left Orangeville on the 4 th day of September 1934. Before we left our home in Orangeville, our eldest daughter Mary Jane Elizabeth met and married John Solomon Curtis on the 28 th of September 1910. They were married in the Temple at Manti, Sanpete County, Utah. He was the Son of Erastus Curtis and Joanna Price Fullmer. Alma the oldest Son married Ruth Emily Coates on the 27 th day of April 1920 at Moab, Grand County, Utah. She was the daughter of Asa Coates and Hilda Larsen. Aaron the third child married Rachael Lavona Gunderson on the 29th day of November 1922 at Salt Lake City, Salt Lake County, Utah. She was the daughter of Anthan Gunderson and Nancy Amanda Beckstead. Rueben Swinford the 4 th child married Hilda Wilcox December 15, 1932 at Moab, Grand County, Utah. She was the daughter of John Carlos Wilcox and Eliza Violet Westwood. Our 10 th child we named Wesley Jasper he was born 5 th of July 1908 at Orangeville, Emery County, Utah. He married Sarah Elizabeth Jensen, a daughter of Joseph E. Jensen and Estella Mirah Wilson, married on June 7 th, 1934 at Lawrence, Emery County, Utah. Our 11 th child we named Dessie Ilean was born 24 th August 1911 at Orangeville, Emery County, Utah. She married Wilford Mellor * February 1934 in the Manti Temple, in Sanpete County, Utah. He was the Son of Albert Melor and Clara Fensen. Lyman Gerald was our last child he was born 28 th of December 1915 in Orangeville, Emery County, Utah. He married Saralean Jensen 12 April 1934 in Orangeville, Emery County, Utah. A daughter of Oluf Jensen and Sarah White. This marriage was solemnized in the Manti Temple at Manti Sanpete County, Utah. On the 31st day of August 1939. I separated from my husband before Rueben Swinford was married about 1930. We made several trips to Emery and Spring City. After my husband and I separated I worked at odd jobs. I did washing, ironing, house cleaning, digging potatoes, cutting corn for silage, or any thing I could find to do, si I could feed and clothe myself and the children. I left Orangeville on the 4 th day of September 1934 and went back to Spring City to live. My three youngest children were all married within a 5 month period.
She passed away 17 January 1960 at the home of her daughter and husband. Mr. and Mrs. Wilford Mellor at 93 Buckley Avenue, Springville, Utah County, Utah. Funeral Services were held in the Spring City Chapel 21 January 1960 and she was buried beside her husband in the Mount Pleasant City, Cemetery, in Sanpete County, Utah. Her husband died 26 April 1956 at the home of the same daughter in Springville, Utah County, Utah. They left 29 Grandchildren with their partners. A total of 64 Grandchildren. There was 7 Grandchildren preceded them in death. She had 2 Great Grandchildren that is known. The above number is all of the known descendants of this couple.