Myrtle Ira ALLRED
Allred Lineage:   Myrtle Ira, James Tillman Sanford Jr., James Tillman Sanford, James, William, Thomas, Solomon born 1680 England
Born: 02/03/1893 Spring City, Sanpete Co., UT
Died: 09/24/1985
Submitted by: Sharon Allred Jessop 02/28/2000
Written by Quneth Dean Hansen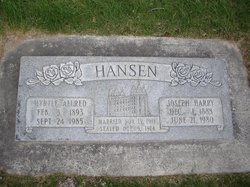 Myrtle Ira Allred was born on Feb. 3, 1893 at Spring City, Sanpete County, Utah. She was the youngest of eight children born to James Tillman Sanford Allred, Jr. and Boletta Christena Anderson Allred. Her father died Aug. 11, 1902 at Mt. View, Canada, nine years after our mother was born. She and her next older sister, Cedina Catherine Allred grew up as the two little sisters of the family. Their widowed mother, a tiny little woman of immense spiritual strength and independent determination, raised her dependent children frugally. However, none of them ever went hungry or without warm clothing.
Mother says she was the ugly duckling of the family and had inherited her grandfather James Tillman Sanford Allred's large nose. However, her nose was not large at all, unless you compared it to the very small noses of her two sisters, Elizabeth Elmira (or Aunt My) and Cedina Catherine (our Aunt Dena), both of whom Mama thought to be very pretty.
Mothers adolescent years were troubled with several allergies. At times she would suffer from boils and would want to scratch them which would only make them worse. As she grew older she out grew them and was never bothered with allergies again.
She attended the local school and enjoyed learning. She especially enjoyed writing stories and composing poems, a talent she should have developed. She enjoyed reading poetry and would cut out poems form newspapers and magazines. She also attended Snow College for a time, just how long we don't know.
One day, while riding bareback with her friend Elsie Billington Carlson, she met and was introduced to our father, Joseph Harry Hansen, who was home for a visit with his parents. Although she had several other boyfriends, She soon scrapped them and started dating our father. Our father told us, once he came to know our mother, he knew she was the one he wanted.
They were married on Nov. 19, 1913 in Salt Lake City. Our father had not been paying his tithing to the church and he felt he would be a hypocrite to ask the bishop for a recommend to be married in the temple, as due to his work, he had not been attending church either. Mother tried to get him to get him to go to the Bishop anyway but he was too stubborn. She married him anyway when he promised and they were sealed to together in the Manti Temple Oct. 9, 1914. All of their five sons were born under the covenant. There were no girls.
Following their marriage, they lived in Spring City and our father farmed the Black Hills Farm. This is where mother gave birth to Galen Harry, her oldest son. Some time later they moved to Price, Utah, where dad and his brother Lloyd, farmed the Marathon farm.
The Marathon farm home was located near the railroad tracks. Many of those who rode the rails found it to be a good place to drop off and find a free meal. No one was turned away, as dad had told mother to feel anyone who came to the door. Much of the time our father was away in the fields tending to the crops and mother was alone in the house with Galen, who was just a baby. Mother felt uneasy about this arrangement because some of those who came to the door frightened her a little, nonetheless, dutifully she fed them.
One day, a big ugly man with a shaved head came to the door. Feeling more uneasy than usual, mother took him in and had him sit at the kitchen table while she prepared him a meal. All the while, his shifty eyes kept darting every which way, making mother more uneasy than ever. She had just churned some cream and had a nice round pat of butter, which she set on the table with the rest of the food. The man looked at the butter, not recognizing what it was, then with his knife he reached over and cut off about half of the round mound of butter and placed it on his plate. All the while he had not said a word. Then he scooped up and spoonful of the butter, not suspecting what it was until he tasted it. Without a change of expression, he turned to the rest of his meal, wolfing it down, all the while giving the impression of some hunted animal. Then, without a word, he got up from the table and disappeared out the door, much to mothers relief. With this relief came a flood of laughter at how the man had forced himself to gulp down the butter rather than leave it on his plate. The next day another man on a big black hose rode up to the house. This time dad was there. The man had two six guns, one on each side, and a rifle sticking out of his scabbard on his saddle. He had a picture he wanted our parents to see. Immediately, mother recognized it as a picture of the man she had fed the day before. With this, the man then turned to dad and said "Mister, you can thank your Maker that nothing happened to your wife and child for this man is one of the most vile of creatures." They then learned the man was an escaped convict and the man on the horse was after him to bring him back to the prison. From then on, dad had mother keep the door locked when he wasn't there and she was to feed only those who came while he was with her.
LaMar was born while they lived in Price, Utah on the 5th of December 1917. Shortly after this, dad and mom, with their two little boys, moved back to Spring City. Just how long they were in Spring City at this time is unclear. However, they were there long enough for Sheldon A. to be born on Mar. 21, 1920 and until Sheldon died on Oct. 13, 1921 of pneumonia.
Sometime after Sheldon's death, mom and dad moved to Helper, Utah. It was in 1921 or early 1922 because they were in Helper during the coal miners strike of 1922, when John L. Lewis, head of the coal miners union in many of the Easter States, was in Utah stirring up the coal miners to join the union and go on strike. The strikers and non-strikers became so violent, the U.S. Army was called in to establish peace.
While in Helper, Dad became a private contractor, doing excavation work and hauling freight about town for the local lumber yard and others. It was in Helper that mother gave birth to two more sons; on March 18, 1923 to Quneth Dean Hansen and eighteen months later to Kenneth Coy Hansen on October 18, 1924.
Early in the year 1828 or 1829 our Uncle Orlando Hansen came to Helper to urge our father to join with him and lease the Crane Ranch near Evanston, Wyoming from the Deseret Livestock Company. They were to raise orphan lambs (bums) gathered from the sheep herds belonging to the Deseret Livestock company. Hundreds of these bumming lambs died every season and this was supposed to be a profitable way to save lambs that would otherwise die.
Mother was not at all that eager to pull up roots and leave friends and neighbors for the uncertainties of farming and ranching but she knew where her husbands heart was. Loving him as she did, she could not stand in his way. So, in the spring, Dad and my brother Galen, set off with a horse drawn wagon loaded with much of my families belongings. Their destination was the Crane Ranch located near the southwest corner of Wyoming close to Evanston, Wyoming, but still within the state of Utah. Mother had heard some pretty wild tales about the City of Evanston, so, it was with some misgivings she loaded Lamar, Kenneth, and myself onto a passenger train headed for Evenston. Kenneth must have been four years old and Lamar around eleven, because I had turned six in March.
Living on the Crane Ranch was different than life in Spring City or any of the other places she had lived. The nearest neighbors lived in the Union Pacific Section homes at Old Wyuta and New Wyuta, fourteen miles away. She had no electricity and water had to be carried in buckets from a spring that had been cemented around. Three miles of unimproved dirt road lead to the ranch, from a graveled road. And the shadows of night would fall we could hear the lonesome call of the birds who inhabited the nearby swamps settling in for the night. The croaking of frogs in their swampy homes as they feasted on the swarms of mosquitoes filled the night air. From nearby hills we could hear the cry of coyotes as they sang to each other, that gargling, barking sound was so strange to our mother's ears.
A whole new way life had been thrust upon her but being the trooper she was, she soon took it all in stride. Before long there were several hundred newborn lambs to be nursed on bottles both day and night until they were strong enough to get by with being fed three times a day, then two times a day; until finally they began to eat grass and could get be with less milk. While doing all this she had a family of boys and a husband to care for. She prepared meals, scrubbed clothes on a washboard, and cleaned and painted the inside of the big frame house. She was never satisfied until every corner of both the upstairs and downstairs had been given her very best exacting attention. Then she would go into the hay fields to help harvest the hay. Driving old Joe, the horse, she helped with the stacker as the hay was stacked. Still all the while, she managed to be an attentive mother and a loving wife to her husband.
As the school year approached our parents tried to enroll three of their boys in the Evanston school system. Much to my parents surprise, the school board refused to allow them to attend school there because they lived across the state line in Utah. However, the school would allow the boys to attend there if a seventy-five dollar fee was paid for each of the boys, a total two-hundred and twenty five dollars. This was a great deal of money for her family. So again mother found a way to educate her sons. She arranged with her mother, Grandma Stana Allred, to take three of her boys so they could attend school in Spring City. So then what should happen, here comes our Aunt Dena and wants mother to let her take LaMar to live with her in Aurora, Utah. At first she didn't want to split her boys up, but she finally yielded to Aunt Dena's tears. Aunt Dena was childless and LaMar was the apple of her eye.
After getting her boys finally settled in school, she returned to dad and her youngest child Kenneth Coy; they spent her winter on the Crane Ranch. Galen, LaMar and Quneth Dean went to school in Utah. Fortunately, the following year a friendly store keeper in Evanston prepared a petition requesting Evanston School Board to allow her boys to attend school tuition free. The man's name was Mr Barber and when our family and Uncle Orlando conducted all their business in Evanston, all the business there benefitted. Mr. Barber was able to convince everyone who came into his store to sign the petition, adjust about everyone in Evanston came to his store sooner or later. So he had a lot of names of the petition which he took to the school board, they relented and Evanston became their hometown.
From that time on, until her boys graduated from school, mother divided her time between two homes. One rented a home in Evanston while her boys attended school and the ranch home where her husband stayed. She cooked and cleaned and made sure no one went hungry or went uncared for. This became the pattern for mother's life until her sons graduated from school.
With the stock market crash of 1929, Wall Street went broke and many people became financially ruined, a great depression engulfed our entire nation. Factories shut down, commerce came to an abrupt stop and millions of people found themselves out of work with no means of support. And to complicate matters even more a drought settled over much of the nation's farm land. It was known as the great dust bowl; thousands of acres of good farm land were blown away due to unwise farming practices. And many of the nation's farmers went into bankruptcy.
Mother was anchor to which, along with dad and the efforts of our oldest brother Galen who left school and went to work to help support the family, we all clung to. Mother was the one sure thing or you might say glue that kept us all together.
With the depression came financial difficulties, especially with the death of our Uncle Orlando and his wife and baby at the railroad crossing on the old highway. Dad and mom were left with all the indebtedness of both dad and uncle Orlando, while the prices being paid for animals fell down to nothing. There was no money to be made raising sheep or cows; no one had money to buy. Our family had to leave the Crane Ranch with what few animals they could salvage. Later dad leased the Yellow Creek ranch and over the years purchased it and it became our family home of many years. Money was scarce then and most everyone in Evenston was poor including all the farm families in the area.
In later year when economic times were better, mother had a good laugh when LaMar said to her one day, "Mom, I wish you would cook some of the good dishes you cooked when we were poor; like the big pies you made, they were so good." This remark delighted mother because it was a real compliment to her abilities. During those trying depression years she became good at making delicious and savory meals and could stretch the menu and still fill the appetites of fast growing boys. She laughed at LaMar's statement, "when we were poor" because in her mind we were never poor, not real poor like some. As farmers we always had meat, milk, cream and eggs. Mother would sell some of the eggs to the Blyth and Fargo store and receive credit for other things. She always managed some way to see we had the necessities by sewing, cooking and carefully managing what little money she had. So in a very real way we were never poor, not with a mother like her, in fact, you might say we were rich.
Ours was a happy family, you hear of dysfunctional families today. Back then we didn't even know the meaning of dysfunctional. With mother at the helm of our family ship of state there was hardly ever a quarrel and never any fighting between us boys. Yes, we wrestled and tussled but it was all in fun and mom and dad kept us so busy working on the farm that we never had time to get in any trouble.
To shorten up what has become a long story, in later years our parents bought a home in Salt Lake City and retired there when dad turned seventy years old. Mom and dad lived there for over twenty years.
Dad died in 1980 at the age of 91 years and mother could never quite reconcile the fact that he had to go before her. She had a lasting love for him that will go on forever. She had been married to this man for 66, going on 67 years.
On September 24, 1985 she too left this mortal life at the age of 92 years. We miss and love her and hope some day to join with her and dad in the eternal world.
Children of Myrtle Ira Allred Hansen and Joseph Harry Hansen:
Galen Harry Hansen, b. 25 Jan 1915, m. Gwendolyn Norris
LaMar J. Hansen, b. 5 Dec. 1917, d. Aug 1984, m. Marie Wright
Sheldon A. Hansen, b. 21 Mar. 1920, d. 13 Oct 1921
Quneth Dean Hansen, b. 18 Mar 1923
Kenneth Coy Hansen, 18 Oct 1924, m. Zona Saxton
[Taken from family history book, "From Allred to Allred" put together by Venna Severance]