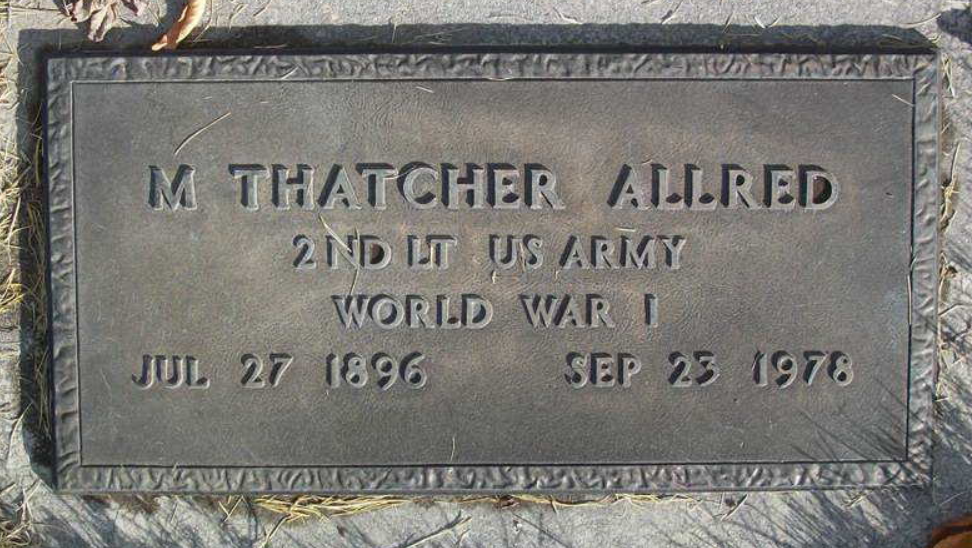 Obituary published in The Salt Lake Tribune, 25 Sept 1978, Page 30

Moses Thatcher Allred 1896-1978
Mr. Theater and the Stage of Life
By:  his son Gordon T. Allred
Lineage:  Moses Thatcher, Byron Harvey, Jr., Byron Harvey, Sr., William Moore, Isaac, William, Thomas, Solomon born 1680 Lancashire, England
M. Thatcher Allred was born July 27, 1896, in Afton, Wyoming, son of Byron Harvey Jr. and Charlotte Susanna Pead Allred. As a young boy he was filled with wonderment over the magnificence of those pastoral surroundings and what seemed to him the remarkable "newness" of it all.  When he was about six years old his family left their home there in beautiful Star Valley for a long
and arduous journey by train to Colonia Jaurez in Mexico where his father and grandfather, Byron Harvey Sr., continued the practice of plural marriage although the their Church had abandoned that practice in 1890.
Life was harsh in "The Colonies", as they were known in certain quarters, and eventually the family returned to the states living in Blackfoot, Idaho, where Thatcher's father operated a farm and dry goods outlet.  It was there in Blackfoot that Thatcher and two of his older brothers were struck by lightning and nearly killed while excavating a potato cellar into a dry bank of the Snake River.  The two great work horses were killed instantly, and the three young Allreds were knocked unconscious and temporarily paralyzed. Fortunately, all of them recovered with no serious after effects and lived into their eighties.

At age twenty one, while attending Utah State University (then known as the Agricultural College or A. C.), Thatcher glimpsed a charming young woman of only seventeen in the school library. This was his first encounter with Pearl Oberhansly, and he remembered vividly throughout his life how she looked – the clothes she was wearing, her profile against the window beyond, and the light in her eyes – as she bent over a table across the room to collect her books. It was literally a case of love at first sight, and at that very moment Thatcher knew without question that he had discovered his personal darling.

The romantic courtship, lasted for some time, however, but was kept alive through daily love letters during his service as a lieutenant in the army following World War I and frequent shifts in military stations throughout California and Texas.  They were married June 9, 1923, in Bozeman, Montana, later moving to Three Forks where Thatcher served as Superintendent of Schools and where their daughter Joan was born.  From 1929 to 1930 they lived in Afton, home of Thatcher's birth, where he was principal of the Afton Wyoming High School.

The following year Thatcher obtained his masters degree in speech and drama from the University of Iowa and their son Gordon was born. In 1931 they moved to Ogden, Utah. There both Thatcher and Pearl were hired shortly afterward to teach at Weber Jr. College, living on the old campus not far above town. Pearl taught English and Thatcher served as Chairman of The Speech and Drama Department. It was a role that fit him well for he was an exceptionally handsome young man – tall and athletic with black wavy hair and a courtly bearing – traits that often fluttered the hearts of the young coeds.
Five years later they moved to a larger home nearby where their daughter Carolyn Charlotte (better known as Penny) was born.
Thatcher's career as Department Chair continued for many years, and he became admiringly known to his friends and colleagues as "Mr. Theater". During his thirty-five years at Weber he directed some sixty major plays and established the Ogden Community Theater which included thespians from both the college and the Ogden area.  His directing often kept him and cast members up past midnight, sometimes into the early hours of the morning, and he became known to all involved as a great perfectionist (perhaps too great for some!).  Thatcher's daughter in law, then Sharon Wallace and later Gordon's wife, starred in several of his productions and has commented frequently upon his talent and sensitivity.  Members of his family were always reminded that first night was at hand as various of the home furnishings vanished to magically reappear on the old Moench Building stage with the parting of its dark blue velvet curtains.  Thatcher also taught numerous speech and English literature courses over the years, and his eloquence with the spoken word remains unrivaled throughout the area to this day. Years after his passing, in fact, former students still marvel over that gift, commenting enthusiastically regarding his impact on their lives.

He was president of the Weber State Faculty Association for two terms and Chair of The Fine Arts Building Committee. Weber became a four year college shortly before his retirement, and following his passing, the M. Thatcher Allred Theater on the Weber campus was named in his honor. He also directed and narrated several of Ogden's famed All Faces West productions featuring operatic star Igor Gorin in the role of Brigham Young.
In 1972 Thatcher received the Distinguished Service Award from the Utah Academy of Arts Letters and Sciences and was posthumously inducted into the Utah Pioneer Theater Hall of Fame.

Shortly after Pearl's death from a heart attack, he sold the family home on upper Lake Street, rented an apartment, and eventually built one for himself downstairs at the home of his son Gordon at 2006 Polk–often known by the family as Polk's End. He was a talented pool player and took great pleasure in donning a red vest and assembling his special, portable cue stick for impressive demonstrations in the family recreation room. His grandsons especially enjoyed playing with him and observing how the skepticism and amusement of their pals rapidly transformed to respect and wonderment once he went to work.
Thatcher never recovered fully from the loss of Pearl, always his Pearl of Pearls, and underwent considerable depression during his final years.  Throughout it all, however, he continued to grow in love, compassion, and wisdom, never losing his unique sense of humor.  He was a raconteur par excellence, and nothing was more fascinating or entertaining than hearing him relate tales of his boyhood, especially in concert with his brothers Elwood, Lothair, and Harold.
He died on September 23, 1978, at the McKayDee Hospital following an automobile accident.  Throughout his remaining two days in intensive care he was comatose, but his family continued to pray aloud in his presence and talk of all he meant to them, their joyful times together, and the reality and nearness of the life to come. Toward the end, holding his father's hand, Gordon spoke emotionally
of their great and abiding love for each other, and at that very moment Thatcher's dying hand gripped his own with astonishing warmth and power for perhaps ten seconds.  Shortly thereafter, he was passing to the other side, and those family members present, all very spontaneously, gave him a standing ovation. To anyone unfamiliar with his background or the mood at the moment, such a response might have seemed rather strange. To those who applauded, however, it was eminently appropriate. Moses Thatcher Allred
had just completed his grand performance upon the Stage of Life, and that performance was duly acknowledged.

As his loved ones gazed down upon his countenance, the years seemed to be falling away as though, paradoxically, death itself had begun to return his youth. His presence there in that room was profoundly vibrant – and the presence of the Holy Spirit itself almost palpable.

Gordon T. Allred, author of the preceding article, is the second of three Allred generations at what is now Weber State University: his aforesaid father Moses Thatcher, Gordon his son, and grandson Anthony (Tony) Allred. All three bear the middle name of Thatcher and have been full professors in their respective specialties. Gordon holds a Ph.D. in creative writing and modern literature and upon retiring after forty eight years at Weber received that institution's Honorary Doctorate of Humanities. He is a widely published author and has received numerous honors for his teaching and writing. Among them also are the following: Weber State Presidential Distinguished Professor Award, Outstanding Professor Weber State Students, Ogden Mayor's Award for Literature, Sigma Delta Chi Award for Kamikaze (former best seller on life of a Japanese suicide pilot), First Place Utah Fine Arts Contest for novel Starfire, and Utah Author of The Year Award.