Mary Diantha ALLRED
Allred Lineage:   Mary Diantha, Edward Warren, John Jones, William, William, Thomas, Solomon born 1680 England
Born: 08/18/1894 Northrup, Washington Co., UT
Died: 03/28/1972
Submitted by: Sharon Allred Jessop 11/30/2001
Written by Clinton Ted Asay, her son.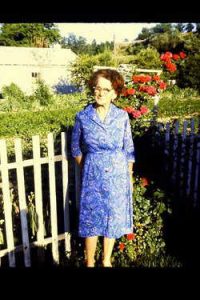 The third child born to Rebecca Alvrean Lemmon and Edward Warren Allred was a daughter, whom they named Mary Dianthia Allred. She was born August 18, 1894 in Northrup, Utah, a small community no longer in existence which was located near Springdale. She was known by her siblings and peers as May all her life and established her identity as Mary D. Asay in her later years.
She attended school in Springdale, Utah until her eighth year when the family moved to Wyoming. Mary was a diligent student and graduated from the Lovell Schools. She attended the Big Horn Academy, an LDS Church School in Cowley, about four miles north of home. This required boarding in town during the week to avoid the long commute distance, in those days, on horseback. She would have chosen to pursue further education but her father, typical of the thinking of the times, considered the destiny of young women was to prepare to marry and raise a family.
Mary Dianthia Allred married Amos Earl Asay in Lovell, Wyoming on November 13, 1912. She was just over eighteen years of age and Earl was twenty-three. They lived all their remaining lives in the Lovell area. Their union was sealed in the Salt Lake Temple on September 5, 1923. Eleven years after their marriage, Earl died on their farm from Rocky Mountain Spotted Fever from a bite of an infected tick. After her husband's death, Mary moved into the home Earl had established in town. It was two small shacks joined to form an "L " , located four blocks from main street in Lovell. Her father, brothers and brothers-in-law, made a significant addition to the house resulting in an accommodating modernized home. This served as home for the maturing years of the family and her remaining years.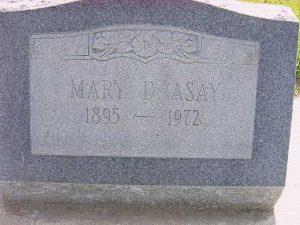 Mary was left with seven children at the depth of "The Great Depression." They were Archie, Vida, Orvin, Maurice, Clinton Ted, Anna Mae and Carmen. Mary worked for Fred Snyder in his store for many years to provide for her family along with doing laundry and janitorial duty at The Relief Society Hall of the Lovell Ward Relief Society. She wrote a neat and precise penmanship and served as secretary to various organizations in the church. Her records were neat and complete.
Lovell, typical of early Mormon settlements, was laid out for a subsistence type economy with large lots and provision for irrigation water to serve home gardens and livestock. An irrigation ditch ran alongside the family home and served as the lifeblood of the nourishment of the family. There was a corral where two cows were kept, a pigpen for fattening out a hog each year and a chicken coop and run on the back corner of the lot. These served as the family "food factory." Each spring the ritual of getting the lot plowed and planted was a major family undertaking. Uncle Floyd Allred took care of that for many years until the tractor replaced his horses. A section of the lot was carefully laid out for "Mama's Flower Garden," which she tended with great care each summer. The summer was a beehive of activity for the family to plant, irrigate, hoe, weed and harvest an abundance of crops for canning. The kitchen was filled with steaming kettles of cooking vegetables and resulting jars of nourishing food. There was always something to do, not just for the sake of the activity but it was absolutely necessary in the family economy. The family was well fed. Mary struggled with steadfast faith to provide her family the substance of life and a testimony of the gospel. She provided for the needs and comfort of her children as her prime endeavor during their maturing years.
World War 11 brought some stability to the family and all her sons served their country in time of need. Her youngest son, Carmen, was killed in a car accident just a month after his discharge from the Korean War. The proceeds from his military life insurance served as a major source of his mother's support for many years following.
Mary had her physical burdens as well. She suffered from asthma and hay fever. She also had periodic "spells", possibly epilepsy. They were sometimes quite severe and frightening to the children in the family. However, after a day or two of rest she would be back at the tasks of life necessary for the family needs. Her mother, Grammy, was not too sympathetic attributing it to emotional causes. There was no money for doctors, hospitals or dentist. Home remedies, sheer stamina or faith were the provisions for health needs. The effects of age took their toll. Showing symptoms of Alzheimer's, in early 1972, Mary died on March 28, 1972. -