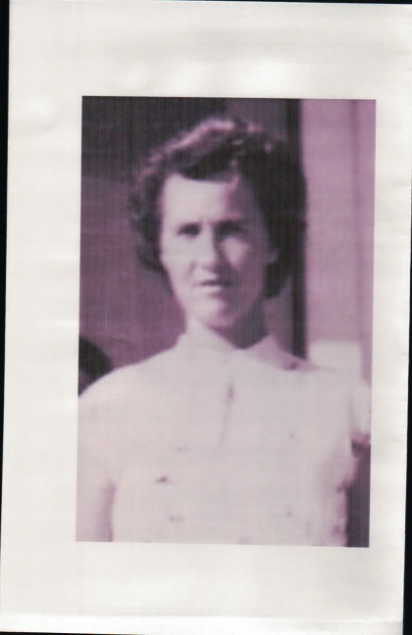 Mary Adell JONES
Allred Lineage:   Mary Adell, Martha, Willis Winfield, Elizabeth, Sarah, William, Thomas, Solomon born 1680 England
Born: 03/28/1911
Died: 07/29/1995
Submitted by: Sharon Allred Jessop 05/24/1999
HISTORY OF VIRGIL RAYMOND/RAY ALLRED AND MARY ADELL JONES ALLRED
When Virgil was a baby, the Allred family moved from Holly Township, Van Buren County, Arkansas, to Oklahoma in a covered wagon. The family lived in Davenport, Chandler, and one other town in Oklahoma. Virgil said that they lived in five different houses in Oklahoma. He remembers his mother running a boarding house in Davenport, Oklahoma.
When Virgil had the measles, his brother Oscar brought him a white mouse.; but when his mother saw the mouse, she wouldn't let Virgil keep it.
His older brothers would go coon hunting at night with their dogs, but they didn't want Virgil to go with them because they thought he couldn't keep up. He decided to put bugs, bees, spiders, and snakes in their beds while they were hunting. Then they decided it would be better for them if they took him hunting (he did keep up). His brothers also taught him to swim by throwing him in a stream of water.
Virgil said that he would go to the pond where hunters had been shooting and would pick up the empty shot gun shells. He would they cut the paper off and take the copper heads to the store and sell them so he could buy candy (licorice was his favorite).
Virgil got his first dog from his older brother Edgar's dog's litter. He trained this dog to chase the mule out of the corn field whenever the mule jumped the five strand wire fence and got into the corn. Virgil would stand on top of the cellar where he and the dog could see the mule and then he would tell the dog to sic-um. The dog would chase the mule out of the corn, thus saving Virgil the job of going into the corn field after the mule.
Virgil told about his father and older brothers going on buying and selling trips into Arkansas and Texas. They would buy horses and cattle and resell them - sometimes the next day. Those that were not in the best condition they would fatten up and then sell them at a profit. Virgil would try riding the young bulls that were brought home.
At times, Virgil went to church, which was sometimes held in the school house. He had a Bible Story Book which he remembers reading several times. Also, Virgil remembered his father playing the fiddle at dances.
The first airplane Virgil saw was when he was picking cotton in the field. He laid down on the cotton sack and watched the airplane till it was out of sight. Virgil said that the first car he remembers seeing was a 1917 Model T Ford.
He remembered well the flu epidemic of 1917. He didn't get the flu, but most of his family did and his brother Bill almost died.
Virgil said that his Grandpa Henderson, who had been in the Civil War, lived with them in Oklahoma the last few years of his life. He died in 1920 or 1921.
In 1921, when Virgil was 13 years old, his mother moved part of the family to San Bernardino, California. Virgil's father remained in Oklahoma.
Virgil bought a bicycle in California with money he earned from selling newspapers. He then had to learn to ride it on dirt roads while carrying 40 pounds of newspapers to his customers.
His mother acquired a Model T Ford touring car as payment for board and room from a boarder. Virgil learned to drive this car at age 14 and to be an auto mechanic by age 15. He told of being one of the first to get a California drivers license with no expiration date.
To help bring in money, Virgil would take parties in the big touring car to various parks and resorts. He parked cars and did mechanic work at Thousand Pines Garage. He also set bowling pins at the Elks Hall in San Bernardino.
Virgil attended Sturges Jr. High School where he played on the State championship basketball team. He and his friends dismantled a wagon and assembled it on the roof of the school house one Halloween Night. They had the tongue of the wagon sticking out over the edge of the roof and hung a dummy from it.
Virgil went back to Oklahoma to work in the oil fields. While in Oklahoma, he enjoyed playing catcher on a baseball team which was primarily made up of Indians.
MARY ADELL JONES ALLRED'S CHILDHOOD
When Adell was about two years of age, her family rented a farm between Seminole and Shawnee, Oklahoma that had a pecan grove on it. She remembers the pecan trees. She told about the day while they lived on this farm, her mother went to town and left her home alone or so she thought. She was very unhappy with her mother and cried most of the time her mother was gone.
Adell remembers (when she was about four) that the wagon got stuck in the mud. When she was told to get out of the wagon, she became angry, upset, and cried. In fact she threw a fit because she did not want to get her new black shoes with red tops dirty. She did not get out of the wagon!
At age six, Adell was helping to carry water from the well to water the sweet potatoes and got hit on the head by the pump handle. The handle cut her head and knocked her out. She said she was wearing a sun bonnet, which she didn't like to wear, when the accident happened. She believes that if she had not been wearing it she could have seen the handle and not got hit on the head.
Adell told about her mother having bread dough rising and telling her to watch it while her mother went to do something. When she returned, the dough was all over the stove. Her mother said, "I told you to watch it", and Adell said, "I did; it just bubbled out of the pan". Adell's mother was a good cook and could make very light fluffy cakes that would melt in your mouth.
When the family members were at the table, Adell said that if her father would point at what he wanted instead of asking for it her mother would say "point Pendleton, point".
Adell remembers that her mother had a good singing voice. Also, she remembered her father playing the fiddle. She said he didn't play well but his brothers played the fiddle well.
Adell told about the first train she saw in Seminole, Oklahoma. It had a "big" steam engine and she was afraid of it. She said that it was the biggest blackest thing she had ever seen.
She also remembers going to Shawnee, Oklahoma, in a wagon. They stayed in the wagon yard overnight and returned to the farm the next day.
Because they lived on a farm so far from town, Adell didn't get to go to church very much. Her mother read the Bible to the family and taught them what was right.
If Adell saw a snake go into a pile of brush along the side of the road she would move the brush and kill the snake (she didn't like snakes). She would then wait for its mate to show up and would kill it too. However, she must have liked squirrels because she climbed up a very tall tree to set some. She brought the baby squirrels home in the skirt of her dress, but her mother made her take them back to their nest. When Adell got back, her mother was waiting outside and scrubbed Adell and her clothes with coal oil to kill all the lice.
Adell's father had a 12 gauge shot gun which none of the children were allowed to touch. When she was about 12, she tried to shoot at some ducks on the pond and ended up on her back side. Adell said that her father never did find out she had shot the gun.
An Overland Touring Car was the first car that her father bought. Adell said the first silent movie she ever saw was "Moby Dick".
Adell remembers the day they got word that her Grandmother Allred had died. When they arrived at her grandparent's home, her grandfather was sitting in the rocking chair, rocking back and forth, still holding her grandmother in his arms.
During the Flu Epidemic most of Adell's family were sick, but she did not get it. Since her mother had it, Adell said that her father had to do the cooking.
Adell liked to go to Indian Stop Dances. One night after attending a dance, she was riding her pony home alone and it sensed something and bolted. As the pony ran down the road, she heard a mountain lion scream.
VIRGIL & ADELL ALLRED'S LIFE TOGETHER
They met at a party in Oklahoma when she was 14 and he was 17. They didn't start dating for a while. When they did start seeing each other, they would go to dances or to the rodeo on Sunday. A few times when Virgil could get his father's car, they went to the movies. They eventually fell in love. Virgil and Adell got their marriage license in Wewoka, Oklahoma. The marriage was performed by the Justice of the Peace at his home north east of Seminole, Oklahoma, on October 9, 1929. They hadn't told anyone that they were getting married. Virgil had to go to work that night after they were married (short honeymoon). They lived with Adell's family for a while. Later they moved into a small house which Virgil's father owned. They nailed heavy paper on the walls to help keep out the cold.
At that time Virgil had a job in the oil fields for $12.00 for 8 hours of work. When the stock market fell, 20 days after their marriage, he got laid off and could only get a job that paid $.50 an hour.
Soon Adell was expecting a baby. She said she never had been told very much about things because they were not talked about like they are now. She bought lawn and flannel material which she made into baby clothes. Charles was born November 1, 1930, in Seminole, Oklahoma. A month later they moved to California in a 28 Chevrolet car because Virgil was able to get work there. Pauline was born March 12, 1932 in San Bernardino, California.
Adell said that Charles, at about age 6, sprained his ankle when he did the back flip off the monkey bars at school. Pauline, about age 5, tried to help him walk home. They both were crying and would not accept a ride with the cop who stopped to offer assistance. He followed them home.
In 1938, while Virgil was working for the California State Road Department, his back was injured. He was not able to work for the next four years. He was in several hospitals and was told he might never walk again. Finally a doctor in Los Angeles successfully operated on his back.
In 1939 or 1940, Virgil and Adell bought 1 1/4 acres in Muscoy, California (1905 Nolan St.). Adell told about how hard she and the children worked during this time to keep from losing the small farm. They raised chickens for fryers and also sold eggs to a Safeway store. They had ducks, geese, and turkeys. One turkey became a pet and followed Adell around like a dog. A large garden was grown each year. Once a sweet potato was harvested that weighed 18 ½ pounds and part of it had been cut off when it was being dug up. Adell is noted for her green thumb; she can take a twig or leaf, plant it, and it grows. She also got a job at a munitions plant during World War II and later on worked at Culligan Soft Water Company.
Adell told about having parties at Muscoy for her children and their friends. She made home ice cream for them.
After Virgil's surgery, he was able to get a job driving a taxi in San Bernardino. He then went to Las Vegas, Nevada, and helped build commercial buildings while his family stayed in California. Next he bought a dump truck and went into business for himself. He hauled sand, gravel, and asphalt to Victorville, California, for the construction of George Air Force Base. Later he went to work at Ethyl Petroleum Company driving various size vehicles from San Bernardino to Mojave and back. These vehicles were used in testing experimental petroleum research products. He also worked for his brother Bill in Palm Springs, California, at Hicks and Allred Construction Company. He did all the bids on jobs they were trying to get.
In 1956, Virgil went to work for Fontana City as a Building Inspector. In 1957 they bought their home at 9085 Acacia, Fontana, California.
About 1963 they started going to the Salton Sea to fish and they enjoyed many trips there. It isn't clear which one has caught the most fish, but they both agree that Adell caught the biggest fish which broke her pole in two and swam away!
Virgil retired in 1973 as the Head Building Inspector for Fontana, California. Since his retirement he spends a lot of his time keeping his home and vehicles in good repair. He also enjoys watching sports on TV.
Adell loves to crochet and has made many granny square comforters for her family. She also raised song birds and poodles. She is a very good cook and makes the best lemon pies. Her corn bread is great too.
On Virgil and Adell's 50th wedding anniversary an open house in their honor was held at the elks lodge in Ralito, California. For their 60th anniversary a family party was held at their daughter Pauline's home. Many of their grandchildren and great grandchildren were present to celebrate the occasion. On 9 October 1994. Virgil and Adell happily celebrated 65 years of marriage. A dinner was enjoyed by them and their immediate family at their home in Fontana, California.