Maria Josephine STOCK
wife of Medwin Newton Allred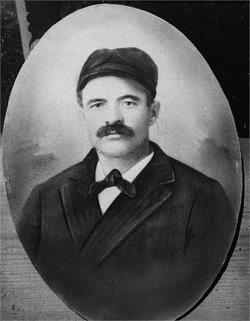 Allred Lineage:  Medwin Newton, William Moore, Isaac, William, Thomas, Solomon born 1680 England
Born: 09/03/1858 Fort Elizabeth, S. Africa,
Died: 06/27/1954
Submitted by: Sharon Allred Jessop 05/19/1999
Reminiscences of MARIA JOSEPHINE STOCK ALLRED
Smithfield, Utah is where my home is at this time, living in a small apartment adjoining my son, Arlin R. and daughter Irene, his wife' home. I have just past my 86 birthday 3 Sept. 1944.
Several of my children and grandchildren have asked me to write a sketch of the life of my husband and myself. I will begin at my birthplace.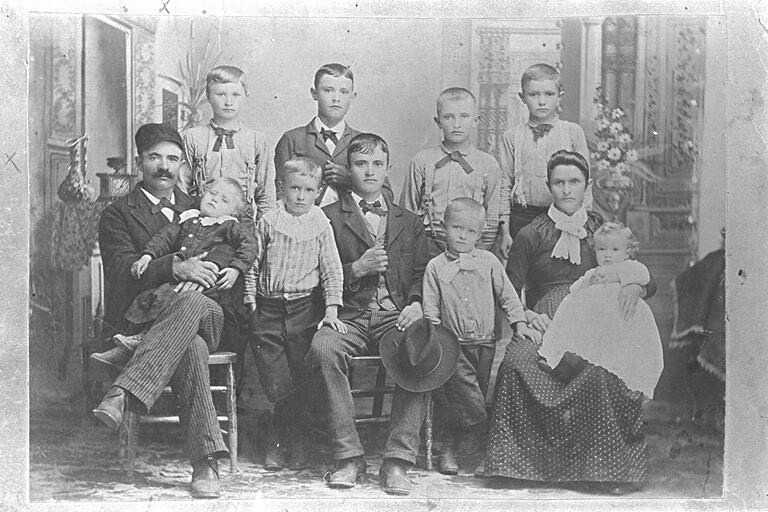 I was born at Fort Elizabeth, South Africa, 3 Sept. 1858. In 1855 before my birth, two Mormon elders, Leonard I. Smith and Jessie Haven went to that far off part of this world and converted my father, John Stock and all his family to the Gospel of Jesus Christ of Latter-day Saints. When I was about two years old my father and mother with their family of nine children started to cross the Atlantic Ocean in 1860, in a sailing vessel with many other saints. We were about three months crossing the ocean, finely landing in Boston. It was a little more than three months from the time we arrived in Boston until we arrived in Salt Lake City. We traveled with President William Budges company, mules pulling our wagons.
My father bought a home at Salt Lake where we lived about three years. In 1862 father was sent back to Africa on a mission, to bring back all the saints that could come. When he returned a call was made for families to go and settle Bear Lake Valley, so father moved his family to Paris, Idaho. The climate was very frosty. Very little grain was raised, no wheat. Some oats in some parts ripened. Several years passed before they could raise wheat to ripen. I remember well when the first wheat did ripen. I was about 10 years old then. I with my brothers and sisters went into the wheat fields and gleaned every head of wheat we could find, then we would help father thresh it with clubs. We had the wheat on wagon covers to keep it out of the dirt. Then we would fan the chaff out by holding it in a pan or large vessel above our heads and let the wind blow away the chaff as we poured it down to the ground. I was a proud little girl when I had gleaned enough wheat to sell and buy enough calico to make me a dress. The calico was $1.00 a yard.
The Bear Lake people went to Chache Valley with mules and oxen team to buy food and clothing. Through the faith and prayers of the people, the Lord blessed the land elements until it became suitable for raising almost all farm products.
My mother died on the 13 of May 1865, at Paris Idaho, when I was 6 years, 4 months and 10 days old.
I do not remember very much about my first experience at school except that I had two teachers whose names were Caroline and Francis Rich. We only had one or two books which we passed around and took turns reading. Father moved his family to Fish Haven and made a comfortable home on the beautiful shores of Bear Lake and it is there to this day. It was there the remainder of my childhood days were spent. A very meager chance for schooling. My only school teacher after we left Paris was my oldest brother, Edwin Stock. It was the best that could be done in that day.
We had Sunday Schools and Primary's. No other Auxiliary organizations. We had no picture shows. Our amusements were down by the lake shore, boat riding, swimming, and swinging. My brother made a very large swing between two very tall cottonwood trees, with a pole placed between them with a large rope fastened on it. I think it was higher than the tallest telephone poles. Two of the young men would swing us with long ropes on each side. With these sports and games we spent many happy hours in my girlhood days. When I became a young woman we went to dances. I had boy friends a plenty.
I met my husband one day while we were watching a group of boys playing with a dog that would swim out into the water after sticks. The dog went out too far into the water after a stick that one of the boys threw and the dog was caught in a whirlpool and was drowned. Medwin N. Allred was blamed for the accident. I felt sorry for him, because I knew it was not his fault. This boy, as you know, became my husband in later years. We often remarked after our marriage that it was a fact that we were meant for each other. Although we had many hardships and trials, we struggled on together. We were married in the Endowment house at Salt Lake, 31 May, 1875. Our mode of travel was a white top buggy which took us to Salt Lake and back.
While I was still of Primary age I remember of the dedication of the meeting house at St. Charles, by Wilford Woodruff. It was a great thrill to shake his hand after we had listened to him give such an interesting talk. I remember how we all stood by the road as he passed by in his wagon and we sang, "In Our Lovely Deseret, " while he waved his hand at us.
Medwin's parents were good religious people, he being a Sunday School Superintendent and his wife his assistant.
We had a family of 10 children, one girl and nine boys. We made our first home in Garden City.
I had my first experience in church work at Garden City. I was set apart as councilor to Alice Horsley Rich. We worked together until we moved to St. Charles. It was at Garden City that we had our first great sorrow. Our only daughter Edith was run over by a loaded wagon at the age of four years. Soon after this Medwin's brother coaxed him to go to Provo Bench to make a home. We did not stay long however.
Friends helped us build our home in St. Charles. The logs were saved so that they made a nice smooth wall. We white-washed our rooms with white clay (which was plentiful in the west low hills at Fish Haven or lime. I liked clay better because it did not burn our hands like lime does and it was just as white. Most of our family was born on our homesteaded home at St. Charles.
When we had a family of about seven boys, one of the older boys, Asa who had gone with his father to Brigham after a load of fruit, came home with the dreaded disease diphtheria. We were as careful as we could be and none of the rest of the children took it, but it went very hard on Asa. He had trouble with his ears until after he was married.
We moved around a lot but I assure you we didn't get rich. Finally we landed in Star Valley, Nov. 1893. We lived in an old house belonging to Nelson Allred that winter while my husband and two of our oldest sons went into the canyon to get out logs to build a two room house. Many nights they came home from the canyon wet to the waist, after wallowing in the snow all day to get those logs out.
This same fall 1893 when we moved into Star Valley, we were very low on funds and not much chance to earn a dollar, but we had a chance to dig John Tolmans potatoes for a share. That furnished us our winters supply of potatoes for which we were very thankful. It seemed to us that patch of potatoes was left for us. Snow came while they were digging them.
When the spring of 1894 came and the roads got fit to travel on, Bert went to a saw mill and got shingles for our house. I don't know how many miles but it was an all days trip and of course he had to have lunch. I didn't know what to do. I had nothing to fix but one egg and bread, so I took that egg and with a little milk made several slices of french toast. I remember I was sorry I could do no better, but when that lad came home he said he never had a lunch taste better, and so it has been so many times in our lives, when we would wonder how we could manage, the way was always opened so we got along and were blessed.
Medwin, my husband was of a jovial disposition, a lover of his family, he would play games with them and they loved to be with him. The young folks liked to have him around, he was a leader in home amusements. He took many leading parts in the ward theaters.
He was a ward teacher and second assistant in the Sunday School at Fairview. He had just about finished our little home in Fairview when my husband took sick and died quite suddenly. That was 29 of July 1895 he having just passed his fortieth birthday on the 20 of Feb. 1895. I was 37. This was a sorrow too deep to describe. The whole world seemed so changed that everything looked so dull and dreary. The sun did not shine so bright as it did before, the grass was not so green and beautiful and even the birds did not sing so sweet, they seemed to aggravate me. I could not pray until a warning voice came to me saying I must humble myself as it were, in the dust, praying to my Heavenly Father to forgive me and help me to acknowledge His wisdom in taking my companion and the father of my children, and feel to say, "O, Lord, let Thy will be done and not mine and feel to say, "The Lord giveth and the Lord taketh away, blessed be the name of the Lord."
I did humble myself in prayer and I did get comfort. I testify that the Lord has blessed me and my family in so much that they have all grown to be honest honorable men, not one of them uses tobacco nor intoxicating drinks nor uses profane language. They all have honorable wives. I surely bear testimony of the truthfulness of the Gospel, that Joseph Smith was and is a Prophet of the Lord and that he was chosen of the Lord to come to earth to restore this the new and everlasting Gospel of Jesus Christ of Latter-day Saints. I am very thankful to be numbered with this people. I am very thankful for my parentage and that they were inspired of the Lord to come to the valleys of the mountains where they could worship the Lord according to the dictates of their own conscience.
Before my husband died we always had our family prayers, night and morning and we taught our children to take turns with us. We did the same after he passed away while living at Fairview, Wyo.
I held several offices in the church. I was teacher in Sunday School class, was councilor in Mutual during the time from 1895 until 1913. I was chosen to work with Martha Barrus in Primary stake work. We had a very large stake and had to travel more than 30 miles north of the upper valley through a narrow pass down Salt River. It was a large dangerous river during high water season. We traveled with horse teams and buggy. I remember well we had some dangerous experiences, but the Lord was on our side and we were blessed and protected. After a time Sister Martha Barrus went with her family to Logan to put some of her boys in college (Lyle went with them for the same purpose).
It was necessary to reorganize the stake Primary. President George Osmond called me to the office of Stake President, with Mary C. Barrus as 1st assistant and Esther Brown 2nd. We had that same route to travel, with horse team, there were no automobiles in the valley at that time.
We always made it a rule to pray for inspiration and protection and we were sure blessed in our work. We had some trying experiences that made us know we must at all times trust in our Father in Heaven to help us. We had experiences that we were very thankful for the knowledge that if we asked in faith we would receive help when we needed it.
One circumstance I will relate. Sister Mary C. Barrus and I started out to visit the lower valley. We thought by going through the fields we would cut off several miles, so we started out and soon we came to a crossing of Dry Creek. It was dry that time of the season but it is one of Salt River's largest tributaries in high water times. We found the bridge made of planks badly torn up, we got out and put the planks back in place then started across. The horses barely got on the bridge when the plank slipped out of place and one of the horses hind legs went down between the planks. Mary got out and took the horses bit and urged her to try again. I had the lines to guide them. Finally the horse made a lunge, got her feet on top and we were soon on our way, rejoining. I tell you we did some praying and our prayers were answered. Many times in the life's experiences I have had comforting influence in prayer that if we ask in faith we will get help. Another time I will relate while on this subject.
This time was with a part of my family of boys. We were going home from Afton to Fairview, one late evening after an entertainment. I never saw a darker night. We could not see the horses heads nor just where we were on the road, when all at once the team stopped. The lad that was driving urged them to go but they would not move. I told them to get out and see what was the matter. He discovered the team had stopped on the very brink of the same dry creek that I made mention of with Mary and myself. It was a very steep embankment. The horses were so near they couldn't turn the wagon around without tipping us into the bottom of that dry channel. We all got out and the boys backed the team and wagon, as we could turn onto the bridge (oh yes, there was a good bridge this time), but the horses had gradually got off the much traveled road and missed the bridge. If we had gone off there I don't think the horses would have escaped without some broken legs at least, and I hate to think what might have happened to all of us. I have always thought, our kind Father in Heaven protected us from serious harm. I have always thanked Him for His watch care over us. Many times myself and family have received and are receiving blessings through faith and prayer.
As time passed our sons grew up to manhood and during that period of time and years went by things were happening. Three of our sons went on missions. Asa was the first to go. He went to the Southern States, for two years. He had his 21 birthday in the mission field. Ben E. Rich was his mission president. John went to Colorado on a two year mission. Before he came home, Edwin was called to the Southern States. Ed had married and had three children. While he was gone Darrel had a serious operation at the L.D.S. hospital in Salt Lake where he died. Asa was with him. John was released at that time and they brought the body of Darrel to Fairview for burial.
While Edwin was sitting in the mission house reading the Bible, he thought he saw a shadow pass by the window, and it seemed someone handed him a letter. He knew then that Darrel had passed away.
Two of our sons were school teachers, Bert taught a few school terms, but it was too confining for him, he would rather get out and sheer sheep, go hunting or do anything that was outdoor work, so he soon quit school teaching. Lyle liked teaching. He taught at Bear Lake Academy, and at Montpelier, Idaho two or three years. At Salina, Utah also. There he was called to assist Prof. Anderson at Brigham Young College for several years at Logan, Ut. About that time most all LDS Church supported schools were closed down, so Lyle went in to studying for a Dr. degree. He graduated from the University of Calif. for Ph.D. in 1931. He was in business with two other Drs. when he died in the same hospital with a brain tumor, at San Francisco, Cal.
Our sons all have the honor of holding the office of Melchezidek Priesthood, are workers in LDS church in different wards in which they live.
George Osmond was Star Valley Stake Pres. He was a very kind advisor. We, in our primary work went to him for advice in our undertakings. I think we were successful. We made many friends which remember us to this day.
Then came a time I was asked to become postmistress at Fairview Wyo. I knew I couldn't take care of the primary stake work and P.O., so I asked Pres. Osmond's advise. He knew my financial circumstances. He said he hated to release me from the primary work but that it would be advisable. He gave me an honorable release.
I had friends that went bonds for $500 and I took the office. I lived in one of Bert's houses at Fairview Wyo. My sons partitioned one of the rooms into a P.O. and a little candy store. It was about five years I kept the office, 1903-1913, then I moved to Afton. My bondsman permitted me to move the office about 2 miles east of the valley to Osmond Ward where Edwin wanted me to take care of a ranch he had there. That was the first, in fact the only Post Office Osmond ever had. I kept a little store there also, I think that was the first store Osmond had. We had not been there a year when the house caught fire and burned the roof off. That finished the Post Office for me!
I made arrangements with Arthur Roberts, post master at Afton and turned my post office over to him and that cleared my bondsmen and myself. That was a relief. There was more worry and work than money in that experience.
There is a little more I shall refer to regarding our family. When their father died he left me with our 9 sons. I testify that our Heavenly Father has blessed me and our family in so much that they have grown up to be honest honorable men, members of the church and kingdom of God. None of them use profane language, intoxicating drinks nor tobacco. They all (but one) have good faithful wives sealed to them for eternity. I surely bear testimony to the truthfulness of the Gospel. That Joseph Smith is a prophet of the Lord. That he was chosen of the Lord to come to earth to restore this, the new and everlasting Gospel to earth. I am very thankful that we are permitted to be numbered with the latter day saints. My greatest desire is that our posterity will always live to be worthy members in this only true church. In speaking of posterity I am reminded to make mention this fact. When my husband died he left me and nine sons. That was in 1895. Now in 1944 my posterity is 9 sons and 8 wives, 50 grandchildren, 115 great grandchildren and 7 great great grandchildren. Quite a difference in 49 years, don't you think?
I had a lot of worry in raising our large family in the years of their childhood. There was sickness, little accidents and hard time to contend with, but we always felt that their father was near to comfort us. With that and our faith in God and our prayers, we managed to get along. There are many times in my life experiences I can testify to the fact that our Father in Heaven does answer our prayers if we ask in faith trying to obey Him.
As time passed our sons grew up to manhood and during that period of time and years went by, things were happening. Three of our sons went on missions. Asa was the first to go. He spent two years in the Southern States. John went to Colorado on a two year mission. Before he came home, Edwin was called to the Southern States. Ed had married and had three children. While he was gone Darrel had a serious operation at the LDS hospital in Salt Lake where he died. Asa was with him. John was released at that time and they brought the body of Darrel to Fairview for burial.
I spent a few years as post mistress at Fairview, Wyo. Then they moved the post office to Osmond and I with it. I had a little store to handle also. This job proved to be more work and worry than money.
I had a lot of worry in raising our large family in the years of their childhood. There was sickness, little accidents and hard times to contend with, but we always felt that their father was near to comfort us. With that and our faith in God and our prayers, we managed to get along. There are many times in my life's experiences I can testify to the fact that our Father in Heaven does answer our prayers if we ask in faith trying to obey His commandments.
In 1917 I moved to Logan to do temple work. Began May 17, 1917. I did about 860 endowments, was baptized for 240 and did 152 sealings. Work in the temple gave me the greatest pleasure of my life. I always thought and do think it is the nearest to heaven one can get while on this earth.
My greatest desire is that our posterity will always live to be worthy members in this the only true church. In speaking of posterity I am reminded to make mention of this fact. When my husband died he left me and nine sons. That was in 1895, now in 1953 our posterity is 9 sons, 8 wives, 1 daughter which makes 10 of my own children, 59 grandchildren, 175 great grandchildren, 62 great great grandchildren and one great great great grandchild. 307 descendants from Medwin and Josephine Stock Allred.
POYNTZ ADAMS  (Father of Jane Adams Stock)
Dr. Poyntz Adams was born in 1789 in England. He was the son of Robert and Sarah Foxten Adams. He chose Mary Stains as a life companion.
Professionally he became a physician and surgeon as such he practiced for many years. First at Stoke Albany North Hemtonshire, England from 1823 to 1836. He then included Wilbarton an adjoining parish until 1840. Later these two parishes were united with one clergyman with registers at Stoke Albany.
Poyntz Adams and family left England and arrived at Cape Colony in the autumn of 1842. They made their home at Utinage, South Africa.
Dr. Adams did not obtain his diploma from the Royal College of Surgeons, or any other institution qualified to grant the same before leaving his native land where he might have obtained the same for a small sum. He attended several courses of medical lectures, certificates of which are now in the medical committee. Having a large family to support he could not leave the colony to return to England. Without the diploma he could not practice his medical profession except in his own family.
In a letter dated July 1, 1843, he wrote to England for permission to practice as an apothecary and chemist. In reply to his request it was recommended that he be given a license to act as a chemist and druggist.
It is believed that Dr. Adams passed away about 1870. His wife Mary Stains passed away about 1877. However there were no community records kept. There was a census taken at intervals.
Poyntz's father Robert Adams was buried at Laton, England 1713 (sic).
Blessing upon the head of John Stock setting him apart for his mission to South Africa. Given in Salt Lake City April 8, 1862 under the hands of Elder Orson Hyde, John Taylor and Lorenzo Snow. Pronounced by Lorenzo Snow.
Brother John Stock, in the name of Jesus, and by the virtue of the Holy Priesthood and apostleship, we lay our hands upon your head and set you apart unto the mission there unto you are appointed to go to South Africa to do business pertaining to the kingdom of God. And you shall have wisdom and intelligence to accomplish everything that is necessary to be done, and you may be preserved upon the waters, in the midst of storms and upon the land in the midst of the enemies of the Lord. The Lord will give you power and discernment to let you know what you shall do, and you shall accomplish that business which shall be for the good of the kingdom of God, for the gathering of Israel, and if faithful, thy testimony shall be as a voice of the Lord. Be instrumental in the hands of the Lord, in doing much good, not only in business gathering of Israel, and that which pertains to the introduction of that light and knowledge and to accomplish that which is in thy heart. The Lord shall be with you and the angels shall preserve you, and you shall rejoice in returning and beholding that you have done a good work.
We ask the Lord to preserve this thy servant, and we say in as much as you will be faithful your life will be preserved to behold the accomplishment if much good, and you shall return to behold your family and friends in peace. We seal every blessing upon you, even that has been promised. We confirm and say you shall be blessed in all blessings which you try to obtain. And this we do in the name of Jesus, amen.
John V. Long -- Reporter
One morning Aunt Martha Shirley had cooked the breakfast for the Stock family. All had finished the meal, the last pancake still on fire for the cook. Just then some Indians on horses rode up. One having a spear in his hand picked the pancake up with his spear and rode away with Aunt Martha's breakfast, seemingly well pleased.
They arrived in Salt Lake City 5 October 1860, after being six months and eight days from sailing date. Shortly after reaching the valley little Jessie spent her fourth birthday and Maria turned two. On the following January first, a little son was added to the family.
After arriving in Salt Lake City, before two years had passed, her husband John, left for a mission to his native land. His leaving placed an extra responsibility on her. At Port Elizabeth colored servants did the heaviest work as well as many other duties. She must now care for the family and manage alone.
Her husband left for his mission May 2, 1862. On his arrival in England he had the good fortune to meet some of his relatives. It was necessary to wait there for a sailing vessel to continue his journey. In the meantime he preached the gospel at every opportunity. From one of her letters to her husband while there is the following.
Salt Lake City, Utah
Dec. 2, 1862
My Dear John,
I did not mean to hurt your feelings when I said I had no fat to boast of. I am always glad to hear you are well and happy. You say I did not say in my letter that I love you. I thought you knew that, I have told you so many times.
On reaching Africa, her husband visited some of her relatives and preached the Gospel. A number of L.D.S. converts returned also to Utah with him. This information had not been received at the time John Stock's history was written.
John Roberts, his grandson found the court proceedings while on a mission to Africa. While in Africa John had hoped to close his business interest and sell the property he had left in his native land. He was unable to collect from those entrusted with his business affairs. Here possession proved greater than ownership. Those managing his affairs became very angry to think that John had returned to look after property that was rightfully his. The wife of the man entrusted with the property in anger threw a cucumber at him. He was unsuccessful in collecting, which was a disappointment, as well as a great financial loss. Jane had shared his good fortune and success. She stood by him in time of trial or adversity.
Shortly after his return home the Stock family moved to Paris, Idaho. They were there when President Young made his first visit to Bear Lake Valley. The following is taken from the story written by Solomon F. Kimball.
On 16 May, 1864 President Young and company started for Bear Lake. There were 9 of the church authorities and seven teamsters accompanying him. At Franklin, Idaho, their number increased to one hundred fifty three. Elder George A. Smith weighed about three hundred pounds, rode in a carriage which broke down. He next rode in a light wagon, this also broke down. To climb a mountain they hitched to a single tree. The men needing help for the climb held to the single tree. A wagon was sent from Bear Lake to aid the party. When this broke down too all laughed heartily. Elder George A. next rode the largest horse. The road was now so muddy that the horses sometimes mired up to their saddles. They were covered with mud. On reaching Paris, Idaho where they found about thirty four dirty roofed huts. The good people living there had a wagon load of trout, caught at Fish Haven and plenty of good butter for frying the same. Jane Stock and daughters fried the fish for the brethren during their stay of several days. The party went as far south as Fish Haven, Idaho. During this journey several town sights were selected. Several meetings were held. The party returned in wagons drawn by teams.
JANE ADAMS STOCK
(Related to Josephine Stock)
Jane Adams Stock was born 27 August 1823 and christened the 7 October of the same year at Stoke Northland, England. Her parents were Dr. Poyntz and Mary Staines Adams. They were born in Essex, England.
Her father was a practicing physician in England for many years, together with his large family left their native land to join the English colony in South Africa where they arrived in the autumn of 1842. In this new land life and living were quite different from that of their native country. Not long after their arrival Jane met the young man with whom she journeyed along life's way. This young man was John Stock. The wedding bells rang for them February 4, 1844 at Uitenage, South Africa, where her parents were then living.
The newlyweds made their home at Port Elizabeth where her husband John became very successful in the tannery business. It was here that eight dear children came to gladden their home.
The Latter Day Saint mission was opened there April 18, 1853. John and Jane were deeply impressed by the gospels teaching, which day by day brought new light into their lives. They were among the first residents to become members of the church. Their baptisms took place in 1853. After joining the church, utmost desire apparently was to go to Utah. Their faith seemed to be a beacon light ever beckoning them on. With this thought in mind also other families might be helped in going to Utah led to the purchase of a sailing vessel by her husband and brother Baker. To test the sea worthiness of the vessel it was sent out on two voyages to Cape Town. On its second voyage it reached its destination but was lost during the return trip. This no doubt was a deep concern to them, as there were no survivors from the ship. Perhaps it delayed their journey westward.
The time drew near when perhaps one of the greatest decisions of their lives was to see it's fulfillment. John's business affairs had been put in the keeping of another. The family with their belongings were in readiness. The home at Fort Elizabeth in which they, with their children, had been so happy must be left behind. Last but not least, was the parting of close friends, dear parents, brothers and sisters. With Jane the parting was final as they did not meet again. There were no railroads so the company traveled over land to Cape Town to set sail a distance of about five hundred miles.
It was the 27th of March, 1860, that the anchors were raised on the Atlantic Ocean with Charles Cooper in command as captain. They also took some live chickens. At that time there was neither canning or refrigeration of food to preserve them. The only way to provide fresh meat was to take live fowls or animals along.
The voyage was a long tiresome one for the eight or ten families on board. After sailing sixty days, they landed at Boston. Here the company divided. They met again at Florence, Nebraska. This company numbered more than four hundred people for the long westward journey.
Thomas and Martha Shirley drove one of the ox teams and wagons belonging to the Stock family. This couple took care of their little daughter Jessie, to relieve Jane of her care.
While traveling westward they came in contact with many Indians. These often rode along with the company and sometimes exchanged or bought articles from each other. The Indians liked to play pranks on the white people. One day Jane's oldest daughter whose name was also Jane, was offered a trinket by an Indian. At first she refused to take it. As he insisted, she accepted it. He then drew his knife. This terrified her. What could it all mean? Did he mean to do something tragic? The cold chills ran down her back. She fairly shuddered. He then ran the knife down the front of her basque, cutting off the bright buttons, while he caught them in the other hand. Had he not given the trinket in exchange for the buttons?
The following October a little daughter was born to the family. Jane was in poor health for some time as a dropsical condition developed. She passed away May 13, 1865, at Paris, Idaho. She was the first white woman laid to rest there. Her daughter Elizabeth and Hyrum Rich, newly weds took the baby sister to rear. Jane was the proud mother of eleven children, four sons and seven daughters blessed their home.
Written by her Granddaughter, Edna L. Nelson Tremelling