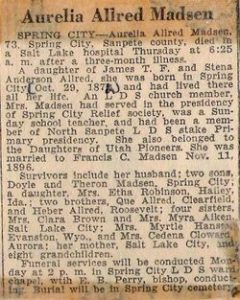 Margaret Aurelia ALLRED
Allred Lineage:    Margaret Aurelia, James Tillman Sanford Jr., James Tillman Sanford, James, William, Thomas, Solomon born 1680 England
Born: 10/29/1871 Spring City, Sanpete Co., UT
Died: 07/19/1945
Submitted by: Sharon Allred Jessop 03/30/2000
Written by: Elizabeth Elmira Allred Aiken
Margret Aurelia was the eldest child of James Tillman Sanford Allred Jr. and Christina B. Anderson Allred. She was born in Spring City, Sanpete County, Utah on October 29, 1871. She was one of our Heavenly father's favored daughters. She lived an eventful and colorful life here upon the earth. Born at the foot of a lofty mountain amid the rigors of pioneer life, she lived her entire life in Spring City and took advantage of the opportunities afforded there to make her life a rich and fruitful one.
Aurelia's life was rich in experiences, progressive and extensive in service to all. She was generously endowed with talents and leadership capacity. Her love and knowledge of the Gospel of Jesus Christ accompanied with her sincerity, her courage to stand for her beliefs, her keen sense of humor, her influence for good, and her exemplary life was felt by all those with whom she associated. She was a true wife and a loving mother, excellent neighbor and a good homemaker. Aurelia met each day with a keen interest in it's affairs. She used wise judgement and courage in facing the many trials which beset her and responded well to the many requirements made of her.
All the Church organizations to which she was called to assist were strengthened by her good deeds. She served as an aid in the stake Primary for four year also serving as Stake first counselor for eleven years in the same organization. She served for fourteen years as first counselor in the Relief Society, and as a teacher and treasurer for the Sunday School. Aurelia also sang in the ward choir. She was an active member of the Daughter of the Utah Pioneers. From her birth, reared in a faithful Mormon home, she lived an active life of service as a Latter Day Saint woman.
Aurelia married Francis C. Madsen on November 1, 1896 in the Manti Temple. She was a loving mother of eight children, three died at or near birth. Two other little children died of measles in 1905, just two weeks apart. No effort was too much, no sacrifice too great for her children. Her greatest desire was to protect them from evil and preserve them in righteousness. Her courage and determination to press forward and overcome sorrow and adversity were some of her greatest qualities.
She was a noble woman of noble parents. She gave devotion and watchful care to her mother as long as she lived. Her family, kinfolk, and friends learned many inspiring lessons from her life and hold dear her memory.
[Taken from family history book, "From Allred to Allred" put together by Venna Severance]