Kate Markland JONES
wife of James Henry Allred
Allred Lineage:   James Henry, Paulinus Harvey, Isaac, William, Thomas, Solomon born 1680 England
Born: 07/17/1854 Salt Lake City, Salt Lake Co., UT
Died: 03/21/1935
Submitted by: Larry Cooke Allred 03/27/1999
A statement made by her when she was in her 72nd year.
"Kate Markland Jones, born 17th July, 1854, in Salt Lake City across the road south and a little east of Eagle Gate. My father's name was John Markland. He was born in Manchester, England, November 26, 1830. Mother's name was Elizabeth Mulliner, born in eastern Canada, March 8, 1836. They were married July 24, 1853 in the Endowment House. My Grandmother, Catherine Nesbit Mulliner, took me when a baby to her home - I was not very strong - on second south and Main street, where I was nursed by Harriet and Mary Mulliner, wives of Samuel Mulliner, my grandfather (they having babies the same age). A few months later my sister, Millie, was born. My grandfather was called to go to Lehi and set up a grist mill, so we moved there. He also set up other mills in American Fork - woolen mill, grist and tannery. We lived in American Fork when I was quite small, then moved to Lehi mill, one mile east of Lehi; where I went to Lehi to school only part of the time.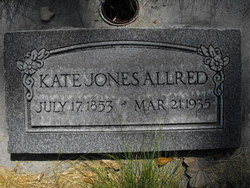 "We all lived in one big house, ate at the same table. Grandfathers five wives, Kate, Harriet Berry, Mary Richards, Hanna Hurst and Ann Capstic. Harriet was the mother of five children. Mary six children, Hannah was childless. She died with tuberculosis. Ann three children by a former husband. We all lived happily together. We children looked with honor and respect to our parents. Love and respect for God was taught to us by that strong Oak, Samuel Mulliner. Singing from the hymn book by the family before family prayer came each night as sure as the sun went down. We sometimes wished he would forget when we were playing hide-and-seek, but we always got disappointed. The bell stood on the end of the mantle. I think I hear it's chimes now after all the shifting scenes of life of seventy two years. I also can hear the screams and shrieks of the crowd when called by that bell.
We were taught all kinds of work, helping to make our own cloths from the sheep's back. Our piano was the spinning wheel. When we all turned out to pick peas we took two home-made baskets, one bushel and one half each, then for good measure we each filled our aprons. Many was the song we sung while picking peas and gathering vegetables to fill the vacuums that seamed always empty, for we always had hired help and our home had it's doors open day and night. Our garden and orchard was fenced with willows, braided around oak stakes to make it cattle proof. A deep ditch was dug all around. I describe it because of a very important event in my life happened there.
"My older brother, John Markland, was drowned when about two years old. My parents had a very beautiful ring made with some of his hair in the set of the ring. So one day I lost it. It nearly broke my heart, as it would any little girl. I put in days hunting in the hen nests, chip pile, garden and carrot patch. Finally I thought I would my Heavenly Father to help me find my treasure. So I went down to this deep ditch feeling sure that he would help me. There I told him if He would help me I would never doubt the truthfulness of the gospel. Those are the only words that I can remember of saying. I could not say whether it was that day or not, but shortly after I went in the kitchen, there sat grandmother with the ring on the end of her little finger. This is the miraculous thing about it. Gram had an old chest that came from Scotland that she kept under lock and key. She had sent me for some article, and the ring had dropped off. This day she went to get something. Her finger went inside the ring in answer to prayer. Otherwise that ring might have stayed in that chest for years, because the bottom of the chest was never reached year in and year out.
"What good I have received from that great manifestation! I have attended other churches and heard many falsehoods told on our people and the authority of our Church during the persecution of our people. Sometimes I would wonder. Then this prayer in the ditch has grown so big, so strong, so powerful that I cannot doubt.
"I was attending S. R. Thurman's school living with Usilla Allred when B. W. Brown came and persuaded me to go and help his wife for a few days only. That night she died leaving three children. Through sympathy for them I stayed until I was married to James Henry Allred of Lehi, June 16, 1873.
"The first summer we went to the west canyon where he got out logs, took them to the saw mill in the left hand fork - called the jump-off - where we got the lumber to make our first two room house, finishing one only. I had gathered rags and made a carpet to cover the floor. My, but that was a cozy home. We moved in on the 8th of February 1874. We had a few chickens and cows. This home was out where Robert Fox now lives. To complete our home and surroundings, early in the evening of May 21, 1874 a little beautiful boy came to gladden our home. We named him J. Urban.
"That fall my youngest brother, Ted, came to live with me. Next my sister, Millie, came to live with me. She married from our home. On the 11th day of September, 1976, on Monday at sunrise, another sweet boy came - John Gurnett. On July 17th, 1878, another lovely boy, James was born. He died the same day. On July 31st, 1879, we thought the only girl was born. On Thursday morning about 1 a.m. was born Minerva. We moved over the west side of Jordan in December, 1891. On the 24th day of June, 1881, another boy was born in the log room, on Friday about midnight, Clarence Eugene. On the second day of August, 1883, on Thursday another boy was born in the log house, Rodney Chase. Lehi on September 25, 1885, on Friday, Rugder Van Buell. On October 3, 1888, another boy - Aaron. On Thursday, October 20, 1892 Elijah Hugh was born. On Thursday September 17, 1896, another girl, Odessa, was born. The last of four in Lehi on the old corner, except Buell, he came across the street north of the Orem Depot.
"I am truly thankful for the noble spirits that were sent to me to mother. Better, no mother on earth has enjoyed. On the first of September 1903, Elijah Hugh died. He was eleven years old. So I have two boys to meet me over there.
"In 1894 William and Jessie Jones came to live with us. The former, eleven years, Jess, fourteen years. They stayed. Then four of J. U.'s children came and stayed two years, the oldest was eight, the youngest from birth. At Lehi Aaron's wife died, left three boys. They were with us three years. With Uncle Ted that makes twenty in all.
"We were married by Daniel H. Wells in the old Endowment House in the northwest corner of the tabernacle block. I think we were a pretty good and happy couple and have kept close to that shore ever since, seventy four years next month, 1927.
"I have done some work in the Church. When Karl G. Maeser first organized the religion class in Lehi, I was chosen as one of four to stand at the head of that organization. In 1892 or 3, September 20, was called by President Wilford Woodruff to assist in Religion class work. Was one of the first in the country for that work. I was chosen in 1890 in the second district on April the 5th as second counselor in the Primary, then in 1903 as president. After this time I was called to a Sunday school class of young ladies. In January, 1904 I was chosen by ballot to be president of the 2nd Ward Relief Society. That was when the Ward was first organized, and there was some misunderstanding and dispute who should have the honor. So the sisters were called together by the Stake President. Each sister voted. I was set apart by the Stake President, A. J. Evans being mouth. I was set apart as midwife and assistant in sickness by T. R. Cutler and others on October 22, 1893. A short time after I received a mother's blessing from Zina Young and I. M. Horn and Rebecca Standring. Sister Young being mouth for the same purpose. Then another blessing at Relief Hall, Lehi, Sister R. Standring, Martha Thomas, Milissa Willes and others. Rebecca being mouth.
"On February 12, 1894 the sisters, Zina Young and I. M. Horn, were at Sister Standring's home, I with others, was invited there at a meeting. Sister Standring gave each one individually a blessing in tongues which was interpreted by Zina Young. The only thing that I can remember was that I should see our Savior in the flesh. I testify to you, my children, that while lying on my bed in the L. D. S. Hospital in November, 1924, that promise was fulfilled, for I saw Him and felt His warm and Heavenly influence from my head to my toes. I cannot express the sensation of that sight, but I know by the clothes that he and his companion wore that our temple clothes are necessary, so beware.
"On September 11, 1910, I was set apart by Steven L. Chipman as Stake aid on the Relief Society Board. I have traveled many miles, entered many homes, had many conversations through the Stake. I am the mother of the Sunshine of that Stake."
Issued by General Board of Relief Society, November, 1941.
Taken from the Diaries of J. Urban Allred