John Orvel ALLRED
Allred Lineage:   John Orvel, Edward Warren, John Jones, William, William, Thomas, Solomon born 1680 England
Born: 11/22/1896 Northrup, Washington Co., UT
Died: 04/13/1963
Submitted by: Sharon Alled Jessop 11/30/2001
Written by:  Sharon Banks, his granddaughter
John Orvel Allred was born in Northup, Washington County, Utah, November 22,1896, the 4th child of Edward Warren and Alvrean Lemmon Allred. When he was 5 years of age, the family migrated by covered wagon from Southern Utah to the Big Horn Country in Wyoming, responding to a call from the leaders of the LDS Church. They were seven weeks on the way, stopping many times for his father to work that they might. have the finances to continue the journey.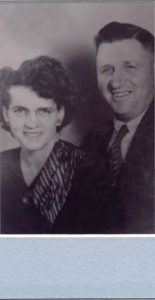 On their arrival in Lovell, Wyoming, they pitched a tent near the Shoshone River, where they camped while they were homesteading and clearing land for farming. Orvel's father cut cottonwood trees and hewed them to the square by hand to build their home and much of their furniture.
Orvel received his schooling in Lovell and was among the first to attend Big Horn Academy, Cowley, Wyoming. He rode his favorite mare, Fan, to school and many times crossed the river on floating ice.
When he was 16 years of age, while riding his horse, it jumped as the ice broke, throwing him against the saddle horn, and ruptured his appendix. For weeks his life hung in the balance, due to the poison that spread through his body. He was healed only through the faith and prayers of his family and friends.
On 1 June 1918, he was married to Iva Gifford in Springdale, Utah. They were sealed in the St. George Temple on 26 June 1918. They were the parents of 8 children, one child died in infancy.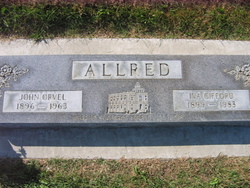 Orvel had a beautiful tenor singing voice, and was always a member of ward choirs and singing groups, and was often asked to sing at social functions. His family enjoyed his talents and enjoyed singing along with him. He was always active in the Church, serving in the Sunday School, YMMIA, as scoutmaster, High Priests group, and on welfare projects. He also served two stake missions - one in 1932 and another with his wife from 1955-1957.
He and Iva spent several of their later years serving as temple workers in the St. George Temple. They also spent time as guides at the Cody Mural at the Wyoming Ave. Chapel in Cody, WY.
He loved sports and rarely missed a local ball game, many times taking along some of his children and grandchildren.
He was a part time farmer, while he worked for the Great Western Sugar Co. and Ohio Oil Co., eighteen years. For two summers he and Iva operated the electrical generator for the Lodge at the North Rim of the Grand Canyon in Arizona. He also worked at other various jobs.
Orvel had several serious illnesses and accidents in his life and Priesthood blessings saved his life in some instances and gave him comfort in others.
He died on April 13, 1963 of cancer. Many prayers were offered in his behalf at that time, but he only asked that the Lord's will be done. Iva relates at one time before his death he said that the entire room was full of men holding the priesthood.
We, his descendants, are grateful for the testimony that he had and the great example that he set - for the loving husband, father and grandfather that he was. Those of us who knew and loved him hope that others of his descendants will take the time to read of his life and come to know and love him too.-- submitted by Sharon Banks, his granddaughter.