James Urban ALLRED
Allred LIneage:  James Urban, James Henry, Paulinus Harvey, Isaac, William, Thomas, Solomon born 1680 England
Born: 05/21/1874
Died: 06/25/1956 Logan, Cache Co., UT
Submitted by: Sharon Allred Jessop 02/22/1999
EDNA BINGHAM AND J. URBAN ALLRED
Edna - 7th child of Thomas Bingham, Jr. and Mary Elizabeth Froerer - b. 22 June 1889 at Maeser, Vernal, Uintah, Utah - m. 26 June 1912 at Salt Lake City, Utah - d. 28 July 1965 at Logan, Cache, Utah - bur. at Lehi Cemetery - bap. 4 July 1897 - end. 26 June 1912 - sld. to hus. 26 June 1912 - sld.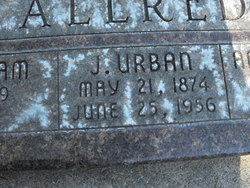 to par. BIC
Urban - son of James Henry Allred and Kate Jone - b. 21 May 1874 - d. 25 June 1956 at Logan, Cache, Utah - bur. 29 June 1956 - at Lehi Cemetery - bap. 10 Oct. 1882 - end. 15 June 1898 -
Allred Children:
Ruth (Dallimore)
Mary
Lucile (Benger)
Odessa (Wood)
Helen (Sweat
Hugh Bruce
Eileen (Bell)
Miriam
Edna Bingham, daughter of Thomas Bingham and Mary Elizabeth Froerer, born 22 June 1889, Maeser, Vernal, Uintah, Utah, a twin of Edwin.
I would like to say here, "We children were blessed with the most wonderful father and mothers, for we always had two mothers, twin sisters, who lived a life of love and service. Never did I know of two sisters who were so united, not an angry word between them, nor did I ever hear father speak unkindly to them. I am most grateful for Aunt Louesa's patience while teaching me to sew, for she did the family sewing and mother did the cooking."
I attended the public schools in Maeser and in 1907 graduated from the Uintah Academy. I attended the B.Y.U. two years, 1911-1912. While at the B.Y.U. I met J. Urban Allred. We were married 26 June 1912 in the Salt Lake Temple, leaving immediately by train for Raymond, Alberta, Canada, with my husband and his four children who had been living with Grandma Allred in Lehi since their mother, Amelia May Hammond, died in Raymond on 8 October 1910. The children were Jesina, Dilworth, David and Kate, wonderful children. Dilworth died of flu six years later at age 12.
In Raymond, Alberta, eight children blessed our home, six growing to maturity. Mary, our second girl, died at one year and Miriam, our last, lived 21 days.
My activities in Raymond 1st Ward, Taylor Stake: Primary teacher, one year; Class leader in Relief Society, one year; Second counselor in Relief Society two years. Block teacher also in Logan 4th and 16th ward Relief Society over twenty years.
My husband, J. Urban Allred, was born 21 May 1874, Lehi, Utah, son of James Henry Allred and Kate Jones. He attended Lehi public school, also L.D.S. College in Salt Lake. From 1894-98 he attended B.Y.U. at Provo, graduated with a teacher's degree in June. He left for a mission to the Southern States, laboring in Tennessee. After returning from his mission he married Amelia May Hammond, 5 June 1901 in the Salt Lake Temple.
He taught school in Lehi two years then moved his family to Raymond, Canada. He has taught Sunday School fifty-five years. He opened up the first church school in Canada.
We moved back to Logan. He was a Sunday School teacher and also ordinance worker in the Logan Temple. Loved and respected by all his children, he passed away 25 June 1956.
Edna Bingham Allred passed away 28 July 1965 and was buried in the Lehi cemetery beside her husband.
*The above was copied from the book The Descendants of Erastus Bingham and Lucinda Gates