James Russell IVIE
Allred Lineage:   James Russell, Sarah, William, Thomas, Solomon born 1680 England
Born: 12/30/1802 Franklin, GA
Died: 06/10/1866 Scipio, UT
Submitted by: Sharon Allred Jessop 06/08/1999
He was born December 30 , 1802 in Franklin, Georgia. He married Mary Eliza McKee, the daughter of William McKee and Miriam McKee. Eliza's father was born in Northern Ireland. He came to America and settled in Virginia. He died in Rockingham, Virginia where he is buried. Eliza was born November 20, 1803 at Rockbridge, Virginia and is buried in Midway, Utah.
Some time after their marriage, James moved his family to Shelbyville, Tennessee where their son Richard Anderson Ivie was born. In 1832 they heard and accepted the Gospel. They later moved to where the Saints were gathering at Kirtland, Ohio; where the Latter-Day Saints built their first Temple. There is no family record of James Ivie having worked on the Temple; but since he was active in the Church and was at the right place at the right time, he probably did.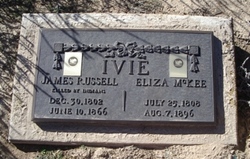 We know that he left Nauvoo with the Saints and lived in Iowa, when the Church was asked by the United States Government to provide five hundred men to form a Battalion for service in the Mexican War. His son Richard Anderson Ivie was called to serve; but at a family council it was decided that it would be better if Richard stayed with his and his father's families, since they were making arrangements to cross the plains to their new homes in the West, and he would be able to guide them through the trials, hardships and dangers they would face during the journey. Privately, I have always thought that James was an adventurer and saw more excitement in going with the troops than with the Saints. He was forty-five years old when be began the 2,000 mile march across the Country to San Diego, California and from there to Monterey, California where he saw the American Flag raised over the Territory they had taken in the Treaty with Mexico. He served in "A" Company of the Mormon Battalion, under Captain Jefferson Hunt. As his son Richard Anderson Ivie was the one called, he went under that name, but in the records the name is misspelled - Ivey instead of Ivie.
He was mustered out of the Service at Monterey, California and went to work with several others at Sutter's Fort to dig a mill race. The money they earned here along with their Army pay was a big help to their families back in Utah. He was working as a carpenter at the Fort when gold was discovered. He saw and handled the nuggets found in the mill race; but had no desire to turn miner. He wanted only to finish his work, receive his pay and join his family.
After rejoining the Saints in Utah, he was called to be Captain and Presiding Elder of the Company called by Brigham Young to settle Mt. Pleasant in San Pete County, Utah. His family also helped set up Round Valley, later called Scipio. His son John Lehi remained in Pleasant Grove, Utah. The families were farmers and helped to till the soil and build up that part of Zion.
One story told in the family is that on June 10, 1866, James Russell went to Scipio from Mt. Pleasant to buy a cow that had just freshened with twin calves. The cow was in a Community herd outside of town. He and the herder had gone there to get it and arrived just as a group or band of Indians coming from the South of Scipio circled the town and surrounded the herds of cattle and horses. Both he and the herder were killed. The Indians even took their clothes along with the livestock. James had three hundred dollars in his pocket which they got along with his clothes. He was buried in Scipio as have been other members of his family, which leaves one to believe that he was actually living with his family in Scipio at the time.