James Martin ALLRED
Allred LIneage:   James Martin, Isaac, James, William, Thomas, Solomon born 1680 England
Born: 02/14/1839 Caldwell Co., MO
Died: 07/28/1918
Submitted by: Heather Brush 11/30/1998
James Martin Allred, son of Isaac and Julia Ann Taylor, was born in Caldwell County, Missouri 14 February 1839. They were driven out of Caldwell County when James was only three years old. In 1845 the family moved to Garden Grove, Iowa, then to Council Bluffs and in 1851 the family started for Utah.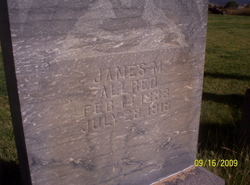 Father Isaac was Captain of fifty wagons, of which at least thirty of the families were Allreds. Isaac at that time had two wives and eleven children. They reached Salt Lake City in August 1851, and settled in Kaysward. In 1853 Father Isaac went to England on a mission. Because James Martin was the oldest member of the children, in the family he had a great burden placed on his shoulders. It was his task to help his father's families as much as a fourteen year old boy could do. In 1859, the family moved to central Utah. James, Sidney H. (his brother), and Al Zabriskie were the first to drive on the present site of Mt. Pleasant, Utah. James Allred and all the family of Isaac were shortly to lose their father, as Isaac died on the 11th of May, 1859. Julia Ann Allred lived her remaining days in Cache County, and James Martin lived there also until 1862 when he went south again. In Fairview he bought fifteen acres of land, and at his death he owned seventy-five acres.
James Martin Allred was an outstanding citizen of Fairview. During the years he lived there he accomplished many things. He was the first butcher in that town, and for fifteen years he was Marshall. As Marshall he had to climb the liberty trail to raise the flag as a warning of Indian raids. Also he formed many posses to pursue Indians that had stolen stock. And during the Black Hawk War he was a Captain. Along the lines of aiding the growth of Zion, James went on a mission to Tennessee and Alabama. During his mission he converted a number of families, and on his return to Zion he brought two of the converted families with him. In the Priesthood he held the office of a High Priest.
James Martin Allred was married to Mary Frances Vance, daughter of Isaac Young Vance and Martha E. Yeager, on the 27th day of March 1860. They had eleven children as follows: Martin Wilford, Isaac Willard, Martha Ellen, Sarah Francis, Ann Eliza, Mary Arletta, Ernest Rudophus, George Alma, Lawrence, Edgar Leroy, and Minnie Elzina. James and Mary were married in the Endowment House in Salt Lake City for time and eternity.
He married his second wife, Christina Anderson on May 16th, 1868. She also bore him eleven children. They are: Elizabeth, James Martin, Annie Minerva, John F., Emanuel A., Lewis, Iduma, Junius S., Lee Grand, and Fred H., and Dorcas Amelia. James Martin had twenty-eight grandchildren, as well as his twenty-two children.
James died the 28th of July 1918 ending the career of a great Mormon Pioneer. He had spent most of his life building and defending Zion.