James Martin ALLRED Jr.
Allred Lineage:    James Martin Jr., James Martin Sr., James Franklin, Martin Carrol, James, William, Thomas, Solomon born 1680 England
Born: 12/25/1888 Provo, UT
Died: 12/23/1918 Vernal, Uintah Co., UT
Submitted by: Sharon Allred Jessop 01/19/2000
by Arvel Allred
There is no written history of James Martin Allred Jr. He died when his children were small, and his business associates and neighbors are now also deceased, so the following account is the memories of his sons and daughter.
James Martin Allred Jr. was born 25 Dec 1888 in Provo, Utah, to James Martin and Margaret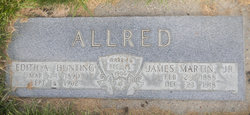 Lindsey Camp Allred. In May 1888 the family moved to Walsburg, Utah. In October of 1888 they moved to the Ashley Valley and lived part of the winter with the Joseph Timothy family and the rest of the winter with Bob Reynolds.
The few years of schooling he received was in the Naples elementary school.
On 25 Dec 1926 he was married to Edith Adell Hunting.
In the summer of 1907 he filed on a homestead on the Indian Reservation in Cuniel (in about 1913 the name was changed to Bennett), your miles north and three miles east of Roosevelt Utah. He disassembled their two room log house in Vernal and hauled it to this location and reassembled it.
The first venture there was to clear sagebrush so they could farm the land. For some period of time he raised clover seed for a cash crop. At the time of his death in 1918 he was a prosperous business man, having started a creamery some years earlier and was making butter.
In December of 1918 he had taken a truck load of butter to Price and was returning home when on top of Indian Canyon he became too ill to drive his truck. He rolled up in his bed roll and lay in the cold until someone came along and picked him up and took him to Vernal to his parent's home, where he died from the dreaded flu of 1918. He died 23 Dec 1918 and was buried on 25 Dec 1918. There was no funeral held due to the contagion of the illness. When someone went back to get his truck, it had been stripped of every removable part.
His children were Claudious Eloro, age 9; Jennie Marie, age 7; Afton Elnora, age 5; Arvel James, age 3; and Charles Martin, age 6 months.
As I was growing up in Bennett the former friends and business associates of my Dad told of some of the attributes and characteristics they knew of him. He and another man, Al Rasmussen, worked together during the seed harvesting season around the country and he spoke of my Dad's exceptional physical strength for a man of such small stature. Al said one day he got knocked out while operating some machinery and when he came to, my Dad had picked him up and was shaking him like a rag doll. His business associates talked of his honesty. Indians liked him. Billy Chapoose told me, "Your father, good man."
In his teen years he was credited by his friends' mothers as being a good example for the other boys.
Family liked telling how their father, Martin, had two freight wagons, and he drove one and had Jim drive the other when he was 8 years of age.