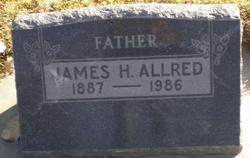 James Heber ALLRED
Allred Lineage:   James Heber, James Tillman Sanford Jr., James Tillman Sanford, James, William, Thomas, Solomon born 1680 Engand
Born: 06/25/1887 Spring City, Sanpete Co., UT
Died: 01/12/1986 Salt Lake City, Salt Lake Co., UT
Submitted by: Sharon Allred Jessop 03/16/2000
Written by Venna Severance and taken from his oral history
James Heber Allred was the sixth child and third son of James Tillman Sanford Allred Jr. and Christena Bolletta Anderson Allred. He was born June 25, 1887 in Spring City, Utah.
He was raised and went to school in Spring City. Heber worked on the family farm helping his parents. His father became ill when Heber was about 10 years old and this put a great deal of responsibility upon Heber for helping taking care of the family needs. His father passed away when he was fifteen and his older brother Oliver passed away when he was sixteen. Sometime during this period Heber left his boyhood home in Spring City and set out on his own to work.
His sister Aurelia had two sons die within a week of each other in December 1905; and Heber returned briefly to Spring City to visit with his family. In January 1906 he decided to go to work for the Bureau of Reclamation helping build dams and an irrigation canal project in the Unitah Basin. In early spring (at about age nineteen) Heber went with his mule team and headed for the Indian Reservation in the Unitah Basin. Heber's job was to dig the canals for irrigation with his mule team. He worked at this job for more than fourteen years and became such an expert that his work was well known among the men who worked and lived in that area. He worked for the government on projects of this kind for twenty seven years.
While living there he met and married Inez Meranda on June 10, 1915 in Duschene, Utah. They became the parents of five children, three died at birth or shortly thereafter. They raised two sons, Clarence and Ursel. During this time they lived in Myton, Leeton, and Roosevelt, Utah. Heber had a farm in the White Rock area where they farmed for several years; he was an excellent farmer and grew some of the finest crops in the area. Clarence and Ursel were enlisted in the military and served during World War II; while they were in the service, Inez passed away November 11, 1945, in Roosevelt, Utah.
Heber married Tina Crane Jensen September 21, 1946 in Salt Lake City and they moved to her home in Salina, Utah. They enjoyed a good life together for many years in Salina. Heber became well known with the townspeople for the good farmer and industrious man he was. Their home in Salina was immaculate, the corrals, fences, and garden, never neglected.
He was an excellent horseman; and trained horses all of his life. While in Salina, he owned champion quarter horses that he trained for cutting. He won many awards for his ability to ride quarter horses. He trained and rode the champion cutting horse for the State of Utah in 1972. Even in his eighties he entered a cutting horse contest at the Utah State fair, he said, "just for fun, to show people how it was still done." And won easily. He taught many youth how to ride, but said he'd only teach those who seriously wanted to work, he didn't have time for any fooling around.
After his wife Tina's death in 1974, her family home and farm reverted back to her children so Heber decided to move to Salt Lake to be near his sons and his sisters who had all come to retire there. He enjoyed visiting with his sisters and friends from Salina who had moved to Salt Lake. He lived most of his remaining years there. He kept very active, and when he could find nothing to do he walked, not just short distances, but for miles around Salt Lake. He took care of himself and never needed care until the last six months of his life when he had to live in a nursing home. He died at age 99, on January 12, 1986 in Salt Lake City.
Clinton Allred, b. 1 Aug. 1915, d. 5 Aug 1915
Clarence M. Allred, b. 4 Nov. 1917, m. Florence Warthen
Elsa Allred, b. 10 Feb. 1919, d. 13 Feb. 1919
Kenneth LeRoy Allred, b. 23 Apr. 1921, d. 30 Apr. 1921
Ursel Heber Allred, b. 23 July 1925.
[Taken from family history book, "From Allred to Allred" put together by Venna Severance]