James Franklin ALLRED
Allred Lineage:  James Franklin, Martin Carrol, James, William, Thomas, Solomon born 1680 England
Born: 11/22/1832 Monroe, Monroe Co., MO
Died: 11/11/1923 UT
Submitted by: Sharon Allred Jessop 02/22/1999
A brief sketch of his life taken from family genealogical records and detailed writings of great granddaughter Mavis Greer Clayton by grandson George B. Allred, January 20, 1989.
James Franklin was born 22 November 1832 in Monroe, Monroe County Missouri, the second son in a family of seven - three sons and four daughters. Their parents were Martin Carroll Allred and Mary or Polly Heskett, and the paternal grandparents were James Allred and Elizabeth Warren whose family came to Monroe County from Randolph County in North Carolina in the early 1830's.
The Allred family joined the LDS Church in 1832, the year James Franklin was born, and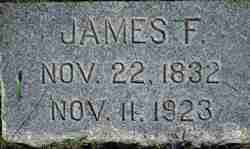 suffered much of the persecutions of the Mormons which took place for the ensuing fourteen years. They moved from Monroe County to Clay County, thence to Caldwell County in 1836, and finally under the Mormon "Extermination" order of Governor Boggs, were driven from the state of Missouri in 1839. A direct quotation from Mavis' writings is informative and interesting: "James Franklin's father was one of the men arrested and put in prison with the Prophet Joseph Smith, although he was later released. Some of the Allreds moved first to Pike County, Illinois, and then later to Nauvoo. Family tradition states that Martin the father died from exposure suffered at that time. He died May 2, 1840, but the place is unknown. The history of mother Mary - or Polly - is not available, but she undoubtedly died during this time, because her children came west with their grandparents, after the expulsion of the Saints from Nauvoo in 1846."
Details of their migration west are sketchy, but one James Allred is listed in the Easton Kelsey's company arriving in Salt Lake Valley the last day of the year 1851.
Sometime in the summer or early autumn of 1859, the lives of Grandpa James Franklin and Grandma Jenny Mackensie merged and they were married approximately ten months later, July 1, 1860 in the 15th Ward of the LDS Church in Salt Lake City. The first three of their ten children were born in Salt Lake, and the next seven in Wasatch County. They had moved there in the year 1866 where their sixth child, Franklin Mackensie Allred, my father, was born in Wallsburg February 24, 1871.
Pioneer life in Wallsburg, or "Round Valley" as the settlement was originally called, was hard and money scarce. But the community life was close-knit, and James and Jenny were able to raise their large family and provide the necessities for them, including basic schooling, through long and diligent striving at many different enterprises and locations. Grandpa James would often go as far afield as Colorado to secure winter's meat supply. Heavy snows would often isolate this small community during the long winter months. There were no doctors, dentists, or electric lights or means of transport for help in case of sickness and disease. One year the dreaded diphtheria claimed the lives of many. Like most families, the Allreds were very poor. They seldom received money for their work. They hauled logs, lumber and railroad ties to Provo and traded for the necessary supplies. They were able to buy only one pair of copper-toed shoes each fall for the boys, and this had to last them or they went barefoot!
The children all went to school in a little one-room log house and learned to read from McGuffey's Second Reader. Parents were able to pay tuition and buy books and slates, and somehow support the services of one teacher who had as many as eighty students at one time.
Grandpa James is remembered as a small pleasant, easy-going person, having no specific trade or profession. He worked at many different jobs in and around Wasatch County, the Unitah Basin and Colorado near Grand Junction. In the fall of 1879, he hired out to take all of the Wallsburg Livestock to the Uintah Reservation for the winter. He took fifteen year old son Martin with him, and they camped where the present town of Duchesne is now located. Here they had experiences with the Indians begging for food, racing their ponies, etc. Grandpa strummed the guitar and sang along with his friends in the adjoining camps. He rigged a team of oxen and a huge wagon to haul supplies for the soldiers sent by the government to defend against Indian raids at one time. This may have been the basis for his "Pension" we kids used to hear about when he was really old, and which he finally got and reportedly bought my sister Bess a new dress, as she was his favorite.
After living together for over forty years and raising a large family under very trying and primitive frontier conditions, Grandpa James and Grandma Jenny separated and were granted a Temple divorce in March 1905. Perhaps a difference in their feelings towards religion was the chief reason. Grandma was very dedicated to the Church, while Grandpa with his easy-come-easy-go nature wasn't nearly so concerned. He could "take it or leave it", I guess, but had some problems leaving off the occasional tipplings. So he got "left", and for the next sixteen years of his long life, lived with one or another of his married children and their families. Part of this time he stayed with my parents, but maybe figured that there were quite too many kids there. I personally remember best the times when he lived with my Aunt Amber Ford. He was a slight, fastidious little man with very white hair and a sharp pointed goatee. He would sit in a comfortable chair in the front parlor close up to the wood and coal heater, checking with satisfaction the high shine on his black shoes. Before finally passing, his weight dwindled to about ninety pounds. November 11, 1923, aged ninety one, he gave up the ghost and was buried November 14 in the Wallsburg cemetery