James Anna ALLRED
Allred Lineage:  James Anna, Edward Warren, John Jones, William, William, Thomas, Solomon born 1680 England
Born: 08/09/1890 Northrup, UT
Died: 03/30/1990
Submitted by: Sharon Allred Jessop 11/30/2001
JAMES ANNA ALLRED CLARK (2-1) 1890-1990
(Daughter of Edward Warren Allred and Rebecca Alvrean Lemmon Allred)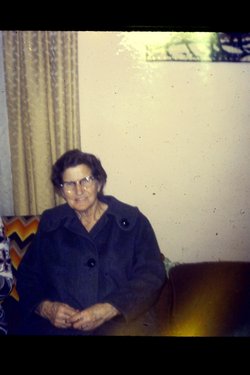 My name is James Anna Allred Clark. I was born on the ninth day of August, 1890, at the ranch house of my grandmother, Olavia Dorthea Lemrnon, in Northup, Utah. My father was Edward Warren Allred and my mother was Rebecca Alvrean Lemmon Allred. I was their first child, and at the time of my birth, my mother almost lost her life.
The story behind my name is very interesting. [1 was named after my aunt.] My Grandma Lemmon was going to have a baby in April of 1882. She had already had six girls. Grandpa Lemmon was very ill at the time and he asked her to please name the baby after him, for he was sure that it would be a boy and he was afraid that he wouldn't be alive when the baby was born. April 3, 1882, another girl was born to Grandma Lemmon, but Grandma followed Grandpa Lemmon's wishes and named her James Anna. Grandpa Lemmon did die in June of that same year. My mother, Rebecca, was ten years old at this time and because my grandmother had to go to work after my grandfather died, the task of taking care of this new baby sister, "James Anna" fell to her. She loved this baby so much and she enjoyed taking care of her, but when James Anna was almost five years old, she died and left my mother broken hearted. Right then she decided that if she had a girl she would name her James Anna after this little sister.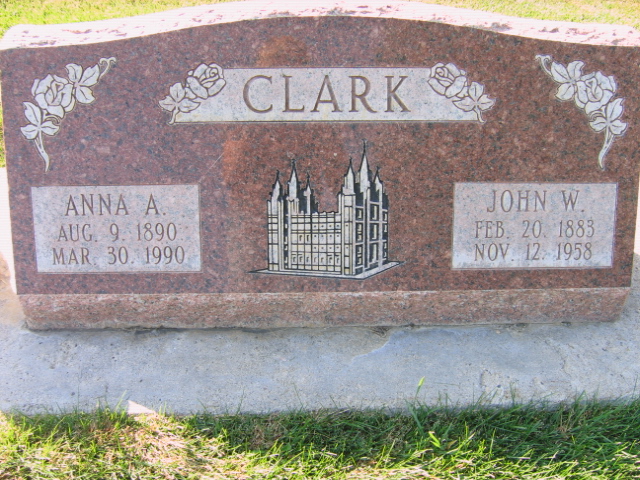 My father farmed on my grandmother's ranch until I was six years old. The Virgin River ran close by Grandma Lemmon's ranch. Grandma Lemmon often took us swimming. She could swim like a fish, and she never failed to dunk all of us. Later I was baptized and confirmed a member of the Church of Jesus Christ of Latter-day Saints on my eighth birthday by William Reusch, in this river.
The year that I was eleven years old we left Springdale, with two covered wagons and four horses. We left the first part of April and seven weeks later arrived on the second of June, 1902. There was no developed town as there is now. I went to the Big Horn Academy the first year it was in Lovell, in the old white church, with Albert Fillerup as the teacher.
I met John Willard Clark at a dance and party in Lovell. He was very musical and loved to dance. He also sang tenor in the ward choir. We were married on March 29, 1912, at my parent's ranch. On the eighth of April, 1920, we were sealed for time and eternity in the Salt Lake temple. We had five children. Our eldest, Evan, then Guinevere who died only two months after she was born, Alvrean, John and my last child, Wilbur.
In 1929 we bought the home that I now live in. It cost us one thousand dollars and I remember thinking that we would never get out of debt.
After my mother died in June of 1945, my father lived alone for eight months at the ranch, then we finally persuaded him to come to our house to live. My husband, John, was so good to take care of him. He lived with us for about four months and died at our home. My husband died November 12, 1958, after forty-six years of married life.
I was never in the hospital until I was seventy-nine years old, at which time I had an operation on my toes. Also that same year, I was given recognition by the Lovell Chronicle for the "Lawn of the Week." a weekly honor to a beautifully kept yard. I have always had beautiful flowers amid a large garden to keep me busy during the summer. It has only been in the last few years that I' ve cut down on the size of my garden and hired help with mowing my lawn.
A busy pastime of mine, in the winter, is making quilts. Another favorite winter pastime is going to basketball games. I am a devoted Lovell Bulldog fan along with my sister, Chasty Reasch. I love to read and I read a lot. In the past two years, I have read all the Standard Works, plus many other church oriented books.
In 1982, I was honored, along with three of my sisters, to be the grand marshals in the Lovell Days Parade. Veda, Vera, Chasty and I dressed as pioneers, with tong skirts and bonnets, and rode in an old-fashioned buggy at the head of the parade.
I have twelve grandchildren and seventeen great-grandchildren and ten great-great-grandchildren. I feel I have lived in a marvelous time in the history of the world. I have ridden in a covered wagon and I have flown in an airplane. - autobiographical, submitted by Shirley Smiley, her granddaughter