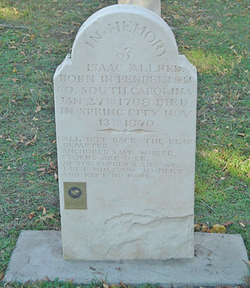 Isaac ALLRED
Lineage:  Isaac, William, Thomas, Solomon born 1680 England
Born: 01/27/1788 Pendleton, SC
Died: 11/13/1870 Spring City, Sanpete Co., UT
Submitted by: Sharon Allred Jessop 06/09/1999
By Mrs. David (Inez) Allred
Previous to his conversion in Missouri, Isaac had homesteaded with his parents in the Southern States. His birth on January 27, 1788, in Pendleton, South Carolina, occurred during the month when Georgia and Connecticut were convening to ratify the Constitution. When the family of William and Elizabeth Thresher Allred moved to Franklin Co., Georgia in 1790, Congress held its second session in Philadelphia. As friction with France and England culminated in the War of 1812, they migrated westward to Bedford Co., Tennessee.
Isaac's father, William, had moved to South Carolina from Randolph County, North Carolina because of the opening up of Indian lands in South Carolina. In Randolph County, William had left his father, Thomas, and his Uncle John, and William and Aunt Elizabeth, and possibly other aunts and uncles who had migrated from England, and had settled in the Hillsborough District, now today known as New Salem, South Carolina, before that area was a part of the Republic.
Shortly after William, Isaac's Father, had taken land in South Carolina, he sold his holdings and acquired 400 acres on Grove Creek in Georgia Territory, which later was known as Franklin County, and which is known today as Banks County, Georgia. This move to Georgia was in 1790, as Congress held its second session in Philadelphia. As friction with France and England culminated in the War of 1812, they migrated westward to Bedford Co., Tennessee. (1807)
By this time, Elizabeth Thresher had given birth to all of their eight children, and our dear beloved Isaac, being a young man of about 22 years, decided to take unto himself a wife. He and Mary Calvert were married February 14, 1811, Mary being the daughter of John Calvert and Mary McCurdy. The Calverts were of fine southern family who came to Virginia about the year 1600 and settled Maryland and Virginia, with their colonists, founding the City of Baltimore.
Disclaimer:  Although some family histories and family trees claim Mary Calvert Allred was a direct descendant of Lord Baltimore, this has been proven wrong by additional research.  For further information on this research and findings, please contact Maryellen West.
Isaac and his new bride settled down in the community of Farmington in Bedford County, Tennessee. There they lived for 18 years, and it was while living here that their first 10 children were born to them, Elizabeth M., John Calvert, Nancy Weakley, Sarah Lovisa, William Moore, Reddin Alexander, Redick Newton, Mary Caroline, James Riley and Paulinus Harvey. In 1830 the family moved approximately 1000 miles west to Monroe County, Missouri. They located on the Salt River, a small stream that empties into the Missouri River just below what is known today as Hannibal, Missouri.
It was to this same place that Isaac's older brother James, and several of his married sons had also moved the previous fall, and founded what later became known as the Allred Settlement.
Two years following their arrival in Monroe Co., Hyrum Smith and John Murdock preached to the Allreds, testifying that a new prophet, Joseph Smith, had organized a new church or rather the old one restored. The parents of Isaac, according to his brother, Reddick, were exemplary Presbyterians and were taught that prophets and apostles were no longer needed. Later, Isaac opened his home for meetings as other Elders, bound for Jackson County, stopped to teach. A year passed, and the faith sown in 1831 took root as George Hinkle, Daniel Cathcart and James Johnson organized the Allreds, Ivies and others into the Salt River Branch. Nineteen converts, including Isaac and Mary, one or two of their daughters and William Moore Allred, were baptized on September 10, 1832. (It was to this place that Isaac's older Brother, James, and several of his children, as stated, moved the previous fall, and founded what later became known as the Allred Settlement.)
While living at the "Allred Settlement" Mary gave birth to two more children, Joseph Anderson and Isaac Morley. When the Saints were driven out of Monroe County, the Allreds moved about 100 miles farther west and settled in Caldwell County, where the family lived until 1838, and Mary gave birth to her 13th child, Sidney Rigdon. When the Saints were driven out of Missouri through the extermination order of Gov. Boggs, Isaac and his 13 children again moved about 200 miles back east to Hancock County, Illinois.
Isaac, together with his family sustained much suffering as they were having to flee from devastated Caldwell County. Isaac had only one or two teams remaining; the family left Far West by foot in the snow. One of Isaac's daughters' skirts was frozen up to her knees. In a petition to reimburse the Saints, sent in 1839 to Congress by Joseph Smith, Isaac is named with James, his brother, Martin C., and Reuben W. (his nephews), as plaintiffs for financial loss. Isaac estimated his property damage as $3,300.00 and sued the government for redress.
Isaac Allred was a mason and he worked desperately to assist in the completion of the Nauvoo Temple. In rags, and without much food, they struggled until the Temple was completed, and it was there in that building, he received his endowments.
Anxious to own property in Nauvoo, he placed himself under bond to Hiram Kimball, a local land owner, in order to purchase land in November, 1841. He signs his name to three petitions regarding his lot. Many of the Temple workers were poverty stricken and survived on bread and water.
The family lived in Nauvoo until 1846, when with the rest of the Saints, Isaac and his family were forced to flee for their lives. He crossed the Missouri River on the ice in February of 1846. After much deprivation, suffering and sorrow, the family struggled across the whole State of Iowa to a point 8 miles east of Council Bluffs. Here with his brother James and the other Allred families, they formed a camp and planted crops. Here they stayed in what was known as "Allred Camp" until 1849 when they moved west in Allen Taylor's Company, their son-in-law who had married Sarah Lovisa. The company started on July 12, 1849, with Captain Taylor in command and Isaac as one of his counselors, and captains of fifty. The company consisted of approximately 300 emigrants and 100 wagons. Isaac Allred and his wife and family and five children of this son-in-law, Allen Taylor, arrived in Salt Lake Valley on October 10, 1849.
Isaac and many of the Allreds settled at Big Cottonwood near the mouth of Big Cottonwood Canyon, because as it was stated, there was a goodly supply of water there, but very little land. It was while living here that Mary Calvert died on September 16, 1851. This was a tremendous loss to the family. Later, they moved to Kaysville, Utah with their son, Reddick Newton, and where their son-in-law, Allen Taylor, was Bishop.
On the 5th of November, 1853, Isaac married Matilda Stewart Park, the widow of John Miller Park. He later moved to Spring City, and with his brother, James, was one of the faithful pioneer families in assisting in building up the church and community in that portion of his Lord's vineyard. He died November 13, 1870, having fulfilled an honorable life and one who could be called one of the very Elect of God!
His sons, Reddin, and William, stayed in the Allred Settlement; they purchased Isaac's land in Pottawatomie County. Eventually, Reddick and Paulinus settled on one side of the stream of Big Cottonwood Canyon with Reddin and Isaac on the opposite side. A census taken in 1851 shows Isaac, Mary, Isaac M. and Sidney as inhabitants of Salt Lake County living in the same dwelling. Isaac is registered as a farmer.
When President Young advised the Saints to move South because of Johnston's Army, Isaac in August of 1958 migrates to Ephraim, Sanpete Co. Isaac did not colonize Mount Pleasant, but he purchased property in Spring City (later known as Springtown). The U. S. Census of 1860, taken in Springtown, Sanpete Co., lists Isaac, a farmer, and Matilda. His real estate is valued at $200 and his personal property at $500.
In his declining years, Isaac was cared for by the sons that surrounded him in Spring City. In his obituary, he was capsulized as a faithful saint and was highly esteemed by all who knew him. The people of Spring City turned out en masse to pay the last tribute of respect to his memory.
(Compiled by Mrs. David (Inez) Allred)