Isaac ALLRED
Allred Lineage:   Isaac, James, William, Thomas, Solomon born 1680 England
Born: 06/28/1813 Bedford County, TN
Died: 05/12/1859 Ephraim, Sanpete Co., UT
Submitted by: Sharon Allred Jessop 06/09/1999
BIOGRAPHICAL ENCYCLOPEDIA
ISAAC ALLRED
ALLRED, ISAAC, a member of Zion's Camp, was born June 28, 1813, in Bedford County, Tenn., the son of James Allred and Elizabeth Warren. His parents being members of the Church he was baptized Sept. 10, 1832, by Geo. M. Hinkle. In 1834 he marched to Missouri as a member of Zion's Camp and afterwards located in Nauvoo, Ill.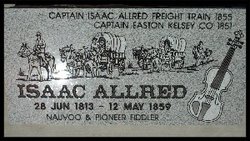 After working on the Nauvoo Temple he received his endowments in the same after its completion. At the age of nineteen years he married Julia Ann Taylor, daughter of Wm. Taylor and Elizabeth Patrick. Yielding obedience to the higher law, he married Mary Henderson as a plural wife in the Nauvoo Temple in 1846.
He spent all his time working for the Church for several years and traveled much as a preacher of the Gospel in different States. Participating in the general exodus of the saints from Nauvoo in February, 1846, he spent a short time in the camp on Sugar Creek, Iowa, after which he crossed the prairies of Iowa to the Missouri river. Thence he crossed the plains in 1851 as captain of a company of saints and settled at Kaysville, Davis county, Utah.
He filled a mission to Great Britain in 1851-1855, and through his labor in the States and in England many converts were brought into the Church. Soon after his return from his mission to Europe in October, 1855, he moved to Ogden, where he resided with his two families until the time of "the move" in 1858, when he settled at Ephraim, Sanpete county, where his parents resided. There he remained till the next year, when he was killed by Thomas Ivie, who assailed him over a trivial matter and beat him with a burning stick from the camp fire May 11, 1859. He died the next day. The difficulty arose over some sheep which Bro. Allred had in charge and which belonged to Thos. Ivie.
His murderer was tried and condemned to death, but he managed to escape and went east. Pres. Young prophesied that Thos. Ivie would apostatize from the Church and that buzzards would pick his bones. This prediction was literally fulfilled, as the remains of Mr. Ivie were subsequently found in a corn field nearly devoured by buzzards. About 1856 Bro. Allred married Emma Dewey. He had ten children by his first wife, five by his second wife, and two by the third wife. All of these grew up to manhood and womanhood, except one, and all have distinguished themselves as faithful Latter-day Saints.