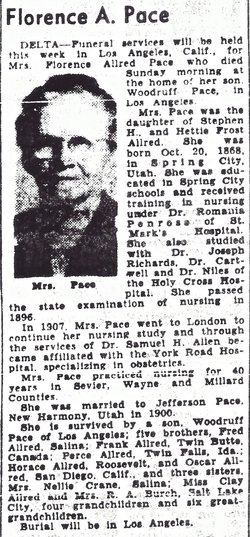 Hettie Florence ALLRED
Allred Lineage:   Hettie Florence, Stephen Henry, James Anderson, William, William, Thomas, Solomon born 1680 England
Born: 10/20/1868 Spring City, Sanpete Co., UT
Died: 05/13/1951
Submitted by: Sharon Allred Jessop 05/07/2000
by Granddaughter Kathleen Pace Boyd
My Grandmother Hettie Florence Allred was born October 20, 1868 in Spring City, Utah. She married Jefferson Davis Pace Sept. 26, 1899; they lived in Delta, Utah, (her father-in-law was James Pace who served in the Mormon Battalion as 1st Lt. in Company E and was later sent by Brigham Young to settle Peteetneet Creek, which was later named Payson, Utah after him). They had two sons Max Owen Pace born Feb. 24, 1902 in Salina, Utah and my father, Woodruff Jefferson Pace was born July 13, 1904 also in Salina, Utah. Grandmother Florence's parents are Stephen Henry Allred and Hettie Frost.
Grandmother went to London, England to receive training as a Midwife and left her two young sons in the care of her mother. (Her husband and her were living apart).
Grandmother delivered many babies in and around the Delta area, including my sister Marine and myself. I can also remember her helping to prepare bodies for burial and she was a very well-respected woman in the community.
Many summers, when we were just young girls, my sister and I would travel by train to spend vacations, out of the California heat, with Grandmother in Delta and with my mother's parents, Mathias Caleb Dutson and Christine Anderson Dutson in Leamington. We always had a terrific time, even though there was outdoor plumbing.
In later years Grandmother would come to Los Angeles and spend time with us. (Max, her other son, was also living nearby so she could visit him also).
In May of 1951 Grandmother came to California to be nearby when I would have my first child, but she passed away on "Mother's Day" just a few weeks before I had our son Brain Woodruff, but I can say that I felt her presence in the delivery room.
It was several years before our family finally went to Delta and removed her furniture and possessions and sold her property. Among the things I obtained was some beautifully handwritten Family Group records in her Book of Remembrance, not too many sheets in it because gathering information took a lot of letter writing and research . . . .(thank goodness now for the computer age). I put the book away for several years, I guess, until the SPIRIT OF ELIJAH hit me. I now have three Books of Remembrances: one covering Grandmother Florence's families, the Allreds, the Frosts and I included the Paces. Another book on my Mother's side, she is Chloe Dutson Pace, includes the Dutsons, Cowleys, Andersons and Christensens, and my third book has personal histories on myself, husband, John J. Boyd, and our three children, Brian Woodruff, Brett Allison and Bryce John Boyd.
My husband and I recently celebrated our "50th Wedding Anniversary" and we made a 45 minute video tape of our lives for our children and grandchildren. We have regretted not sitting down with our parents and getting their experiences and voices on tape, we have done this for our family and feel great about it.
I do think that there will always be someone in every family that will be "touched" to follow through with gathering of genealogy. With my having Grandmothers beautifully written sheets in my possession, it certainly spurred me on to write letters, whereby I received "death certificates", "Nauvoo Temple" Endowment records, histories, etc. (By writing to "submitters" shown on the wards Family History computers you'll be surprised at what you can obtain).
I dearly loved my Grandmother Florence, she was never a wealthy woman, always had to work hard, but I don't think I ever heard her complain. I feel glad that her grave is in nearby Whittier, Calif, next to my Dad and Mother. Our family usually take flowers by on birthdays and holidays. Their graves are in the Latter-day-Saint section of the "Rose Hills" cemetery.
She was 82 years old when she passed on, May 13, 1951
Thank you for asking me to write down some things on my Grandmother.
Always
Kathleen