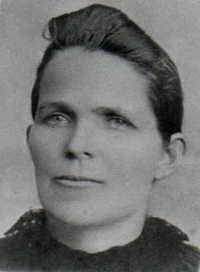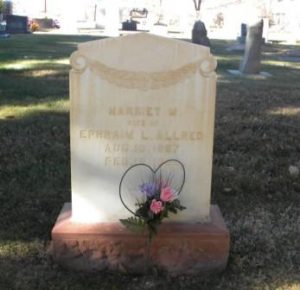 THE LIFE OF HARRIET MATILDA BRUNSON ALLRED
1857-1906
wife of Ephraim Lafayette Allred
by her daughter Amanda Allred Edwards
Typed into Microsoft Word (without grammar changes) by Gary Dean Allred, a great grandson.
Lineage:  Gary Dean, James Ephraim, Louis Ephraim, Ephraim Lafayette, Reuben Warren, James, William, Thomas, Solomon born 1680 Lancashire, England
Mother was born August 10, 1857 in Fillmore, Millard County, Utah.  She is the daughter of Lewis Brunson and Amanda Louisa Parks.
My earliest recollection of mother was when Thomas was born.  I was then four years old.  This summer morning, August 21, 1884, I went with some of the neighbors children to take the cows to the town herd.  On our return father called me and said. "Come all, see what we have".  I was taken to Mothers bed and there she lay cuddling a chubby red-faced baby.  I was delighted and loved him at first sight.
My next recollection of her was when Grandfather and Grandmother Allred came, on December day in 1884 to make us a visit in Deseret, Millard County.  She said "Fill the fire place full of wood, they will be cold".  At once there was wild excitement in the neighborhood and the fire was booming.  Grandfather and grandmother were here and the house was soon filled with their children and grandchildren.  Grandmother had a present for us all and had brought it with her.  That was a thrilling evening in my life.  It was while on this visit that Grandmother died.
Grandfather was so lonely after the death of Grandmother that he persuaded Father and Mother to go back to Spring City and keep house for him.  Father went with Grandfather to Grandmother's funeral and prepared for us to come a few days later.  I have no recollection of getting on the train at Oasis but at Nephi where we had to change cars I distinctly remembered the conductor came and told Mother to wrap us all up well for the weather was bitter cold and that she would have help to get us to the waiting room.  There was a man for each child (four of us).  The blackest man I ever saw; I was so frightened I felt as if I'd die.  Mother must have seen my fright for she walked to the man's side, who carried me and held my hand.  I thought then that Mother had saved my life. 
We lived with Grandfather for about two years.  One night Father had gone and it was my privilege to sleep with mother.  To sleep with mother was one of the greatest privileges of our childhood.  Her bed was the warmest safest spot on earth.  This was a summer night and I went to sleep listening to the frogs croaking and I was so happy for no harm could come with her at my back.  The next morning I awoke and Mother said "lay still a minute and you'll hear a chirp from the leader of the bird singers".  Very soon I heard and in an amazingly short time it seemed that hundreds of birds were singing.  This bird chorus with Mother by my side has always been an incident of sweet remembrance to me, and I have always enjoyed the morning chirping of the birds.
On our return to Deseret the going out of the dam in the Sevier River is one of the most vivid incidents in our life.  This was before the cement was used very extensively.  The mad rush of the water would cut deep gouges around the installed dam and nothing could be made strong enough to hold back the rock-bags of earth, poles, ports, straw and even hay to try to stop the fold of the river.  But it washed angrily down the stream leaving the farmers without water to mature their crops.  This was repeated year after year, but not without a bold effort of every man!  Just when it was thought to be secure and the men were back on their farms out the dam would go.  Especially do I remember one time when the dam went out?  Father came home tired from working on it but with a feeling of satisfaction that it was secure.  He went to bed early and was sleeping soundly when the old bell began to ring out its wild call.  The moon was shining brightly and wagons were soon heard going the direction of the dam.  Mother woke father.  In an amazingly short time he was away to do his part.  Father was a high spirited man, quick of action and he lost no time.  However he saw Mother's discouragement and stopped long enough to kiss us and say to Mother "Don't give up, My Dear; I believe we'll save our crops yet".  I shall never forget how Mother cried after he had gone, for she knew it meant a loss of crops for us.
This trouble continued till the state took up the project and a cement dam was constructed.  After which the people were very prosperous.
When I was near 8 years old Grandfather Brunson came to stay with us.  Grandfather was suffering with boils on his neck.  Mother dressed these every morning and evening and how he did suffer.  These boils were the cause of his death, but it took months of torture before he died.  Grandfather's appetite was very delicate and Mother prepared everything he suggested he would like and one day he said he thought he could eat beef soup with carrots.  Mother sent me a distance of about 1 ½ miles to get carrots.  This is the only recollection I have of Grandfather. 
Our home in Deseret was built upon a city lot and our farm was two miles to the North.  We sold our home in town and moved onto the farm.  Father was very prosperous and a new home was built.  We had few furnishings.
A few years before, Father had given Mother a colt for her very own.  This colt grew into a prize animal and Father had many, many chances to sell her but father not wanting to dispose of the animal always said, "I can't sell her for she belongs to my wife".  One spring day when horses were in demand, Hyrum Robinson came to Mother, "I'll give you $100 for old Prim (the horse's name)!  Mother said "She is sold".  He took "Prim" and the tears of the whole family, for she was a favorite and Mother took the $100, quite a fortune in those days.
Mother had just finished a new carpet, painted the wood work and Aunt Jennette  Bishop, (Mothers sister) helped her paper the house so the $100 was what she needed to furnish her home.  Aunt Elvira Allred was at this time making trips to Provo to be doctored for a cancer.  Mother took this $100 to her and told her what she wanted her to get for her while in Provo which she was to have shipped to the Oasis Depot.
When we got an invoice of the goods from the depot we were all excited over the going after things.  I was one of the ones who went.  I can never forget the excited feeling I had.  It seemed to me we had most every thing in the world.  We had a wagon piled almost as high as the sky.  A bedroom set, sofa, Brussel upholstered rocker, chairs, table, parlor stove, center table, picture frames, window blinds.  What a lot that $100 bought.  We can scarcely imagine it with the high prices of today.  Well, Mother was supremely happy.
This glorious home furnishing rook place in April 1892.  That summer was a beautiful time for Mother.  Her home so comfortably made and family all well, what more could she ask for.  Her brothers and sisters lived in Filmore, about 40  or 45 miles away.  A long ways away with bad roads to travel over and lumber wagons to ride in.  she wrote to them telling of her new home and asking them to come to see her.
The next November for Thanksgiving, her brother Peter came to see her.  Also Uncle Reddick (Father's brother-in-law) came to spend the holiday with his folks.  Uncle Thos' and Uncle John Allred lived in Deseret and we lived in Hinckley, a distance of about 3 miles.  Father went to Deseret to visit with is folks while Mother visited with Uncle Peter.  A fierce wind was blowing but we were comfortable and was thoroughly enjoying ourselves.  We sat up very late visiting.  When Mother told us to go to bed we went reluctantly.  Just before going to bed we all knelt in family prayer.  Uncle Peter offered the prayer.  A beautiful prayer was offered and it was a petition to God to protect us during the night.  Oh, how the wind was blowing.  For the first time that night I was scared.  After we got in bed Uncle Peter said, "Hat, I had a warning to leave Alta (his wife) and the children home.  I felt that I'd not bring them all back alive if I brought them with me".  This made me feel even more depressed than ever and the wind raged on harder than ever (if possible) and I felt relieved when Father came home.  When he came in he said, "Folks, this is a cyclone and I am afraid our house can't stand".  Just then we were engulfed in excessive darkness, and one convulsive jerk brought adobes, dust, snow and cold November wind upon us.  And our house was brought to the ground.  It was a tragic time for us all, but when we were all gathered and none lost it was a really a time for thanksgiving.  None were seriously hurt, and with our slight injuries we were all able to go to the barn for shelter.  Mother and baby Alta was taken by Uncle Peter to find shelter.  Father told Uncle Peter to take them to the first house he found standing for he expected there would be few houses left.  Fortunately our house and our neighbors house were the only ones that went down that night.  Our neighbors wife gave birth to a baby girl before they reached shelter.  Fortunately both mother and baby got along fine.  That was truly a day of Thanksgiving, even though we were without a house.  The only thing left unbroken was the mirror in the dresser.  During all this I never heard a complaint from Mother, for she felt that God had protected her family at this time and she was satisfied.
After a few days a new house was being built upon the old foundation and we moved into a little one-roomed kitchen that was rebuilt.  The weather was cold and stormy and the exposure was too much for Father and contracted pneumonia which nearly took his life.  After weeks of anxious work he began to recover and toward spring he was able to go about his work.
During his illness our relatives and towns people came and put up the house and once more we were in a comfortable shelter but there was scarcely any furniture to put in it.  That winter was a hard winter for us all with Father sick and all crowded in one little room.  During the days the beds were taken out and put under a wagon cover (that is the beds we children slept in).  At night the table, chairs in fact everything that could be taken out of the room was piled in the door yard to make room for the beds.  After this time Father was never contented in Hinckley and the next summer he and Andrew Peterson made a trip to Castle Valley (Emery County) with the idea of locating there, if favorable  impressed.  The next summer, July 1894 we came to Ferron. 
Mother was never very contented for she had left all her folks in Millard County, a long way away when we traveled by team and wagon.   The first November we were here Reuben and Harriet took Typhoid fever and Reuben was taken from us.  The leaving at Mother's fold, the hardships of our country and Reuben's death told upon her cheerful disposition and I can seldom see a picture of her that is not sad and quiet and it seemed to me she seldom smiled.  However there was one incident she would tell with smiles upon her face.  This is the story:  When Harriet was ill with typhoid fever Bishop Fredrick Olsen administered to her and promised her that she could live to be a mother in Israel.  This was a great comfort to Mother and Harriet.  And one day while Mother was waiting upon her, she saw that Mother was very much worried.  She looked into Mothers face and said, "Don't worry over me for you know that I am to live to be Mother Israel". 
It seems that troubles seldom singly but come in heaps and within a few month diphtheria entered our home and with only a few hours warning our brother Jimmie was taken, a beautiful golden-haired boy.  This was most more than we could stand and in a very short time baby Delorous was called home.  Some over a year had passed when we were given a darling little sister named Catherine and she only stayed with us a few weeks.
After this Mother's health failed very noticeable and when her twins were born she was really a frail woman.  The anxiety and care of these boys was a real drain upon her.  When they were about two years old she was stricken.  For about 4 months she was seriously ill.  And Feb. 16, 1906, she was taken to her rest but not unnoticed for she was a genuine Mother, a faithful wife.
She was a devout Latter-day Saint, and never lost an opportunity to defend every principle of Gospel where a defense was needed.
I have never heard her speak disrespectfully of any Church Officer.  She always said that any one God allowed, put in office she could sustain.  This principle of tolerance has been one of the greatest guide posts in my life.
Aunt Clara Allred said to me once, "Take this verse and put it in your mother's history as a contribution and word sentiment from me, which are symbolical of you mother".
                                    A pleasing form a generous heart, 
                                    A good companion, just, without art
                                    Just in her dealings, faithful to her friends
                                    Beloved through life: lamented in the end.