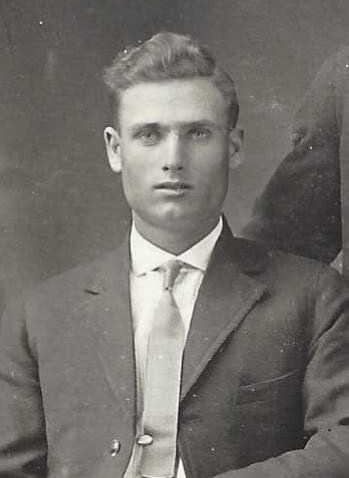 GOLDEN ALLRED
Allred Lineage:  Golden, Isaac Willard, James Martin, Isaac, James, William, Thomas, Solomon born 1680 England
Born 2/7/1900 Died Oct 19, 1988
By:  His Daughter, Orvilla Allred Stevens
This is a transcription of an interview conducted for The James Moyle Oral History Program of the Historical Department of The Church of Jesus Christ of Latter-day Saints, Salt Lake City, Utah.
Scholars are welcome to utilize short excerpts from any of the transcriptions without obtaining permission, as long as proper credit is given to the interviewee, the interviewer, and the Historical Department of the Church. Scholars must, however, obtain permission from the Church Archivist or Church Historian before making more extensive use of the transcription and related materials.
It is recommended that this oral history be cited as follows: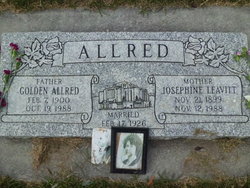 1. Bibliographic Citation:
Allred, Golden. Oral History. Interview by Orvilla A. Stevens. Provo, Utah, 1976.
Typescript. The James Moyle Oral History Program, Archives, Historical Department of The Church of Jesus Christ of Latter-day Saints, Salt Lake City, Utah.
2. Footnote Citation:
Golden Allred Oral History, interview by Orvilla A. Stevens, 1976, typescript, p. __,
The James Moyle Oral History Program, Archives, Historical Department of The Church of Jesus Christ of Latter-day Saints, Salt Lake City, Utah.
3. Subsequent Citation:
Allred Oral History, p. __.
None of these materials may be duplicated or reproduced by any party except the Historical Department of the Church.
PREFACE
This volume contains an interview with Golden Allred by his daughter Orvilla Allred Stevens, as well as other materials relating to the history of Brother Allred's life. By way of tribute to her father, Sister Stevens has written the following, which appropriately appears here:
"Golden Allred was born on 7 February 1900 in Caldwell, Alberta, Canada to Isaac Willard and Helena Anderson Allred. His parents were pioneers in taming the beautiful country of Southern Alberta. Isaac and Helena had succumbed to the talk of virgin soil, there almost for the taking. They arrived in Canada in 1898. Life was hard for them, but the Allreds were accustomed to hard work, and quitting was not in their nature. Daddy was the sixth child born to Isaac and Helena and was their first child born in Canada. Following him came three more, making a total of ten children.
"Daddy learned to work at an early age and took pride in a job well done. He learned to use the meager farm equipment of his early childhood, such as the scythe and the bull rake, and later the tractor, plow, harrow, and other more modern equipment. He was and is extremely dependable and will succeed in anything that is asked of him. In 1923 Daddy was called to go on a mission to the Canadian Mission with headquarters in Toronto. The Church has always been a tremendous influence in his life. He does not remember not having a testimony. His faith is strong and because of his love for his Heavenly Father as well as his earthly parents he hasn't had difficulty in living the principles of the gospel. He has held many positions in the Church, each of which he has completed to the best of his ability.
"Daddy has always been a strength to his family. Even though he wasn't able to receive the education that he so much desired, his wisdom is there to guide not only his family but many, many families who have sought his counsel. It is indeed reassuring to know, in this day and age of so many changes in basic principles, a man who stands firm for the truth, unwavering and solid. Indeed Daddy can say without reservation, 'Come, follow me.'"
The interview was recorded in Provo, Utah on 4 May 1976 for about three hours on tape. The interview tape was transcribed by another of Brother Allred's daughters, Sheryle Cloward, and the transcript was then reviewed by Brother Allred and Sister Stevens. Considerable material, some of it written previously by Brother Allred, was inserted into the interview text at appropriate places. Material was also added to bring Brother Allred's life story up to 1977. The final text was then typed by Sister Stevens, at which point she turned it over to the Historical Department for copying. She prepared an index for the history, and inasmuch as there is no table of contents it might be well here to give some idea of the contents of the volume.
Pages 1-67 contain the basic chronological account of Brother Allred's life. He was raised in Caldwell, where his father was bishop, until 1910, when the family moved to the new Mormon settlement of Hill Spring, Alberta. Later he attended agricultural colleges for a time at Claresholm and Raymond. He served in the Canadian Mission, 1923-25. Brother Allred married Josephine Leavitt of Glenwood in the Alberta Temple on 17 February 1926. While in Canada he was engaged in agricultural pursuits and worked as a grain buyer. He served as a counselor in the Hill Spring Ward bishopric for several years in the 1940s and was also very much interested in music. The Allreds moved to Utah in 1948, where they lived briefly in Midvale, and then moved to Provo later that year, where they have resided ever since. Brother Allred sold insurance and later real estate and then worked as a carpenter at the state hospital, 1952-65. In Provo he was first bishop of the new Provo Sixteenth Ward, 1951-57, and then served on the high council. Following his retirement he became a supervisor at the new Deseret Industries facility in Provo and was involved in liaison work with local Church leaders until he left that work in 1973. Then in 1975 he was called as an alternate member of the high council in his stake, with responsibilities for temple activity and physical facilities.
Pages 68-71 contain information about his experience playing baseball in Southern Alberta. Then pages 72-93 contain information and genealogical data about his three daughters and three sons, while pages 94-100 contain information about his parents. A general summary of his life appears on pages 101-02 and then a testimony on page 103. Following the numbered pages appear family group sheets for Brother Allred, his parents, and his grandparents. Then last of all comes the index prepared by Sister Stevens.
As historical documents, both the interview tape and the final transcript of this oral history will be catalogued and preserved as part of the manuscripts collection of the Church Archives. As in the case of all other oral histories on file, neither the Church, the Historical Department, nor the James Moyle Oral History Program assumes any responsibility for statements of fact or opinion contained in this volume. Oral history is a form of historical documentation, and information contained in interviews and related materials should be evaluated and used in accordance with the standards that govern the use of all primary historical sources.
GORDEN IRVING
Director
The James Moyle Oral History Program