Floyd Lemmon ALLRED
Allred Lineage:   Floyd Lemmon, Edward Warren, John Jones, William, William, Thomas, Solomon born 1680 England
Born: 04/23/1906 Lovell, WY
Died: 11/22/1980
Submitted by: Sharon Allred Jessop 11/30/2001
Floyd, the seventh child of Edward Warren and Rebecca Alvrean Lemmon Allred was born 23 April 1906. He loved his good farm home where children were taught the art of life's values. He loved and respected his parents, spending most of his early life working the farm with his father. His greatest love of the farm animals was for the horses. He used "Prince and Snip" to help haul dirt to bank up the old West Ward Chapel in 1924. His skillful handling of "the best team" resulted in pride and accomplishment in this welfare project. His favorite, "Dart" refused to be broken as a farm horse so was used as a saddle horse and "was she a dandy." Dart died of a disease while Floyd was in the mission field.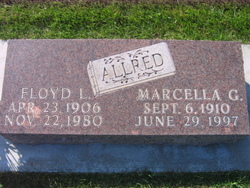 Sugar Beet Harvest: "We would load our wagons the night before, arise at 4:00 A.M. to feed, water, harness the horses, have our own breakfast, hitch the team to the wagon and be on our way to the beet dump. We were usually half way there by the time it was daylight. Dad would get in the lead with his wagon and another faithful team would follow him to the scales where he would unload, then send the first team home on their own while he unloaded the second wagon. Then he would drive this outfit home. I stayed in the field and continued with the harvest while Dad was gone to the beet dump. I would watch for this lone team and when they arrived I would load them up again. Sometimes we would get the team started on their way home and lie down in the wagon box to rest. People marveled that the team knew where to go, which road to take, which gate to turn into, the yard or the beet field."
"Team: ' Rat and Sam ' got old so Dad turned them out to run free on the river bottom. Sam would come to the gate and whinny to come back to the old correl. He would hang his head over the fence and beg to come back home. One day when the family was eating, Veda heard him whinny again - it wrenched their hearts. Vera couldn't stand it so she jumped up from the table to go let him back in the correl. Dad's heart was just as wrenched and he on that occasion made no effort to stop her. They would throw hay over the fence for them but they were lonesome for their home. One day both horses disappeared and it was guessed that someone took them for hunting bait."
Floyd enjoyed school, he was never spelled down. "I did my best to have my lesson work in good order. With friends we used to swim in the river and canals. Our swim would be our Sunday bath.... When Angus and I wanted to ride our horses to the show, the chores had to be done first. We would take a cup to the barn at milking time and drink fresh warm milk for our supper.... I would ride horseback the last Saturday of the month to gather fast offerings - it took all afternoon."
Floyd loved to dress in his good suit to represent the Lord for all of his varied church callings. The Allred boys often sang together in church. Floyd kept good records, regarding farm animals, church sustainings and ordinations for all relatives and his own life story, from which all of the above was quoted, and too interesting to omit from this brief narrative.
Floyd married Marcella Graham, 3 April 1930 in the Salt Lake Temple in a double wedding with Angus and Elen. To this union were born twins, Arvella and Arletta, Paul (died in infancy), Robert, Ruth, Ray, and Dorthy. They served the Lord together in many capacities and were a friend and neighbor to all they knew. They spent many years doing genealogical research together, also as Stake Era directors, on a Stake Mission; Floyd served three stake missions. For a time they were tourist guides at the Cody, Wyoming Chapel. Floyd often pondered over his experiences then penned many a verse of heart-felt poetry for his family members.
Unable to labor on the farm, any longer, his health failing, in the spring of 1949 they moved into the town of Lovell leaving the farm Floyd had so long loved. He went to work as a custodian for the school district. Floyd and Marcella spent their retired years visiting their married children, always sharing their canning and talents, and literally all they had. Floyd left mortality on 22 November 1980.   Submitted by Arletta Lombardo, his daughter.