Ellen Aurelia ALLRED
Allred Lineage:    Ellen Aurelia, James Tillman Sanford, James, William, Thomas, Solomon born 1680 England
Born: 01/13/1850 Manti, Sanpete Co., UT
Died: 08/28/1929
Submitted by: Sharon Allred Jessop 12/10/1998
Written by Eunice D. Larsen
Marysvale, Utah, Alunite Mill, June 15, 1919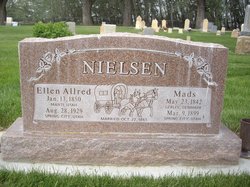 I am visiting here with my daughter Eunice and her husband, Daniel Wells Larsen and family. My relatives from Circleville, Utah, are having a special party for me next Saturday in the Ward House and they want me to tell some of the special events of my life. Eunice is writing it for me so I can read it at the party. Dan is going to take us over there Saturday.
My father, James T. S. Allred and thirty other men, went as colonists at the request of President Brigham Young, in the Fall of 1849 to what is now Manti, Sanpete County, Utah. Due to the lateness of the year, winter was approaching and it was getting very cold. So it was impossible to build cabins for the protection of their families through the winter months. So they were compelled to seek places around the foot hills where they could dig a place in the hillside large enough for a wagon box with a cover on it to fit in. My father selected a spot on the south side of the hill, and almost straight down the hill from where the Manti Temple stands. He prepared the place and the wagon box was placed in the excavation. So my wonderful mother related to me how happy my father was when he had such a nice warm place for his little family. It was in one of these covered wagon boxes that my mother went down into the valley of the shadow of death to bring me into the world, that cold morning the 13th day of January 1850. My father told me years later that he put pans on the bed to keep my mother dry, as the canvas cover would leak when it stormed. He also told me that I had a special duty to perform in this life, as the Lord had permitted me to be born at the foot of one of His holy temples.
In the Spring of 1850 father built a fine log cabin, and there we lived until March 1852, when President Brigham Young selected some of these settlers to go north to Canal Creek and establish a settlement. My father hauled logs enough from Manti to build his cabin and his was one of the first completed in the settlement, and soon others were built, and they decided to call the town "Little Denmark". And at a later date President Brigham Young said it should be called Spring City, for there were so many valuable springs within the boundaries of the town. A fort was constructed for their protection from the Indians, crops were planted and many other improvements were made for their comfort and safety. When everything seemed to be going okay, the Indians raided the settlements stealing a lot of their cattle and destroying many of their crops. This misfortune forced them to return to Manti to save their lives. In February 1854, my father was called to help settle Ephraim, eight miles north of Manti, where they erected a fort and this proved to be a permanent community.
At the age of five I went with my family to Las Vegas, Nevada, where my father had been called on a mission, to serve as an interpreter between the Indians and the white settlers. President Young was trying everything possible to get along with the hostile tribes in that area and to establish a feeling of peace and trust,
instead of so much stealing and murdering and bad conditions in that area. My mother worried so much about my father as he was in constant danger all the time, he had a very hard task to fulfill, the very hot weather and the hostility of the Indians were a very poor combination. My father was surely a heaven-sent blessing to these people and he never tired in trying to teach them how to work and get along with other people. My mother was wonderful. She was at his side always ready to help in any way possible. She had some large kettles and she would fill them with porridge and soup, and some days they would feed over a hundred Indians and their wives and children. Sometimes they were so hungry they would dip their hands into the kettles where the food was still cooking, unable to wait until it had cooked. They were so ungrateful for everything, but my father was so patient with them, but very stern, and never showed any fear of them. Father was a great wrestler and he tried to show the Indians how to pass the time away without fighting and killing. One night a very large group were there for supper and mother had all of the kettles full of good smelling food, when father told them that from now on the blessing was going to be said on the food and thank the Lord for His blessings. He had just finished talking when a very large Indian came over to one of the kettles and put a dirty can into it to get some soup and father called to him to wait a minute, and he didn't pay any attention but continued to fill his bowl. Father spoke to him the second time and no answer. Then my father grabbed him and threw him away from the kettles and the Indian landed on his back and when he regained his feet, father grabbed him and threw him on his back again, this time as the Indian got to his feet, he drew a long knife and made a lunge at father, who stepped aside and grabbed his arm that held the knife and father twisted his arm until he dropped the knife and then father held onto him and talked to him till he had quieted him down. Then my father told the group we will give thanks for the food and then you can have all you can eat. But no more unclean cans will be used to dip the food, now help yourselves and see that your wives and children get all they can eat. Then he turned to the Indian that he had just given a severe lesson, and took him by the hand and led him to one of the kettles and got him a clean bowl and a dipper to get some soup. My mother said that father's success with Indians was that he could talk their language. My wonderful mother was so frightened the night of the fight, that when she told father how worried she was, my father gave her a hug and a kiss with this promise, "Remember, my dear, we are on a mission and our living prophet of the Lord has given us his promise that we will return to our home in safety when our mission is over." My father was released when he had served about two years, and then he moved the family back to Ephraim, Utah and there is where I spent most of my early childhood. My father was a hard worker and planner and a good provider, and so good and kind to my mother. That terrible fear of the Indians never left my mother. She had a constant dread of the Indians and my father's contact with them. President Young made many requests for father to make visits to the Indian camps to talk with them.
Pioneer life was very hard. Clothing was so costly and shoes cost so much you could only afford to wear them in cold weather. At school I had a Bible, Book of Mormon and a blue-back spelling book, and I had to sit on an old rough slab without a back rest. It was funny that I learned as much as I did. I had lots of nice friends, both boys and girls. At night we had to study by the light of a rag in a platter of grease. Later we learned how to make candles, which was a pleasant improvement. At Christmas time we made rag dells and carved things out of wood and gave a roasted potato and some home-made candy. We surely had some lovely parties and we had lots of good sleigh rides, and at our parties no gambling cards were allowed. Fruit baskets were enjoyed very mech, and of course a party was never a success unless you had a game of post office. It was quite an exciting game.
Lots of fun awaited us when the Indians were more peaceable and father and other pioneers moved back to Spring City. Lots of new people were coming from the old country, England and Denmark and other places. I remember when the Niels Nielsen family came to Sanpete County, they were sure lovely people. I said to my mother that Mads Nielsen is sure a nice fellow, and he can speak pretty good English and he is sure nice to me as he speaks to me every time he sees me. My mother said, "I agree with you. He is a fine young man but he is much too old for you, so set him practice his English on someone his own age." So in a few days we heard that they were going to Circleville and I felt quite bad, but I didn't say anything to anybody. Mother sent me on an errand a few blocks away from home and when I was returning, someone on a horse rode up to the side of me and said, "Hello, Ellen," and I stopped and it was Mads. I was sure glad to see him and he said, "I was on my way to say good-bye to me, so I am so glad that I found you. Now, Ellen, I know how your parents feel about me and I don't want you to worry, for I believe that things will turn out right for us. I think very much of you and I hope that you like me just a little. I don't want to frighten you so good-bye and remember how I feel toward you until I see you again." He patted my head and rode away. I didn't see him for many months. My father said at the supper table that Mads was going to drive team for a freight outfit.
There was another young man who was very nice to me but my father said he wasn't worth his salt and he didn't want him hanging around us girls. Mother used to say to father, "Now, Dear, these girls of ours should have boyfriends once in a while." And he would reply, "I know that, but I don't like a lazy cuss hanging around. I would rather have an old maid on my hands than one of them good-for-nothings."
I had another problem as there were there were two married men, with two wives each and four kids each and both of them were all smiles when they met m., either in church or the street. I was afraid that they might get it in their noggins that Ellen Allred would make a good third wife. One evening we were finishing our supper mother said we were going to have company. So in a few minutes a tap came on the door. Mother opened the door and there stood brother "So and So" with his two wives. Mother invited them in and told them to make themselves at home. I knew in a minute that I was in trouble, for this was one of the men that I mentioned before that had tried to be nice to me, and I had avoided him for weeks. Father broke the silence by saying,
"It is surely nice to have you folks come to see us." The visitor replied, "Brother Allred, me and my wives have come to ask you and Sister Allred for your daughter Ellen. We have made it a matter of prayer and we feel that the Lord has answered our prayers, and that is why we are here tonight." My mother was helping me with the dishes, and when the man mentioned my name, she dropped a large plate on the floor. Father seeing how upset mother was, motioned for her to come over to him and sit down. My face was no red and I was so embarrassed that I left the room and closed the door behind me. My sister Dianthia came to my rescue and we stood by the door and listened. My father sat in deep silence for a few minutes and then he replied, "Now, my dear brother, me and my dear wife appreciate you folks coming and we feel honored to have you request our daughter Ellen for your third wife, but we have other plans for our daughter. We feel she should have a right to choose a sweetheart of her own, for she is a beautiful girl and we love her very much. Now, if my dear wife doesn't have anything further to say, we will bid you goodnight", and they got up and left. When I opened the door, my mother came and took me in her arms and we had good cry. Then my father said to mother, "That is a lesson for me. I want you to have some very nice parties here at home and invite the best boys and girls in our town to come. We want our daughters and sons to get acquainted with the best we can find."
We had a lot of marvelous parties and father and mother helped us have a good time. The very next day I saw a man on a horse coming up the street and turn at our corner and get off his horse and tie it to the fence post. When he opened the little gate and looked up I was so surprised. It was Mads Nielsen. I hadn't seen him for several months. He came and took my hands in his and said how glad he was to see me and that I looked much prettier than I did when he saw me the last time. "Ellen, I have something very special to say to you today, but I must speak to your father and mother first." We were standing in front of the house and I knew that mother and some of the kids were watching everything that went on. He said, "Ellen, I have told you several times how much I think of you; and your father told me a long time ago when we moved to Circleville that I was too old for you and for me to wait and give you a chance to make up your own mind. Now, Ellen, my dearest, I must ask you a question that means so much to me. Do you like me as much now as you did before I went away?" I thrilled all over when I answered, "I care for you much more than you know." I got the surprise of my life as he put his arms around me and gave me my first hug and kiss. I guess my mother thought it was time for her to open the door and invite us inside. I was so proud of him, and mother made a big fuss over him and that pleased me a lot.
In a little while we heard father drive into the yard and when he came into the house mother said, "My dear, look who has come to see us. And father said, "What a pleasant surprise. Mads, my boy, I'm sure glad to meet you, and how are your folks and you are looking in fine shape yourself." It made me feel so good to have my parents treat him so nice. When everyone had found a place to sit, father said, "Now Mads, what can we do to help you with?" Mads put his chair right in front of my parents and sat down. "Now, Brother and Sister Allred, this may be a big surprise for you both and it may be for Ellen also. Bit I love your daughter very much and I know that I an older than she is, and since I've been away I've been planning for her to be my wife. I've worked very hard and now I have a good team and wagon and five head of cattle all paid for and I have a log cabin about half built, and twenty acres of land partly paid for. And now I am asking you as her parents, if you will consent for her to marry me." My mother was wiping the tears out of her eyes and father looked straight at me and quietly said, "Well, my boy, that was very well said. Mother and I think you are a fine young man and we feel very much honored to have you ask us for our daughter. Now don't you think it would be well and very much in order to hear how Ellen feels about this affair?" Mads gave me another surprise as he came over to my chair and put one knee on the floor, and said, "Ellen, my dearest, will you marry me.  I love you very much and I will protect you with my life and I will work hard to make a home for you." He had his arm around me and I was half frightened, when I looked up and we were alone in the room as the folks had quietly slipped out and left us alone in the room. I had the most wonderful feeling as I put my arms around him and told him how much I loved him, and the many times I had longed for him to return to me. He drew me very close and kissed me several times, and then said, "You better have your folks come back in."
When the folks came back in the room and sat down, my mother asked me to come to her, and as I knelt by her side, she whispered in my ear, "My dear, I am very proud of you." So father was the first one to speak when he said, "Well my boy, what did Ellen have to say about your plans?" And Mads replied, "Brother Allred' let Ellen tell you." And when father looked at me I was crying so much that I couldn't speak a word. There had been so many unexpected things happen in the last few hours that it seemed that my entire life had changed in that time, and yet I was thrilling with happiness. So father turned no my mother and asked her how she felt about her new son. My dear mother held out her hand and told Mads to come to her and she put her arms around him and told him how proud she was to let him marry her daughter and then she kissed him. I knew that he was very tender hearted and very affectionate. He put his head on my mother's lap and sobbed and cried for several minutes. No one spoke a single word till my father had dried dis own eyes, then he moved his chair over by mother and Mads, then he told me to come closer with my chair. He then took Mads by the hand and told him how proud he was of him, and said, "That good cry you just had made you a big man in my eyes. Now, mother and I have a few more things to talk over with you two. We expect our children to go through the Endowment House as the Temple isn't completed yet. We want you to have your prayers and pay your tithing and attend to all of your church duties at all times, and then you can expect the Lord to bless you."
So we planned for our wedding to be held in about three weeks. We had a lovely wedding and got lots of useful things and they were surely appreciated. We are going to make our home in Circleville.
Well, the wedding is over with and Mads is surely working hard to complete our little log cabin. He is so happy and he songs and whistles all the time, and I am so happy.
Older sister Eliza lives here in Circleville. She married James Munsen, and they sure treat us good. My husband is sure my ideal and I love and appreciate him more each day. He is so kind and thoughtful of me.
It's surely a hot summer and harvest time has arrived. We sure had a good crop of wheat, and my dear is so happy over everything. He waits on me and helps me with everything. And in the near future we are going to go to Salt Lake City and take a load of wheat to buy our supplies for the winter. Several other people are going with us.
My husband has done very well with our load of wheat, and we have bought so many nice things for our little home. My husband bought himself a new rifle and lots of ammunition and is he happy over his new gun.
"Now, my dear, I can protect you for sure."
Our trip from Salt Lake City to Sanpete County was uneventful, no excitement outside of a lot of travelers, tam of oxen and teams of horses, and a few large freight wagons and lots of dust. And some of these teamsters were awful men to swear and cuss.
are leaving Ephraim this morning and it is very cold and frosty. There are several outfits traveling with us as far as Richfield and that locality and my husband said we would be short of company after we left Marysvale. We arrived in Marysvale tonight and it is quite late and awful cold and our team is very tired. It took us a full day to come over Monroe Mountain. There are three outfits here in camp tonight and my dear man is so worried for he has just discovered that he left his new rifle in Ephraim and the only weapon he has for our protection is that broken pistol.
We are leaving Marysvale this morning, and my husband seems so worried, as a man with some cattle just joined us this morning. My husband said he was afraid the cattle would make so much dust that the Indians would notice it and come after us. Now I am going to relate something that I promised my beloved husband that I would never tell. Three straight nights I awakened my husband and told him of the dream that had just woke me up. In the dream I saw a herd of cattle being driven by a group of Indians and one Indian was on a white horse, and when the Indians saw our wagon they left the cattle and chased us. When I screamed in my dream it awakened me and my husband. I have lived in fear for three days, and I know he is so worried because in our prayers this morning he pleaded with the Lord to protect us one more day. All this forenoon my husband has urged the team and they are getting very tired. The other teams were loaded night and they have left us behind, and we just saw my sister and her husband and they said you will soon be home. The man with the cattle is quite aways back of us, and as we came around a little bend in the road, I looked cross the river and saw a herd of cattle driven by a group of Indians, and there was the Indian on the white horse, and I screamed to my husband, "There is my dream. Please turn back." But he said, "My Dear, our only chance is to make the point of the hill or that swamp. Get back in the wagon and fond the pistol." He whipped up the team and when the Indians saw us they left the cattle and came yelling after running team, and one Indian rode up to the side of the wagon and pointed his gun at my husband, and Mads pointed the pistol at him, then he turned and shot one of our horses. Then the Indians rode off to one side and my husband told me to get out of the wagon and take the baby and get in the swamp and willows and he said he would come to protect me as soon as he could. When I jumped into the deep water up to my shoulders, I had to hold the baby out of the cold water for he would cry. He was so cold and I was so frightened, but I had my mind made up to drown myself and baby before I would let them savages get us.
They set the wagon and things on fire, and then I was sure that they had killed my husband, when an Indian came riding his horse into the swamp and saw me and the baby. Just then my husband stood up and pointed the pistol at him and he turned his horse around and got out of the swamp. My husband came and took the baby and got ahold of my arm and said, "Come my sweetheart, the redskin has gone for help and I must get you to that bunch of bull rushes before they return." We had just made it to the rushes when we heard them over where the Indian had seen us. Finally the yelling stopped and I whispered to my husband that they were leaving and he shook his head and held a finger in front of his mouth, and I knew that the savages were still around. It was getting dark and the light from our burning wagon was making the swamp so light we didn't dare to move very much. We found out later that Froid, the man with the cattle had been killed. My sister and her husband came by and saw our dead horse and burned wagon, and we could hear her crying. But my husband said there were four people over by the fire, so we thought the Indians had captured my sister and her husband. After they left we got out of the marsh and stayed out of the road until we got around the hill. It was so cold and our clothes were frozen stiff on us. We had been in the swamp since two o'clock in the afternoon. My sister and her husband just got into town and reported what they had seen. So it was sure a surprise when we walked in. We were so thankful that our lives had been spared. Mads and several of the men went out to our wagon to see if they could anything. Everything had been destroyed but one large platter and it had fallen in the sand and was not broken.
When my dear husband got back we set in our little log home without anything. We were broke, our team and wagon and four of our cattle and all of our supplies were gone. My darling husband took me in his arms and we had a good cry. We knelt town by our bed and thanked our Father in Heaven that he had spared our lives. My husband said to me, "Now, my Dearest, I want you to make me a promise to never tell about your dream those three nights, for I feel so heart broken that I didn't take the warning that the Lord was trying to tell me to take you back to Ephraim away from all this danger. This all came to me as I stood guard over you and the baby back there in that swamp with a broken pistol. Oh, I feel that I have failed in protecting you. And what will your father think when he hears how I come very near of getting you killed. So the first opportunity I get in the next few months, I am getting you back up in Sanpete County." So it wasn't very many months after that when the people had to leave Circleville for a while.
Now my beloved relatives and friends here in our little settlement of Circleville that means so much to me and you, I want you to know how much I appreciate the honor that you have showed me today. And may the Lord bless you all for it. So thanks for everything.
Now our dear Sister Nielsen and members of your family, we have enjoyed having you tell us about these thrilling events of your life and listening to your thrilling courtship and wonderful married life that you have shared with us. Now Uncle James and Aunt Eliza have told me that your husband, Mads Nielsen was a very fine musician and he could sing and dance. And dis favorite song was "Hard Tines Again No More" and we have done some research to find out your favorite song and it is "Just Plain Folks, Your Mother and Me" and we have your grandson Linel J. Larsen here to sing it for you and the rest of us.
Story written by Ellen Aurelia Allred Nielsen daughter of James T. S. Allred and Eliza Bridget Mainwaring.
The story is reproduced just as the original.
Kind friends, having been requested by the officials of Spring City to recite some of my experiences as a daughter of a pioneer and wife of a veteran of the Indian wars, I shall comply gladly with their request.
My father James T.S. Allred was a member of the Mormon Battalion. He came to Utah after his discharge and arrived in Salt Lake City in the year 1847 just a few days after the entrance of the pioneers of July 24. He was among the first settlers of Manti. His family lived in a dugout on the south of temple hill. There I was born in the year 1850.
In 1852 Father was called to assist in making a settlement about 17 miles north of Manti. He was one of the founders of Spring City. We remained in our new home for one year when because of trouble with the Indians we returned to Manti in 1854. Another call came. This time Father was requested to form a settlement where Ephraim is now located. This request was complied with and our family was numbered with the first families of Ephraim. So we came very nearly being among the famous first families of ? (verment). In 1857, in response to a call from Pres. Young we moved to Las Vegas, Nevada. In a little over a year we returned to Ft. Ephraim. Here we remained until called to help settle Circle Valley. It was while living there that I was married to Mads Nielsen. We were annoyed considerably by the Indians. Our experience I will relate which happened while we lived there. In the fall of 1865 with a company of friends we made a trip to Salt Lake City. We took with us a load of grain with which to purchase household supplies. Everything went well on our journey to the city. When we reached Manti on our return home my mother who was with us, was taken very ill and had to be left there. Her little two year old boy we took with us in our wagon.
At Monroe in Sevier County my sister and husband who were traveling with us, left us and started home each having a team of our own. With us was an old gentleman named Floyd. He had purchased a pair of steers and was driving them to his home in Castle Valley. On the night of Nov. 25, we camped with a relative at Marysvale. That night my husband was uneasy and restless and slept but little although he knew no reason for the same. In the morning my uncle with whom we had spent the night, tried to persuade us to remain with them that day be we decided to go home, and so started on our journey. My uncle told us afterwards that he felt so uneasy after we had left that he came very nearly following us to get us to return. When we were within ten or eleven miles of our home we drove around and passed the other team, which was driven by my brother-in-law. We were so near home we thought there was no danger. We were about three miles from town when we saw as we drove around the front of a hill a herd of cattle being driven towards the north of the canyon. I was very much frightened as soon as I saw them, for fear it might be Indians driving the stock. I begged my husband to turn back but he said the Indians had seen us, and that by driving fast that we might reach a company of men who were in pursuit of the Indians. In a few minutes the Indians left the stock and with a yell started towards us. Our horses were very tired, but we urged them on thinking that we might reach a swamp about three fourths of a mile away, but we did not succeed. The Indians came up and we were going to shoot up his band but we frightened him off a way by pointing an old revolver at him. I suppose I am safe now in telling that the revolver was an old broken one but we did not tell the Indians.
Mister Redskin now turned and shot our best horse, which of course stopped the team. At the request of my husband I with my brother in my arms jumped from the wagon. The Indian was reloading his gun. There were willows along the road but were low and did not afford much protection. The Indian again mounted his horse and rode around trying to get a chance to shoot my husband. At this I jumped into a slough that was near. The water was up to my neck but I preferred drowning to being captured by the Indians. My husband again pointed the revolver at the Indian and again he turned back. My husband then took my brother who I was holding and up out of the water and I jumped out of the slough. We walked down to try to cross the swamp at another point but were headed off by 10 Indians. So we got in the water again. The little boy began to cry because the water was so cold and we left the slough again. I sat down behind a bunch of willows. Taking the child in my lap and my husband stood over us to give what protection he could. The Indians did not follow us into the willows but turned their attention to the wagon. They cut the harness from the dead horse leaving the collar. They took the wagon cover off and emptied all the flour on the ground, cut the feather bed tick and scattered the feathers all around, threw the dishes out of the wagon breaking all but one plate which I still have at home. They took all of our clothing. While they were destroying the things in the wagon the old gentleman Floyd who was traveling with us arrived at the top of the hill and saw the Indians. He might have escaped alright if he had gone back himself at once; but he ran around his steers to drive them back and the Indians saw him and followed him into the hills a mile and killed him. Just before my sister and her husband reached the ridge they were met by two men who had been sent out to guard the cattle. These men said while they were sitting in a bunch of willows eating their dinner the Indians came out of the canyon and seated themselves and held a council close to them. One of the men had a dog with him and he sat and held the dogs mouth to prevent him from making a noise and so they escaped being discovered. These men informed my brother-in-law that the Indians had made a raid on the settlement. As they traveled on through the hills my sister and husband found the body of old Mr. Floyd whom the Indians had killed. When they reached the top of the hill they could see our wagon and the wounded horse lying by it. They thought we had been killed. We were hidden in the willows and could hear my sister crying. My husband wandered out where he could see them and as he saw four persons he thought they were Indians and we dared not come out to them. It was getting dark and we had been there since 2 o'clock in the afternoon. We got out of the willows and started for the settlement. By another route we reached our home about an hour after the others had arrived. It was late in the evening we were both bare headed and my clothes were frozen stiff. My brother had gone to sleep. We entered the house. It was full of people who had gathered because of the report that we had been killed. It is needless to say that our meeting was a happy one.
We were left almost destitute as the Indians had destroyed what few things we had. For a bed we borrowed a wagon and filled it with straw, and all we had for a bed was one quilt which we were fortunate to borrow. This served us during the winter of 1865 and 1866. In the spring of '68 the people were called to leave their homes and their grains which was up and growing nicely and return to Sanpete. This we did. After our return my husband did duty with the other settlers in defending our homes against the Indians. Settling here in Ephraim during the season of 1867 as one of the minute men under Capt. Lewis Larsen. We moved to Spring City again in 1868 where we have lived since and where my husband died in the spring of 1899.
The following is a newspaper account of the journey to Salt Lake as told by Ellen Allred Nielsen:
The journey had been a long but happy one for young Mads Nielsen and his pretty wife. They had seen the wonderful things going on in Salt Lake City - the new tabernacle that was being built, the walls of the great temple, the performances in the magnificent Salt Lake Theater, the stores.
Most wonderful of all had been the simple ceremony in the Endowment House sealing them together for time and eternity.
On the way to and from the city, they had visited with friends and former neighbors in Sanpete County.
Now in just a few hours, they would be back in their own little cabin in Circleville. Mads gave the reins a flip and glanced back at the slow-moving ox-drawn wagon behind him. On it were his brother-in-law, Jens Mogensen and his wife. Up ahead was Brother Floyd on foot driving a pair of steers up over the hill. The sun was warm even though it was late November in the year 1865.
They had heard of the troubles stirred up in Sanpete and Sevier counties by Black Hawk and his minions. Mads had his pistol in his belt just in case but felt safer now that he was just seven miles from home.
He would have felt differently had he known that Black Hawk and his warriors had entered Circle Valley that very morning. They had killed three boys herding stock near the settlement, and just over the brow of the hill ahead, a dozen of them were stripping the dead body of Brother Floyd.
At that moment, Mads saw a party of the Indians about three miles away driving the Circleville stock toward the canyon. He stopped to consult with the Mogensens as to whether they should hide or try to go on. They decided to go on. Mads urged his team to greater speed, leaving the second wagon behind as he rounded the hill. The Indians on the hill saw the wagon and gave chase. Mads whipped his horses and told his wife and her 3 year-old brother to hide under the feather bed in the wagon box.
As they raced along beside a slough, one of the Indians rode close enough to kill one of the horses. The fallen animal stopped the wagon. The Nielsens leaped out. Snatching up the youngster, Mads and his wife ran. Most of the pursuers stopped to ransack the wagon, but one of them continued after the three people. Mads stopped and aimed his pistol. The Indian dropped back. They repeated this several times then the Nielsens plunged into the thick growth on the banks of the slough to hide.
Mrs. Nielsen waded into the icy water up to her neck determined to drown rather than be taken. She remained there until after dark when they made their way to the settlement.
The Circleville settlers retaliated for this raid by wiping out an encampment of Piutes near the town. By June of 1866, the situation was so dangerous that the Piute County settlements were abandoned. They had been established for only two years.