Edward Warren ALLRED
Allred Lineage:   Edward Warren, John Jones, William, William, Thomas, Solomon born 1680 England
Born: 10/25/1868
Died: 05/23/1946
Submitted by: Sharon Allred Jessop 11/29/2001
Edward Warren Allred was someone extraordinary to those of us who remember him. We can marvel over his abilities and learn from his struggles in an effort to stabilize our own lives. He is pivotal for our generation as one of those sturdy individuals who carved their homes out of the wilderness, establishing a stable life for his family, and leaving an exceptional legacy for us who follow after. To learn from his experiences and follow his standards of self discipline and self reliance has become our challenge.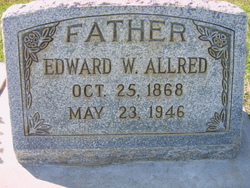 It was in Tennessee that the lives of the Allred family were dramatically and forever influenced by their commitment to The Church of Jesus Christ of Latter-day Saints. The families joining the Church were tested to see if they were fit for the Kingdom of God. Those that prevailed migrated to the Rocky Mountains led by Brigham Young. It was here in the great basin valleys that these hearty pioneers were asked to settle throughout the area, to plan communities and farm the land. Edward Warren Allred was one of the offspring of those settlers who came to Utah to find peace in a new unblemished land and raise their families. Brigham Young gave this counsel:
Learn how to build a house, a barn, or a storehouse, how to make a farm, and how to raise stock, prove yourselves worthy of the greater riches that will be committed to you than this valley and what it can produce.   Brigham Young
Edward was born October 25, 1868, to Mary Young Bridgeman and John Jones Allred. His family was one of those called on to colonize Southern Utah. The entire inter mountain area was settled by such pioneer families. Families that had followed their prophet leader Brigham Young to the Rocky Mountains and the Great Basin, in search of a far-away valley where they could grow and develop in peace. These families were asked to go to farm some relatively hostile country. It would take a great deal of time and effort to improve the desert valleys of Southern Utah. By the year 1900 almost 500 small communities were established all over the West.
In 1861 the John Jones Allred family answered the call and with twelve other families, settling on the southeast fork of the Virgin River. They named their little development Shonesburg. The families living in Shonesburg had traded for the land with an old Paiute Indian named "Shones" (Shunes) for the sum of a pony, an old saddle and an old gun. There were twelve families, with the township being divided into small lots on the northwest side of the Virgin River. In this humble environment Edward Warren Allred would grow to manhood.
The Early years
Edward Warren Allred grew up in Shonesburg, Utah. He was one of 17 children born into the John Allred family of Shonesburg, Utah.1 The first children of the Mormon pioneers scattered across the desert, like Edward, were born into a unique experience. They were farm children helping their parents gain a foothold in new and barren country. They also had unlimited freedom to discover their world. Work always came first, but then there was always time to have fun too. Floyd, one of Edward's sons knew the meaning of work, he explained:
"We would take a cup with us when we went out to milk the cows and we each drank about two quarts of warm milk from the cow while we were milking, that was our meal. We didn't have time to stop to eat."
John Allred (Edwards father) was a self-trained doctor and would take young Edward with him on visits to sick settlers. He became his father's right-hand-man as they traveled together and worked the farm. Edward would tend the horses and John tend the sick. Edward learned the value of being self-motivated. He was up at dawn and worked until everything that had to be done was finished. He learned the value of hard work. His son Angus spoke of this:
"1 don't think Dad ever tried to figure out new ways to get out of work. He was such a hard worker."3
Edward was baptized into the Church in 1877 by his father. At the age of twelve he was given the Aaronic Priesthood. (FLA). 4 (See Endnotes for explanation of initial superscripts.)
As a boy, Edward helped his father and older brother Joseph Parley farm a few acres of alfalfa and wheat. The wheat was cut with the old hand cradle and thrashed by hand. Later it was taken to a mill and made into flour to help supply food for the family.
As he grew to manhood, Edward developed the God given talents of congeniality and competitiveness. People liked him instinctively. He excelled at whatever task was before him at the time, whether it was milking cows, building a barn or playing games and sports. He attended school in his area and was a quick learner. (FLA) He only had time to reach the fourth grade before he was called to return to the farm full time to help his disabled father in providing for his large and ever growing family. His older brothers John and Parley had left home to make their own way. Edward became his fathers good right arm. He would take turns with his father in cutting hay with the scythe. He would work the farm while his father was making sick calls. (FLA) He was of great assistance to his father and his nearly constant companion as they worked side by side. He would often slip away to do the chores and tend the crops on his own, leaving his father at home. (ALA)
Ed (as he was called by his friends and family) became a good horseman at an early age. (EEA) His father attended a horse roundup and purchased a pony for Ed to ride. He paid $3.50 with the promise that this pony would not return to the open range. (FLA) In the process of breaking the colt Ed was thrown and broke his arm. John Jones set his son's arm, but after the swelling went down the arm healed crooked. However, nothing could be done to straighten it and he learned to live with it. This incident did not change his love for horses. He continued handling them until he became a very skillful horseman breaking saddle horses to ride. (EEA) On one occasion while riding the range with his brother-in-law, Oliver D. Gifford, Oliver tried to catch a wild calf with no success. He suggested that Edward try his luck. While the chase was on, the calf jumped off a steep bank down into a gulch. Not feeling to give up, he urged the horse to jump also. Soon, he had the rope on the calf. Oliver remarked, "I will have to admit you are the best cowpuncher."(FLA)
When John Allred was called away for his doctoring skills, people would pay him in whatever they had. One time when Edward was a small boy his father brought home a violin and remarked, "The first child to play it, is the owner."(VAL) Before the night was over, Ed could play a tune on it. (EEA)
Ed played by ear. He never learned to read music, but his talents were the means of much pleasure to his community and friends. He furnished the music for most of the dances in the community and was often asked to sing. When it was announced that Edward was to play for the dance, the house was well filled. He was reimbursed with what the people could spare, a gallon of homemade molasses (called Dixie molasses), some dried fruit, or other garden produce. (EBA) In his old age, he would also use his violin bow and bend a saw playing tunes for his grandchildren.
Most of Ed's clothes were handmade. Most of the mothers in those days were expert in knitting stockings, braiding straw hats, and weaving. (EEA)
Due to methods of travel, such towns as Shonesburg were used as mail distribution points, places of worship and gathering places for horse traders and tie post whistler. (Whistler who sat by the horse tie post.) (EEA)
Edward was a part of that mail distribution. This is told in his own words. "When I was about fifteen years of age, I and my brother Parley took a contract of riding the Pony Express mail for $15 a month for the term of one year, which brought us $7.50 a month a piece. We had to take this mail up a canyon called Shones Creek, named after the same old Indian that sold them the original land. About four miles above town, where we met another rider from Kanab (Utah). Here we changed mail bags by passing them back and forth up a 1,000 foot cliff. He would let his mail sack down a long wire and I would take it off and I would fasten mine on and he with an old wooden windless on top of the cliff that turned the crank, would pull it up. I would go and leave him to wind up the 1,000 foot rope. Then the mail contract changed hands and the people that got it were very fond of wine and they would stay in town and drink wine and I would take the mail sack up the wire and exchange bags for twenty-five cents a trip and was very glad to get the chance."
Ed would carry the mail from Shonesburg to Tocqueville, a distance of about 20 miles. It would take him all day long to make the trip. The trail was very narrow and many times the dark of night would come before he could get out of the canyon. This was cougar country and the howling of cougars pierced the silence of the night. This frightened him. Total silence was more terrifying. One pitch black night, Ed was coming down the trail, when a cougar silently crossed the trail just as his mule lifted his hoof. The hoof came down on the cougar. The cougar screamed. Ed and mount sailed down the narrow trail at a much faster pace then mules usually travel. (MGA. PLA)
Edward's main occupation was farming. Whatever else he did in his life came in second place. He worked hard on his father's farm and applied himself wholeheartedly learning how to farm. The task of gathering the hay with a pitch fork seemed rather tiresome and slow, and it was. So he decided to improve on this primitive farming method. Using the resources at hand and a lot of ingenuity, he constructed a horse drawn hay rake made of a black willow trunk with wooden teeth protruding downward with shafts on which to hitch the horse and handles to dup the hay. This device would gather up the hay as it was drawn by the horses and then dump it into piles. The hay was later thrown into wagons and stored in the barn. Many neighbors came to borrow this new invention. (FLA)
They grew Sorghum cane for the purpose of making Sorghum or molasses. At the close of the growing season the cane would be cut down with a short-handled hoe and placed in a wagon to take to the molasses mill. There it would be ground to a pulp by slowly feeding it into the mill, while a horse hitched to a sweep would go round and round in a circle. One horse, Old George, seemed to realize that if he would hurry he could soon be relieved of his task. While the other horse, Sealum, had to be forced to do his part. After the grinding was finished, it would be put in a vat or tank and boiled for some time. The waste was skimmed off while the boiling process was being done. When this process was complete, the molasses would be taken with other home grown produce for selling or trade. Ed would go with his father to distant places to get the things that were not produced at home. Flour was the main object of their journey. Often a bolt of cloth was obtained. From this, shirts were made for the boys and dresses for the girls. The whole family would be wearing the same print and was glad to have it.  These trips, made by team and wagon required many days. (FLA)
Ed and Alvrean
Ed had become interested in courting Rebecca Alvrean Lemmon (Am, as she was called by friends and family) who lived about four miles away on a little ranch in a place called Northup. (The ranch was located just 7 miles southwest of the entrance of what today is Zion's National Park. Described as a peacock among the parks because of the brilliantly colorful red and white sandstone cliffs, and the tall statuesque canyons, that dazzle the eye.) Situated where the Shonesburg and Virgin Rivers meet was the Northup Ranch, where Rebecca Alvrean Lemmon was born. (ERPA-handwritten notes) She had lived there with her mother, Olavia Dorthea Nielsen and her five sisters (Another sister had died before Alvrean was born.) Alvrean's father, James Abbott Lernmon had been previously married to Mariah Louise Patton. James and Olavia had seven children and had adopted an Indian boy named David. Five of these children had died before Alvrean was born. Her father died when she was nine years old, leaving the family to care for themselves.
If Ed was to court Alvrean, he needed a horse to get back and forth from Shonesburg and Northup. He worked for Moses "Mose" Emmett for $15 a month. "I spent the month of February getting cattle and horses out of three feet of snow and taking them to lower country.
I gave him $30 for a little brown three year old mare, unbroken, and I broke her to transport me back and forth to court the gal that finally became my wife on October 1, 1889." This was the first horse, he had ever owned. (EWA) Ed was 21 years old and Alvrean was 17, when they were married." My father's older brother Parley, told him he would give him a sack of Bull Durham tobacco if he wouldn't marry my mother. My mother's sister, Olive, told her she would buy her a new dress if she wouldn't marry my father, but it was a happy marriage."(VAL)
Edward desired a patriarchal blessing before his marriage and on August 9, 1889, he received this blessing from John Smith, the Presiding Patriarch of the Church. This seemed to be a very unusual blessing, wherein it said "I place my hands upon your head and seal upon you a blessing for and in behalf of your father. (He received a second blessing on March 26, 1933 that stated that it was a continuation of the blessing which thou hast already received from a servant of the Lord. It was the custom in those days to be re-baptized before going to the temple, thinking this would cleanse them from all sins. It was taken care of in September1889. (FLA)
Ed and Alvrean were married in the Saint George Temple. They journeyed by team and wagon to St. George to be married on October 1, 1889 with David Canon performing the ceremony for time and eternity.6 Their children would be born under the New and Everlasting Covenant. They began life together with one fifty-pound sack of flour, a small amount of corn and some molasses. (FLA)
Starting married life without capital or I might say that their total combined capital consisted of a saddle and horse. (EEA) After getting married my father told me to hustle for myself and started me off with fifty pounds of flour for my 21 years work, without stove or frying pan or a spoon or knife or fork. I had no money, as I had spent the last $2.50 I had for my marriage license. (EWA)
Needing a place to go, the young couple, rented from Alvrean's mother and farmed her ten acres for two years. She furnished the team and harness. Ed traded for an old wagon that he had to drive through the river every day to make the wooden wheels swell so they would stay on. They found an old stove that smoked them out of the house whenever they made a fire. It baked bread on top but not on the bottom. They raised cane and made molasses and dried fruit. Hauling the produce to the north, they were able to trade for flour and merchandise, but no cash. (BWA)
There was but little in their larder to eat and but few articles in the wardrobe to wear, not because Edward was not out to get work, for hard work, was with him a daily desire. (ALA) Edward was ever resourceful. He set out for the mining camps of Nevada to earn a little cash, a distance of a hundred miles. He found a job hauling lumber with his team. He made two trips and floundered one of his horses by watering him when he was too warm. He had to return home. He pulled the wagon with one horse and walked the entire distance by the side of the sick horse. He was gone three weeks and returned without any cash. (EWA)
Their first child, Anna, was born at Northup, August 9, 1890. Doctors were scarce and a long way off. Women who had had children were considered experienced and were called upon to help in confinement cases. Alvrean's mother had served as a midwife for many years in the community and delivered this baby. (EEA)
Life together in "Dixie"
They moved to the nearby town of Springdale. They purchased land (other accounts reported they "homesteaded") and built a home. They lived here a few years. (FLA) The floods came and washed away John Jones's farm in Shonesburg and many of the families moved away. (BWA) They left the land of Dixie and moved to Hatchtown. (FLA) His parents had moved to Hatch, Sanpete, County earlier in 1890. Ed farmed with his brother Willard Burton Allred who already lived there. It was decided to share their farm in thirds, this continued for five years. (FLA) On the fifteenth of December 1892, Ellis, a son, was born in a little log house. (EEA)
Jobs were scarce in Hatch and money was hard to come by. Alvrean had to borrow a dress from her mother-in-law to be able to wash her own. (RALA) On one occasion Alvrean put her two children to bed after giving them everything she had in the kitchen, one slice of old dry bread. Edward sheared sheep for three cents per head. He traded the wool for whatever he could get for it. Cutting timber for a sawmill turned out the same way. (EEA)
Hatch, Utah was a small place of ten or twelve families. (EWA) While there Edward served as President of the YMMIA. in 1892-93. Alvrean served as a Relief Society Visiting Teacher in 1893 and later stated the she had been one ever since then. (ERPA) The altitude was so high in Hatch that they lost their crop by frost three years in a row, and Edward soon became discouraged. He sold what he had accumulated for $300 on credit which consisted of his homestead and little sawed log house and they went back to Dixie to rent his mother-in-law's farm again. (EWA)
On August 18, 1894 a third child, May was born. Two years later on November 22, 1896, Orvel was born. They lived here for a few years until Anna was six. She remembers while living there, Indians would come and ask for food. Grandmother would give them some. Then they would leave only to bring more Indians to get more food. (JAAC)
While living at Northup they farmed on a small scale, trading fruit to farmers who raised potatoes. (EEA) Edward would gather peaches and apples and put them outside to dry. They would eat these by the sack full. Their life was not uneventful. Not too far from the ranch a Mrs. Parker was murdered. They found her body between two big rocks. The body was brought to the ranch. Later they found the man who killed her. (JAAC)
Edward's father passed away March 16, 1897 and they soon decided to move back to Springdale. (FLA) Anna was excited they were only two miles from Grandma Lemmon's ranch. (JAAC) Moving to Springdale about a mile and a half from Northup, they built a home on a small place where they raised enough hay to feed a cow and team, raising some fruit and enough vegetables to feed the family. Dad working as a cowboy for a small wage and by going without themselves were able to feed and clothe their children. (EEA) Anna started school in Springdale. (We bought a city lot, a house and three acres of land, all the time being very hard pressed for money. (BWA) When I (Ellis) was about five my mother threatened to give me a whipping and I decided that I was too big to be spanked by a woman. She broke me then from trying to run away from her. She proved to be a little faster on foot than I was. (EEA)
"I saddled up my horse and started out looking for work. I found a man by the name of Jim Emmet looking for a man to help him down at Lee's Ferry on the Colorado River, a hundred and fifty miles from home. I worked for him 30 days for $30, then I returned home again. Then I went out on the Kaibab Forest, more commonly known as the Buckskin Mountain, named by the Indians because of the great abundance of deer on the mountain. They used the hide for making buckskin, hence the name. I worked for a man by the name of Hight Shumway for six days. One of his brothers came out and asked him for the job that I was doing so he said he was through with me but had no money to give me. So I saddled my horse and went home with no money, but still got it coming.
Then myself and three other men went out on the Kiabab Mountain to work in the copper mines. We worked six weeks and had a nice big pile of ore. They were going to be there and measure and pay us by the ton. They never did show up. We starved out and went home. Still got that coming
Then I tried making my own employment. In those days people paid their tithing in the kind of stuff they raised. I bought a load of molasses and dried fruit from the Bishop's storehouse and hauled it up into the north country to trade for flour or anything I could get that we could live on. I traded it off, got some grain, some cash, then I found a chance to get a load of pipe to haul out to the copper mines at the Kiabab Mountains. I had to go down to Marysvale, about 100 miles, to the railroad to get the pipe. I used the grain that I traded for to feed my horses and the money to buy hay, to make it pay both ways I bought 1500 feet of lumber for $14, hauled it 100 miles and sold it for $15, loaded up my pipe, pulled it up to Hatchtown, a distance of 100 miles. By this time the snow was so deep I had to unload my pipe and wait until spring. Never received a penny for the hauling. I went home owing the Bishop $50 for my load of produce and not a penny to give him. (EWA)
While living in Springdale, Chasty was born, September 10, 1899. (EBA) Dad took the job of carrying mail by horseback from Leeds, Utah to Springdale. I think this job was taken for $50 per month using four horses in relay and taking from four o'clock A.M. to 10 o'clock P.M., a total of eighteen hours per day, spending Sunday away from home. (EEA) ....carrying the mail from Springdale to Leeds on horseback, finishing a contract left unfinished by another man. He held this job for seven months. (RALA) until the contract was completed. While on this job, he secured enough money to make the contemplated journey to the Big Horn Basin in Wyoming.
Alvrean was Second Counselor in the Relief Society to Marilla S. Ruesch in Springdale. (ERPA) Ed was Assistant Superintendent in Sunday School in Springdale. (RALA)
Wyoming
In Wyoming's Big Horn Basin, (North Western Wyoming) there were great mountain ranges and good water for raising cattle. A few large ranches established along the well-watered streams. The streams had cut deep channels into the earth leaving fertile river beds for cultivating and pasture. In 1893, a number of Mormons homesteaded along the Greybull River, a largely unsettled area. In 1896, the Cincinnati Canal Co. was issued a permit to build a canal. This would open the land for irrigation. However, a preliminary report found it impossible and the company relinquished their permit. Colonel William F. Cody (Wild Bill) and his partner Nate Salisbury then obtained a permit in 1899 to irrigate the lands on the north of the Shoshone River. This opened the door to future land use by settlers, farmers and ranchers.
In the early part of 1900, the governor of Wyoming and his Secretary of State visited the President of The Church of Jesus Christ of Latter-day Saints, Lorenzo Snow to request that Mormon Colonizers be sent to the Big Horn Basin. Those who decided to settle in this part of the country were to meet by April 25, 1900 in Kemmerer, Wyoming. This early date was set to arrive at the Big Horn before the rivers were too high.
When Col. Cody learned that the Mormons were going to arrive, he said, "Now my dream will be realized, for I have thought that I should live to see this country developed into a great agricultural region and the Mormons will fulfill my dream." He relinquished his permit on March 9, 1900. His partner felt he should have charged the Mormons twenty thousand dollars on giving up his claim. Col. Cody disagreed, "If the Mormons want to build a canal and irrigate the land...I will relinquish, for....I know they are the kind of people who will do what they agree to do."
Under the direction of Apostle Abraham O. Woodruff, appointed by the Church, the country was explored and a route was laid out for the companies to travel. There were seven organized companies, the last of which arrived on May 24, 1900. As many teams were on the road without organization and would continue to come for several years. Among those arriving during this period (1900-1901) were the extended Allred family, Mary Young Allred, her son Willard Burton Allred, her daughter's family, the Moses Emmetts, Olavia Dorthea Lemmon with her daughter's family, the Claude Workman's. (EEA) On the road in the spring of 1902 were the Edward Warren Allreds, the J.A. Farnes and E.R. Thaxtons and from Olavia Dorthea Lemmon's second marriage, her son Charlie Durfee.
Upon their arrival, the task facing the settlers was the building of a 37 mile canal that had been labeled, "impossible" to build. But these were Mormon settlers of the same stock that built bridges in a day that are still in use along the Missouri River. Apostle Woodruff outlined the tremendous task of providing irrigated land by building this canal. He urged the people "to keep the Word of Wisdom, pay their tithes and offerings, to not profane the name of Deity, be honest with all men and honor the Sabbath Day and promised if they would do these things, it would be a land of Zion unto them and their posterity."
On May 28, 1900, the wagons were moved and the tents pitched near the head of the proposed canal. The people kneeled and under the direction of Apostle Woodruff dedicated the canal and the land for the homes of the emigrants. The hand of the Lord was felt in a number of ways as the colonists came to settle and build the canal. Before their arrival a carload of scrapers, heavy plows and other equipment was ordered without a cent of money. When they arrived in May their equipment was waiting for them. The hardware dealer said that...."he never lost a cent in all his dealings with the Mormon people.
Prayer Rock is another example of divine intervention. A rock standing ten to twelve feet above the canal was in direct line of the canal. Excavation was begun around the base using teams driven by boys about fourteen years old. Deeper and deeper they went until it was feared that a crevice in the rock would split and crush the boys. Byron Sessions, the general manager of the project, went to the rock early in the morning, knelt and expressed his concern to the Lord. After the boys had begun work, he was impressed to move them to safety. Scarcely had he done so, when the rock separated, half falling to one side and the other half falling to the opposite side leaving room for the canal to pass through.
In September, the emigrants were living in tents and covered wagons because all of them had been giving their full efforts to the work on the canal. There were no homes and no money for necessities. It was time for petitioning the Lord in fasting and prayer to send some work. In humility, they held a fast day. Soon thereafter the officers of the Sidon Canal (as it was called) were looking over the land for the town site, when "a buggy was seen coming over the sand hills" carrying I.S.P. Weeks. He was corning to tell the people that the Burlington Railroad had learned of the Mormon settlement in the Basin and they were bringing a line into the area. They were seeking men to work for wages.7
In the spring of the year 1902, Edward Warren Allred, his wife, Alvrean and their five children, Anna, Ellis, May, Orvel and Chasty were preparing to leave Southern Utah to head for the Big Horn Basin. The mode of travel, number of miles and pioneer spirit exemplified was not unlike that of the earlier Mormon pioneers traveling to the Great Basin Valleys of Utah in the middle 1800s.
Alvrean was expecting her sixth child. They packed their belongings in two covered wagons that had been overhauled and hooked together by Ed's expert hand. Four horses were used to pull the wagons, Blossom and Old Sorrel on wheel, Buck and Nubbin on lead. A young colt, Bess was brought with them. Ed had made special shoes for this tiny animal. It was given to Charles Durfee, who was traveling with them. (The pony was kept by Charlie until it died of old age.)
The family left Springdale on May 1, 1902 (April, is another date given), driving down to Rockville where they would stay the night and leave the next morning with the Fames; Alvrean's sister's family. After about five days of travel, going twenty miles per day they joined the Thaxtons. Mrs. Thaxton was Alvrean's sister. With this last departure Ellis expressed this sentiment~ "Now, we were headed for the Big Horn Basin and prosperity for earnest." Traveling in the spring of the year, we found rivers running high and very few bridges. We crossed them ending up on the opposite side with water in the wagon box.
Lige Thaxton, who at the time was about fourteen, furnished most of the meat for the outfit. As soon as they stopped for the night, it was his job to grab his twenty-two rifle and go for some rabbits. If he didn't get any rabbits, there was no use in coming back. But he always came back. (Later in life, Alvrean (Am) could not eat any more rabbit.)
The men folk would stop along the way and get small jobs to earn money for the trip. The women washed, cooked and cared for their children. To prepare her meals, Alvrean stood beside a cupboard with a let-down table that her husband had built in the back of the trail wagon while five youngsters hovered around her waiting for something to eat.
Well into the trip, as they neared the Manti Temple, there was an incident with Old Sorrel, one of the horses on wheel. He always seemed to be looking for a chance to run away. Holding the lines, Ed had gotten off to walk for a while when something startled Old Sorrel and he bolted taking the wagons, passengers, contents and other horses with him. Although he was a good hand with horses, the lines were jerked from Ed's hands. His family was asleep in the second wagon, and an they owned in the world was in the wagons. He knew his family was in great danger as there was a ravine just ahead. He fell to his knees and looking up toward the temple, cried out, "Lord, God of Israel, save my family." Miraculously the horses stopped and he was able to grab hold of the lines again and control them. The family was greatly blessed and saved from certain peril because of the faithful efforts of a righteous father and husband.8
After a long, hard, tiresome journey traveling about eight weeks and covering a distance of approximately 850 miles. (Family tradition has rounded off the distance as 1000 miles), Edward and his companions, arrived in what later become Lovell, Wyoming on June 26, 1902 with $2.50 in his pocket. The trip was especially hard on Am. The horses were also played out from the journey. (EEA) The family was now faced with finding a place to live. They went to the home of Edward's brother Burt, where Edward's mother, Mary Young Bridgeman, was living.
Uncle Burt (Willard Burton Allred), Edward's younger brother married Mary Magdalene Zeller after he came to Lovell. Aunt Mary told Am once that she couldn't love her own mother more than she loved her mother-in-law. (VAL) Edward loved Aunt Mary for the way she treated his Mother who died in 1918. Edward and Uncle Burt loved each other a lot and Edward would do anything for his brother, often repairing his machinery. Uncle Burt and Aunt Mary and their family later moved to Tensleep, some distance from Lovell. Uncle Burt got sick and Edward went to see him. Uncle Burt was in bed and so sick he wasn't conscious some of the time. When Edward arrived, Aunt Mary said, "Burt, here's Ed", and Uncle Burt said, "Oh, my dear old brother".
At Burt's, the weary travelers pitched a tent nearby in the cottonwood trees. They bought some land from a brother-in-law, Moses M. Emmett, four and a half miles southwest of the town. The accounts indicated he also homesteaded. (Probably, the land that was on the hill above where the house was built.) They removed many cottonwood trees, rocks and grubbed sagebrush from the river bottom land. He cleared the land with the aid of a well loved team of gray horses, he had acquired since coming to their new home. Cottonwood logs became driftwood and every year were taken from the river bottom. They were brought to the side of the house and sawed into blocks. Each time Edward passed by as he went to the barn, he would stop and split the wood with the axe so that there was always a huge pile of firewood for cooking and keeping warm in the cold Wyoming winters. The children were assigned to carry the wood into the house and put it in the corner by the cook stove.
Wally Allred (Angus) a grandson, tells of the time his grandpa (Edward) came to their home in Lovell to help remove a troublesome cottonwood:
A1 remember as if it was yesterday grandpa coming to our home to help chop down the old cottonwood out in front of the house. He brought with him his double edged axe, which of course, he had expertly sharpened himself. He and my father chopped and chopped until the giant tree teetered and fell to the ground in what seemed record time. I wasn't sure just how they had made it fall away from the house the way they did. Then I watched as he began chopping the tree into small enough pieces to be burned or hauled away. He would raise the axe up and over his shoulder and swing the head sharply down into surface of the log with powerful force and a big chip would fly. I was curious, so I edged a little closer. I wondered: "How could he place the edge of the axe, full force, into exactly the same spot time after time, from the left and right of the cut, with either hand and make a chip fly". To me he was remarkable. My father would caution me to not get so close to the head of the axe, but I trusted my grandpa completely. It was a fascinating sight and in no time my father and my grandpa had chopped the tree into pieces and we all began to stack it for fire wood."
Their first home was built from cottonwood trees that were cleared from the land. He hewed them to the square on two sides with his axe. (Some family accounts indicate that he built the house from logs hauled from the Pryor Mountains. His grandson Maurice indicates that his brother Orvin and his Uncle Floyd went to the Pryor Mountains with Edward. Each would lead a single horse and drag the logs out to the ranch for a later addition.) One room and part of another room were built when they put in their first winter.
The log house had a dirt roof. The type of soil used for the dirt was a clay waterproof type, but would still leak rain water which trickled down leaving dirty streaks on the white washed walls. Lime was put into water and when the two ingredients came together, there was a boiling effect. This product was diluted again with water and brushed onto the inside of the walls of the home, leaving them pretty and white. Factory cloth, which was just a muslin like material, was stretched and tacked across the ceiling. This had to be washed periodically. When the rain left dirty streaks the family's hearts ached. (FLA. MGA)
In later years, the roof was replaced with new lumber and covered with an asphalt roll roofing. When the rain came, the family could hear it pitter patter and there would be no trickles down the nice pretty clean walls. They were so happy to have such a lovely home. (FLA)
"Dad took me with him, I was twelve years old at the time, and we was up here on Big Horn, a fellow name Dixon was running the saw mill. We got enough lumber and we took the roof off of the house and put this lumber up on the house and put roofing on it and when it would rain we thought....How nice, how rich we are, our house doesn't leak and you can hear the rain go pitter-patter on the roof and we thought that was heaven on earth. "(FLA)
Ed built much of their furniture. (He built a home with a living room, kitchen/dining room, and one bedroom. Later he built another bedroom and porch on the north side of the house.)
The family planted some potatoes and turnips on Burt's place to keep them from starving that first winter in Wyoming.
A Farming Family
Just before Christmas the family moved into their new home and on the 28th of December, Vera, their sixth child was born. Grandma Lemmon was called in as midwife.
Most of that winter and the next, Ed worked for the Schow Brothers Saw Mill hauling logs from the Pryor Mountains just over the Montana state line. While he was working at the sawmill, he owned a horse called "Tom". He would hitch a log to Tom's tugs and send him along to the sawmill. Tom would drag his log right to the saw, waiting for the men to unhitch it, then he would return by himself to his master on the hillside. (FLA)
They would labor together for the next 30 years on this piece of land, raising nine children. They would farm their own ground and raise their own food with care and competence. Ed was a self taught man and applied himself wholeheartedly to the tasks before him. He would become an expert in irrigating and cultivating the ground. In his blacksmith shop, he built and made ready for use his own tools and equipment to work the farm. He would be the first to raise sugar beets in the area. They both toiled with their might to provide the necessities of life for their family. They were bonded together by their love for each other and the firm knowledge that, though difficult, this was what they had been given and they would make the best of it. Though anxious for the days ahead they could sleep the good sleep sensing they had done their best for one day and would give tomorrow their most determined effort. Farming and caring for their family became the heart and soul of their existence.
After the farm began producing enough to feed the horses and the family, a cow was acquired. Due to her color the family called her, "Pidie". The eldest son, Ellis described the cow in this way: "Her udder hung down within about six inches of the ground and her teats were about four inches long, so hard to milk that if she wasn't chewing her cud at the time of milking, you could, by over exertion, get milk out her teats. Anyhow she was a family savior."(EEA)
In later years Floyd and Angus would chuckle over some of their milking experiences on the farm.
We were supposed to do the milking before we could go to the show so we went out to milk the cows. Each cow we'd slap her on the bag to keep her from giving her milk down, then we'd milk a tiny little bit and take it to the house and mother would say 'My, I never saw those cows give so little milk in all of my life." And then we would hurry off to the show."
There was no need of a clock, as the working day was determined by daylight and darkness. The family ate breakfast and supper by lamplight. One great expense at this time, was coal oil. Am always knew just when to have supper ready anywhere between 6 and 11 o' clock P.M. (EEA) When she fixed a meal, she didn't leave dirty pots and pans sitting around. All the water was carried into the house. She would put a pan of hot water on the stove and as soon as she emptied a pan, she would wash and dry it and put it away. When the family sat down to eat, there wasn't a dirty pan anywhere. She was a good cook. (VAL) Edward of course, was a good provider. Am once said to him "I have never heard you complain about what I prepare for your meals." To which he replied, "You cook what I provide don't you?"(FLA)
Rebecca Alvrean Allred was held in high esteem by her family and peer and was kindly spoken of:
"Going from my home in the town of Lovell with my beloved Aunt Am, in her horse' drawn carriage, out to her and Uncle Ed's farm on the dusty rutted road, brought great joy to my young heart. After the big gate to the farm was opened and closed I watched for the house at the end of the lane. But I never missed the plum trees in the orchard, earth-bound petalled clouds in the spring, and purple with fruit in the fall." (VFW) "There was an orchard with apples, plum, and sour cherries, the only kinds of fruit trees that could survive the cold winters. (VAL)
"Massive cottonwoods formed the house, their mothering arms reaching out protectively over the roof. Wild roses bloomed by the doors, and morning glories hugged the brown logs around the windows."(VFW)
The house, inside and out, was like my aunt, unpretentious and homey. Her large, capable hands were seldom idle: her red hair caught and reflected the sunbeams; her heart which beat in her ample bosom held a love for humanity in general, and children in particular.
Uncle Ed and she were kind, but firm with their four sons (Ellis, Orvel, Floyd, Angus) and five daughters (Anna, May, Chasty, Vera, Veda). They learned early in life that a "no", no matter how gently spoken, (I never heard them raise their voices in anger), never meant a later "yes" or even "maybe".
Life was a serious business for Uncle Ed. He talked little and laughed less (though he had a very dry wit). If you were not close enough to hear his low chuckle, you looked at his eyes to see if they twinkled under his bushy brows.
Shortly before bedtime and evening prayers were said, the family gathered around the mellow toned organ and sang. Sometimes uncle would take his fiddle down from the wall and accompany, or play it solo.
As I lay between the cool white sheets on the well stirred straw tick I would look out through the screened door and watch the rising moon and listen to the voices of the night. Most important were the ones which came from my aunt's and uncles's bedroom beyond the living room. No words could be distinguished - only soothing impressions.
We were a large extended family and held many get-togethers of various kinds, and we children were always happiest when we met at their place. We would eat on long, homemade tables under the trees on the lawn, where we all sat down together, aunt Am would say "Let's feed em and get em out the way."(VFW)
A grandchild, Vida; also remembers that the most wonderful thing in her life was to go up to Grammies, (the grandkids always called her Grammie). She was my ideal. She was everybody's. All the nieces and nephews called her Aunt Am because they just loved her. She was such a sweetheart. (VAP)
It was the union between both of them that best described each of them. There was a mutual respect; a love and devotion so-deep that few would ever probe it; a complete union of heart and mind; and a blessed security of their just being there within call. (VAP)
On a spring day when just a few of the willow trees were leafing out, Am gave birth to a healthy baby boy. Floyd was born on April 23, 1906. Ten days later, when Am stepped outside her kitchen door, all the trees were leaved out. (FLA)
At this time, Dad was able to do a little better and live a more prosperous life for this was the year the Burlington Railroad came in and he was able to work on it with a team and slip scafer and live home as well. (FLA) He worked the farm with little cash sometimes selling some grain for seventy five cents to one dollar per hundred or maybe a ton of hay for four to six dollars a ton. Potatoes became a good crop for this locality.
The sugar factory began contracting for sugar beets. This first year that beets were raised in the Big Horn Basin they were either piled or loaded into box cars. Later the Great Western Sugar Company built a sugar refinery at Lovell which was a great boon to the town. Edward was one of the first to raise sugar beets in the Lovell area. He had rented a farm from William Eyre, near his own farm, which was planted with alfalfa. When this was crowned, he plowed the land with a team of horses and a walking plow, then planted it to sugar beets. It was necessary to cultivate the beets five times during the growing season, which he did with a two-row cultivator. Then in fall, they were harvested by the use of a crude beet lifter. Walking behind, Edward held the two handles to steer it in straight rows. He raised sugar beets continuously year after year until 1940. (EEA)
Later, he had a team of large Clydesdale horses, called Prince and Snip. He would hitch them and another team each to a separate wagon. Loading these wagons with sugar beets at harvest time, he would drive one team and trail the other to the sugar factory four miles away in Lovell. He would first unload the wagon where Prince and Snip were hitched, then he would drive them to the road and head them in the direction of home. They would go directly there. By the time, Edward had unloaded the second wagon and returned home, the hired help would again have Prince and Snip's wagon loaded and the trip would be repeated. (FLA)
He kept his farm machinery in good repair and his premises in good condition. He was an expert at irrigating and always had good crops. He loved animals and had many around his farm. It was said of him that he drove the best teams of horses in the country. They were always well fed and cared for. There were always horses for his children to ride, or for his wife to use to pull a buggy that she would ride to town or to her meetings. There were also other animals to produce food for his family. Edward made himself a blacksmith shop. He became an accomplished blacksmith and a handy repair man. His niece, Verda, watched this process when she came to visit the farm.
AI watched wide eyed as he fired the forge, bringing to red life the dead iron buried in the coals. He shaped the glowing metal on the anvil with accurate blows of the hammer, striking the flying, but fast dying sparks. He removed and fitted his horses with shoes. Like miniature rivers the sweat rolled down his face as he pulled nails, fitted, hammered, clinched, pared and filed, holding the horses's foot between his knees or encouraging the horse to hold still on a low tripod. Withers rippled and glistened with sweat as the horse tried to cooperate". (VFW)
He was of service to his many friends, who depended on him, to keep their farm machinery in good repair, and for shoeing their horses. He could point and sharpen a plow share better than most. He could build anything he wanted to. (FLA. VAL)
Angus was born into the family May 5, 1908. Then on June 21, 1912, Veda was born.
"Up to this time, what the family had had was minor, (Sickness) then Orvel was operated on for appendicitis at the ranch home by coal oil lamp light". (EEA)
"Orvel was 16 years old when he was stricken with a severe attack of appendicitis. It was the 16th day of February, 1913 that Dr. Targeson was called out to the old log farm house under the hill where the family grew up. There wasn't a hospital in Lovell at that time and Orvel had to have surgery immediately. The kitchen table was scrubbed and disinfected and used for the operating table. Dr. Targeson operated on Orvel, but Orvel's appendix had burst and the infection had set in, so the doctor just sewed him up and said there was no hope for his recovery. The doctor said that he was very much surprised that Orvel was still alive.
Orvel was burning inside with fever and begged for water, but couldn't have any. He told his dad if he didn't give him water he wouldn't help him anymore. His mother said that it was the first time she had seen her husband cry. Orvel was in so much pain, and he flounced around so much that, it took two or three people to hold him on the bed
Dr. Targeson was not a member of the church, but he suggested they get the Elders to administer to him. When the parents and the family that were there knelt in pray, they said that the doctor was the first one on his knees. The Elders were called to administer and prayer circles were held, and people all over the Stake prayed for him.
Edward went to Penrose and got Brother Burtelson, the patriarch to come and help administer to Orvel. When Edward was taking Brother Burtelson home and they got up on the hill, Brother Burtelson looked down at the house and said he saw angels surrounding it and he told Edward that his son was going to get well and he did. He had been as sick as anyone could get and live. It was a long pull and Orvel was out of school the rest of the winter. He was tall and skinny for a long while. He was made well through faith and prayers and the power of the Priesthood."(IGA)
Edward took his young son Floyd with him to Cowley, a town about five or six miles away, to peddle some garden cabbage to a man by the name of Rappley. He traded for a female sheep. This sheep gave birth to twin ewe lambs. He gave one lamb to Floyd and one to Angus (On another occasion, Ed gave each boy a heifer.) These lambs grew and each gave birth to twin lambs. Floyd writes, "We were on our way in the sheep business. We traded all our wether lambs to Claude Lewis for ewe lambs. Our herd rapidly increased. In a few years we owned 450 head of ewes and bucks. Other sheep owners with small flocks such as ours would put all of their sheep together and hire a man to heard them on the range in the spring, fall and winter. Then in the summer months, July, August and September, they were grazed on the Big Horn Mountain reserve. (FLA)
As his family grew Ed acquired six head of fine work horses to disk and level the land. They were driven four head, four abreast. One team were grey horses, Bill and Jim. Jim was rode to the fields and Bill would follow and get in his place beside Jim to be hitched to the wagon or machinery. Other teams were Rat and Sam, Prince and Snip, Bud and Pal and Bud and Buster. (Bud and Buster were an ideal team for cutting hay. As much as fourteen acres a day could be cut, a good days work for a team of horses.)(FLA)
Floyd and Angus remembered old Buster: AAngus and I were cultivating the farm with a horse we called buster, he was a tricky old cuss. Once in a while he would reach and grab an ear of corn and we tried to keep him from it, but we couldn't do it so we went to the barn and got a piece of screen that was made to go on a horses nose so flies couldn't bite them. We put that on him....and he would reach for a ear of corn and couldn't get it with that screen over his nose. It would just aggravate him."
Dart was intended to be used as a work horse, but the mare was ornery and difficult so she was used as a saddle horse and she was a dandy. She was coal black except for one while rear foot and a white spot on the head. She could outrun all other ponies around except one. Fan was a sorrel mare that was very lovable, gentle and useful. The family rode her and would work her on the buggy, the one horse black-top rig. She could out-trot any horse the family matched her with. (FLA)
Fan and Rat got old so Edward turned them out to run free on the river bottom. Fan would come to the gate and whinny to come back to the old correl. She would hang her head over the fence and beg to come back home. Veda commented that one day when they were eating, they heard her whinny again, it wrenched their hearts. Vera couldn't stand it so she jumped up from the table to go let her back in the correl. Ed's heart was just as wrenched and made no effort to stop her. They would throw hay over the fence for them but they were lonesome for their home. One day both horses disappeared and it was guessed that someone took them for hunting bait. (FLA)
Alfalfa and grain were grown on the hill above the house and sugar beets were raised down in the valley. (FLA) Grain was raised for the animals and chickens to eat. Wheat would be taken to the mill and ground into flour for the family use. (VAL)
Floyd and Angus remember trying to catch a chicken for dinner: "In the spring when the chickens that hatched got big enough so we could eat them as fryers it was up to Mom to tell when to do that. When they got big enough and she would tell us when they were ready to eat. We'd chase em' and just about get one run down and he would duck under the grainery and then we'd have to start on a fresh one again. We'd about run out of breath just trying to catch em'. We'd guard so they couldn't get under the grainery, but they'd duck under about anything so we wouldn't get em' , you know. About the only way we could have chicken for dinner was to go out and run them down."
For many years Ed sowed his grain by hand. After he had broadcast it, horses would be hitched to the disk and this would cover the grain. One day Edward went in the Model T Ford to an auction farm sale, He asked Floyd to bring one of the teams of horses, Rat and Sam down east of Lovell to this sale. There he purchased a used grain drill. He set to work repairing it and soon had the grain drill in A-1 shape. Four head of horses were hitched to this machine to plant grain and apply artificial fertilizer to the land. (FLA)
Pigs and calves were raised on the farm. The calves were never butchered, but the family always ate pork. For some reason everyone around ate only pork. (VAL) A pig wasn't killed until it was so fat that it could hardly get around in the pen. You could hardly see his eyes, he was so fat. His old jowls stuck out. When they were this fat, the lard could be rendered to have enough lard to last throughout the year. (MGA) One time when the family was rendering out lard, some buckets were needed. Am went down in the basement and came back up with a ten pound lard bucket and opened it up and it was full of her homemade doughnuts. Am could make the best doughnuts. The family enjoyed the doughnuts when they rendered out that old smelly lard. (MGA)
"The pigs were killed and skinned using a big vat. They were put in and out and scraped. On one occasion as Am was helping, she pulled the tail of one of the pigs, and the skin came off and she fell in all that mess. She was going to the house and as she went, she was throwing off all her clothes and vomiting because of all that blood and stuff."(VAP)
"After all the grease was removed, there was always some cracklings to use to make soap. These would be taken and put in a washtub outside. A fire would be built around this washtub. There was so many pounds of cracklings to so many cans of lye. The lye would eat these cracklings up. That's the way we would make our soap. We always had to cook it twice. The first time that you'd cook it, there would be a couple of inches of water in the bottom of the tub. Then it would be cut up into balls and then remelted. This was the only wash soap used to wash clothes."(MGA)
The family herd of cows were driven home from pasture to be milked. Some of the dogs were experts at bringing the cows in. One time Orvel and Floyd were driving the cows when they had to cross a canal. There wasn't any bridge. They were thinking of a way to cross over, when Orvel suddenly tossed Floyd onto the back of one of their most gentle cows. The cow was standing out in the water getting a drink. Floyd hung on tight and rode across with the cow swinging her head around to get them off her back. Orvel jumped on another cow and rode her across. (FLA)
The barn was too hot in the summer, so the cows were milked in a pole corral. It was a family project. The kicky ones were hobbled and the tail secured between the leg of the cow and the knee of the milker. Soon the bucket would be filled with foaming whiteness and ready for the cream separator. (VFW) Am would chum butter and sell cream, butter and eggs to the store in town. Am would take the one horse buggy often with Fan pulling it. Fan nearly always had a colt to raise and when she went to town her udder would get tight and she would be very anxious to get home. However, she would never move until Am got back into the buggy. The family would hear people ask for Mrs. Allred's butter in the store. Snyder's store would buy what butter and cream Am could make and also any eggs she had. School supplies and other things the children needed were purchased with this money. (VAL)
On one occasion Am had got into town and tied Fan up to the hitching post and gone into the store. A man name Jesse Crosby had bought the first car in Lovell and had parked his car close by Fan. When Am finished her shopping and came out to go home, she untied Fan from the hitching post and started to climb into the buggy. Fan was anxious to get home and started rearing. At the same time J esse came out to get in his car and he saw how Fan was acting. He said to Am, "Stay with the rig, Sister Allred, stay with the rig!" Am was not frightened because she knew Fan wouldn't go until she told her to. She got on her way and went home from her shopping. Not long after that she went into town again. It had been raining and Jesse had his car stuck in a mud puddle. As she drove by him she called, "Stay with the rig, Brother Crosby, stay with the rig!" She went on home and left him stuck. Fan was probably too small to pull him out anyway.
Ed always had bees. The honey was used by tile family. Am sewed some screen over an old felt hat and sewed cloth at the bottom of the screen. Ed tucked the cloth under the suspender of his levis to protect himself from the bees. He used a smoker to put the bees in a stupor. (Am used the smoker to get her girls out of bed in the morning.) He was rarely stung But he used to talk to the bees while he was taking out the slats of honey. Then he extracted the honey from the comb.
A winter task was sawing ice from the river to store for summer use. It was stacked in a log building and covered with sawdust. A team drawing a homemade sled was used to transport the ice. Then a hole would be dug in the sawdust down to the ice. Then butter, cream and milk was covered with a clean cloth and placed there until mealtime. The ice was used for ice water to drink. Am would also hang sealed jars containing perishable food in among the rocks in the irrigation ditch by the house. The cold water refrigerated the milk, cream or butter. (FLA)
Each spring the children would help plant the garden. One horse would be hitched to a shovel plow to make furrows in the garden. Sam, a big, bald-faced, horse was good to work beside. One of the children would hold the plow to make the furrow and the other would ride and guide the horse that pulled the plow. Under the supervision of Am holes would be made along the edge of the furrow with a hoe, seeds planted and covered over. Corn potatoes, beans, lettuce, cucumbers, peas, radishes, tomatoes, etc. were planted. When the seeds sprouted and grew large enough, a horse would be hitched to a one-horse cultivator. One of the children would ride the horse while the other would hold the cultivator.
The children learned to irrigate the garden and the various crops. Am would bottle the produce from these crops and store the quart jars in a cellar under the house. There was also a root cellar behind the house to store produce for winter use. Some of the garden produce was loaded into a wagon to trade or sell. (FLA) "Dad planted quite a few spuds one year and we had a hard cold winter and the spuds froze in the cellar and so he bought a number of pigs to feed these spuds to. He made a large boiler and made a place to set this on rocks so he could put a fire under it and put these spuds, so [many] each day, and we would feed them to these pigs. They did well on it.
In the summertime, when the water was in the canal, we decided to use the boiler for a boat. It was square on the end so you could make it work. We nailed a horseshoe on each side and fixed us a couple of paddles, and put this old boiler in the canal. We would sit there and put those oars in the horse shoes and paddle ourselves down the canal. We got down a quarter of a mile at the lower end of dad's field and then we would have to go and get the wheelbarrow and wheel the boiler back up again so we could ride down again."9
When threshing time came fresh straw would be put into the tick for sleeping. (Some times they had comshucks) It always seemed to the family like pure heaven when they had hew straw. While the children were growing up, there were no mattresses. (VAL)
Am did all of the family sewing, dresses, shirts, bedding, etc. After their clothes were worn out, she'd tear them into strips and sew the strips together and another lady would weave them into rugs. She had enough rugs to cover her living room. She put straw underneath the rugs.
She made straw hats for her family. She would braid eight straws that she had soaked. When the braiding was done she'd soak it again. She also made many beautiful quilts. One time the National Guard gave all of their heavy underwear to the Relief Society. Am and her sister Ruth Nichols divided them up and one of them dyed the underwear red and the other blue. Then they pieced it together. The family would shear their sheep and save the wool from one of the lambs, wash it very carefully in warm water and put it out to dry. Then it was carded to make a thin cover for a quilt. Before Am quit making quilts, she made one for each of her children, all different patterns. Then she rolled them in newspapers and tied a string around them and put them in a box. When the children came they could pick up a package. That way nobody could say she gave them the prettiest one. (MGA)
Ed and Am were always active in the Church and encouraged their children to accept anything they were asked to do and to do the best they could. (VAL) Am always went to Sacrament Meeting, but did not attend Sunday School with the family. Ed would go to all his meetings. (VAL) The family rode their horses to Sunday School and priesthood meetings, or they hitched one horse to a buggy and rode to their meetings. (FLA)
The children from the farm areas, including the Allred children attended Primary in a makeshift building known as the bowery. From the Shoshone River bridge straight south across the canal and up the hill on to the bench, at the first crossroad, on the southeast corner stood the bowery. It was a rectangular structure consisting of slabs of the outside cut of the tree, overlapping to cover the cracks and the bowery made of small cottonwood trees placed upright for the sides, extending from the small structure. The top was covered with trees for shade. Alvrean Lemmon Allred was a first counselor in this primary.
Relief Society was also held in the bowery during the summer. The slab part of the structure was just large enough to accommodate a table, a few benches and a pump organ. (FLA) After the older children had left the home, Vera, Chasty and Veda always went along with Floyd and Angus.
Veda was the youngest and found herself operating the farm machinery. She rode the horse drawn mower and pushed the lever to raise the tines of the rake when a pile of alfalfa was bunched. She writes that afterward her foot would be bowed from doing it so long. After Floyd was married he stayed on the farm and worked with his dad Ed.
Floyd remembers working with his father:
"I used to tell Dad when it was the second cutting of hay it was the hottest season of the year. He preferred to stack and I tried to get him to come and run the buck rake because he was wet with sweat as if he had been in the ditch. I tried to get him to take it and let me stack awhile and he'd say; 'I can't run that crazy thing, I'd go crazy running that." And I'd say the horses know how. They know how and you don't have to put much effort forth and you just operate the lever as you wanted this hay and they know how as long as you operate this lever. You know how to do it. He'd say, 'No, if your satisfied I am, you stay there and run that."10
Ed was a hard worker and he continued to toil on the farm until he was seventy-two. (PLA) One time he was up on the hill with the mowing machine cutting hay and the team ran away with him. He was thrown from the mower and the bone in his right arm was cracked. (FLA)
Leaving the Farm
After thirty-eight years, he was ready to move from the farm. On July 24, 1940, he and Am moved to town. (FLA) In town he had a small home garden and a few fruit trees. He would raise enough fruit and vegetable to sell around town and for their own use. (VAL) In the spring he would come out to the farm and borrow a team to plow his garden. People would see him plow and they'd want their garden plowed. Sometimes, he had the team the whole week plowing other's gardens. This brought them a little income. (MGA) He also worked in the sugar factory during the campaigns for several years. (FLA)
During the Second World war, Ed helped build what was called "Little Tokyo". This was up on the little bench between Ralston and Cody. They brought Japanese people there, lots of them, from the coast. He helped them build the homes. The Japanese would come down to Lovell in big buses to shop. Ed made pretty good money and he was thrilled about that. (MGA)
On Ed and Am's fiftieth wedding anniversary, all their children and grandchildren joined together in celebration. After a program in the recreation hall of the Lovell West Ward, they were each presented with a beautiful rocking chair. All of their posterity were there except for three grandsons who were serving in World War n. Ed bought a moss agate ring to put on Am's finger for their golden wedding anniversary. She later lost the set out of it and stopped wearing it. After that day they spent four and half more years together. (VAL)
AA grandchild related this insight into his relationship with his Grandmother, I can still remember as though it just recently happened; my father asking us to help at my grandparents house to bail out their basement of water after a wet storm. All the cousins were there and we busied ourselves; going down the basement stairs, bucket in hand, fill it with water, and take it out and empty it somewhere away from the house. It's the least we could do to help. On the way to the basement, through the back door, and on the way back again, out to empty our buckets. We could see on the kitchen table little sacks that we knew were filled with candy placed there by Grandma as a reward for helping empty the basement of water. I knew when the job was done we would all get one of the little brown sacks. I kept looking at those sacks imagining the goodies they must contain each time I walked up the stairs with a bucket of water. The water was almost gone and the moment would soon come when Grandma would give out the treats. We were well deserving I thought. Great was my surprise then, when my brother Bruce whispered to me that we were to run and hide after the next trip out of the cellar so Grandma wouldn't have to give us anything for helping out. After all we didn't do it just for the reward, did we? I must admit that is exactly what I had done it for. Didn't we earn it? It was against natural law or something. It must of been my age or possibly my love of goodies, but I couldn't believe my ears! I was dragged off unwillingly trying to explain how I didn't want to disappoint Grandma to hide behind a nearby shed. We climbed to the roof so we could watch the action. Sure enough, the kids all scattered on cue and Grandma came out with the sacks of candy finding everyone gone. One by one she called our names and none of us answered. I must admits this was turning out to be fun but, couldn't this be considered disobedience? One by one Grandma searched out the helpers, but most of us were well hid. Peeking over the roof of the shed we realized Grandma was not one to give up. At last (to this day I can't imagine how) Grandma spotted me and called out, "Wallace I see you op the shed. You come down here!" I tried to look reluctant to go but, I didn't want to disappoint Grandma. The older boys jumped down and ran home and the rest of us were given extra bags to carry home to the others. Mine never reached its destination. (WPA)
In 1945, Am was diagnosed with leukemia. She needed a blood transfusion and Orvel and Floyd gave it to her. The blood was incompatible with hers and caused her such great pain. She rolled from side to side on the bed and soon died (June 2, 1945). (VAL) After she died and was in her casket, she looked so beautiful in her temple clothes. Ed looked at her with her hands folded and no ring on her finger. He left the funeral home and went to the drugstore where he bought her another moss agate ring and went back and placed it on her finger. (VAL)
On February 3, 1942, Am had left these instructions in her own handwriting. "If mother dies before father does take care of him." And he told the family, "I'll stay around until about this time next year, then I'm going where she is." That winter Ed had a sore throat. In Billings, he had surgery on his throat. After this his daughter, Anna persuaded him to live with them. Anna and her husband, John took good care of him and many friends came to visit him. But two weeks short of a year, he kept his promise, having completed his sojourn on the earth, he died May 23, 1946 in his daughter's home. (FLA, VAL, JAC)
Edward Warren Allred left a numerous posterity that honor him as a husband, father, grandfather, brother, and friend. It is now our task to live by his standards.
This history taken from:
THE LEGACY OF EDWARD WARREN ALLRED - A DESCENDANT OF WILLIAM ALLRED
first printing 1997
Editor-In-Chief: Wallace P. Allred
Associate Editors & Compilers: Lora Allred Gibby & Edward P. Allred
Typesetting & Layout: Reed R. Simonsen
END NOTES
1 Edward was the tenth child of seventeen children born to Mary, he was the fourteenth of twenty one children born to John Johns Allred. (Four by a previous marriage to Jane Hoops who died in Missouri. Eleven of the twenty one children born to John would grow to maturity.
2 "Reminiscing about Experiences on the Farm", Conversation between Angus Allred
and Floyd Allred. Recorded June 15, 1977.
3 Ibid
4 Edward Warren Allred received a name and a blessing on November 2, 1868 by Samuel K. Gifford. Baptized by his father. At the age of twelve he was given the Aaronic Priesthood. (FLA) He was ordained a teacher by Charles M. Smith. He was ordained a Seventy by Rulon S. Wells on November 1910 and a High Priest on November 19, 1922.
5 From Edward Warren Allred's Autobiography, February 15, 1945.
6 Some members of the family have written that they rode horseback together to be married, taking five days for the trip. (EEA)
7 History of the Big Horn Basin, Charles A. Welch, 1940.
8 This story of the faith of their father was told by the children to their children and is remembered by many of Ed's descendants. (This information was taken from the personal histories of Ellis Allred, Anna Clark, Floyd Allred, and Veda Lemmon.)
9 Reminiscing About Experiences on the Farm, Conversation between Angus Allred and Floyd
Allred, June15, 1977.
10 Reminiscing About Experiences on the Farm, Conversation between Angus Allred and Floyd Allred, June 15, 1977.
EXPLANATION OF INITIAL SUPERSCRIPTS
All initial refer to immediate or extended family members who have written histories, made notes, or recorded verbal accounts of the lives of the Edward Warren Allred family. Some editing has been done for clarity. The initials are as follows:
ALA - Angus Lemmon Allred
ERPA - Elen Rebecca Parry Allred
FLA - Floyd Lemmon Allred
JAAC - James Anna Allred Clark
VAL - Veda Allred Lemmon
VFW - Verda Farbes Welch
EEA - Edward Ellis Allred
EWA - Edward Warren Allred
IVA- Iva Gifford Allred
MGA - Marcella Graham Allred
VAP - Vida Asay Pitt
WPA - Wallace Parry Allred