Draper Family History
as related to Rhoda Ann Palmer (1834-1879) and Joseph Anderson Allred (1831-1891)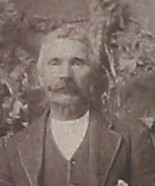 Allred lineage:  Joseph Anderson, Isaac, William, Thomas, Solomon born 1680 England
Submitted by: Sharon Allred Jessop 03/22/2001
Dedicated to the Memory of Phebe Draper Palmer (Brown). In grateful appreciation for the great sacrifices she made to remain steadfast in the Glorious Principles of the Gospel of Jesus Christ, and for the fine heritage she left us and to George Palmer Jr., her husband [He died in Canada. She married Ebenezer Brown, 2nd Sergeant and went with him and worked in the Mormon Battalion to California and back to Utah.]
CHAPTER IX
RHODA ANN PALMER and JOSEPH ANDERSON ALLRED
RHODA ANN PALMER, dau. of George Pa1mer Jr. and Phebe Draper, was b. 15 Mar.
1834, Cramahe Twp, Frontenac, Ontario, Canada, d. 27 Dec. 1879, Lewiston, Cache, UT, bur. Richmond or Lewiston, Ut. She md. at Salt Lake City;.1 Jan 1851 (sld. 16 Nov. 1855), JOSEPHANDERSON ALLRED. He was b.26 Apr. 1831,Monroe, Rolls, MO, son of Isaac A11red and Mary Calvert. He died 30 Sept 1891, Spring City, Sanpete, UT, buried there. He was baptized April 1841. He married (2) NAOMI BRANDHAM B born 8 Mar 1851 in Berks, Eng. (3) GEORGIANNA LAMBERT B born 7 Feb 187. Oneida Co, Idaho He married (2) NAOMI BR.ANDHAM [born 8 Mar 1851 Berks, Eng. (3) GEORGIANNA LAMBERT [born 7 Feb 1873 Oneida Co., Idaho.]
Children of Joseph Anderson Allred and Rhoda Ann Palmer -- Rhoda Ann PalmerC
6 b. Spring City:
1. JOSEPH GILBERT, b. 2 June 1852, Draper, S. L., Ut. Died 18 Jan 1915. Baptized 1866. Married (1) 8 Dec 1873, ELIZA ANN LAYTON. Married (2) 19 Oct. 1904, ELIZABETH ALLEN.
2. GEORGE RILEY, b. 1 Nov 1853, Kaysville,Davis, UT; d. 3 Oct 1923. bp. 8 July 1861; Md. (1) 17 July 1876, MARY ISADORA LAYNE. Md. (2) Mar. 1918, ELIZABETH ALLEN (ALLRED).
3. NEWTON DEVINE, b. 12 June 1855, Nephi, Juab, Ut. D. 18 Oct 1857
4. WILLIAN GUERNSEY, b. 29 Mar 1857 Kaysvi11e [UT] d. 22 Jan 1906, bp. 1875, rebp. 20 Feb 1897. Md. 23 Apr 1876, RHODA LUANN SMITH
5. ISAAC HENRY, b. 3 Oct 1858; d. 24 Sep 1859
6. EDSIL MYRON b. 6 Jan 1860; d. 29 Feb 1937; bp. 1868; rebp 7 June 1888; md. 9 Jan 1888 ALICE CHOULES.
7. SIDNEY PARLEY b 4 Feb 1862; d. 7-9 Feb 1862
8. MARYETTE, b. 16 Aug 1864; d. 12 Nov 1864-68
9. ELZINA (twin); b 23 Aug 1865; d. 18 Feb 1988; bp 1875; md 8 Mar 1881, THOMAS BLAIN
10. ELMINA (twin); b 23 Aug 1865; d. 14 Dec 1958; bp. 1875; md 9 Nov 1884 JOHN WESLEY SPAINHOWER
11. MARVIN HARVEY, b. & d. 17 July 1867, Kaysville.
12. ORIN ERASTUS, b. 8 Mar 1869, Kaysville; d. 9 Dec 1934; bp. Mar 1879; mi. (1) 15 Jun 1898 LUSINA ELMER; MD. (2) Jan 1901 ADELIAS THURZA WATSON
Rhoda Ann was a small baby when her mother took Her from Canada to the United States to join the Saints in Missouri and Illinois. She grew up with the experiences of so many pioneer children, among persecution and suffering. When Rhoda was 12 years old her mother joined the Mormon Battalion as a Laundress and cook. It is said by several of the Allred and Isaac Palmer descendants that she then went to live with Isaae Palmer, and pos sibly remained with him until they reached the Utah Valley. Her father having died before they left Canada, it is said that Isaac was a brother to her father George.
At the age of 17 on the first day of Jan. she married Joseph in Salt Lake City, Utah.
Joseph was born at Allred Settlement on the Salt River. As he grew up in those troublesome
yet glorious days of the newly restored Gospel, he also shared with other members the dangers and hardships of the early Saints. But he enjoyed the sweet spirit of peace in his home where his parents were faithful and true to the Gospel. When he was fifteen years of age, the Saints were forced to move westward. Three months after his sixteenth birthday he entered Salt Lake Valley with his parents and Brigham Young.
Rhoda and Joseph made their home for a while in Draper, later moving to Kaysville, Utah. About eight years later they joined the other Allred families and went into Sanpete County and
settled in Spring City. They were the parents of 12 children, five of them dying in infancy or early childhood.
Source: Early Ch. Rec, Sarah Hunt, Index Bureau, other descendants.
JOSEPH GILBERT ALLRED, son of Joseph Anderson A11red and Rhoda Ann Palmer, was b. 2 June 1852, Draper, d. 18 Jan 1915, Safford, Graham, Ariz., bur. 20 Jan 1915, Thatcher, Graham, Ariz. He md. (1) at Salt Lake Clty (End. House), 8 Dec. 1873, ELIZA ANN LAYTON.. She was b. 28 May 1856, near Carson City, Ormsby, Nev., dau. of Christopher Layton and Sarah
Martin. She died 11 Apr. 1903, Thatcher; bur. there, 13 Apr; bp. 1866. He md. (2) at Thatcher, Apr. 1904 (sld. 19 Oct. 1904), ELIZABETH ALLEN. She was b. 29 Aug. 1882, Pine, Apache, Ariz.; d. 5 Oct. 1941, Tucson, Pima, Ariz., bur. 8 Oct. 1941, Thatcher; dau. of Jonathan Alexander Allen and Jane Nelson.. She was bp. 2 Aug. 1890, md.(2) GEORGE RILEY ALLRED.
CHILDREN of Joseph GilQert A1lred and Eliza Ann ,Layton. B 3 b. Layton, Davis, Ut.
1. SARAH MARTIN, b. 16 Oct. 1874, Kaysvi11e, Davis, Ut. , bp. 3 Apr. 1884; md. 11 June 1901, ALEXANDER .CLARK HUNT.
2. CHRISTOPHER ANDERSON, b. 16 June 1877, d. 29 Mar. 1957, bp. 4 Feb. 1886;
md. 3 Jan. 1900, SILVA MAE FAULKNER.
3. RHODA. OLIVE, b. 2 Oct. 1879, d; 29 July 1880-1.
4. JOSEPH MYRON, b. 6 July 1881, d. 4 Jan.1937, bp. 5 Dec. 1889; md. 16 Apr. 1913, ALICE JOSEPHINE HIGGINS .
5. CHARLES GILBERT, b. 19 Oct. 1883, St. David, Cochise, Ariz., d. 23 Mar 1886.
6. MARGARET (Maggie) ELIZA, b. 16 Apr 1891, Thatcher, Graham, Ariz. , bp. 7 May 1889,
d. 12 May 1955; md. 17 Apr. 1913, JOHN HILBERT ASAY .
CHILDREN of Joseph Gilbert A1lred and Elizabeth Allen B 4 b. Thatcher, Graham, Ariz.
1. RUTH, b. 27 Aug. 1905, bp. 2 Nov. 1913; md. 5 June 1924, WALTER PARLEY HAGGARD.
2. DELLA, b. 24 May 1907, bp. 5 June 1915; md. (1) 25 May 1926, AUDREY VIRGIL POWELL; md. (2) WILLIAM CHRISTIAN; md. (3) 29 June 1940, WILLIAM JAMES WHITE.
3. PHOEBE, b. 14 July 1909, bp. I Sept. 1917; md. (1) 30 Sept. 1926, WILLIAM THEADORE PEASE; md. (2) 3 Aug. 1958, PAUL LE ROY ATKINSON .
4. ELDON HARVEY, b. 5 Sept. 1911, d. 26 Oct. 1957, bp. 6 Sept. 1919; md. 17 Dec. 1936, LOIS CLA WSON.
5. EDITH, b. 16 May 1914, Safford, Graham, Ariz. , bp. 3 June 1922; md. 24 Feb. 1938, CLOYD WOODROW DAVIS.
Sources: Minnie Jones, Jos. N. Allred, Ruth Haggard, & Edith Davis .
Joseph Gilbert was the first of 12 children, eight of whom grew to maturity. They grew up together in the towns of Draper, Kaysvi1le, Nephi and Spring City, Utah.
At the age of 21 he married Eliza Ann in the Endowment House in Salt Lake City. Ten years later after four of. their children were born, he and his family joined an immigrant train leaving Kaysville. They were eight days and nights in travel, arriving in St. David, Cochise, Arizona at midnight. Early the next morning following their arrival, Eliza Ann walked a short distance to the San Pedro River and cried because of the lonesomeness of the desert country. They remained four years in St. David. First they lived out-of-doors, sleeping in tents until adobe houses could be built. There had been a prophecy made to these people that there would be much water in this country. Some time after their arrival there, an earthquake cracked open the barren ground and springs came up in many places. Their son Christopher was at the river gathering pebbles and saw this happen. Some dirt fell, but the adobe houses did not crumble. The dishes shook good, however. The people then built houses around the springs and here they would float pans of milk to cool in the spring houses. Their daughter Sarah tells of trapping quail with her brother Christopher and going into AContention@ with their father as he took in loads of Prairie hay to sell. The children took the quail to the can-can and sold them. This money they earned was their own for special treats and treasures.
Joseph was away from home a great deal, freighting and helping other immigrants in their trek from Utah to Arizona and Mexico. In the story of George Albert Martineau, mention is made of "Joe Allred who was helping transport horses. They unloaded at Tucson and changed to the Spur Line running to St. David. The final unloading point was a small Mexican town, Contention.
About 1887, Joseph with his family moved to Thatcher, Ariz. St. Joseph Stake Center had been moved to Thatcher prior to this time. In Thatcher, they opened a general store which Eliza Ann managed. Joseph still did some freighting and enjoyed speculating. He lost a good deal of property, both real and personal. He at one time had an excellent string of thoroughbred horses which he lost in speculation.
His beloved companion and helpmeet, Eliza Ann, died in 1903 (there were four living children). After her death, he married Elizabeth Allen; there were five children by this union. Following Joseph's death, Elizabeth married Joseph's brother George; they had two children.
Joseph passed away at the age of 62. In spite of his many disastrous business ventures and his speculating, he left several hundred acres of improved farming land to his posterity.
Joseph was a quiet, easy-going personality who tried very hard to provide the best for his family. He contributed a great deal in the settling of the Saints in Arizona, not only by moving his family to such desolate country and helping develop it, but also by helping friends and neighbors establish themselves in a new country.