Calvert Lorenzo ALLRED
Allred Lineage:    Calvert Lorenzo, Sidney Rigdon, Isaac, William, Thomas, Solomon born 1680 England
Born: 05/12/1864 Spring City, Sanpete Co., UT
Died: 08/14/1932 Safford, UT
Submitted by: Sharon Allred Jessop 01/09/1999
Calvert Lorenzo Allred was born in Spring City, Utah, May 12, 1864, to Sidney Rigdon Allred and Lucy Ann Allred, the third child of a family of 16 - 8 of whom died in infancy. He spent his youth in Spring City and Chester, Utah.
On May 31, 1888 he married Gertrude Maria Jensen. She had come to Spring City with her family from Tolne Hjorring, Denmark in 1880. She was 18, he was 24. They were sealed in Manti Temple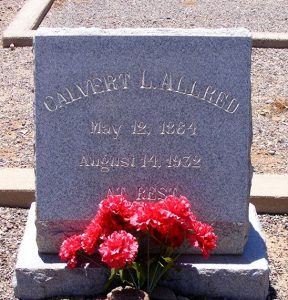 December 12, 1888. To this union 10 children were born.
On October 25, 1890 he married Andrea Jensen, a sister of his first wife. They were married and sealed by A.F. McDonald in Colonia Diaz, Chih. Mexico. Andrea was endowed in the Logan Temple 17 July 1890. They had seven children.
This family was among the first pioneers in Mexico and helped in building up the Mormon Colonies. They lived in Dublen a year then settled in Colonia Juarez, 15 miles south. They had many thrilling experiences. Andrea remembers one summer when living in the mountains at a sawmill they got word that their neighbors, the Thompson family, had been killed by Indians. All the families got together in one place and the men stood guard all night. The next day they went back to their homes where, for several days and nights, the men kept guard.
They lived across the street from President Anthony W. Ivins for eight years and enjoyed their love and friendship. They built a large red brick double home across the river. Cliff and Cal tell of carrying bricks for this.
Calvert freighted with his teams and wagons. He also had a contract with the Mexican government to haul the mail from Pearson to Juarez.
Ada Allred Lucas, the last living child of Andrea and Calvert, writes some memories of Mexico. "I remember every nook and corner in our big beautiful, seven-bedroom, red brick house. What a good cook Mama was, her suet pudding, red mush, sweet soup, bread dumplings. She made noodles and such good light bread and cinnamon buns."
"We carried water from the river for everything. Dad had a well started, but not finished. We had a nice orchard. Papa would raise enough beans from one year to the next. Thrashing them by hand. There were two or three hundred pounds of peanuts, popcorn, and hundreds of two quart bottles of fruits and berries. We kids would go pick berries at Brother Pearson's and they would make us stick out our tongues to see if we had eaten any."
Bessie: "I remember when your Mother and Dad got married. I went all over town and took invitations, your Grandma Sevey made a big dishpan of doughnuts. There was so many people. I guess everyone in town. We opened up the big sliding doors between the front room and dining room, it looked like one big room. The rooms were all big anyway. So your Mother and Dad moved in the front room. When Cal got married he moved in the front room on the other side."
"When Myrl was born your Mother had blood poison. They made a bed in a wagon and took her to Pearson to the Doctor. We just had a midwife, Sister Seville, who delivered her. Papa, Mama, and Theresa went with your folks, they got a lady to come stay with us and cook. When they got back your Mother didn't have any milk. So Mama would take Myrl about two blocks away to this Mexican lady to nurse her. I'd go with her. I remember her big black breast, anyway, Mryl got along fine. I even remember her name - Nichannor. We kids ate at the Mexican place lots of times. They were nice.
"Mama had a Mexican lady come and wash every week. The boys would carry the water
and turn the washing machine by hand and she would eat with us. Mama would always cook beans when she came and she put sugar on them. We bought sugar by the 100 lbs. sack, all cubes.
"Papa, Mama and Aunt Maria would all go to Church walking, it wasn't far, they had to cross the river. Mama and Aunt Maria in their black skirts and white blouses and Papa so tall and strong.
"Dorothy and I rode our horses through the Park one day. The Rebels were there. I saw them cut a calf's throat and catch the blood in a bucket and drink it out of tin cups. They were all drunk and acting awful. It didn't take me long to get out of there."
"One day they came to the house. Papa was there and asked them all out in the melon patch while the boys went up to the corral and drove our horses back in the pasture. Papa kept breaking melons and talking to them. So when they left they thanked Dad and went on to the next place and took all their horses. We had 500 acres of pasture land, our house set back from the road, maybe a block. It had a heart shaped lawn to the little gate and gravel on each side."
"It must have been hard on my folks to work so hard and have things so nice and then have to leave it all. One day Papa went by Taylor's place. They were just eating dinner, a knock at the door, it was the officers. They were after Taylor for stealing something. The Taylors had a trap door under a trunk and rug. They got him down there just as the officers were coming in. Papa saw his empty plate and jumped up and set down in his place and started eating. They came in, saw nothing and left. Taylor sure thanked Papa for being so quick to think."
"I remember your Grandma Severy's place well, big apple orchard. Una ran around with Dorothy and she was to our house a lot."
"When Milt and Joe went back later our poor dog was still there so poor and worms in his head. He was so glad to see the boys. They fed him good, but when they left they couldn't leave him in that shape so took him down to the cotton wood trees and killed him. Milt said that was the hardest thing he had ever done. They packed a big box of dishes and buried it under a peach tree."
"Papa made our big round cheese and jerky, from a hind quarter of beef at a time (whole) didn't know it could be done, but he did it. We weren't allowed to touch it. It was hanging in one of the bedrooms upstairs, but Papa would take us all up there and cut us a slice.
"President Joseph Fielding Smith said once when he was down there a lot of these little children will live to see the coming of the Lord. We were all standing outside by the Church house."
After 22 years in Mexico. The growth in the colonies was phenomenal, they manufactured shoes, harnesses, saddles and furniture, ground the flour, cut vast quantities of good lumber, which they sent to El Paso. They erected fine homes, picket fences, lawns and flower beds, orchards, the cattle and horses fed on long grass, by 1910 they were well settled and happy at the prospect of a good life in the six colonies.
In 1911 the rumble of the revolution and the threat upon the colonies caused President Junius Romney to ask for a safe exodus of the women and children to El Paso in return for the demand of the Rebels for all the guns. On July 25, 1912 fleeing from danger, they made quick preparation to leave the homes and comforts they had worked so hard to achieve.
All rode off leaving their homes just as they lived in them from day to day. All felt sure that immediate return would be possible. As a result, none took more than one trunk, one bed roll, and few realized that they were looking at their homes for the last time. This was more of an adventure, after delivering their guns to Colonel Ponce. There was soon a stream of wagons piled high, topped with women and children on their way to Pearson. All were crowded into one train. When passenger cars were filled boxcars and even a few cattle cars were used. They were thankful when night came and darkness hid their plight. In El Paso, recalling the comfortable homes so hurriedly left, and here they were forced to accept public charity and it was anguish to their souls, even tho the city was cordial and sympathetic.
Ada remembers this experience well. "We came out on the train. When it got so bad down there the church decided for all the members to leave. We all met at a certain place in wagons to go to Pearson to catch the train for El Paso. Mama and Aunt Maria fried chicken for us to eat on the way. Then opened the chicken coops and let the chickens out. Mama had 200 white leghorns and Aunt Maria 200 brown ones. Milford and I went up to the plum trees to pick a few plums that was just turning red, the wind was blowing, and we said the trees were telling us goodby. We got to Pearson and the train was late. I think it was about 15 miles there. The Mexicans were all drunk and cursing and would take whatever they wanted of the people. I re-member how scared I was hanging onto Mama. The train finally got there and we were glad to get on, Papa went with us. All the men folks stayed to come out overland with whatever they could bring, traveling at night to keep from being seen. I don't remember what they brought but the sewing machine for Mama, wagon and two horses. You can imagine how Mama and Aunt Maria didn't know if they would ever see their sons again. We were watching them leave as they got up on a hill they all stopped, we thought maybe the Rebels were coming, but later learned it had started to rain and they were putting up the Wagon covers."
"We didn't have any lights coming out, afraid of the Rebels, and no water, and the babies were crying. It was light when we got to El Paso. Cars were waiting to take us to the lumber yard sheds, where we all had a stall just hung a blanket between each family. I slept on the floor and the mosquitoes were so bad we burned green sunflowers to smoke them out. They cooked our meals. Mama would take a kettle over and get our rations for how many in the family. Then we had little bottles milk. It was the first milk I'd ever seen in bottles and it was cold."
"Aunt Maria was pregnant so she went on to Utah where Mabel was born. Cal and Nelia went later."
"Papa and Uncle Byron soon got a house for us. We all lived together, slept on the floor, had one small stove. Uncle Byron went to town to get a wash board. As he came up the steps where we were all sitting, as it was hot inside, Mama said, "So we have to buy our washboard here." He didn't speak, he dropped right inside the door, dead of a heart attack. Papa and the boys soon got a job and we moved to Highland Park."
They stayed in El Paso almost a year. Calvert used his big team to do construction work. The boys all got jobs to help, but in June of 1913 they started for the Gila Valley.
Again Ada remembers this trip. "We came from El Paso overland and the boys drove the wagon with the sewing machine and what little else we had. We rode in a beautiful surrey. It was so pretty, with two seats and lace fringe all around the top, a lamp on each side at the front that burned kerosene. Papa and Mama set in the front, Dorothy, Theresa and me in the back seat."
"We drove cows, and night and morning we would milk the cows so we had all the milk we wanted. Mama would put what we didn't drink in a bucket with a lid on it, hang it on the back of the wagon and we would have butter at night. Papa did most of the cooking, big round flap jacks, an inch thick. It was fun, we waved at the men on the train every day. It took us two weeks. We sleep on the ground. One night after we got in Arizona we saw a big centipede near our beds. In Thatcher we pitched our tent in Uncle Joe's fruit orchard. Papa got a house soon and we moved close to the Church house. He soon sent for Aunt Maria and got another house for her. She only lived two weeks. Mama was feeding her water with a teaspoon, she raised up and looked toward the door and said, "What did Pa do with Byron". (He's the one I told you died in El Paso.) After the funeral we all moved in one house - 14 altogether.
Andrea took the responsibility of raising this large family and after a year in Thatcher they moved to Safford, north of town toward the river. The next year they moved to Solomonville to farm. The older boys helped to support the family, but soon found wives among the valley girls and started homes of their own.
In 1916, Calvert found 40 acres south of Safford in the cactus area where he could raise feed and started a dairy with around 30 jersey cows. Milford was about 10 years old and remembers well, he said, "The farm was well tended, with alfalfa fields, grain, corn, melons, a garden, large hay stacks in his clean yard fences in repair. Papa was a strict, stern man, a perfectionist, you could go into his tool shed or store rooms in the dark and find anything, it was always in its place."
They remodeled and added on to the house making a lovely home with well-tended lawns and trees. They dug a cellar on the back to store food and meat. etc., hundreds of quarts of fruit and vegetables were canned each year.
How well everyone remembers the big team, May and June, he brought with him from Mexico and his big strong stallion, more than once he pulled a hay stacker out of the river when a team could not do it!
The 4 a.m. alarm, winter and summer, got the household up to begin the day - cows to milk, milk to separate, calves and pigs, chickens to feeds, a farmer's breakfast and school for the children.
His youngest son, Reed, added some memories of my Father. "When I was a boy my father purchased two colts and broke them. At least he thought he'd broken them. One summer day he took the team out to mow hay. However, suddenly the young team broke loose and drug the mowing machine and my father all over the twenty-acre hay field. My father fell off the mowing machine but hung on nevertheless until he was finally successful in getting them stopped. Subsequently, he was using the same team to plow a field. In part, because my father weighed over two hundred pounds, he again finally succeeded in stopping the horses, but needless to say, he sold the horses a short time later. Also, when I was a boy, my brother and I would often take a wagon up to the foot of the mountain to get a load of wood, which we used for heating and cooking. At the place where we cut the wood there was a small stream with trout in it. There was a small hole in the stream where we were able to catch the fish with our hands. One summer day we had cut and loaded the wood and were having the good time catching trout. However, the time went by and it was late that night as we were going home, Dad met us with a good willow in his hand. He used it to convince us that we should not again stay so late up in the mountains.
He hauled his cream to the Safford Creamery each day always bringing back a block of ice for ice milk fur supper. In 1921 he bought a Model A touring car from his son, Ivan. Milford, the oldest boy at home, remembers he drove it home and had the big job of teaching his father to drive. Later they bought a brand new Dodge making the trip to Safford every day a pleasure and on Sunday driving to Layton Ward for Church.
He was well known and respected by all, a hard-working man who taught his children how to work. He was a law-abiding citizen and ready to help in every movement that was for the up building of his country. He was successful in every business undertaking he engaged in and was a faithful member of the Church of Jesus Christ of Latter-Day Saints.
He passed away in his home on August 14,1932 at the age of 68, following an hour's illness, due to heart trouble. He had 17 children - 10 sons and 7 daughters. Mrs. Corilla Jones (Willard), Calvert, Clifford, Joseph, Ivan, J. Milton, C.V. (Bert) Lynn, Vern, Milford, Reed, Lucy Allred, Dorothy Creps (Roy), Thora Foote (Walter, Sr.), Theresa Birdno (Bill), Ada Lucas (Orville), and Mable Despain (Arlie). He also raised a granddaughter, Bert's first child, Viola Allred Brooher (Larry). He is buried in the Thatcher Cemetery.
The following is from the Safford Guardian:
Calvert L. Allred died at his home in Safford at 10:20 o'clock Sunday evening, August 14th, following an hour's illness due to heart trouble. The deceased was born in Spring City, Utah, May 12, 1864, and lived in that place until he went to Mexico in 1890. Being one of the first pioneers to Mexico, he helped in building up the Mormon colonies there and made for himself and his family a comfortable home, which they were compelled to abandon in 1912, when the Mormon people were driven out of that country because of a revolution.
In 1913 he came to the Gila Valley and had lived here all the time until his death. He was well know and respected by all who knew him. He was a law-abiding citizen and was ready to help in every business undertaking he engaged in and was a faithful member of the Church of Jesus Christ of Latter-Day Saints.
A wife, 15 children, 45 grandchildren and one great grandchild survive him and all were present at the funeral. The children are Clifford L. Allred of Gallup, N.M.; Calvert A.S. Ivin, C.V. (Bert), J. Milton, Milford, Reed, Mrs. Theresa Birdno, and Mrs. Ada Lucas, all of Safford; Joseph Allred of Thatcher, Vern and Lynn Allred of Los Angeles, Mrs. Thora Foote of Solomonville, Mrs. Dorothy Creps of Superior, and Mrs. Mable DeSpain, of Phoenix. He was proceeded to the Great Beyond by a wife, two children and eight grandchildren.
Funeral services for the deceased were held Wednesday afternoon in the Layton ward church and were conducted by Bishop Clarence Naylor. The speakers were President H.L. Payne, M. Mickelson and Lafe Nelson. Special musical numbers were given by the Layton ward choir and by Mrs. Viva Morris.
Internment was made in the Union cemetery.