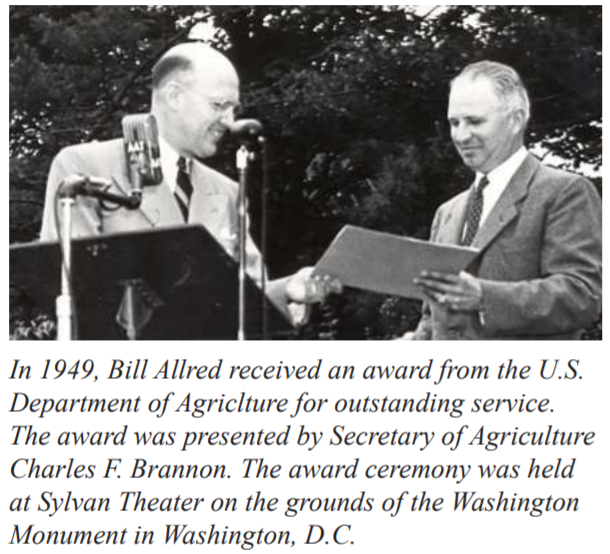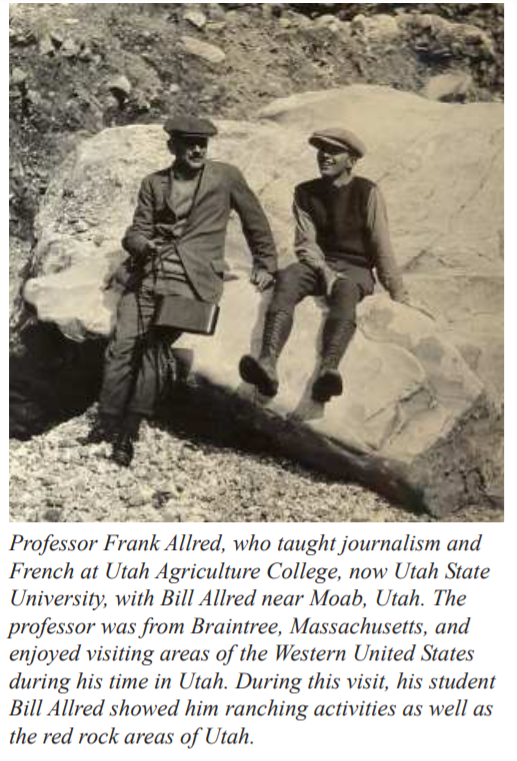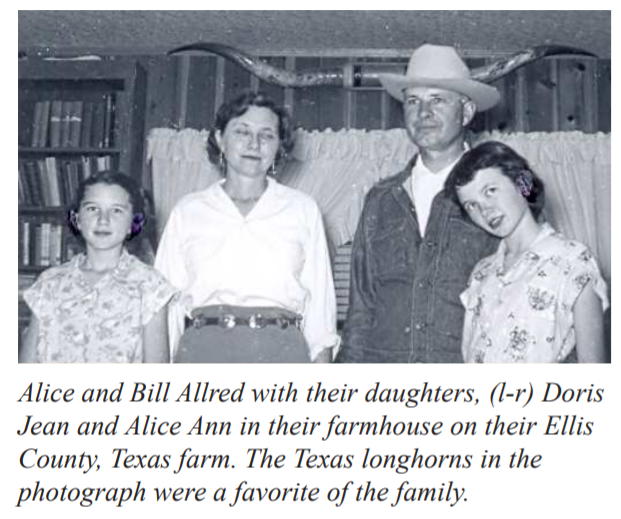 Berten Wendell Allred: Range Conservationist and Author
by Alice Ann Allred Pottmyer
Lineage:  Alice and her father, Berten Wendell Allred are Allreds 3 different ways:
1.  Alice, Berten Wendell, Birt, Elizabeth Ann, Richard Anderson, James Russell, Sarah, William, Thomas, Solomon born 1680 England
2.  Alice, Berten Wendell, Birt, Elizabeth Ann, Richard Anderson, James Russell, Sarah, William, Thomas, Solomon born 1680 England
3.  Alice, Berten Wendell, Birt, Wilson Monroe, William Hackley, James, William, Thomas, Solomon born 1680 England
Berten Wendell Allred, was a prominent range conservationist and author. He was born in Moab, Utah, January 17, 1904, to Birten and Anna Johnson Allred. He was given the name Berten so people would know the difference between him and his father, Birten. However, he was known as Bill or B. W. Allred most of his life.

He was the eldest of Birt and Anna's 13 children. Ten of the children lived to adulthood. As a boy he assisted with the family cattle and sheep and also often drove the second horse drawn wagon team for the Allred Transportation Company when it operated between Moab and Thompson by his father and Uncle Wilson Allred. His father and uncle were also ranchers.  He graduated from Utah Agriculture College (now Utah State University) in 1926 with degrees in ecology and agronomy. In 1931 he received his masters degree in animal husbandry and range management from the college. He later studied ecology at the University of Nebraska.

In addition to his early ranching activities in Moab, he operated a partnership ranch, raising cattle and sheep on private and public land in Utah and Wyoming. He also served as a county agent in two stock raising counties in Colorado.

In 1935, while living in Colorado Springs, he joined the U.S. Department of Agriculture's new Soil Conservation Service. The family moved to Rapid City, South Dakota, and after two years they moved to Lincoln, Nebraska. He was first in charge of the range work for the Northern Plains states and in 1945, after a move to Fort Worth, Texas, in a similar capacity for the Western Gulf Region comprising the states of Texas, Oklahoma, Arkansas and Louisiana. He spent more than 30 years in the Soil Conservation Service as a range specialist. He retired in 1965 as Head Range Conservationist.

He wrote widely for livestock journals and other magazines on livestock and grassland management problems. He was the author of Practical Grassland Management. This book stressed the importance of grass for conservation. It was widely used as a text in this field for 30 years. He was senior editor on Flat Top Ranch: The Story of a Grassland Venture. The 17,000 acre ranch in Texas was worn-out land that was developed into good grass, good water and good cattle. He also wrote numerous articles on range life and western history.

He married Alice Worthington of Grantsville, Utah. They met while he was driving his sheep from a summer range in Wyoming to a winter range in Nevada. He had his mail sent General Delivery to the Grantsville Post Office. She was
working in the Post Office. They were married in September 1930. She accompanied him on his many moves in the United States, plus Saudi Arabia and Argentina.  While the family lived in Fort Worth, Texas, they also purchased a farm in Ellis County where they had cattle and a horse for their two daughters: Alice Ann, born in Rapid City, South Dakota, and Doris Jean, born in Lincoln, Nebraska.

In 1954, he transferred to Washington, D. C. He was then Head Range Conservationist for the Soil Conservation Service. The family purchased a 400-acre farm near Old Town in Western Maryland where they again raised cattle and had horses. However, they lived in Washington D. C. where their daughters attended high school.

He was a former president of the American Range Society, Charter Member and Sheriff of the Potomac Corral of the Westerners, and a member of the Soil Conservation Society of America.  While living in Washington, D.C., he and two
friends from Texas and Montana, reviewed western themed books for western magazines.  They were known as the "Old Bookaroos."  For three years after his retirement in 1965, Mr. Allred was a consultant with the Food and Agriculture Organization of the United Nations in Saudi Arabia and Argentina. He was also a consultant to the U.S. Agency for International Development in Mali, Africa.

In 1972, his health began to fail and he and Alice sold the Maryland farm where they lived after they returned from Argentina. They moved to Tooele, Utah, where he continued as a range management consultant. He died in Tooele on
December 14, 1976. He is buried in the Tooele City Cemetery.

Alice Worthington Allred died June 24, 2001, in Tooele, Utah. She is buried next to husband in the Tooele City Cemetery. Daughter, Doris Jean Allred Halladay, died November 21, 1995, in Simi Valley, California.  At present (January 22, 2022) daughter Alice Ann Allred Pottmyer lives in North Carolina and is serving as President of the Allred Family Organization (AFO).